Electric Heater: the buying guide from Klarstein
When cold months are approaching, electric heaters, radiators and fireplaces are essential to always ensure an enjoyable temperature in every room of the house, especially when the central heating system leaves to desire and cannot be adjusted to your liking.The options available to heat your home today are numerous, ranging from classic electric radiators such as convection heaters, oil-filled radiators up to the next-generation devices, including infrared heaters electric fireplaces and bioethanol fireplaces. All these solutions can heat a room effectively in a few minutes, but what are the main differences in terms of operation, performance and consumption? What are the main pros and cons of each electric heating device, and what is it good to pay attention to before buying?
Functionalities and main differences between electric heaters
To make your choice easier and find the heater or fireplace that best suits your needs, we have compiled a brief guide to illustrate their main features, also indicating which products, within our different categories of portable heating systems offer the best value for your money. Don't let low temperatures catch you by surprise!
Thanks to our low-consumption electric heaters and fireplaces consumption you can finally forget that annoying feeling of cold in early autumn, late winter and at any other time of the year, enjoying a pleasant, safe and environmentally friendly warmth for you and your family.
Convection heater: a pleasant, instant flow of hot air to warm you up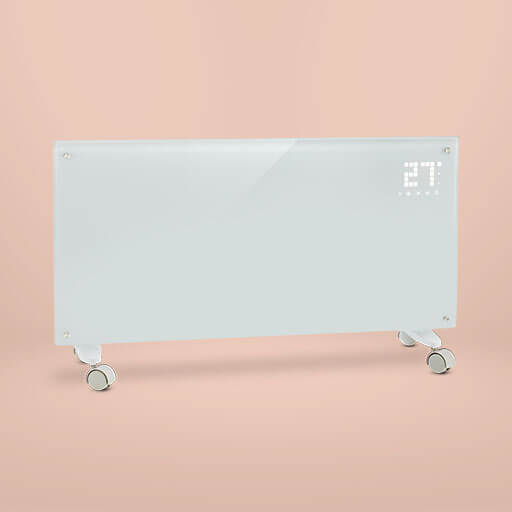 Product tip
Bornholm Smart Convection Heater
Stylish, flexible and fast: the Bornholm Smart convection heater can be mounted on the wall or rolled to where you need it to be cozily warm. With the new Klarstein App, you can also control the heating conveniently when you are not at home.
Ideal for rooms up to 40m²
2000 W Output
Incl. app control
Also suitable for damp rooms
Our convection heaters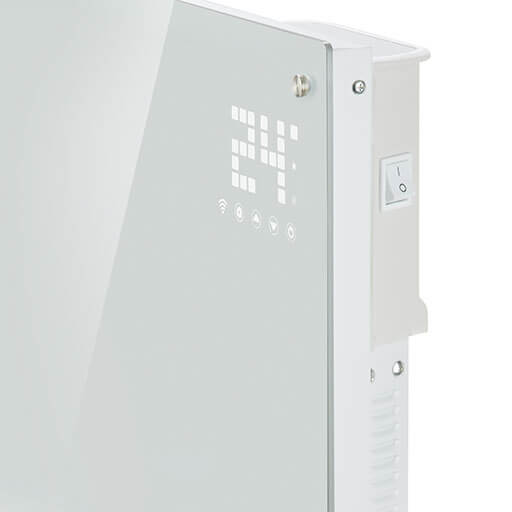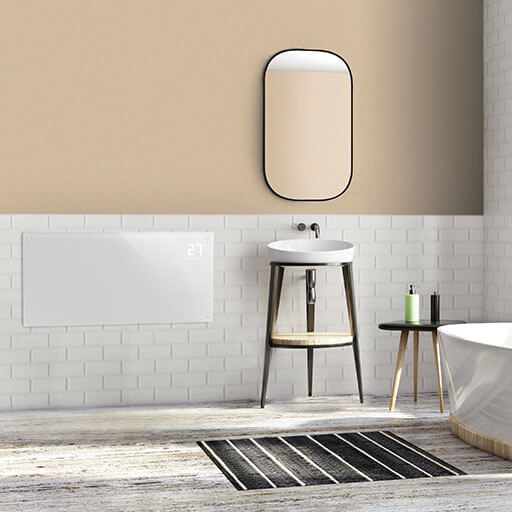 Turning a convection heater on for a few minutes allows you to effectively heat a room: using their internal heating elements and diffusing the heat according to the convection principle, modern convector radiators emit a flow of warm air that rises upwards and suck in cold air which tends to go down, providing an almost instant warmth sensation.

Convector heaters with a timer and thermostat allow you to easily set and maintain the desired temperature at all times, making for a practical, easy to operate indoor heating solution. Thanks to a modern and elegant design, wall-mounted convector heaters adapt easily and discreetly to pre-existing furniture elements; while portable convector equipped with removable rollers ensure portability, so that you can enjoy maximum versatility and targeted heating in the rooms where you spend more time without having to resort to your the boiler, with a significant reduction in energy consumption.
Advantages

Extremely safe, with no overheating risks
Easy to set and use
No installation required
Provides a pleasant flow of warm air in no time
Disadvantages

Convection can circulate dust, mites and allergenes
High energy loss when used in rooms with high ceilings
Infrared heater: feel kissed by the sun in your own four walls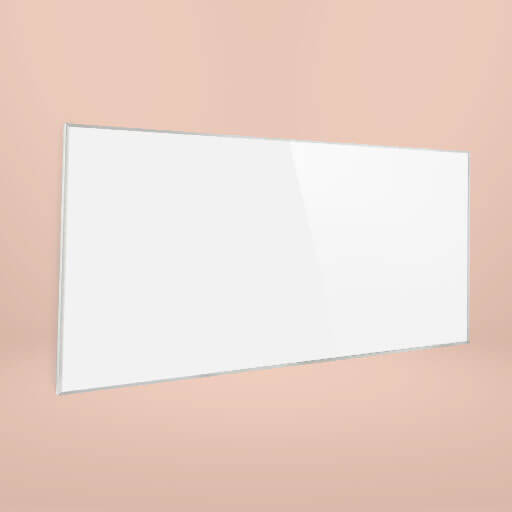 Product tip
Wonderwall Smart Infrared Heating Panel
Whether manually or conveniently via app: you decide how to operate your Wonderwall. It heats effectively with modern infrared heating technology, because 95% of the energy absorbed is converted directly into heat.
Without air circulation, therefore suitable for allergy sufferers and particularly quiet
Easy control and timing via the new Klarstein App
720 W Output
Direct infrared heat emission to warm people or objects
Our Infrared Heaters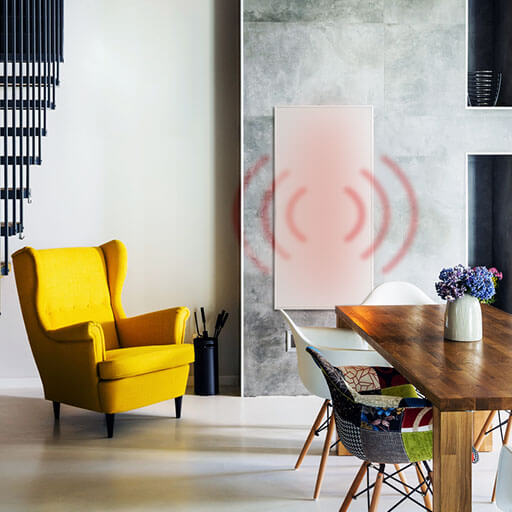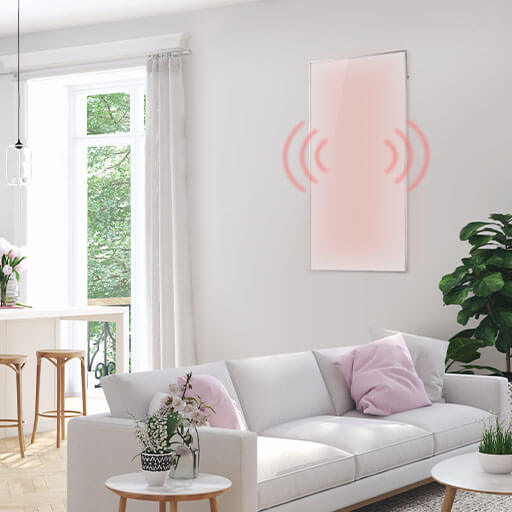 Infrared heaters are one of the most advanced solutions and offer a completely new form of heating. After reaching a temperature of around 60 °C, infrared heating panels begin to radiate and transmit heat directly to the bodies and objects in the room, using the same principle as the sun does. The air is not heated directly, thus retaining its humidity and ensuring maximum breathing comfort for people with respiratory problems.

With an infrared heater, you can immediately feel a pleasant sensation of warmth even when you are not in its immediate surroundings. Approximately 90% of the energy consumed by an electric radiant heater converts into heat, ensuring higher efficiency than other electric radiators. Available in white or with exclusive decorations and thanks to their reduced thickness and overall dimensions, infrared wall heaters can be easily installed on the wall behind doors and narrow spaces, serving as an effective, space-saving solution. At first glance, infrared heaters are not even recognisable as a heating device, but nevertheless they provide the desired effect. For your bathroom, you can also opt for a so-called mirror heater, where the infrared heater is integrated directly into the bathroom mirror.
Advantages

High energy efficiency
Instant heating
Can be intelligently controlled thanks to modern technology
Can reduce mould on the walls
No dust whirled up by the heating air
Disadvantages

Heat disappears when the device is turned off
Targeted heating: warmth is perceived only in the line of sight of the device
Picture infrared heaters
Product tip
Wonderwall Air Art Smart Infrared Heater
This picture heater combines design, cosy warmth and absolute tranquillity. It warms without a fan and is therefore ideal for allergy sufferers. It can also be smartly controlled via an app and can be combined with other products.
Simple installation
smart operation via app
no warm-up phase, generates heat immediately
To the picture infrared heaters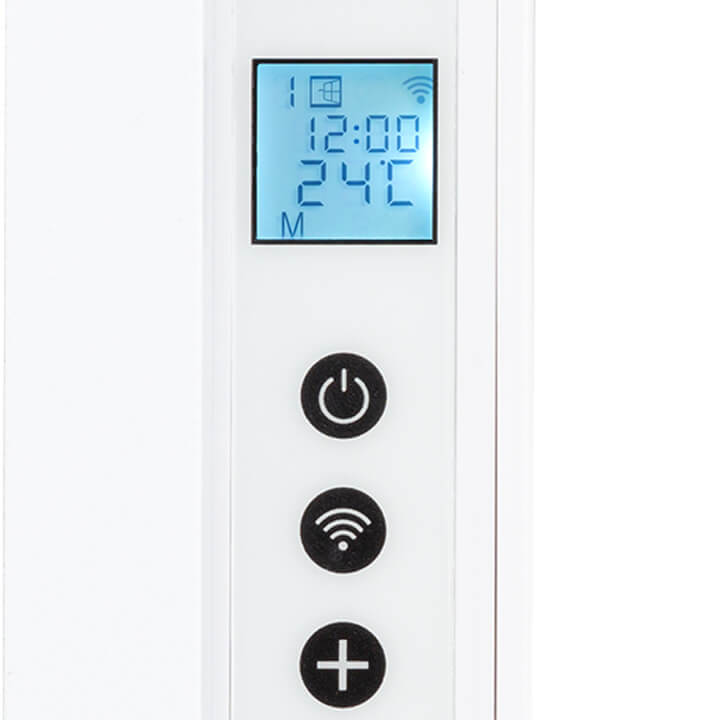 Stylish, elegant and perfectly camouflaged: infrared heating - or picture heating - is probably the most artistic solution when it comes to heating your own home. As the name suggests, it is a wall-mounted infrared heater, the front of which is decorated with a picture. Are you in the mood for a classic painting, an abstract work of art or a beautiful landscape photograph? In our large selection of infrared heaters with pictures, there is sure to be a suitable motif for your home.

The function of the picture heaters is exactly the same as with classic infrared heaters: Their principle is based on infrared rays that hit various solid bodies such as people and walls and heat them up immediately. There is no waiting time, so you can benefit directly from the warming source. When choosing the right picture heater, it's not just about the right subject: the range, performance and spatial surroundings are also important. You decide between an infrared image heater in portrait format, landscape format or square and whether you want smart operation or not. We would be happy to advise you in more detail so that you can find your optimal solution.
Advantages

Stylish room element
many different motifs available
ideal for allergy sufferers, as there is no fan
intelligent control
no heat loss due to direct infrared radiation
Disadvantages

No direct heating of the room air
slightly more expensive to buy than other electric heaters
Infrared panels and radiant heaters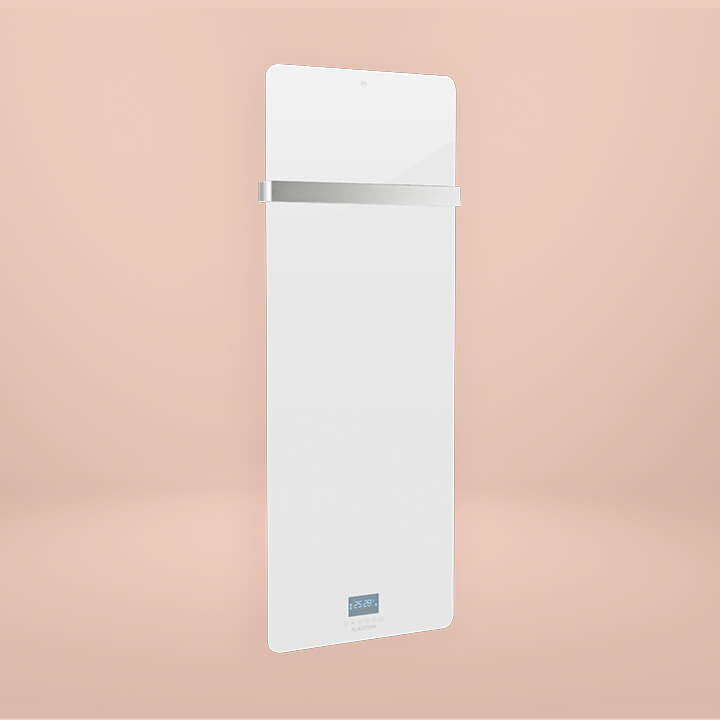 Product tip
Hot Spot Crystal IR Infrared Heater
This heating panel is ideal for the bathroom. Splash-proof with an integrated stainless steel towel rail, convenient operation by remote control and pleasant, quick warmth thanks to IR ComfortHeat technology, it ensures cosy moments of well-being in the bathroom.
Immediately generates heat
can be combined to heat larger rooms
automatic operation with two operating levels
To the infrared panels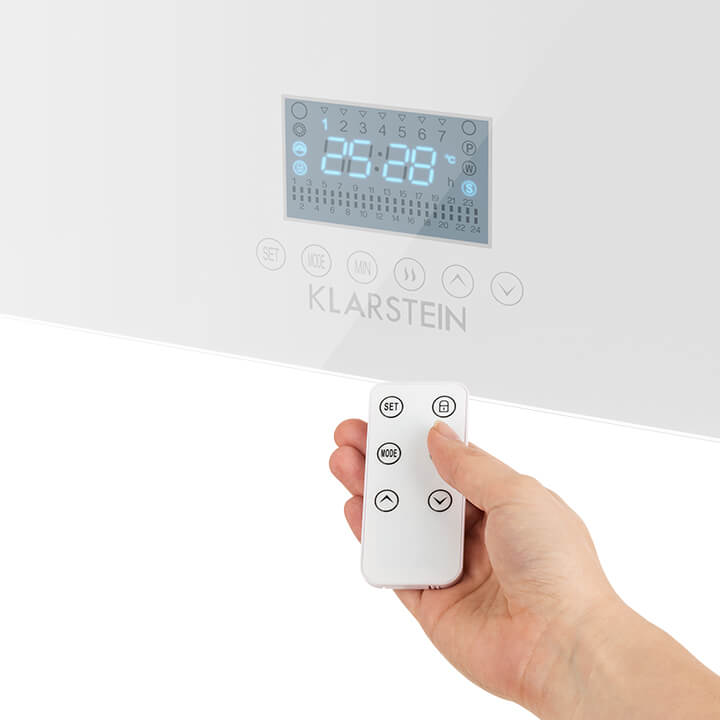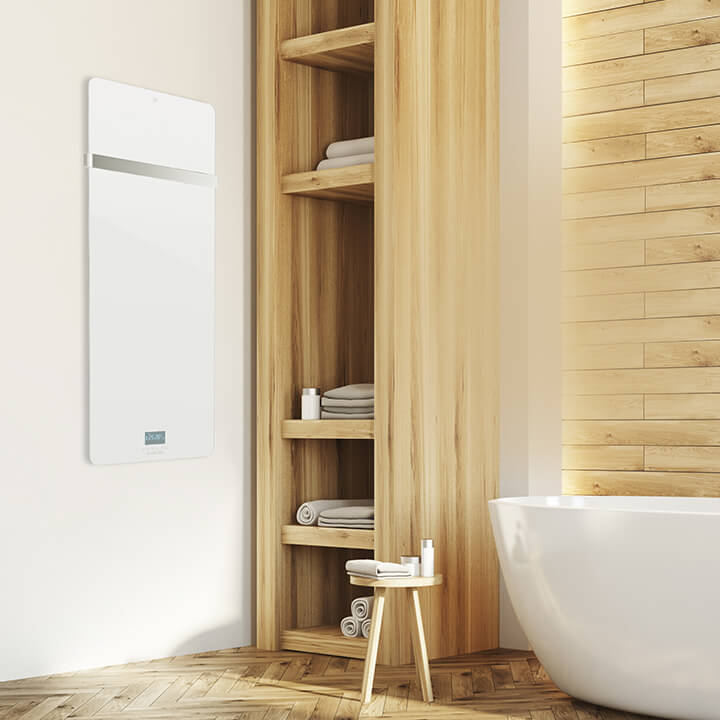 Radiant heaters or infrared panels are an optimal solution for very targeted heat at a specific point. This makes them particularly popular outdoors, but also in environments such as wellness areas, baby changing rooms and similar spaces. Thanks to the targeted infrared technology, a spot can be warmed up without the surrounding air first having to be stirred up and heated. They are a quick and immediate solution for places that need to be directly supplied with comfortable warmth.

Radiant heaters or infrared panels are available in our range in different designs: as a mobile solution for camping and outdoor areas, as a practical solution in the bathroom including a towel holder or as a smart radiant heater that can be conveniently controlled via an app.
Advantages

Mobile and flexibly placeable
targeted and rapid heat emission
heat solution for small rooms
Disadvantages

More expensive than other solutions
due to the short range, can only be used as a supplement to other heating systems
no heating of entire rooms
Fan heaters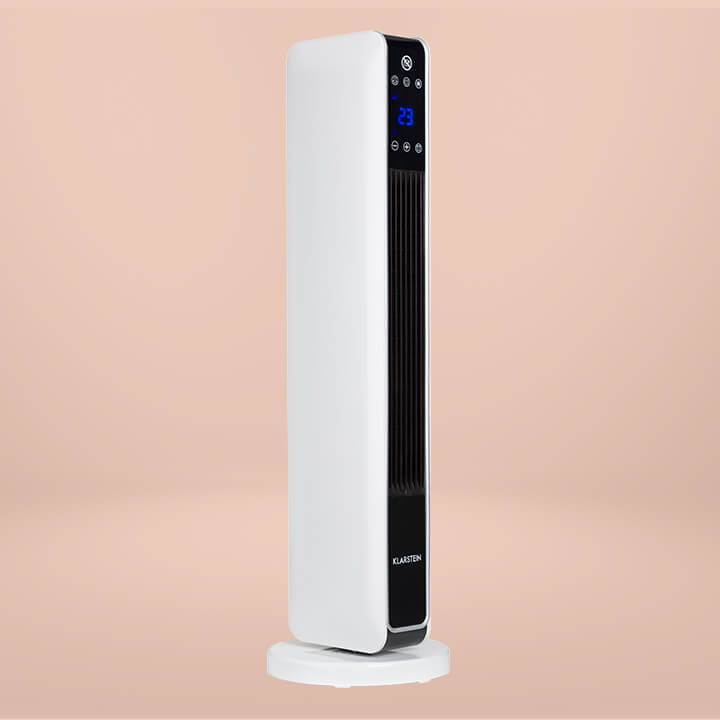 Product tip
Hightower Heat Radiant Heater
This free-standing radiant heater is ideal for warming up rooms quickly. Thanks to the ceramic heating element, there are no unpleasant smells and the device can be easily controlled by remote control.
Up to 2,200 watts of power
oscillation for a good distribution of the heat
high level of safety: automatic switch-off, overheating protection, tilt switch-off
To the fan heaters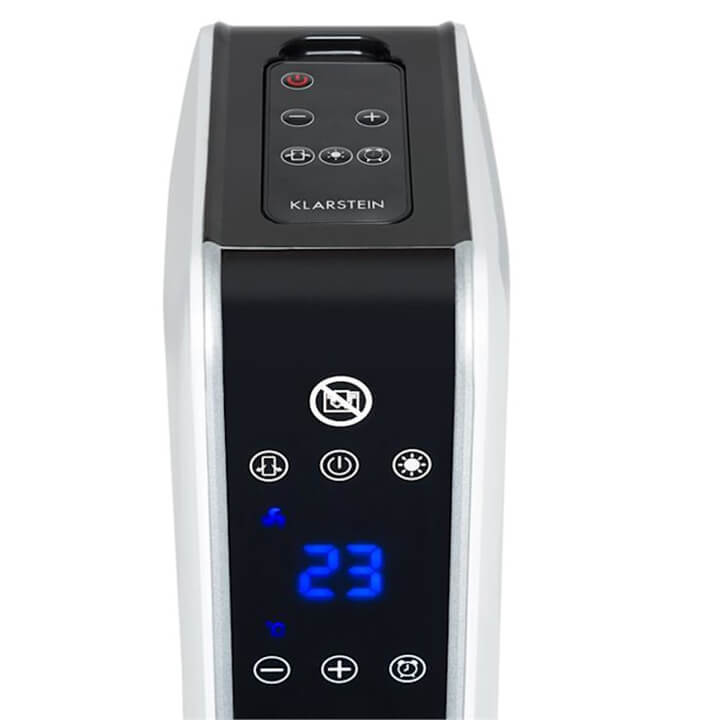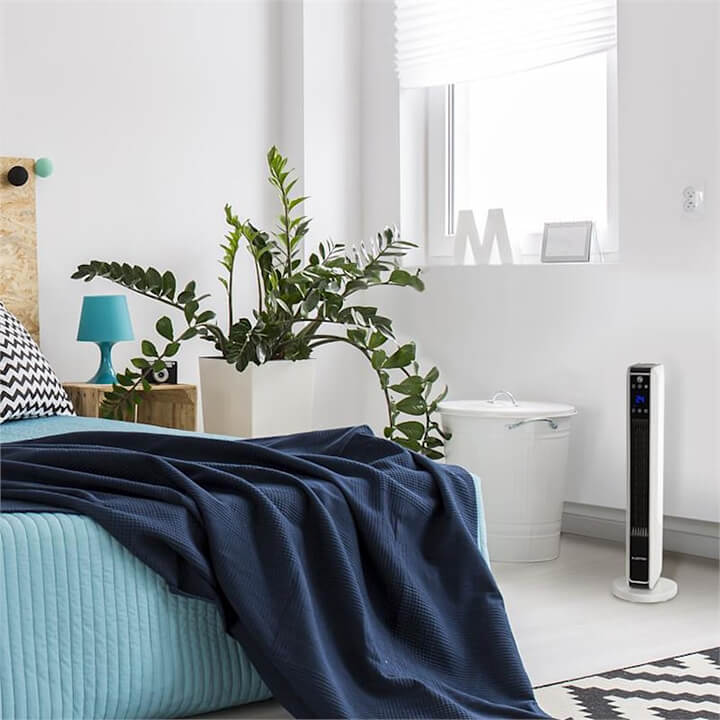 Fan heaters are the ideal solution for the quick and short-term heating of rooms. They are often used in rooms that do not have heating or where an additional source of heat is required. With a fan heater you can quickly achieve cosy warmth and are very flexible thanks to its mobile use.

You will find electric fan heaters and ceramic fan heaters in our range. Both work basically on the same principle: The cold air from the environment is sucked in, heated by integrated heating elements and the warm air is released again via the heating fan. The difference lies in the heating element itself. The advantage of the ceramic heating element is that it heats up less than that of an electric fan heater. This means that no particles burn inside the fan heater and there is no unpleasant smell.
Advantages

Free-standing
mobile
space saving
fast, selective heating
Disadvantages

Less suitable for allergy sufferers (raising dust)
mostly not suitable for continuous operation
with electric fan heaters: slight odour development from burning particles
Oil filled radiator: low consumption and long-lasting heat for medium-sized rooms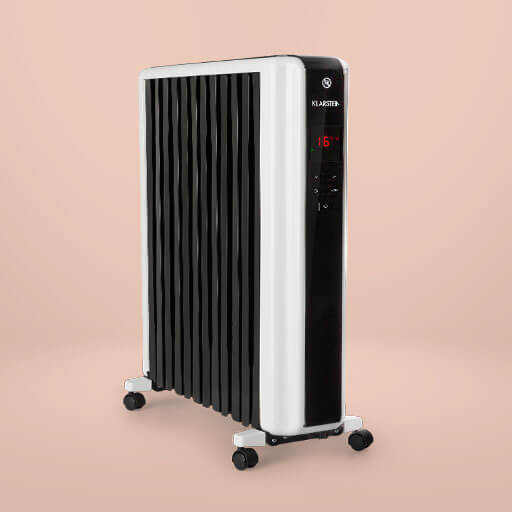 Product tip
Thermaxx 2500 oil radiator
Thanks to its special ribbed shape the Thermaxx 2500 achieves up to 65% more heating power than other devices and is also practically compact. The LED Panel provides a quick overview of temperature and operating mode.
Fast heating up to 35°C
Efficient heat thanks to 12 heating fins
Eco mode to reduce energy consumption
With rollers for flexible positioning
Our oil-filled radiators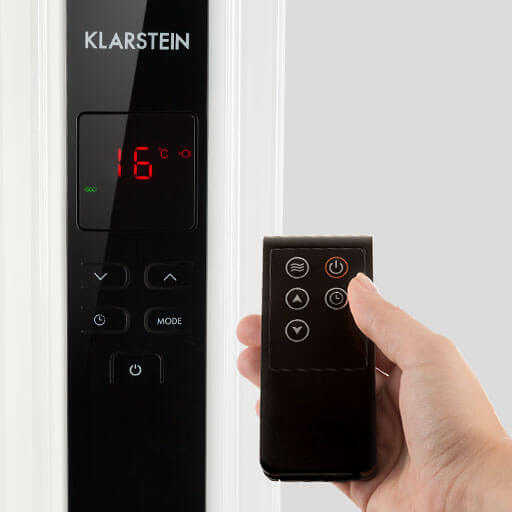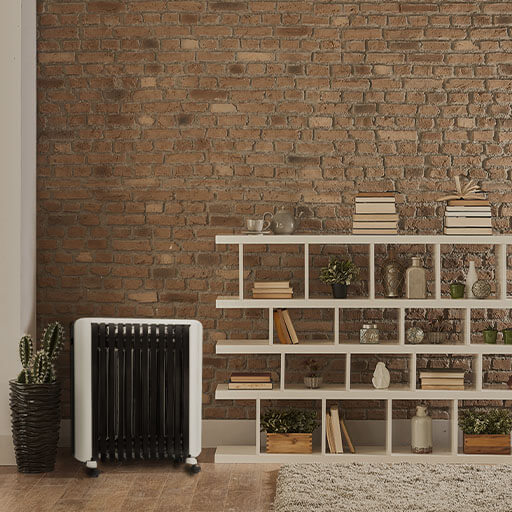 Structurally similar to traditional heat exchangers, oil filled radiators use an electrical resistance to heat a reservoir of thermal fluid inside them.The oil is heated but not consumed, acting as a heat accumulator that doesn't need replenishing. Oce switched off, oil heaters continue to push out heat in the room, optimising energy consumption especially in the case of prolonged use. With extremely low costs, both in terms of purchase and operation, an oil filled radiator is a timeless classic for the winter months, when you need to support your main heating system with a practical, reliable space heater.Modern electric oil-filled radiators are extremely easy to use, through an intuitive interface to set the temperature and operating mode. Oil heaters are easily transportable from one room to another thanks to their caster wheels and reduced weight.
Advantages

Easy handling and operation
Extremely silent
Energy-efficient device with no waste of electricity
Disadvantages

Rooms are only heated up slowly
Excessive moisture can damage the oil heating circuit components
Electric heaters: comparison table
Electric heating systems in comparison: how to warm up your home quickly
Convection heater
Infrared heater
Infrared panels and radiant heaters
Oil-filled radiator
Heating type
Convection. The heater warms the air on its side, which circulates through the room and heats it.
Infrared rays heat up any solid objects, walls and people in its line of sight
Cold air is sucked in, heated by a heating element and released into the room.
Like a normal heating system. It heats the air in the room
Heating capacity
Very good as soon as the heater starts up
Very efficient, instant heat generation
Fast and targeted heating option.
Very good heating power, as this heater continues to heat even once the radiator it's switched off
Price
Some models are quite cheap, with a large selection of wall-mounted and freestanding variants
More expensive compared to the other electric heaters, due to its performance and efficiency
Large price range. Electric fan heaters are usually cheaper than ceramic fan heaters.
Reasonably priced and available in many variants and sizes
Power consumptionStromverbrauch/-kosten
Relatively high power consumption due to the many heating coils
Moderate power consumption considering the high heating output
Moderate power consumption. Modern appliances switch off automatically when the desired temperature is reached and will resume operation as soon as it drops. An automatic switch-off function which can be set as desired also saves electricity.
Electricity consumption is lower for the radiator because the oil keeps the temperature longer and therefore the radiator has to heat less actively
Ideal location
Convector heaters can be placed on walls or free-standing. It is important that there is sufficient air at the side so that the heater can do its job
Targeted at the point that is to be warmed. They can be used on a mobile basis.
Infrared heaters are best mounted on walls or ceilings. This allows you to emit the radiation in a targeted manner
Best placed in well insulated rooms. There it achieves the greatest effectiveness
Sound volume level
Very quiet while in operation
It emits no sound at all while in operation
Similar to a fan, depending on the setting of the device.
The oil inside the radiator can make some noise. However, these heaters are quiet and unobtrusive
How to calculate the heating output you need
The volume - in cubic metres - of the room to be heated is the main value to determine the right output for your electric heater: to calculate it, just multiply the surface area - in square metres - by the ceiling height.
Nevertheless, performance and efficiency in electric radiators are also affected by other factors independent of the size of the room to be heated: among these, the number of windows or glazing in the room, the quality of the window frames and fixtures, sunlight exposure and, in general, the overall insulation conditions of the house. All these aspects are synthesized by the insulation coefficient, a value inversely related with the thermal efficiency of the home, that is, the capacity to retain heat.
Conventionally, the average value of the insulation coefficient is fixed at 0.05, as it can fall to 0.03 for recently built homes that are particularly efficient in terms of insulation, or vice versa, go up to 0.1 for older or even ancient buildings with greater heat loss. It is also advisable to consider the location of the house, concerning the climatic zone. Considering the same size, a room located at 600 meters of altitude in Yorkshire obviously requires a more powerful electric stove than a house located at sea level in Sussex. To obtain an empirical estimate of the kW needed to heat an environment effectively, you will simply multiply the volume of the room by the insulation coefficient.
Let's take as a reference a room of 20 m² with a ceiling height of 3 m, therefore with a volume of 60 m³. Assuming three different scenarios to determine the kW that a well-sized electric heating solution should offer:

scarce thermal insulation: 60 x 0.08 = 4.8 kW

normal insulation level: 60 x 0.05 = 3 kW

high energy performing building: 60 x 0.03 = 1.8 kW

This may sound a bit complicated, and you don't have to calculate it for each room individually if you don't want to. As a rule of thumb, a power output of between 60 and 100 watts per square metre of room area is recommended. It is important, especially in larger rooms, that you use several radiators so that the rooms heat up better. So if you need a heating capacity of 2,000 watts for a room of 20 square metres, you do not have to use a single heater with this capacity. Two electric heaters, each with 1,000 watts of heating power, can also provide the desired effect. This way, you can not only calculate the output, but also estimate your heating costs.
Electric fireplaces and ethanol fireplaces: stylish and cosy warmth
If you want to enjoy the cosy atmosphere and warmth created by the flames burning in a fireplace even when you live in a condominium, where its installation and use would be problematic, to say the least, bioethanol fires and electric fireplaces are two excellent workaround solutions. Their function, in fact, is similar to that of classic wood or gas fireplaces, namely, heating a room adding a touch of class and ambience.
Both appliances can be installed in different ways: wall mounted electric fires can be fixed like a panel, while a recessed electric fireplace can make use of special niches. Alternatively, you can opt for free standing electric fires: ultimately the choice in terms of shape, design and size will only depend on available space and your taste. In case of space constraints, you can also consider table-top bioethanol fires with minimal encumbrance.
Without the need for a flue, and therefore with no need for complex installation work, these two turn-key heating devices differ in terms of the power supply system used to generate the heat: electric log burners use electricity, while biofuel fireplaces use bioethanol, a renewable alcohol resulting from the fermentation process of sugar- or starch-bearing plants biomass.
Electric fireplace: the magic of a traditional fireplace, with no smoke and ashes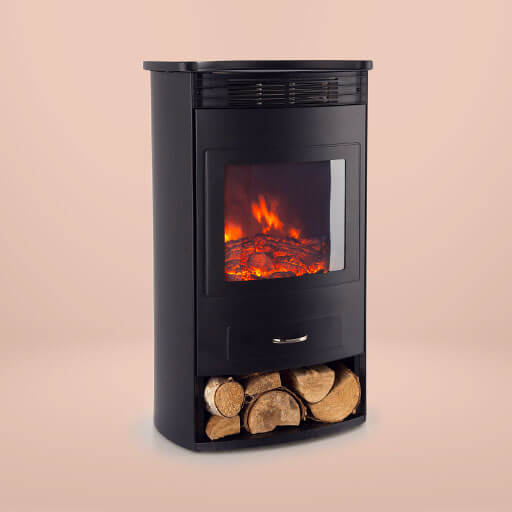 Product tip
Bormio electric fireplace
The integrated heating function can be controlled separately from the realistic flame illusion, so that the fireplace not only creates a cosy atmosphere on cold winter evenings, but also bathes mild summer evenings in warm light without additional heating.
Romantic flame effect
Heating output up to 1900 watts
Open Window Detection: Auto switch-off in case of sudden temperature drop
Weekly timer for individually adjustable operating times
Our electric fireplaces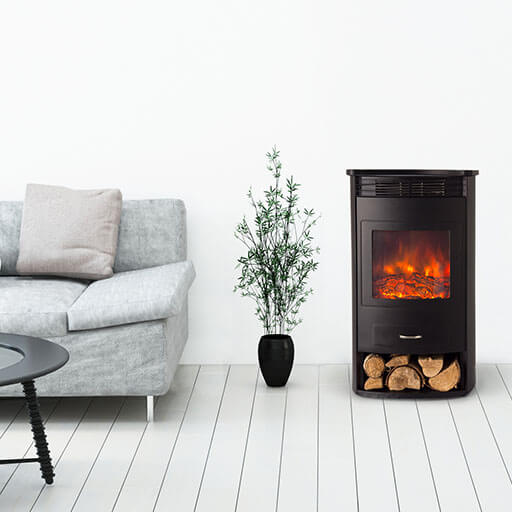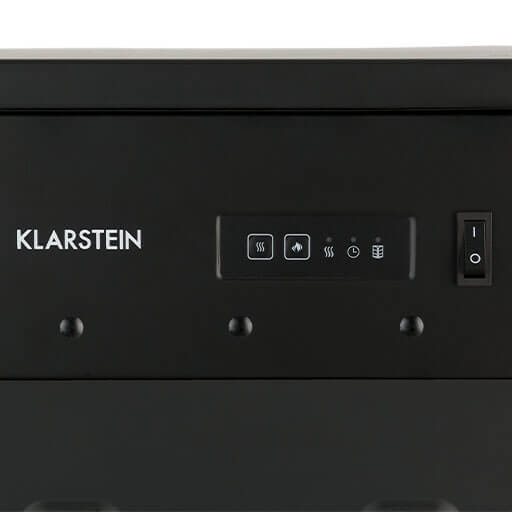 The sensation of being in front of the classic wood-burning fireplace, without having to fight with odours and smoke, and no ashes to collect. All this is possible thanks to next-generation electric fireplaces, designed to satisfy the needs of those who live in flats and look for an electric heater not simply capable of warming a room, but also of creating visual and thermal pleasure like no other.

In an electric fireplace, the artificial flame is generated by LED lights that illuminate reproductions of wood logs or charcoal, ensuring an extremely realistic effect. Electric stove fires can be operated through a remote control, choosing different heat levels and light shades just at the touch of a button. It's also possible to switch-off the heating function and enjoy flame-only operation for year-round ambiance. Forget stockpiles of logs, venting and chimneys: an electric fireplace is a hassle-free, cost-effective solution and a true eye catcher, to enjoy a cozy atmosphere and endless fireside chats in any of your rooms.
Advantages

Plug & play device, easy to install and operate
No need to stock fuel
Adjustable light settings and heat levels
Ashes-, smoke- and smell-free
Disadvantages

The artificial flame doesn't create the same ambience as traditional fireplaces
Only suitable for zone heating, not for the entire house
Bioethanol fireplace: a dancing flame that heats up and respects the environment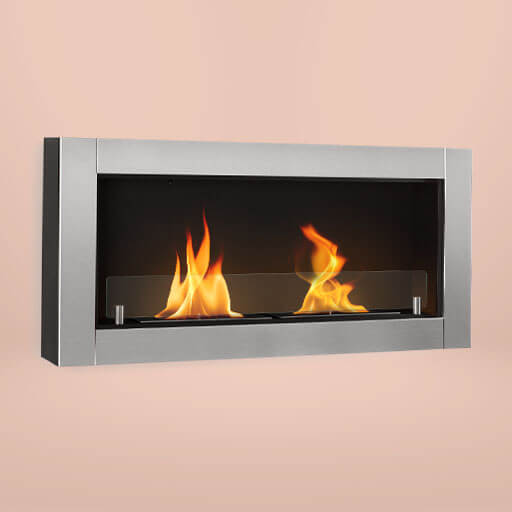 Product tip
Phantasma Modern bioethanol fireplace
The Phantasma bioethanol fireplace packs real fire romanticism in a modern stainless steel design. The operation is uncomplicated: pour ethanol in, ignite the flame, lean back and relax in the glow of the fire.
2 x 750ml volume for approx. 3 hours burning time
Includes extinguishing aid
Smokeless and odourless
High quality stainless steel body
Our bioethanol fireplaces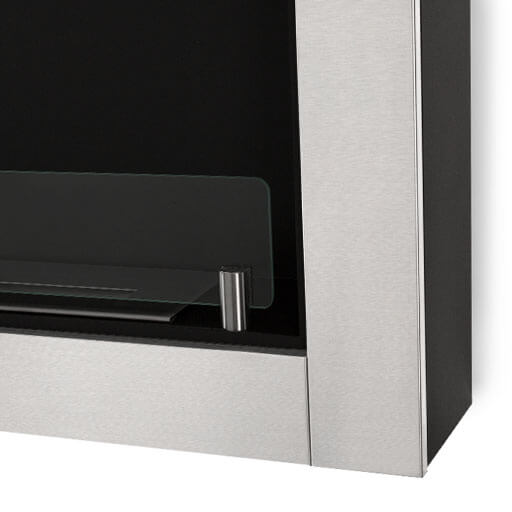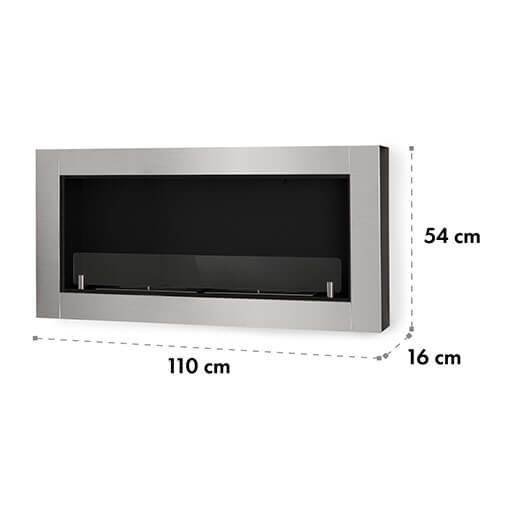 Bioethanol fireplaces are trendy and offer a fascinating sight in many rooms. Thanks to the different construction methods and designs, you can easily choose the model that fits perfectly into your room. Bio-fireplaces work according to a simple principle. The fireplace consists of a stainless steel tub, a separate tank and several glass panels to protect the flame. The ethanol burns in a smokeless and yellow flame, which attracts the attention of the observer.

Biofuel fires are divided into different groups: you can buy table-top, freestanding and wall-mount bioethanol fireplaces. Thanks to their simple principle of operation, there's no need for a chimney and maintenance is also quite straightforward. Their beautiful, stylish lighting is particularly effective in the dark season and catches the eye with the natural movement of the flames. On the other hand, it's important to consider that ethanol fireplaces are not primary heating elements. They are mainly decorative and cannot be used to heat large rooms. Since the combustion process consumes oxygen, constant ventilation must be ensured when using bioethanol fireplaces.
Advantages

Extreme ease of use
Highly scenographic effect
Available in different sizes, also with table-top models
Powered with ecological, renewable fuel
Disadvantages

Suitable to heat small rooms only
Fuel stocks needed for prolonged operation
Room rquires constant ventilation
Electric fireplace vs Ethanol fireplace: a comparison table
| | Electric fireplace | Bioethanol fireplace |
| --- | --- | --- |
| Type of flame | LED-generated, artificial. | Real, resulting from ethanol combustion. |
| Type of heating and capacity | Heating is provided by electric coils and built-in hot air fans to warm quickly. It heats the room efficiently and fast. | Although it creates a warm, toasty atmosphere, it's not designed mainly for heating purposes, but more as decorative element to support the main heating system. |
| Price | Low purchase price and available in many variants. | Affordable and available in different sizes, including table-top versions. |
| Power consumption | Quite high in heating mode. When used only for decorative effect it consumes hardly any electricity. | If used on average 2/3 hours per day, an average size model requires about 5 litres of biofuel per week. This value may vary, depending on the burner power. |
| Ideal location | Anywhere on the wall as long as it meets any installation requirements, ideally in a central position to maximise the visual effect. | Depending on the size, it can be placed on the table, on the wall or as a freestanding element. |
| Sound level volume | Whisper quiet in decorative mode. When heating mode is on, it can become louder. | Whisper quiet |
Wi-fi controlled electric heaters: the gateway to your smart winter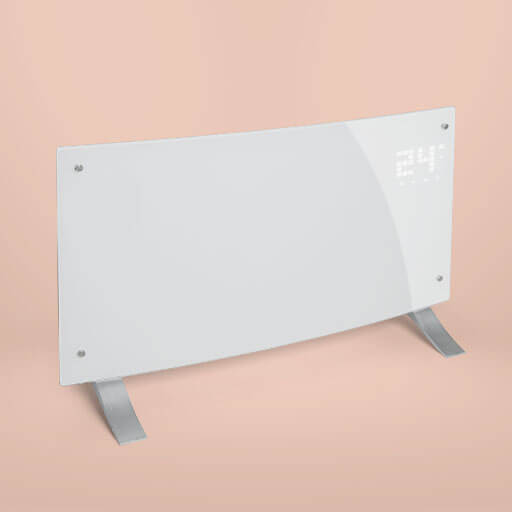 Product tip
Bornholm Curved Smart
The Klarstein Bornholm Single Smart convector heating system ensures an even temperature increase and distribution of warm air in rooms up to 40 m² in size on cold winter days.
Powerful: 2 heating levels with 500 or 1000 Watt
Convenient: thanks to operation via Klarstein app or remote control
Practical: weekly timer for easy programming of heating times
Intelligent: OpenWindow Detection for automatic shutdown when window is open
Our smart IoT electric heaters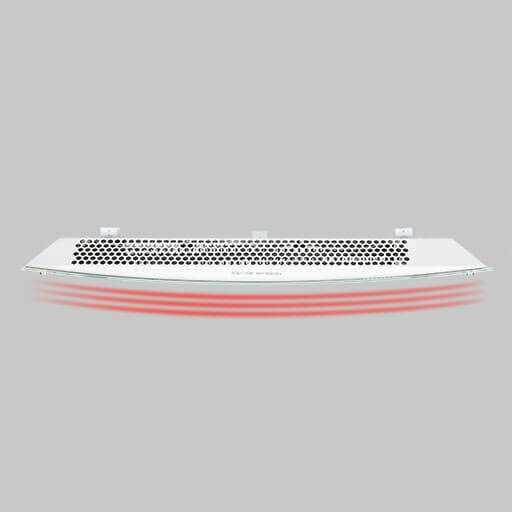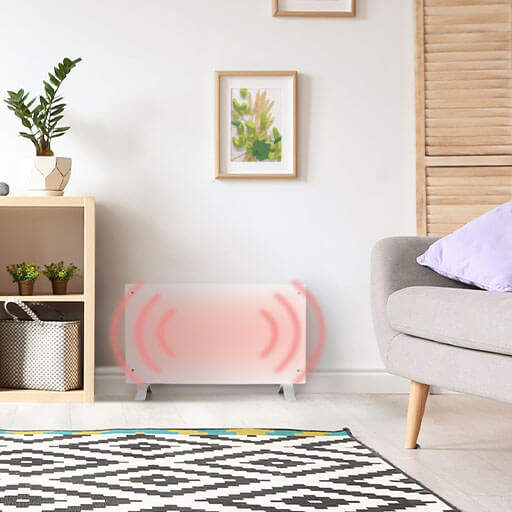 Have you ever left home forgetting to turn off your electric heater, or without programming it for when you come back? When your plans for the day suddenly change, how do you make sure that you will find a warm and comfortable living room awaiting you? The new scenarios offered by home automation based on IoT devices revolutionised the daily use of household appliances, some of which can now be remotely controlled at any time and place using internet connectivity.

We have embraced the concept of the Internet of Things for our smart electric radiators; by choosing our convection heaters, infrared radiators and electric fireplaces with IoT capabilities, after installing the new Klarstein app you can conveniently manage the main functions with just a few touch on the display of your smartphone, just as if you were right in front of the device. Setting a countdown timer and your weekly schedule, deciding when your device turns on and off and selecting the right temperature and operation mode: all these actions can be easily performed relying on you home wi-fi network, ensuring maximum flexibility and ease of use. Your Android or IOs smartphone turns into an extension of your electric heater, like a remote control that always travels with you, offering a flexibility and practicality never seen before. With our app controlled heaters and IoT devices, not only can enjoy the maximum comfort, but also significantly reduce wastage, optimise energy consumption and protect the environment.
Download the Klarstein-App now!
Frequently asked questions
Cleaning the convector radiator frequently, especially when used in environments such as garages and warehouses, helps to prevent the accumulation of dust and dirt that can cause malfunctions in the device. For the correct procedure it is advisable to read the instruction manual, since each model has a different access system to the fan housing. For the external part it is preferable to use a dry cloth rather than a damp one, and no specific detergents are required.
If the convection heater is IP24 certified, this means that it can resist to water and can therefore be safely positioned and used in the bathroom or other rooms with a high level of humidity. If it is not IP24 certified, it is not recommended to use it in the bathroom, and it can be placed in all other rooms, with a distance of at least 15 cm from the floor and 50 cm from the ceiling, to ensure better heat diffusion. Avoid placing it over another heat source, in rooms with a high concentration of dust or flammable vapours, or directly under a power socket.
Electric heating is not the most convenient solution for the whole flat and is usually not meant for this use. However, if you want to heat your home electrically, we recommend to opt an economical electric heater and, at the same time, to make sure you choose a low electricity tariff. In this way you can get the most out of your electric heater. You can save a significant amount of money using an oil radiator. This is because it is extremely low in electricity consumption and still offers good heating performance.
EEC regulation 3199 of 1993 for the use of decorative fireplaces requires the use of ethanol denatured at 96°; thanks to its high degree of purity, this fuel ensures perfectly odourless combustion. If you perceive an unpleasant smell when you use your bio-fireplace, the reason could be the ethanol does not reach the required degree of purity, and in this case, it is advisable to change your supplier. If the problem continues to occur, check for any impurities that may have deposited on the burner after using poor quality biofuels. In this case, it will be necessary to clean the bio-fireplace thoroughly.
In oil radiators, the fluid circulates in a closed system, and for this reason, it does not consume or need replenishing, unless the structural integrity of the heating elements is compromised. This means that oil radiators only consume the electrical energy needed to heat the oil; to have an idea of the energy requirements of the device, you can refer to the information provided by the manufacturer. Klarstein oil-filled radiators, for example, have a power absorption between 2000 and 2500 Watts.
In an oil-filled heater, the fluid acting as a heat accumulator never comes into direct contact with the electrical resistance, which in turn is always shielded to ensure insulation from the other elements that make up the radiator. This means that an oil radiator is significantly safer than other types of space heaters, whose heating elements or glowing wires are in direct contact with the air.
In the past, bioethanol was harder to find, but now it is more and more widespread and can be found almost everywhere. If you are looking for bioethanol for your bio fireplace, you can consult the manufacturer to find out the nearest sites, try the hardware shops or DIY department shops. In the UK the price of a litre of premium grade bioethanol varies between 4 and 5 pounds, depending on the quantity you purchased and the degree of purity of the product. We recommend using only high-quality fuel for your bioethanol fire, to guarantee perfect combustion and to minimize the risk of bad smells.
Although we often hear that exposure to infrared radiation is dangerous, it has been scientifically proven that C-type infrared radiation is not only harmless to the human body but also has a beneficial effect, improving circulation, immune system activity and tissue oxygenation. Quality infrared heaters are within the legal limits allowed for the production of electrosmog, without causing any harmful exposure to radiation. The only part of the device that produces electrosmog is the power cable, in small quantities, as is the case with all household appliances.
Keeping a convection heater on for a long time without providing ventilation can cause an increase in suspended dust and dryness of the air. If you have traditional heating elements, you can use the old trick of fixing water trays on their front to ensure evaporation and therefore proper humidification of the room or placing a wet cloth on them. On convection heaters, however, it is not possible to cover the upper grid from which the hot air jet comes out unless it is closed and flat. Otherwise, the only solution to avoid dry air and dust problems is to ventilate the room regularly, and possibly use a room humidifier or ioniser.
For safe use, contact between the stove and fabrics, paper or other easily flammable materials should always be avoided. Also, avoid using extension cords, and never run the power cord under a carpet, to avoid fire caused by overheating. Similarly, always try to place the device on a ceramic, wood, laminate or vinyl surface, avoiding carpets and rugs. Do not expose your stove to excessive levels of humidity, unless it is IP24 certified. As the last recommendation, always remember to turn off the device during the night, to avoid overheating, falling or suffering a short circuit, which could cause a fire.