Buy an Air Conditioner: How to Choose a Right Cooler For Your Home
Whether air cooler, portable air conditioner or split air conditioning unit: Cooling systems are available in different sizes, functions and designs. Which product is the best choice for your home depends on various factors.
We'll show you what you should consider when selecting, how to choose the right model for you and which details play a role when comparing. Decisive criteria are the domestic conditions, personal requirements and financial possibilities. A careful person will not buy a pig in a poke, you would certainly rather buy the right cooler for you.
Air conditioners: functions and differences
Sweating is healthy, but when the heat of the summer months turns your home into a sauna against your will, it is quite right to think about buying an air conditioner. And the question 'which air conditioner should I buy?' shines as brightly as the sun. In fact, a well-founded overview is important, because the selection ranges from compact portable air conditioning units to air coolers to permanently installed indoor air conditioning systems for the house or flat. Most people have a clear understanding of the collective term 'air conditioner' and thus automatically exclude possible products. We ask the question in a much more fundamental way: fan or air conditioner?
What are the best air conditioners? Since the way the device works also varies depending on the design, the answer can only be: this is decided by your individual requirements and of course the budget that you set. And because your needs leave us anything but indifferent, we would like to warm you up with comprehensive insights into the advantages and disadvantages of different models as well as how different cooling systems work so that you can make a confident decision.
The decision for a certain model variant can be correspondingly challenging. First and foremost, your wishes are important, because depending on the type of device, the equipment includes numerous additional functions - for example air purifying, humidifying the room air or a heating function for the cooler season.
Fan - simple and effective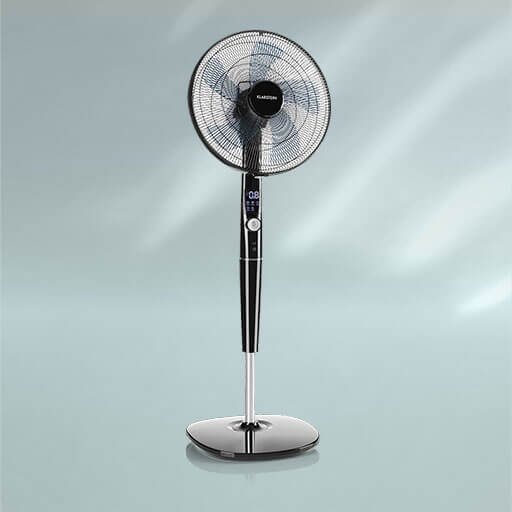 Product Review
Pedestal fan 'Silent Storm'
You don't hear it, you just feel it. What sounds contradictory in name is a prime example of a climate control device for less than 100 euros. With five ventilation modes and ten wind strengths, the 'Silent Storm' ensures the perfect breeze in many situations. Since the refreshment takes place at a low noise level, the device scores even more points.
Especially quiet: with 32dB, it is as quiet as a whisper
Flexible: height-adjustable and tiltable rotor with connectible oscillation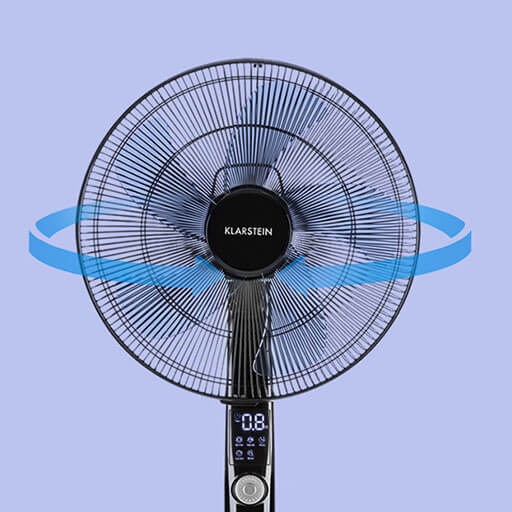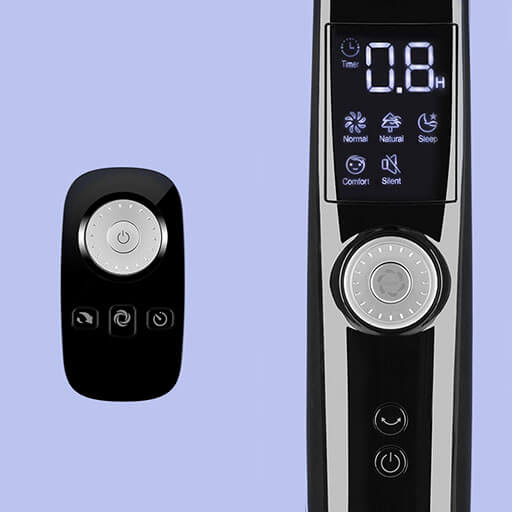 What would we not give for a pleasant breeze on warm days? If the air in the office or at home is stale in the room and the stress level rises parallel to the thermometer reading, a remedy is needed. Air conditioner or fan? Those who opt for the latter benefit from a climate device that is mobile, space-saving and usually inexpensive - especially when compared to many other air conditioning systems for the home.

By moving the rotor blades, classic fans generate a pleasant flow of air - placed in front of the window they can also support the exchange of air in stuffy rooms. In contrast to mobile air conditioners or air coolers, they do not have a built-in cooling mechanism such as a water tank or ice packs. Thus, fans do not lower the room temperature, but generate pleasant wind currents.
Advantages

Saving space
Easy Installation
Cheaper than permanently installed devices
Mobile friendly
Disadvantages

Limited range
No lowering of the indoor air temperature
Air cooler - air conditioner without a hose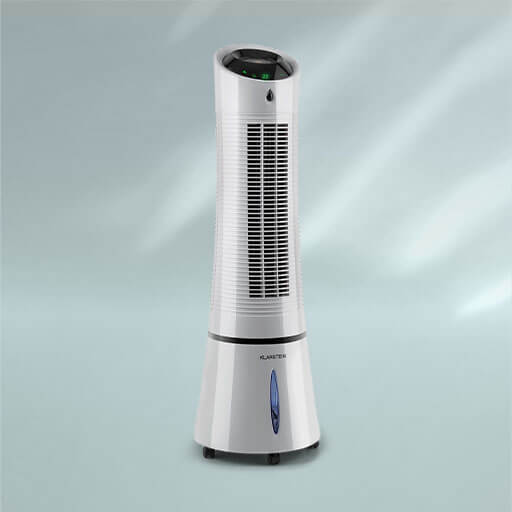 Product Review
'Skyscraper Ice 4-in-1' air cooler
The Skyscraper actually looks like a miniature model of a modern skyscraper - it fits, because the all-rounder lifts you up to a refreshing cloud nine with ease. The device acts as a powerful fan and fulfils the functions of an air conditioning system from the lower price range with flying colours: cooling, humidifying and ionising.
Cooling provided by a 6 litre water tank
Air ionisation to eliminate odours and germs
Get The Product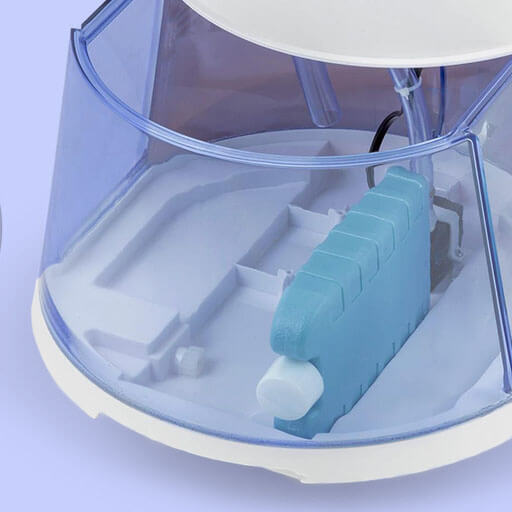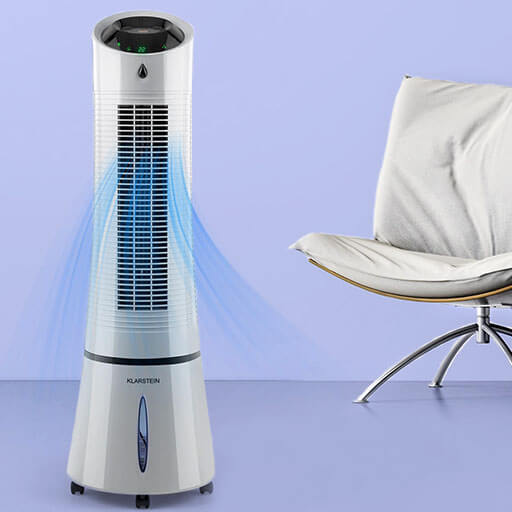 Temperatures are rising and you want to cool down? Mobile climate control devices - from test winners to insider tips - are available in different versions. Many people are specifically looking for a climate control device without an exhaust hose and would also like to forego the use of a refrigerant. A compact air cooler is an interesting alternative to mobile mini air conditioners, because it dispenses with an electricity-intensive circuit with coolant and compressor.

The perceived reduction in temperature takes place through the physical principle of evaporative cooling, because the air conditioning system without a hose relies on the natural principle of water evaporation for cooling the air flow: the 3-in-1 air cooler sucks in warm air on the back of the device directs it through the evaporator. The water removes the heat and the exiting air flow cools down. A pleasant plus: The air comes with moisture and enriches dry, hot days or heated air in winter enormously. For particularly cool air flows, users can also use ice packs or ice cubes. Allergy sufferers should pay attention to built-in air filters.
Advantages

Saving space
Easy Installation
Mobile Friendly
Low noise level
Humidification of the room air
Disadvantages:

No temperature reduction in the indoor air
Not recommended for regions with high humidity
Limited range
Portable air conditioning for individual use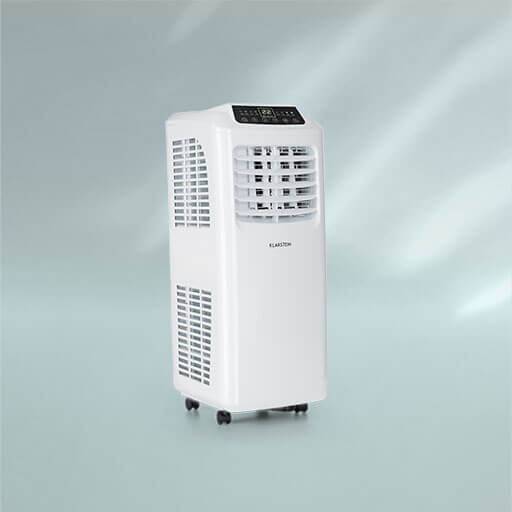 Product Review
Mobile air conditioner 'Pure Blizzard 3 2G'
The 'Pure Blizzard' ensures clear, cooled room air on brooding summer days and optimises the room climate as a fan and dehumidifier with the persuasiveness of a blizzard, but without its destructiveness - the most pleasant storm you can imagine.
3-in-1 device: aircon, dehumidification and ventilation
Discharge air with the exhaust hose: delivery includes window sealing
Get The Product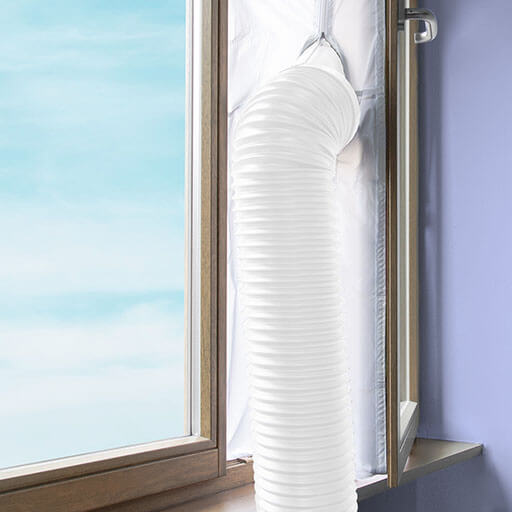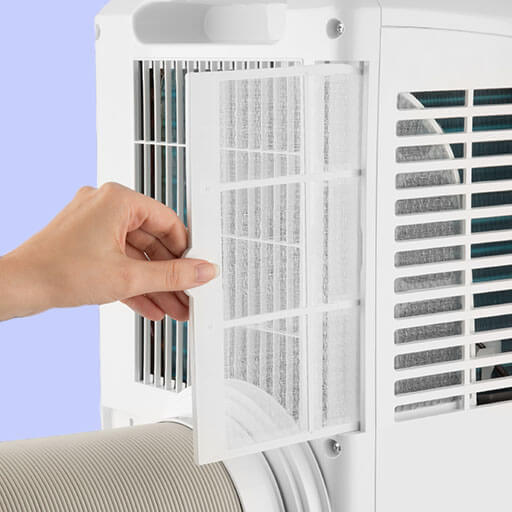 The term 'monoblock' has also been established for such devices. The system draws in hot air and directs it through the coolant circuit inside by means of a compressor. In this way, the air is cooled and then manoeuvred into the room as a pleasant flow of air. The warm exhaust air gets outside through a hose.

Similar to a classic exhaust air dryer, you can simply lead the hose to the outside through a slightly open window. As a rule, the right assembly material is included in the scope of delivery so that you can reliably attach and seal the exhaust air hose to the window. Don't worry: there is no need for extensive installation. If necessary, you can also move the mobile air conditioner to another suitable room and set it up there.
Advantages

Save Space
Easy installation on door or window
Cheaper than permanently installed devices
Effective room temperature reduction
Disadvantages:

Installation on window or door required
Higher power consumption during continuous operation
Not suitable for regions with low humidity
Split air conditioner - twice as cool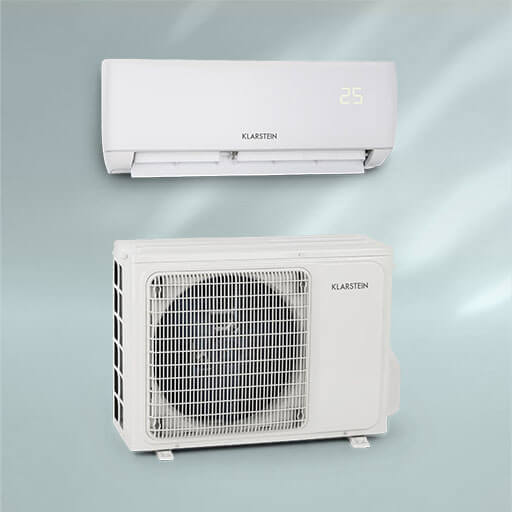 Product Review
Windwaker Smart Air Conditioner
The weather forecast for your home sounds great: The 'Windwaker Eco' guarantees optimal climate conditions with an air flow of 610 cubic metres per hour and five operating modes. In addition, it impresses with lower electricity costs because the air conditioner has energy efficiency classes A ++ and A +.
adjustable temperatures between 16 and 30 ° C
Energy efficiency class cooling mode: A ++ / heating mode: A +
Get The Product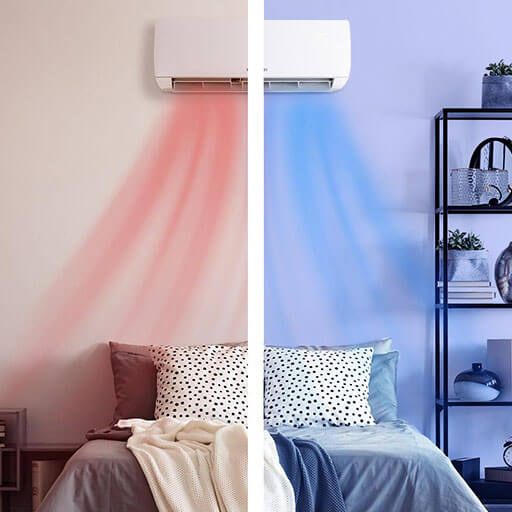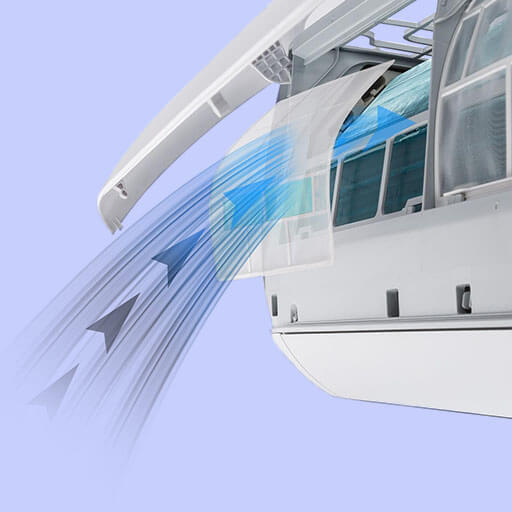 The 'split air conditioner' scores well in tests because it consists of two devices, and thus ensures optimised cooling. Inside the room, the system sucks in the room air and filters and cools it. The second component is outside and contains a refrigeration compressor. Both elements are permanently mounted and connected with hose pipes.

A major advantage is the low volume, as the noisy air conditioning compressor is located outside of the house or flat. Most split air conditioners also have an integrated reverse function so that the summer cooler becomes a heater in the winter months. If you are not an expert yourself, you should leave the assembly to an experienced specialist.
Advantages

Two-part operating principle = increased cooling capacity
Low noise level inside
Room temperature can be kept at a constant level
Mostly equipped with reverse function = can also be used as a heater
Disadvantages:

Installation by a specialist company required
Price is more expensive than most mobile devices
High electricity costs when used as heating
Comparison Table of Cooling Devices
How to calculate the cooling capacity of (mobile) air conditioning systems
When purchasing a new air conditioning system, cooling performance is an important factor. A comparison of different models shows that performance can vary greatly. The amount of thermal energy that the device dissipates per unit of time has an impact on the operating costs. In addition, it is important whether the selected device is optimal for the respective room size. If the unit is too small, the room will not be cooled adequately. An oversized choice, on the other hand, is also not recommended. Two units of measurement are important to determine the cooling performance: BTU and (kilo) watts. BTU stands for British Thermal Unit and denotes the cooling capacity (per hour) for air conditioning systems.
With this rule of thumb, you can determine the appropriate cooling capacity for your room size: calculate your room area in square meters times 60 watts (with good insulation and little sun exposure) to 100 watts (with little insulation and high sun exposure). Example:

20 m² x 100 W = 2000 W

(1000 W = 1 kW = 3412,14 BTU)
In a 20 square meter room with little insulation and high solar radiation, you will need a device with a cooling capacity of 2kW and around 6800BTU/h.
In addition to insulation and solar radiation, the number of people and technical devices in the room also influence the selection of the appropriate cooling capacity. Add about 250 watts for each additional person and the wattage for each electronic device in the room. You can find out the consumption of a device in the operating instructions or on the type label of the device.
Consequently, you will need more powerful devices to get efficient cooling for larger rooms. In smaller, sporadically used, rooms, you can use a mobile air conditioning system with an exhaust hose (there are no versions without a hose) . A permanently installed device is an ideal air conditioning option for the bedroom, but the costs are usually somewhat higher.
Air conditioning systems in comparison - find the right one for you
| | Fans | Air Cooler | Mobile Air Conditioning | Split Air Conditioning |
| --- | --- | --- | --- | --- |
| Cooling Type | Thanks to its airflow, a fan offers a pleasant refreshment on hot summer days. It helps regulate the body temperature and gives us a cooling sensation, even if the room temperature itself is not reduced. | The air cooler draws warm air in, evaporates water and cools the air flowing through it. This ensures that our body is pleasantly cooled, even if the room temperature itself is not significantly reduced. | The mobile air conditioning system ensures a pleasant cooling of the room. The warm summer air is drawn in and cooled down by a compressor, like in a refrigerator. The resulting warm air is led outside through an exhaust hose. | The split air conditioning system cools the room air using a cooling agent. The warm air that is absorbed by the indoor unit vaporises the agent and leads it to the outdoor unit. There, the heat is dissipated, the coolant liquefies again and is returned to the inside. This cycle is repeated until the desired room temperature is reached. |
| Weight | The weight of fans (depending on the model) is usually between 1-8kg. | The weight of air coolers is between 6-10kg. | The weight of monoblock systems is between 10-30kg. | The weight for the outdoor and indoor unit together is usually around 50kg. The indoor unit weighs approx. 10kg, the outdoor unit approx. 40kg. |
| Cooling Capacity | No direct reduction in room temperature | No direct reduction in room temperature | The cooling capacity of mobile air conditioning systems is usually between 2-3kW. This allows the cooling of a room with a volume of 80-120m³. The mobile air conditioning system is therefore more suitable for small rooms and rather for sporadic use. | The split air conditioning units usually have a higher cooling capacity than mobile air conditioning units or air coolers. Therefore, they are particularly suitable for larger rooms. The power range starts at 2.5kW and ranges to devices with 12kW. |
| Power consumption and energy efficiency | Of all the devices listed here, fans usually have the lowest power consumption. | Compared to monoblock and split air conditioning systems, an air cooler performs better in terms of electricity costs. | The power consumption of these devices can even be higher than with a modern split air conditioning system. Therefore, monoblock devices are particularly well suited for sporadic use. | IGood split air conditioners have a lower power consumption than mobile air conditioners. It also depends on the energy efficiency class. Classes A to A +++ are recommended here. |
| Sound Volume Level | On average, fans are quieter than other air con units. | Air coolers work without a compressor and therefore cool the room air much more quietly than the other air conditioning systems. | The mobile devices reach a volume between 60-65dB and are therefore the loudest in comparison to other cooling devices. | Split air conditioners are usually quieter than e.g. mobile air conditioners. The indoor unit reaches a sound pressure level of up to 50dB. The sound pressure level on the outdoor unit, however, can be up to 60dB. |
Frequently Asked Questions
The correct positioning has a significant impact on cooling performance and cost efficiency. Wherever possible, you should not place portable devices too close to walls, and there should be no heat sources such as lamps nearby. Regardless of the option chosen, a power connection should always be within reach. If you are installing a split system, you should definitely take this point into account when planning. Otherwise, it may be necessary for an electrician to run a new cable for an additional connection.
This variant allows the connection of several indoor units to the outdoor unit. Depending on the version, up to 5 indoor units can be connected. Therefore, you can cool several rooms or entire floors with this variant.
We can absolutely advise against this. You should definitely leave this task to an experienced specialist company. Specialist know-how is indispensable for the planning and assembly of these complex systems. Furthermore, no specialist company is liable for possible errors and damage that may occur during self-installation. A leaking coolant from an improper installation, can have serious consequences for health and the environment.
For larger systems with a fill volume of around 2.5 to 3kg, maintenance is recommended once a year; for smaller units, a maintenance interval of 2 to 3 years is usually sufficient. Thereby, the filter can be checked and replaced, if necessary. The maintenance is usually carried out by air conditioning, heating and sanitary specialists. The refrigeration technology of complex systems can also be checked regularly by an electrician.
There can be various reasons for an insufficient cooling capacity. For example, an insufficient amount of coolant or a defective or dirty filter might be the reason. If in doubt, you should contact a specialist company.
Basically, you should pay attention on the relationship to the environment in relation to relative humidity and temperature. It is advisable not to cool the respective room by more than 6 degrees compared to the outside temperature. This is advisable in order to avoid colds and circulatory problems due to an excessive temperature difference. If the humidity is too low, it can dry out the mucous membranes and thus irritate the respiratory tract. If it is too high, however, it can have a negative effect on the thermoregulation of the people in the room. A humidity of around 50 to 60 percent is ideal.
In the air conditioning test of the Stiftung Warentest, it was pointed out that the effects on climate depend on the choice of the cooling agent. Nowadays, legislators are ensuring that modern systems have to meet high requirements for approval.
Yes. Many companies offer special disinfection sprays with which you can disinfect your systems and thus prevent the formation of germs and fungi.