Bamboo Garden Breakfast Set
This item is not in stock and must be reordered.
60 day cooling off period
Free delivery, no minimum order
Product description
The Klarstein Bamboo Garden Breakfast Set brings the cozy flair of a japanese zen garden to the domestic breakfast table. Consisting of a kettle and 2-slot toaster, it is a center point in the morning hours.
Thanks to the 2200 watts of the cordless kettle, tea and similar infusion drinks get their boiling hot water super fast. With a volume of 1.7 liters, the kettle is suitable for small and large households. The water level can be easily seen through the small windows on both sides.
The Klarstein Bamboo Garden Toaster is a sepcialist for the heating of bread, not only the degree of toasting can be individually defined in 6 steps. The extended functional spectrum also provides a defrosting and warming function so that the range of usage does not only cover toasting toast. The function buttons are discreetly lit by a blue LED lighting in the rear.
Features
Features Bamboo Garden Kettle:
Automatic and manual shutdown
Dry boil protection
Overheat protection
Concealed heating element made of stainless steel
Removable, washable lime filter
Locking safety lid
Cool touch handle
Low footprint
Eletricity supply: AC 220-240 V ~ 50/60 Hz

Features Bamboo Garden Toaster:
Thawing function
Warm-up function
Blue LED lighting - backlit function keys
6-stage tanning degree setting
3.5 cm wide slots with variable breadth centering
Pull-out crumb tray
Automatic shutdown and abort function
Bottom cable rewind
Locking safety lid
Anti-slip rubber boots
Electricity supply: AC 220-240 V ~ 50/60 Hz
Dimensions and Technical Details
Dimensions kettle: about 16 x 26.5 cm (ØxH)
Weight kettle: about 1.07 kg
Dimensions toaster: about 29 x 18.3 x 17 cm (WxHxD)
Weight toaster: aabout 1.2 kg
What will be delivered
1 x kettle
1 x toaster
Instruction manual in English (other languages: German)
Delivery & shipment
This item is not in stock and must be reordered.
Your order will be delivered to the selected address per order. This address does not have to match the billing address. You can send the orders to your family, friends or office if you are not at home during the day. Your order is delivered by our specialist courier spedition to your chosen address. This address does not have to correspond with your billing address. Leave a telephone number with your order to guarantee the best possible delivery of the product. Delivery takes place free to kerbside. This item may be pre-ordered. Please note that, in this case, the delivery time may be up to 5 days.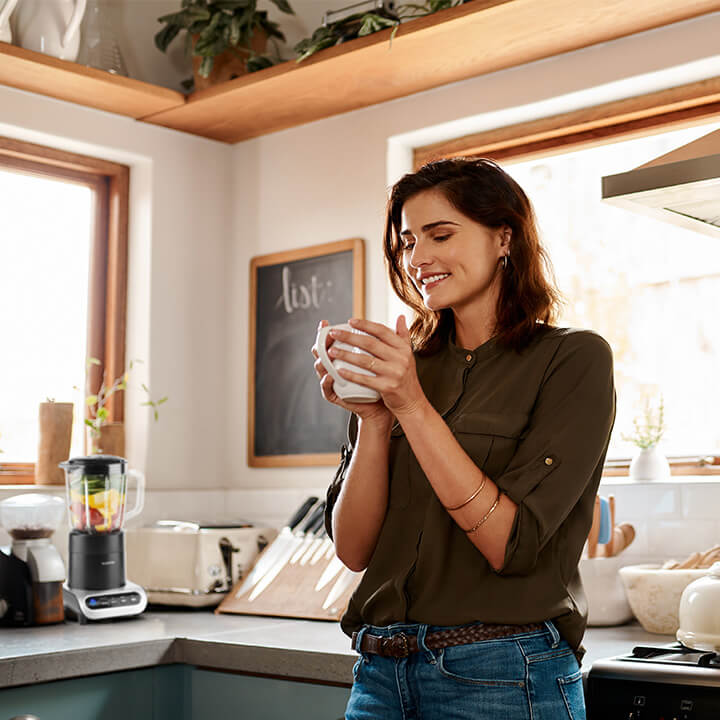 No review available for this item.
Customer reviews from other countries
Besonders, wenn man sie aus Platzgründen nicht verstauen kann, ist es ein Hingucker. Ich habe es meinem Sohn zur Wohnungseinweihung geschenkt. Es kam super gut an und sieht toll aus.
It's an eye-catcher, especially if you can't stow it away for reasons of space. I gave it to my son for his housewarming. It turned out great and looks great.
An sich hat der Toaster ganz ordentlich das getan, wofür er da ist. Aber jetzt nach zweijährigen Gebrauch ist die Plastikeinfassung durch die Hitzeeinwirkung an einer Stelle geschmolzen, was nicht nur einen Schönheitsfehler darstellt, sondern auf längere Zeit auch noch zu einem Sicherheitsproblem werden kann! Schade! Das der Anfang vom Ende so rasch kommt, hätte ich nicht erwarten. Auch wenn die Rückgabefrist längst verstrichen ist, würde ich mich über eine Kenntnisnahme von Klarstein freuen.
The toaster itself has done what it's supposed to do. But now, after two years of use, the heat has melted the plastic bezel in one spot, which is not only a cosmetic blemish, it can also become a safety issue in the long run! A pity! I didn't expect the beginning of the end to come so quickly. Even if the return period has long since passed, I would be happy to hear from Klarstein.
Super entspricht 100%der Beschreibung
Super corresponds 100% to the description
Ein sehr schönes Design. Die Bambusoptik kommt gut an . Die Handhabung ist auch sehr einfach auch für Senioren geeignet. Bin sehr zufrieden.
A very nice design. The bamboo look is well received. It is also very easy to use, even for seniors. I am very pleased.
Habe den Toaster und den Wasserkocher jetzt einige Monate in Verwendung und bin immer noch begeistert. Die Optik ist wunderschön und auch die Funktion lässt keine Wünsche offen. Kann ich sehr empfehlen!
I've been using the toaster and kettle for a few months now and I'm still thrilled. The look is beautiful and the function leaves nothing to be desired. I highly recommend!
Lieferung kam schnell und gut verpackt. Sehr schönes Design. Der Wasserkocher ist sehr groß, sind ja auch 1,7 Liter. Ich habe mehrerer Produkte von Klarstein, die eigentlich alle gut sind.
Delivery came quickly and well packaged. Very nice design. The kettle is very large, it is also 1.7 liters. I have several Klarstein products, all of which are actually good.
Alles wie beschrieben, top
Everything as described, great
Beide Geräte haben ein hübsches Design und funktionieren gut. Das Wasser wird zügig heiß für 1,7l Fassungsvermögen und der Toaster bräunt bei mittlerer Stufe ein goldgelbes Toast. Die Schlitze sind recht schmal, ein Sandwichtoast passt geradeso noch hinein. Zu bemängeln ist eine teilweise schlechte Verarbeitung des Bambus an den Rundungen (siehe Bild), was für mich jetzt kein Rücksendegrund darstellt. Das Plastik am Toaster wirkt für den Preis billig. Leider ist kein Brötchenaufsatz dabei (stand auch nicht in der Beschreibung!), meiner vom alten Toaster passt zufällig.
Both devices have a nice design and work well. The water heats up quickly for a capacity of 1.7 l and the toaster browns golden toast on a medium setting. The slots are quite narrow, a sandwich toast just fits in. To complain about is a partially poor processing of the bamboo on the curves (see picture), which is no reason for me to return it now. The plastic on the toaster looks cheap for the price. Unfortunately there is no bun attachment (it wasn't in the description either!), mine from the old toaster just happens to fit.