Guide to cooker hoods
The air is pure!
A promise in advance: We will never try to cloud your judgement. Our range includes a large selection of extractor hoods and we would like to guide you through this product world so that a perfectly fitting hood will arrive in your kitchen.

The guide is perfect for anyone who is not yet sure about the subject. We'll answer the relevant questions and show you product examples of these practical kitchen helpers. Our journey begins with the different types of extractor hoods, makes an excursion to discuss the differences and advantages of exhaust air and recirculating air variants and visits valuable tips for purchasing decisions as well as for care and maintenance.
Substructure extractor hoods
Substructure hoods are usually smaller and more compact - this makes installation and assembly easier. Such models easily fit under kitchen cabinets that are located above the hob. This blows away the need for any renovation work.
Purista Substructure Extractor Hood Metal Glass 60 cm 190 m³/h Wall Mounting
77.99 €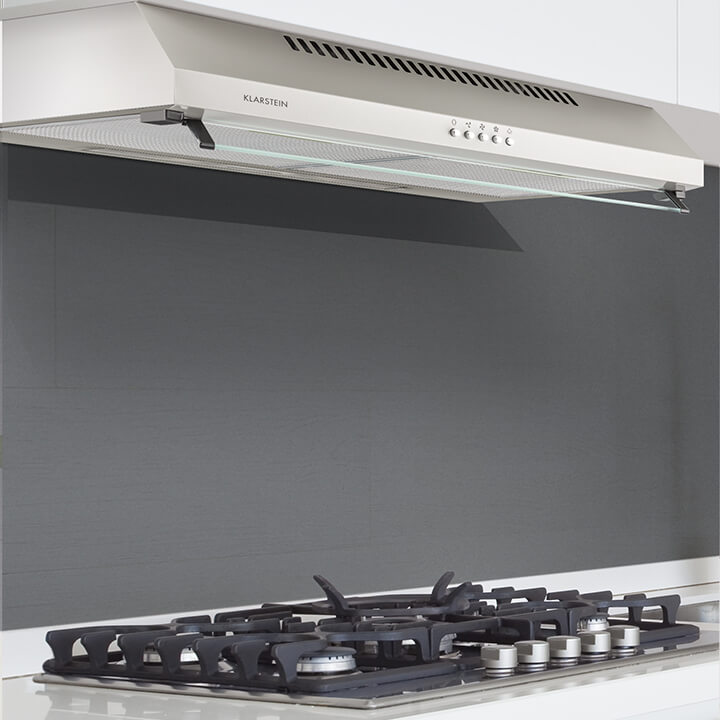 The substructure hoods go particularly well with small to medium-sized kitchens. With an air exchange of up to 210 cubic metres per hour, they are the perfect cooking companion for smaller households.
Wall hoods
Wall-mounted hoods are the big sibling of the substructure models, and their more powerful air exchange is primarily suitable for larger kitchens. You attach them to the wall above the cooking surface, just like their name says, where they effectively suck up the unclean steam and guide the air out via a closed circuit.
Klarstein Zola 90 Cooker Hood 210 W 607m³/h 2-Piece Flue 304 Stainless Steel
249.99 €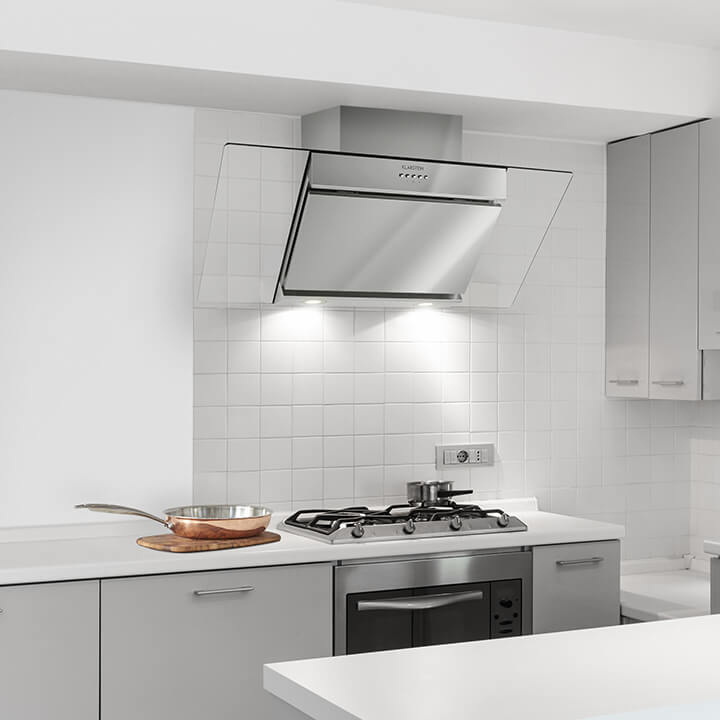 Convertible wall hoods
Do you prefer 'around' instead of 'down'? Some extractor hoods allow manual changeover from exhaust air to recirculation mode. This has a clear advantage, especially in winter, because an exhaust air hood sucks in the preciously heated ambient air and leaves cold air behind.
The convertible extractor hoods from Klarstein can quickly switch from exhaust air to recirculation mode using an activated carbon filter and a specific setting. Any switch of the modes is then possible, depending on the situation.
Buying Range Hoods: Important Information
1. Of air and love: this is how extractor hoods work
Cooking, roasting, baking and much more belong in the kitchen as well as a saucepan, soup ladle and ... right, an extractor hood. Because the aforementioned culinary activities cause odours and fumes, which also cause fat particles to circulate in the air. The unsightly combination is called vapour and poses a problem for many households without an extractor hood. Vapours like to lie on surfaces such as furniture and electronic devices. The result: very stubborn greasy films and unpleasant smells. But it doesn't have to come to that. An extractor hood not only reduces the amount of vapour, it also replaces the 'cooking air' with clean air. So: take a deep breath!
Extractor hoods differ in two ways:
a) Recirculation mode
With recirculation hoods, there is an indirect exchange of air, which releases the sucked-in air directly back into the same room - it is therefore a closed system. The interaction of the activated carbon filter and grease filter guarantees a successful exchange of air: activated carbon absorbs scents very well and the fat particles adhere to the other filter.
b) Exhaust hoods
With exhaust hoods, there is a direct exchange of air. Such models are connected to an existing air shaft that removes the sucked-in air. A supply air element then directs fresh air into the kitchen. With this type of exchange, unpleasant smells do not play a role, so exhaust hoods only have a grease filter to keep the shafts clean.​
2. Which hood is right for me?
You, your kitchen and your new extractor hood - a fantastic team. But it's not just about aesthetics, the hood must also fit the size of the room and your taste. In addition to the preferred air flow, the first question that arises is how big the kitchen is in which you want to install the extractor hood. Once you answer that, you can work out the required performance.
Back to school, because now it's getting mathematical. But we are on your side, don't worry - of course without grading. The decisive factor here is the possible hourly air flow when the extractor hood is working at the highest level. First, we calculate the air volume in the kitchen based on the area and the ceiling height. Ideally, the following applies: contaminated kitchen air should flow through the filter up to eight times an hour in order to be free of odours and grease. If we take this rule of thumb into account, the necessary hourly output is calculated using the following formula:
Kitchen area in m² * ceiling height in m * 8 = output in m³ per hour
An example: Your kitchen with an area of 20 m² and a ceiling height of 2.5 m harmonises well with an extractor hood that can filter up to 400 m³ of air per hour.
Easy, right? The width of the hob, according to which you align the extractor hood, is also important for an optimal fit. Two recommendations:
Hobs with a width of up to 75 cm: 90 cm wide hood
Hobs with a width of up to 90 cm: 120 cm wide hood
A certain overhang is important because cooking vapours not only rise vertically, they also escape to the side. In order to collect the vapours as best as possible, extractor hoods should extend over the hobs on the left and right.
Have a look: head-free extractor hoods
A new trend is in the air: the so-called head-free hood. Its trademark is a design that slopes towards the rear, which scores points visually and gives the kitchen unit a special look. It is the chameleon among extractor hoods, because the head-free version is hardly recognisable as such at first glance - the obvious grease filters are missing. Head-free hoods usually suck in the air through slots in the panelling or over the edge in order to filter it. This even makes cleaning easier.
At the same time, head-free models reduce the likelihood of bumping into the hood - a bump-free advantage for taller people.
Practical: convertible extractor hoods
Both exhaust and recirculation hoods enjoy advantages. Therefore: a combination is the perfect solution. This refers to exhaust air hoods that can be switched to recirculation mode and vice versa with an extension - usually an activated carbon filter. This easily turns the wintry weak point of the exhaust air operation into a strength, because the air heated by radiators remains in the room.​
3. Care and maintenance of kitchen hoods
Cooker hoods last a long time if you take good care of them. In order to counteract natural wear and tear, it is advisable to clean the outside and inside surfaces regularly - particles also settle there.
Also clean the grease filters at regular intervals and replace them if necessary. Otherwise the suction power of the hood will suffer, and in the worst case, the grease film can catch fire. Our recommendation: carry out a thorough cleaning of the hood once a month.​
If there is an activated carbon filter in the device, it should also be replaced in due course. Since its main task is to absorb odour particles, the maintenance frequency is not as high as that of the grease filters.
Extractor hoods usually have lamps as an additional light source. There are two versions available: LEDs and halogen lamps. The more common LED lights are more energy efficient and a little more expensive.
Of course, you will find the right accessories for every extractor hood in our range, such as replaceable filters, modules for converting to recirculation mode and lamps.