Cooker Hood Buying Guide
The air is pure!
A pledge to start with: We'll never give you the blue smoke. Our cooker hood range includes a large selection of extractor hoods and we would like to guide you through this product world so that a perfectly fitting hood will arrive in your kitchen.

The guide is perfect for anyone who is not yet sure about the topic. We'll answer all relevant questions and show you product examples of these practical kitchen helpers. Our journey begins with the different types of cooker hoods, makes an excursion to discuss the differences and advantages of exhaust air and recirculating air variants and visits valuable tips for purchasing decisions as well as for care and maintenance.
Canopy cooker hoods: Perfect for slim kitchen units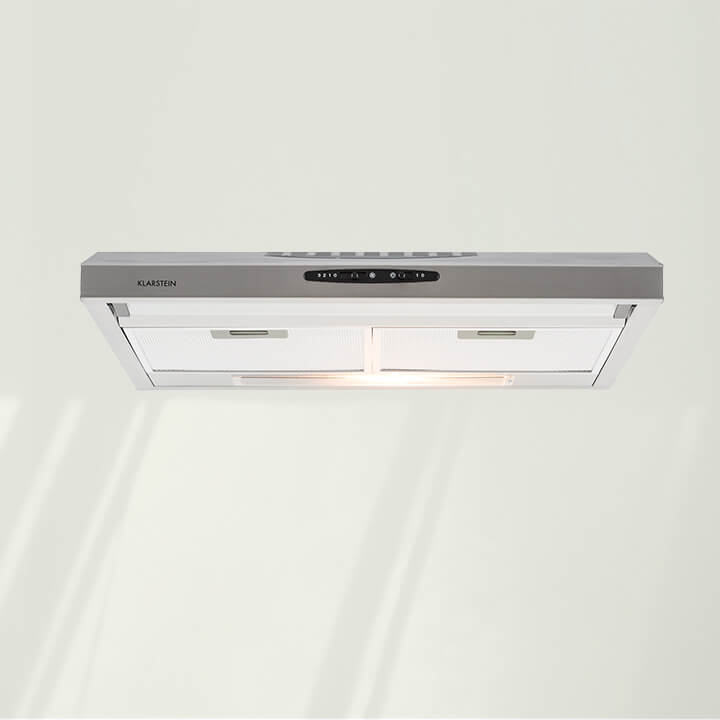 Product Choice
UW60SF Extractor Cooker Hood
A real underdog, our UW60SF Extractor Cooker Hood fights all your food odours via exhaust air, 3 power levels and hourly circulation of up to 190 cubic metres.
60 cm wide
Can be mounted both freely hanging and under wall units
Incl. screw set for cabinet mounting
Get the product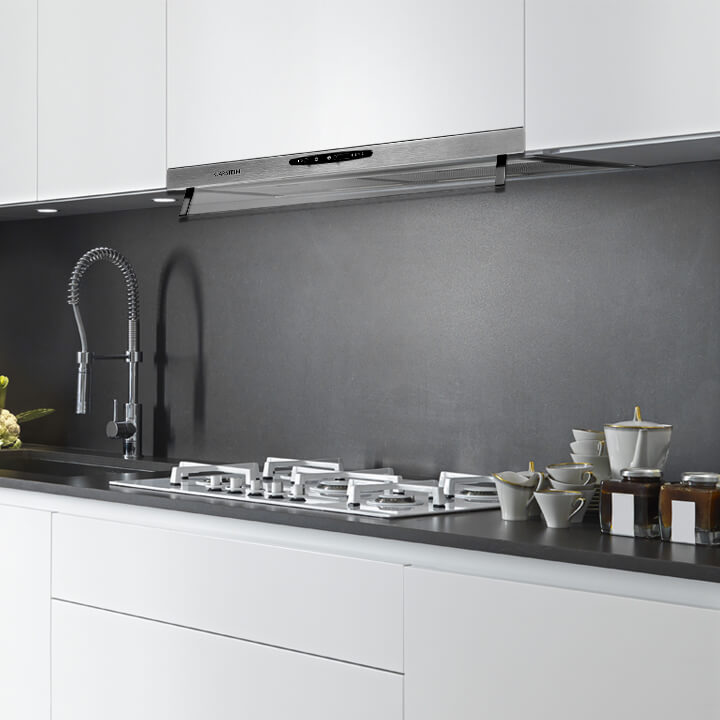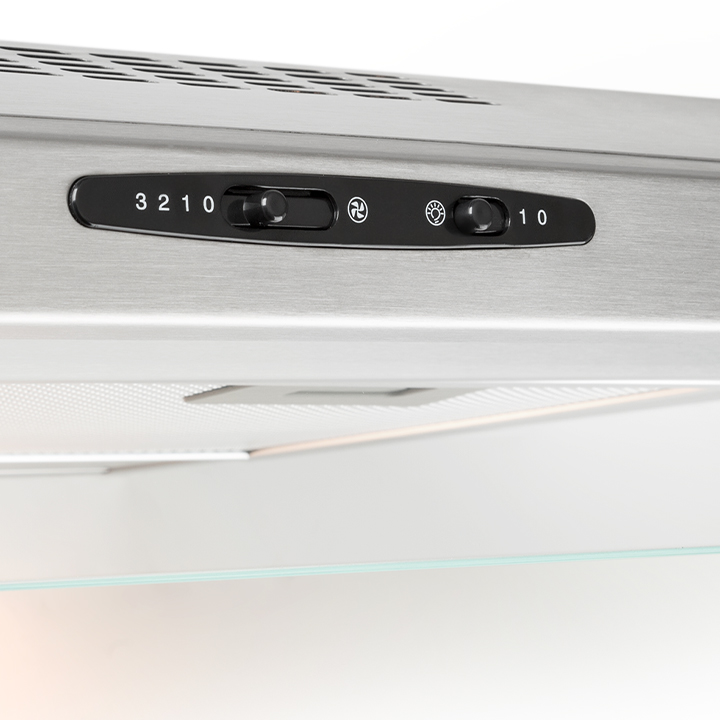 Canopy cooker hoods are usually smaller and more compact - this makes installation and assembly easier. Such a model fits easily under kitchen cabinets that are above the cooking surface. This also means that any conversion work is blown away. The canopy cooker hoods fit in well with small to medium-sized kitchens. With an air exchange of up to 210 cubic metres per hour, they are the perfect cooking companion for smaller households.
Advantages

Space saving
Easy to assemble
Can be retrofitted
Visually inconspicuous
Disadvantages

Many models require a wall unit
Minimal reduction of the view for taller people​
Chimney Cooker Hoods: Ideal for kitchen living areas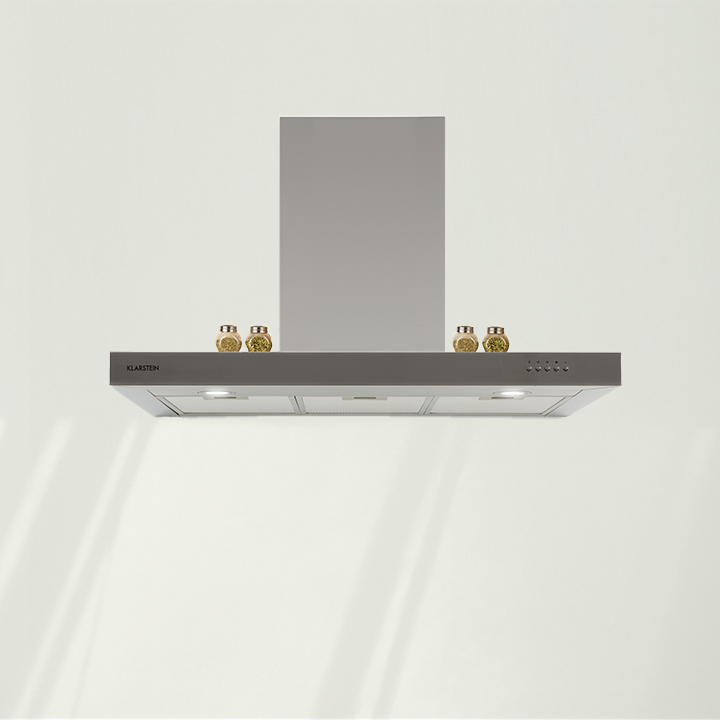 Product Choice
Zarah 90 cooker hood
With a width of 90 cm and up to 600 cubic metres of power per hour, you can cook, steam and fry whatever your desire is in medium-sized kitchens with our Zarah 90 chimney cooker hood - all with the touch of a button: the front control function allows you to easily regulate the ventilation and lighting.
3 power levels​
Ergonomic design
Incl. accessories for circulating air and exhaust air
Get the product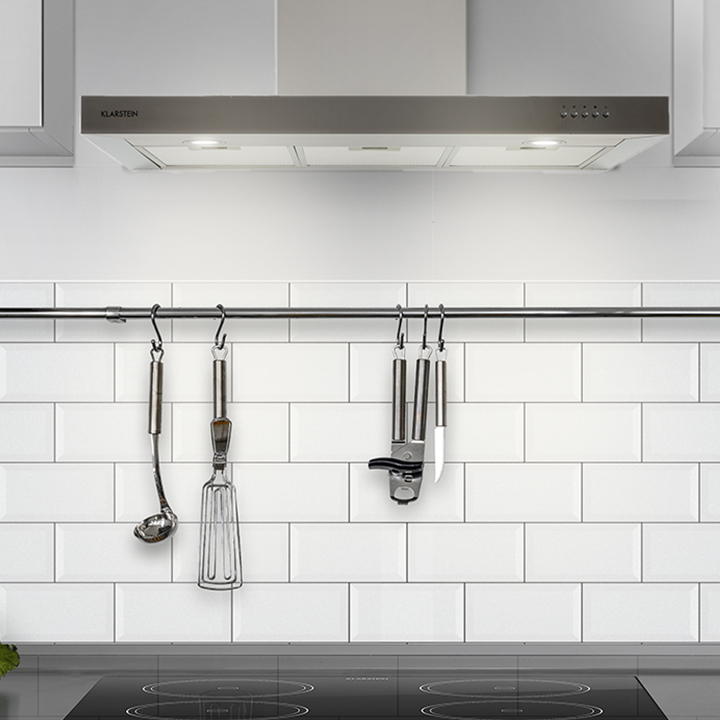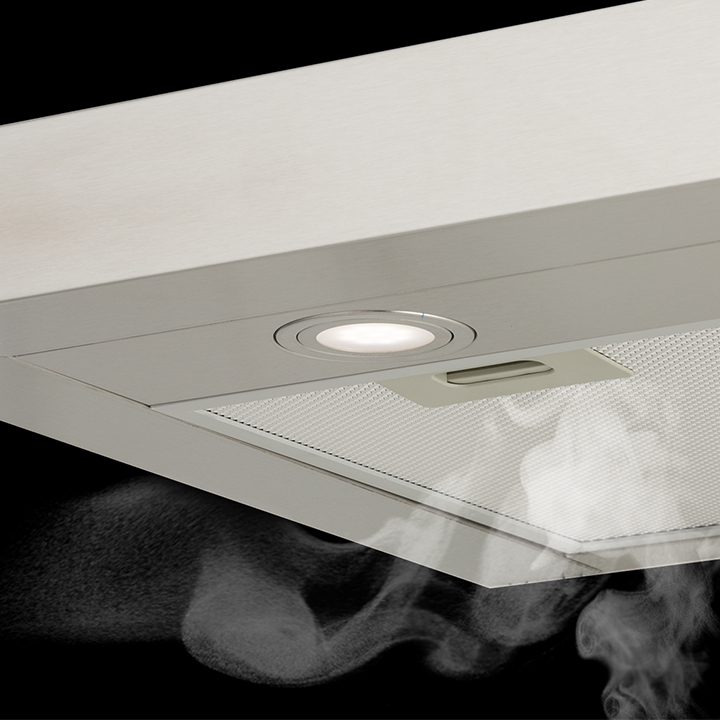 The chimney cooker hood model is a bigger option and its more powerful air exchange is primarily suitable for larger kitchens. You attach them to the wall above the cooking surface, where they effectively suck up the unclean steam and discharge the air via a closed circuit.
Advantages

Powerful for larger kitchens
Exceptionally robust
Different designs can enhance your interior style
Good illumination of the cooking area​
Conversion from exhaust air to recirculated air with activated charcoal filters is available
Disadvantages

More complex installation
conspicuous; it takes up the space above the hob​​
Loss of storage space as it interrupts the wall unit row
It is dusty on top​​
Island Cooker Hoods: The highlight of every open space kitchen​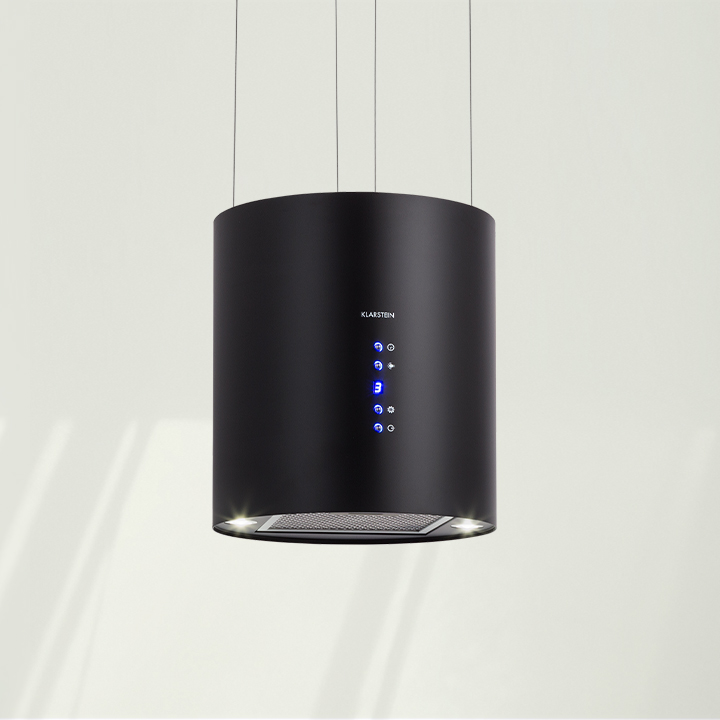 Product Choice
Klarstein Barett Island Extractor Hood
Hanging from the ceiling on tear-resistant steel cables up to 140 cm long, our Barett island cooker hood with an air flow of up to 558 cubic metres ensures odour-free cooking and American kitchen flair in a class of its own.​
Incl. 9-minute re-ventilation timer for lasting odour control
3 power levels
Incl. 2 activated charcoal filters​
Get the product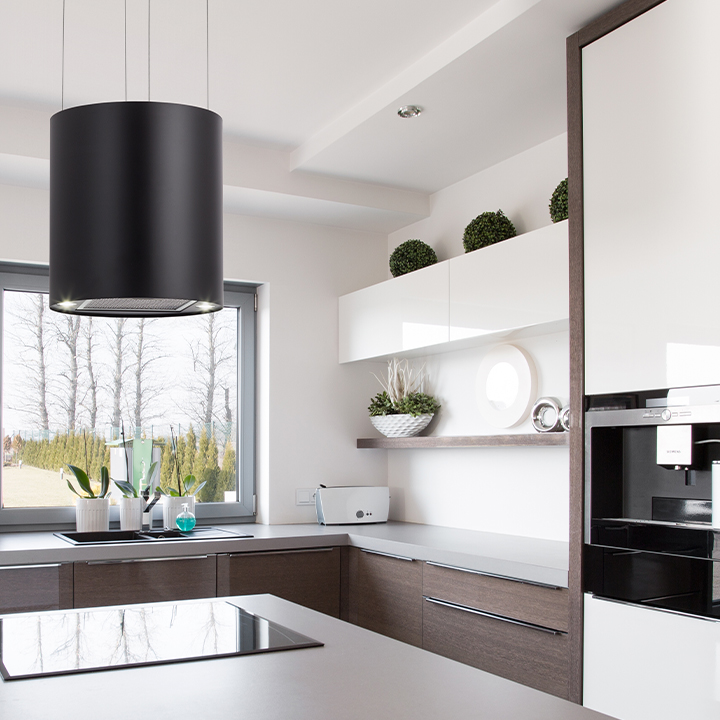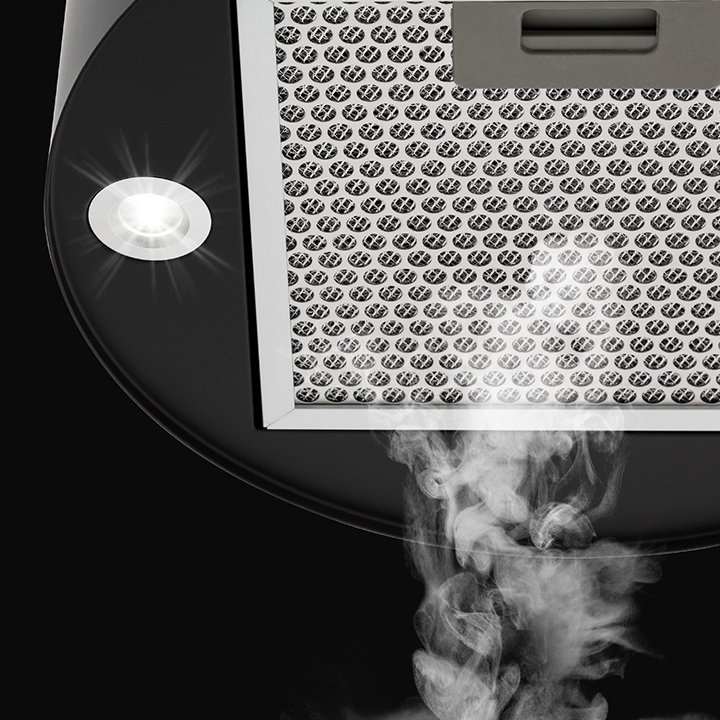 The island cooker hood is the functional and visual highlight of your kitchen with a cooking island. It optimally illuminates the hob, efficiently keeps out steam, grease and odours with an air flow rate of up to 650 cubic metres per hour and significantly underlines your individual kitchen interior as a beautifully shaped retro housing or as a modern designed house.
Advantages

Clear view due to ceiling installation above the cooking surface
Design highlight with exceptional value​
Easy cleaning from all sides
Good accessibility to the filter​
Practical lighting of the cooking island
Thanks to adjustable height, suitable for both new and old buildings​
Disadvantages

More complex installation
Optical prominence, which is not always desirable​​​
It becomes dusty above​​
Slightly louder in comparison​​
Angled Cooker Hoods: Best choice for modern cooking experiences​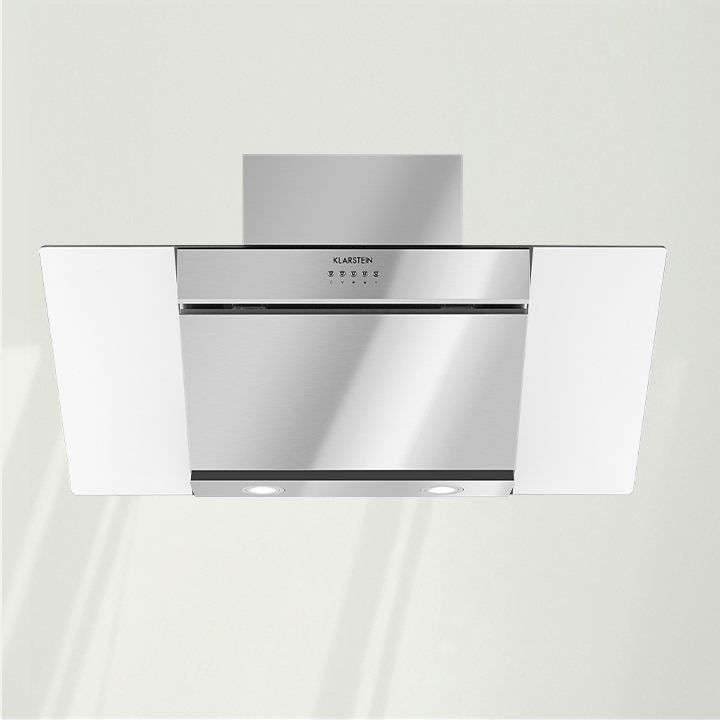 Product Choice
Zola Cooker Extractor Hood Recirculation Set
With the sturdiest safety glass, brushed 304 stainless steel body and 607 cubic metres of hourly exhaust capacity, our Zola 90 is the leader of our angled cooker range and the most elegant opponent for grease, smoke and odours.​​​
3 power levels​
Incl. dishwasher-safe aluminium filter
With adjustable lighting
Get the product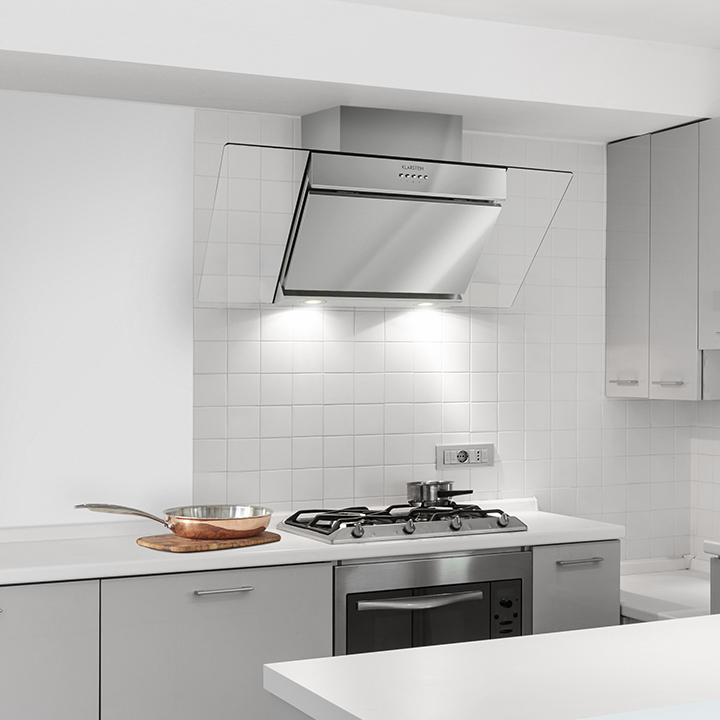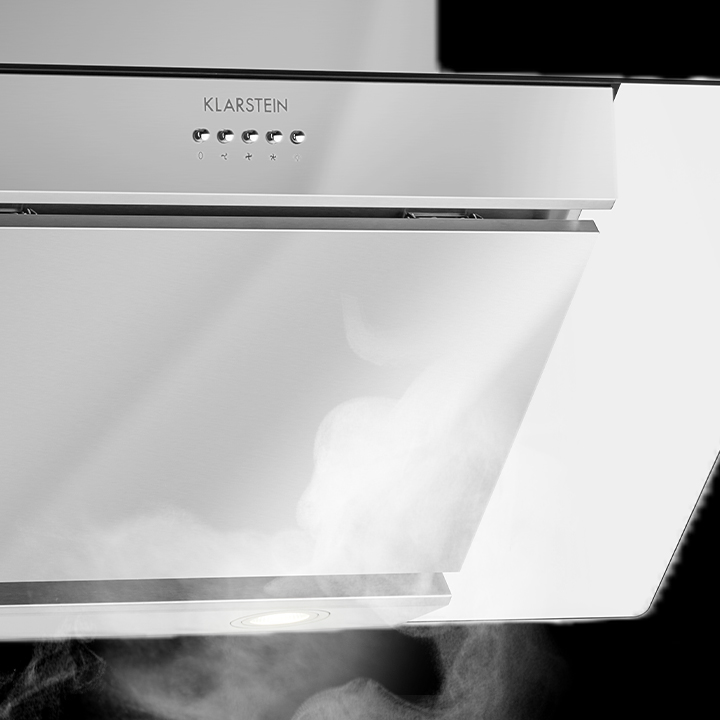 Angled cooker hoods are the most ergonomic option for cooking, especially for tall people, thanks to their angled screen. Available in a standard 60 cm format for the standard cooker and extra-wide 90 cm for the induction cooker. Our models guarantee noticeable smoke and odour reduction with an hourly exhaust air output of up to 607 cubic metres. Another plus: thanks to their diagonal design, they always exude luxurious flair.
Advantages

Flexible conversion from exhaust air to recirculated air possible with activated charcoal filters.​
Stable and powerful
Modern design​
Clear view of all hobs​
Ergonomic and head bump-free
Partly even with coloured LEDs for more atmosphere
Available in various sizes
Disadvantages

More complex installation​
conspicuous; it takes up the space above the hob​​​​
Loss of storage space, as it interrupts the wall unit row​​​
No comprehensive hob lighting due to its shape
Cooker Hood Extractors: goodbye kitchen steam!​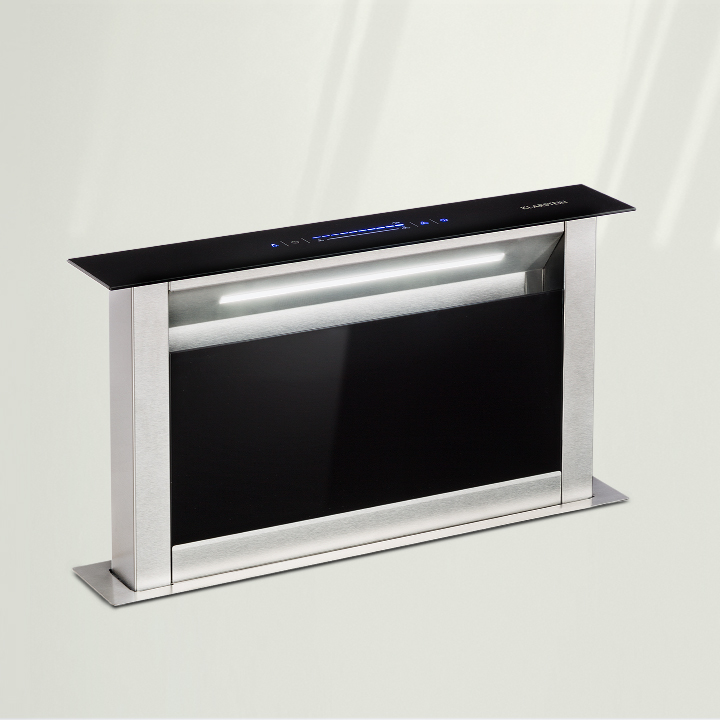 Product Choice
Klarstein Royal Flush Eco Downdraft Cooker Hood
Our number 1 downdraft extractor Royal Flush Eco rises from your worktop in elegant glass and stainless steel. Odours? Rising steam that causes glasses to become fogged up? No chance!
Fluid dynamic efficiency class A
Energy efficiency class A+​
Available in 60 cm and 90 cm width
Get the product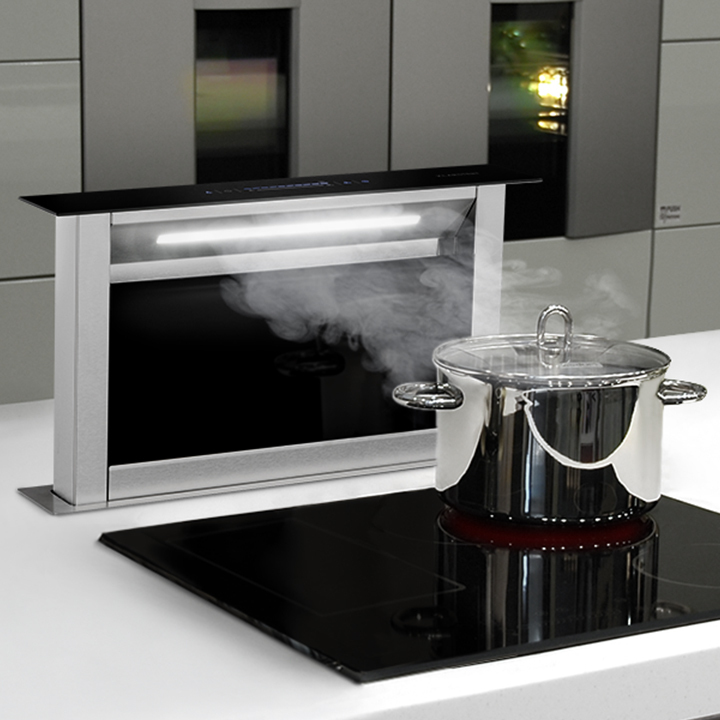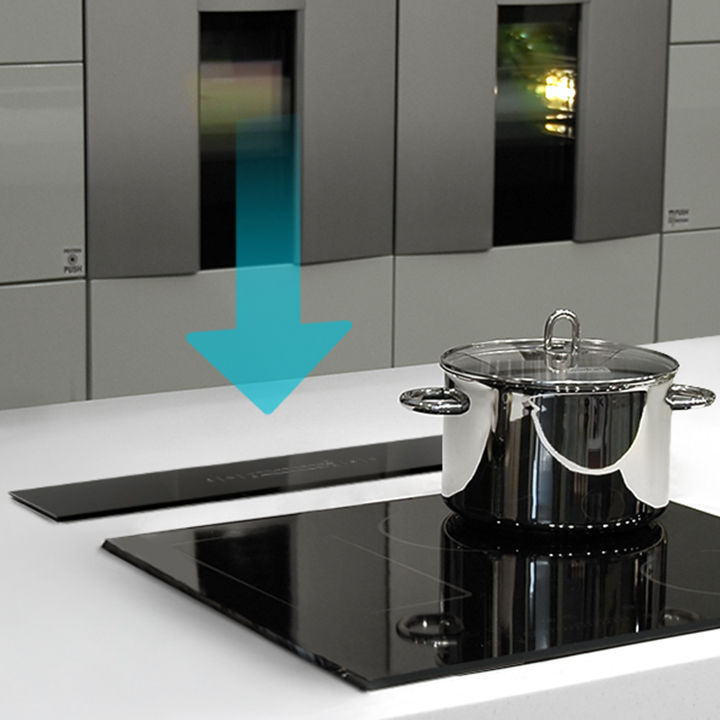 The downdraft extractor - is considered the supreme discipline of extractor hoods and is gradually conquering kitchen landscapes. No other combines modern design and innovation to such an extent. Steam and odours are prevented from spreading through the room in the first place thanks to the side-mounted extraction from below with up to 576 cubic metres of power per hour. When no longer needed, the extractor fan disappears into the hob at the touch of a button and scores with invisibility and a wow effect.
Advantages

Space-saving on top
Almost invisible and therefore independent of the interior design style​​
Ultra-modern and extremely efficient
Easy cleaning from both sides​​
Absolute freedom of head and sight​
Also predestined for eyeglass wearers, as smoke does not rise in the first place
Ideal for rooms with roof slopes or very high ceilings
Conversion from exhaust air to recirculated air with activated charcoal filters available
Disadvantages

More complex installation
Comparatively higher purchase costs​​​​​
Liquid and spice particles can get inside the appliance​
An excessively high pot rim can reduce the suction power.​​​​
Here's our "spoon trick": With a cooking spoon between the rim of the pot and the lid on the extraction side, the vapour can also be captured well here.
Slightly less storage space in the base cabinet
More frequent cleaning necessary
Cooker Hood Accessories
Whether for conversion to recirculation or regular maintenance: At Klarstein you can get all the accessories and replacements you need from a single source. From activated carbon cooker hood filtersto the right exhaust hose and grease filters to replacement lights, you'll find everything you need for your cooker hood.​
Buying the right cooker hood: exhaust air or recirculation?
Find out all important facts
Cooking, roasting, baking and much more belong in the kitchen just as much as a pot, soup ladle and ... that's the right thing, an extractor hood. Because culinary activities cause odours and vapours, which also cause fat particles to circulate in the air. The unpleasant combination is called vapours and presents a problem for many households without a cooker hood. Vapours are just too likely to settle on surfaces such as furniture and electronic appliances. The result: very stubborn grease films and unpleasant odours. But it doesn't have to come to that. A cooker hood extractor not only reduces the amount of fumes, but also exchanges the "cooking air" for purified air. With this in mind: take a deep breath!
Cooker hoods differ in two ways:
a) Recirculation mode
With recirculating cooker hoods, there is an indirect exchange of air, which releases the sucked-in air directly back into the same room - it is therefore a closed system. The interaction of the activated carbon filter and grease filter guarantees a successful exchange of air: activated carbon absorbs scents very well and the fat particles adhere to the other filter.
b) Exhaust mode
With exhausting cooker hoods, there is a direct exchange of air. Such models are connected to an existing air shaft that removes the sucked-in air. A supply air element then directs fresh air into the kitchen. With this type of exchange, unpleasant smells do not play a role, so exhaust hoods only have a grease filter to keep the shafts clean.​​
2. What cooker hood suits my needs best?
You, your kitchen and your new extractor hood - a fantastic team. But it's not just about aesthetics, the cooker hood must also fit the size of the room and your taste. In addition to the preferred air flow, the first question is how big the kitchen is in which you want to install the extractor hood. Once you know that, you can work out the required performance.
Furthermore, keep in mind this calculation. The decisive factor here is the possible hourly air flow when the cooker hood is working at the highest level. First, we calculate the air volume in the kitchen based on the area and the ceiling height. Ideally, the following applies: contaminated kitchen air should flow through the filter up to eight times an hour in order to be free of odours and grease. If we take this rule of thumb into account, the necessary hourly output is calculated using the following formula:
Kitchen area in m² * ceiling height in m * 8 = output in m³ per hour
An example: Your kitchen with an area of 20 m² and a ceiling height of 2.5 m matches well with an extractor hood that can filter up to 400 m³ of air per hour.
Easy, right? The width of the hob, according to which you align the cooker hood, is also important for an optimal fit. Two recommendations:​
Hobs with a width of up to 75 cm: 90 cm wide cooker hood
Hobs with a width of up to 90 cm: 120 cm wide cooker hood
A certain overhang is important because cooking vapours rise vertically and escape to the side. In order to collect the vapours as best as possible, extractor hoods should extend over the hobs on the left and right.
Have a look: angled extractor hoods
A new trend has emerged: the so-called head-free angled cooker hood. Its trademark is a design that slopes to the back, which looks great visually and gives the kitchen unit a modern touch. It is the chameleon among cooker hoods because the head-free version is hardly recognisable as such at first glance - the obvious grease filters are missing. Angled cooker hoods usually suck in the air through slots in the panelling or over the edge in order to filter it. This even makes cleaning easier.
At the same time, angled models reduce the likelihood of bumping into the hood - a bump-free advantage for taller people.
Practical: convertible cooker hoods
Both exhaust and recirculation cooker hoods offer advantages. Therefore: a combination is the perfect solution. This refers to exhaust air hoods that can be switched to recirculation mode and vice versa with an extension - usually an activated carbon filter. This easily turns the wintry weak point of the exhaust air operation into a strength, because the air heated by radiators remains in the room.​​
3. Care and maintenance of kitchen hoods
Cooker hoods last a long time if you take good care of them. In order to counteract natural wear and tear, it is advisable to clean the outside and inside surfaces regularly - particles also settle there.
Also clean the grease filters at regular intervals and replace them if necessary. Otherwise the suction power of the hood will suffer, and in the worst case, the grease film can catch fire. Our recommendation: carry out a thorough cleaning of the cooker hood once a month.​
If there is an activated carbon filter included, it should also be replaced in due course. Since its main task is to absorb odour particles, the maintenance frequency is not as high as that of the grease filters.
Extractor hoods usually come with lamps as an additional light source. There are two versions available: LEDs and halogen bulbs. The more common LED lights are more energy efficient and a little more expensive.
Of course, you will find the right accessories for every cooker hood in our range, such as replaceable filters, modules for converting to recirculation mode and LED light bulbs.