Square jar with bamboo lid
This item is not in stock and must be reordered.
60 day cooling off period
Free delivery, no minimum order
Top features
Glass meets bamboo: elegant rectangular storage jar with lid
Rounded edges: pretty on cabinets and shelves
Insights: good overview of the stored ingredients
Product description
With the high-quality square glass jar with bamboo lid from Klarstein you can store food optimally, because it stays fresh for a long time. The beautiful lid made of 100% bamboo is airtight, so it will ensure that the food stored inside maintains its aroma for a long time. Thanks to the silicone ring, everything is sealed extra airtight. In addition, the lid is moisture-resistant and particularly durable, the storage jar from Klarstein is particularly taste-neutral, heat- and cold resistant. For easy cleaning, you can even put the glass jar without the lid in the dishwasher.
Elegant glass gallery with rounded edges: The angular storage jar from Klarstein is a stylish accent in your kitchen and keeps your supplies fresh for a long time!
Features
rectangular storage jar with bamboo lid
inexpensive set of 3
stylish rounded edges
Volume: 2000 ml
food-grade glass
Lid made of 100% bamboo
High-quality processing
Airtight and taste-neutral
dishwasher safe glass (without lid)
Dimensions and Technical Details
Dimensions each jar: approx. 10 x 25 x 10 cm (WxHxD)
Weight each jar: approx. 900 g / Volume: 2000 ml
What will be delivered
Delivery & shipment
This item is not in stock and must be reordered.
Your order will be delivered to the selected address per order. This address does not have to match the billing address. You can send the orders to your family, friends or office if you are not at home during the day. Your order is delivered by our specialist courier spedition to your chosen address. This address does not have to correspond with your billing address. Leave a telephone number with your order to guarantee the best possible delivery of the product. Delivery takes place free to kerbside. This item may be pre-ordered. Please note that, in this case, the delivery time may be up to 5 days.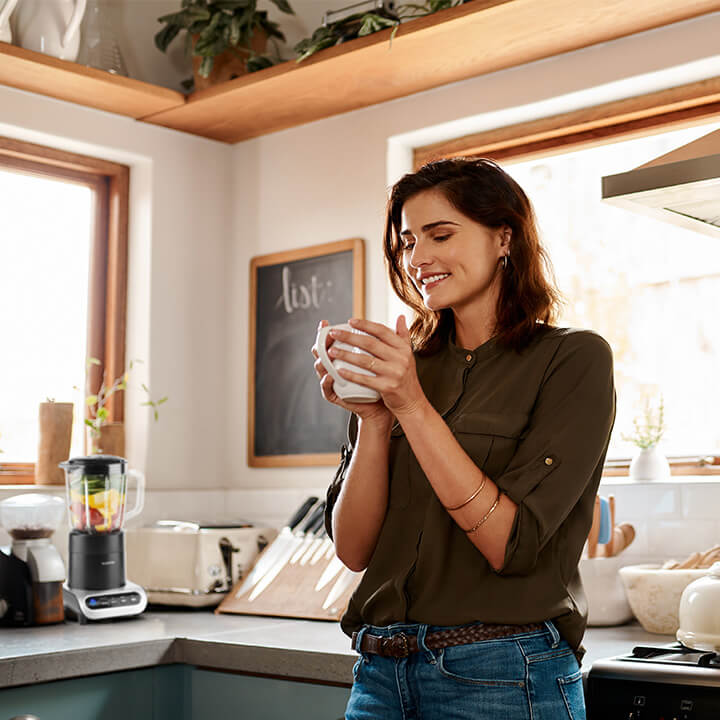 No review available for this item.
Customer reviews from other countries
Die Gläser sind von sehr guter Qualität. Die Deckel schließen gut.
The glasses are of very good quality. The lids close well.
Ich hatte bereits ein ähnliches Glas für die Kaffeebohnen und suchte nun Gläser für Tee und Müsli. Ich trinke nur Kamillentee und baue die Kamille selbst an. Es ist schön anzusehen, wenn die getrockneten Blüten in so einem Glas im Regal stehen. Daneben die Kaffeebohnen und noch das Müsli. Einziges Manko ist die Größe. Ich habe offenbar zu kurze Finger für diese Gläser. Halte ich es nur mit einer Hand, rutscht mir das Glas einfach weg. Ein ähnliches Glas in rund (nicht abgerundet, sondern richtig rund) macht mir nicht solche Probleme. Was heißt Probleme ... Es ist in Ordnung, aber ich wollte es erwähnen. Einen Stern Abzug muss ich leider für den Deckel geben. Er sieht fantastisch aus, vor allem wenn man alles in diesem Stil einrichtet. Aber die Dichtung ist nicht wirklich dicht. Bei zwei der drei Gläser lässt die Dichtung zu wünschen übrig. Sie geht nicht straff genug und macht mir daher Sorge, ob die Aromen verfliegen oder eventuell Ungeziefer leicht eindringen kann. Bisher hatte ich keinen Schädlingsbefall darin, aber den Hintergedanken werde ich nicht los.
I already had a similar jar for the coffee beans and was now looking for jars for tea and muesli. I only drink chamomile tea and grow the chamomile myself. It is nice to look at when the dried flowers are in such a glass on the shelf. Next to it the coffee beans and the muesli. The only drawback is the size. Apparently my fingers are too short for these glasses. If I only hold it with one hand, the glass just slips away. A similar glass in round (not rounded, but really round) doesn't give me such problems. What does problems mean... It's ok, but I wanted to mention it. Unfortunately, I have to give a star deduction for the lid. It looks fantastic, especially if you set everything up in this style. But the seal is not really tight. In two of the three glasses, the seal leaves a lot to be desired. It doesn't go tight enough, so I'm concerned that the flavors will dissipate or bugs can easily get in. So far I haven't had any pest infestation in it, but I can't get rid of the ulterior motive.
Schöne, robuste Gläser! Top verarbeitet aber wirklich zu teuer. Außerdem nach Kauf auf einmal nicht mehr lieferbar weil Firma verkauft…
Beautiful, sturdy glasses! Top processed but really too expensive. In addition, after purchase, suddenly no longer available because the company is selling...
Alles perfekt
Everything perfect
schönes Produkt
nice product
Diese Aufbewahrungsgläser sind super. Sehr gute Qualität und kam gut verpackt an. Kaufempfehlung
These storage jars are great. Very good quality and arrived well packaged. Buy recommendation
Ich nutze die wunderschönen Gläser für meine ganzen losen Vorräte - bin bis jetzt super zufrieden - sind dicht - Deckel passen - sehen sehr schön aus :-)
I use the beautiful jars for all my loose supplies - so far I'm super satisfied - they are tight - the lids fit - they look very nice :-)
Ich habe diese 500 ml Behälter nun schon seit Anfang des Jahres und bin sehr zufrieden. Gerne würde ich weitere kaufen, aber die Preiserhöhung seit meinen Kauf schreckt mich leider etwas ab. Der Kundensupport ist sehr freundlich und zuforkommend und wirklich daran interessiert dass man als Kunde zufrieden ist. Die Behälter kann ich sehr empfehlen, wenn einem der Preis nicht zu teuer ist.
I have had these 500ml containers since the beginning of the year and I am very satisfied. I would love to buy more, but unfortunately the price increase since I bought it puts me off a bit. The customer support is very friendly and accommodating and really cares about you as a customer. I can highly recommend the containers if the price is not too expensive.
Gefällt mir mit dem Bambus Deckel sehr gut, perfekte Größe für meine Haferflocken...Qualität ist aber nicht so besonders. Von den 3 Gläsern 2 wackeln wenn man sie abstellt. Sie stehen aber nicht schief, so stört es nicht aber es sind trotzdem qualitätsmängel die erwähnt werden müssen.
I like it very much with the bamboo lid, perfect size for my oatmeal... but the quality is not that special. 2 of the 3 glasses wobble when you put them down. But they are not crooked, so it doesn't bother you, but there are still quality defects that have to be mentioned.
Tolle Vorratsgefäße, sehr gute Verarbeitung, durch die eckige Formlassen sich die Gefäße sehr platz sparend verstauen, Top!
Great storage jars, very good workmanship, thanks to the square shape, the jars can be stowed away to save space, top!
Die Gläser eignen sich hervorragend zum Aufbewahren von verschiedensten Lebensmitteln! Jede Größe hat ihre Verwendung gefunden!
The glasses are ideal for storing a wide variety of foods! Every size has found its use!
SCHNELLE UND UNKOMPLIZIERTE HILFE BEI ANFRAGE, SCHÖNE QUALITÄT, SCHNELLE LIEFERUNG
FAST AND UNCOMPLICATED HELP WITH REQUEST, BEAUTIFUL QUALITY, FAST DELIVERY
Sehr schöne Vorratsgläser, vor allem praktisch durch die rechteckige Form. Die Silikondichtung ist sehr dünn aber dicht, trotzdem hätte ich mehr erwartet deshalb 1 stern Abzug. Habe die Gläser hauptsächlich für Mehl und Zucker gekauft damit die offenen stehenden Packungen ein Ende haben. Dachte 1 kg Mehl 405 passt locker in das Glas....wurde aber eines besseren belehrt. Durch leichtes klopfen setzt sich das Mehl und es passt haarscharf rein so das man auch den Deckel noch schließen kann. Bei gröberen Mehlsorten auf jeden Fall die nächste Größe kaufen.
Very nice storage jars, especially practical due to the rectangular shape. The silicone seal is very thin but tight, but I would have expected more, which is why I deducted 1 star. I bought the jars mainly for flour and sugar to put an end to the open packages. Thought 1 kg flour 405 fits easily in the glass....but was taught better. The flour settles by gently tapping and it fits in with a hair's breadth so that you can still close the lid. For coarser types of flour, definitely buy the next size up.