Heat Spire Tower Heater
Air heater
Black
2200 watt
Ready for shipping
Delivery time: 3 - 5 workdays
60 day cooling off period
Free delivery, no minimum order
Top features
Powerful heat: 2 heat levels with 1200 or 2200 watts of power
Fits anywhere: extra space-saving design with a small footprint
Easy control: with LED display, touch-sensitive control panel and remote control
Product description
The oneConcept Heat Spire tower heater instantly brings warm air into chilled living rooms, offices or gazebos.
With its two heat settings of 1200 or 2200 watts, the Heat Spire gently heats medium-sized rooms with three selectable fan speeds. The switchable HeatSpread Oscillation distributes the warm air in the room and thus speeds up the heating process. The desired target heat can be set in degrees between 15 and 35 °C. Once it has been reached, the fan heater automatically switches off, but resumes operation immediately if the temperature drops more than 3 °C below the desired value - this saves energy and keeps the room comfortably warm. In addition, a shutdown timer is available, which can be set in 1-hour increments between 1 and 8 hours and the device switches off after the set time expires. All functions are controlled via a clear touch-sensitive control panel or conveniently via a remote control.
The Heat Spire tower heater from oneConcept also impresses visually: With its no-frills, black trim with silver accents, it fits effortlessly into any environment, and with its 19 cm diameter it requires very little space.
Features
Download user manual
Power: 1200/2200 watts
With overheating protection
Batteries of remote control: 1 x CR2025 (included)
Power supply: 220 - 240 V~ / 50 Hz
Dimensions and Technical Details
Dimensions: approx. 28 x 86 x 28 cm (WxHxD)
Weight: about 3 kg
What will be delivered
1 x fan heater
1 x remote control (including batteries)
User manual in English (other languages: German)
Delivery & shipment
Ready for shipping Delivery time: 3 - 5 workdays
Your order will be delivered to the selected address per order. This address does not have to match the billing address. You can send the orders to your family, friends or office if you are not at home during the day. Your order is delivered by our specialist courier spedition to your chosen address. This address does not have to correspond with your billing address. Leave a telephone number with your order to guarantee the best possible delivery of the product. Delivery takes place free to kerbside. This item may be pre-ordered. Please note that, in this case, the delivery time may be up to 5 days.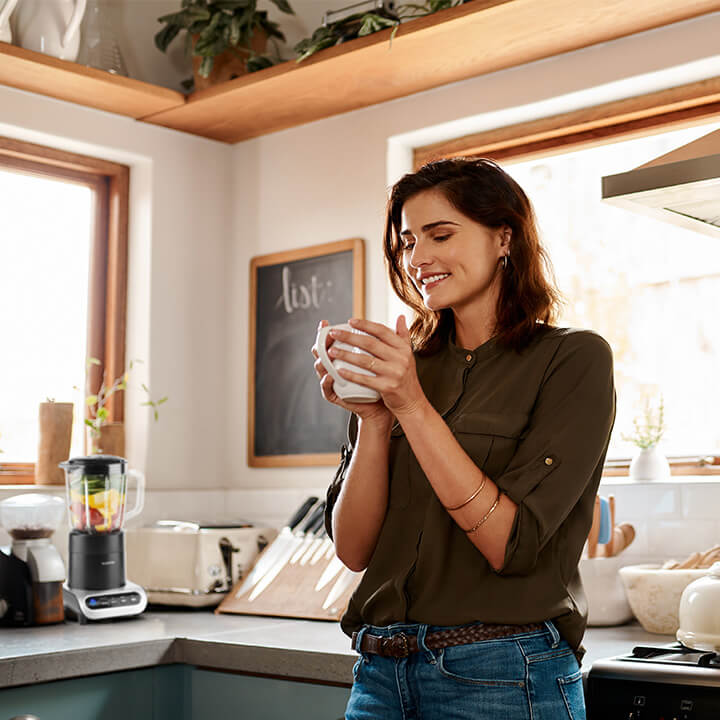 No review available for this item.
Customer reviews from other countries
Vielen Dank für Ihr entgegenkommen-Gerät heizt super-macht was es soll-sehr netter Kontakt-
Thank you very much for your accommodating-device heats up great-does what it should-very nice contact-
Ich verwende das Gerät zur Beheizung eines ca. 24 Quadratmeter großen Raumes wenn es mal kühl ist, ich aber die Gasheizung nicht anstellen möchte. Innerhalb von knapp 10 Minuten wurde der Raum von 18 Grad auf 21 Grad aufgeheizt. Das Gerät ist relativ leise, hat eine super Wärmeverteilung und ein Design welches zu allem passt. Auch benötigt es wenig Platz und fügt sich überall harmonisch ein. Klare Kaufempfehlung. Die Lieferung war überdurchschnittlich schnell, das Gerät super verpackt. Für den Zusammenbau benötigt man gerade mal 5 Minuten.
I use the device to heat a room of approx. 24 square meters when it is cool, but I don't want to turn on the gas heating. The room was heated from 18 degrees to 21 degrees in just under 10 minutes. The device is relatively quiet, has a great heat distribution and a design that goes with everything. It also requires little space and fits in harmoniously everywhere. Clear purchase recommendation. The delivery was exceptionally fast, and the device was well packaged. It takes just 5 minutes to assemble.
Guter Preis für gute Qualität
Good price for good quality
tut was es soll nur die programierung ist sehr kompliziert
does what it should but the programming is very complicated
Heizleistung sehr gut Erwartung erfüllt.
Heat output very good met expectations.
Einwandfreies Gerät, schnelle Montage, Raum in wenigen Minuten aufgewärmt. Händler ebenfalls 1a.
Impeccable device, quick assembly, room warmed up in minutes. Dealer also 1a.
Es wärmt einen 5 M 2 großes Bad, allerdings und jetzt kommt es: Der Geräuschpegel ist mir doch zu laut, aber noch auszuhalten. Weiterhin gefällt mir nicht, dass das Gerät wenn ich es einschalte sofort mit der Stufe 2- also mit 2000 Watt loslegt uns dass, obwohl ich die Stufe 1 vorprogrammiert habe. -1000 Watt-Bei einer zunächst vorhandene 18 Grad Temperatur heizt sich der Raum jetzt auf 19 Grad auf und das Gerät schaltet ab und das obwohl ich eine Temperatur von 24 Grad vor eingeschaltet habe. Nach ca 5 min schaltet sich das Gerät automatisch ein, jetzt auf Stufe 1 läuft ca 5 min und schaltet dann bei 20 Grad wieder ab. Ob es sich dabei um ein defektes Gerät handelt, vermag ich nicht zu beurteilen. Vielleicht weis der Hersteller mehr. mfG
It warms a 5 m 2 large bathroom, however, and now it comes: The noise level is too loud for me, but still bearable. I also don't like the fact that when I switch it on, the device starts immediately with level 2 - i.e. with 2000 watts, although I have pre-programmed level 1. -1000 watts - At an initial temperature of 18 degrees, the room now heats up to 19 degrees and the device switches off, even though I had switched on a temperature of 24 degrees beforehand. After about 5 minutes, the device switches on automatically, now at level 1 it runs for about 5 minutes and then switches off again at 20 degrees. I am not able to judge whether this is a defective device. Maybe the manufacturer knows more. Kind regards
bis auf die Fernebedienung wertige Qualität und Verabreitung!
Except for the remote control, high quality and workmanship!
Perfekt um mein Gartenhaus auf zu wärmen
Perfect for warming up my garden shed
Hält was es verspricht. Passt alles.
Does what it promises. Everything fits.
Zunächst mal ist das Gerät ordentlich verarbeitet, hat eine kompakte Größe und ist leicht. Der Lüfter ansich ist dann auch sehr leise. Die Heizleistung könnte etwas stärker sein, aber dann wäre wohl auch die angenehme Wärmeverteilung dahin, da dann wahrscheinlich ein entsprechender Luftzug zu spüren wäre, der so kaum bemerkbar ist. Was mich etwas stört, ist die Fernbedienung, bzw. die Bedienung ansich → diese finde ich etwas verwirrend, bzw. dann eben umständlich und die Fernbedienung hat zu viele Tasten, weiß gar nicht, für was die alle sind? Wer allerdings das Gerät nur wie wir nutzt (im Gartenhaus, einschalten bei Bedarf und wieder aus) ist mit diesem Lüfter gut bedient. Wer einen größeren Raum einheizen will sollte dann aber vielleicht doch nach Alternativen schauen.
First of all, the device is well made, compact in size and lightweight. The fan itself is also very quiet. The heat output could be a little stronger, but then the pleasant heat distribution would probably be gone, since a corresponding draft would probably be felt, which is hardly noticeable. What bothers me a bit is the remote control or the operation itself → I find it a bit confusing or awkward and the remote control has too many buttons, I don't even know what they are all for? However, if you only use the device like we do (in the garden shed, switch it on if necessary and switch it off again) this fan is a good choice. If you want to heat a larger room, you should perhaps look for alternatives.
dachte vor kauf 5 von 5 5sterne muss trotzdem nicht sehr gut sein. wurde eines besseren belehrt, heizt mein badezimmer super auf während ich dusche. deshalb die höchste bewertung, und sieht dazu noch stylisch aus.
Thought before buying 5 out of 5 5 stars still doesn't have to be very good. was taught better, heats up my bathroom super while i shower. therefore the highest rating, and it also looks stylish.
Stabil und heitzt echt Bombe....habe keine Heizung im Schlafzimmer
Stable and heats really bomb .... have no heating in the bedroom
Der Heizer ist sehr anständig verarbeitet,das Design ist sehr ansprechend.Ich kann den Kauf dieses Gerätes nur empfehlen.
The heater is processed very decently, the design is very attractive. I can only recommend the purchase of this device.
Der Heizlüfter lässt sich ganz einfach mit 2 Schrauben an der Wand befestigen. Durch die Fernbedienung ist ein bequemes regeln der Temperatur und des Fächers möglich. Auch die Programme, welche man 7 Tage im voraus Programmieren und auf eine gewisse Uhrzeit für eine gewisse Dauer festlegen kann funktionieren hervorragend! Auch die Temperatureinstellung und die Heizfunktion lassen keine Wünsche übrig. Ich kann das Produkt nur empfehlen!
The fan heater can be easily attached to the wall with 2 screws. The remote control makes it easy to regulate the temperature and the fan. The programs that can be programmed 7 days in advance and set at a certain time for a certain duration also work excellently! The temperature setting and the heating function also leave nothing to be desired. I can highly recommend this product!