DS-2 stereo system
0
31 cm
CD player, Record player, Stereo system
Ready for shipping
Delivery time: 3 - 5 workdays
60 day cooling off period
Free delivery, no minimum order
Top features
Multimedia stereo system with turntable, CD player, FM radio and USB port
MP3 encoder: recording function from turntable, CD, radio and AUX devices onto USB data carrier
Smooth-running turntable with belt drive
Product description
Everybody let's rock! The auna DS-2 stereo system makes the walls shake as it brings the sound of old vinyl records and new CDs to life.
Multimedia is the magic word, which is why the auna DS-2 not only has a turntable, but also a CD player, aUSB port, a line input and an integrated FM/MW radio. It isn't picky about formats either: the turntable spins vinyl at 33 or 45 rpm, while the CD player accepts normal music CDs as well as custom MP3 samplers. Thanks to the integrated MP3 encoder, the stereo system not only plays music, but also records it. As an MP3 recorder, it easily digitises and copies records, CDs or radio sounds to mass storage devices plugged into the USB port - without the need for a computer. The particularly smooth belt drive also ensures clean recordings from the turntable.
Thanks to the accompanying speakers, the auna DS-2 is a fully comprehensive living roomstereo system, which connects to other audio devices via line-in and can also be connected to an amplifier via line-out to further enhance its sonic capabilities. The system is perfected by its sleep timer and alarm clock functions, with which it also proves itself in the bedroom as an aid to falling asleep or waking up.
Play it loud! The auna DS-2 MP3 recorder stereo system brings the world of multimedia sound to life.
Features
Download user manual
Connections: 1 x USB input, 1 x 3.5 mm jack AUX input, 1 x 3.5 mm jack headphone output, 1 x stereo cinch line output for connection to an external amplifier etc., 1 x stereo cinch output for connecting the speakers (cable integrated into speaker side)
Option of connecting to an external amplifier
Formats playable on the CD player: CD, CD-R, CD-RW, MP3, WMA
Radio with automatic and manual tuner and 40 station presets
Frequency bands Radio: Medium wave (MW) and ultra short wave (VHF)
2-way speaker in bass reflex design with removable front covering
Equalizer: flat, rock, pop, classic, jazz
ID3 tags display: display of artist name, song title etc.
Preset MP3 recording format: bit rate 128 kbps / sampling rate 44.1 kHz
Selectable recording quality up to 256 kbps
Automatic or manual title separation during recording
Simple and convenient operation via remote control and control panel
Efficient MP3 folder navigation with single track playback, folder playback, repeat function and random playback
Turntable playback speeds: 33 and 45 revolutions per minute
Includes record adapter (puck) for playing records with 38.1 mm centre hole
Programming function
Autostop turntable can be switched on and off
Rear VHF cable antenna
Large LCD display with blue backlight
Power supply: 220-240 V~ / 50-60 Hz
Dimensions and Technical Details
Dimensions (stereo system): approx. 31 x 17 x 29 cm (WxHxD)
Dimensions (one speaker): approx. 15 x 22 x 15.5 cm (WxHxD)
Stereo system weight: approx. 3.5 kg
Weight of one speaker: approx. 1.15 kg
What will be delivered
1 x stereo system
2 x speakers
1 x remote control with coin battery
1 x protective cover
1 x 45 RPM adapter
User manual in German (additional language: English)
Delivery & shipment
Ready for shipping Delivery time: 3 - 5 workdays
Your order will be delivered to the selected address per order. This address does not have to match the billing address. You can send the orders to your family, friends or office if you are not at home during the day. Your order is delivered by our specialist courier spedition to your chosen address. This address does not have to correspond with your billing address. Leave a telephone number with your order to guarantee the best possible delivery of the product. Delivery takes place free to kerbside. This item may be pre-ordered. Please note that, in this case, the delivery time may be up to 5 days.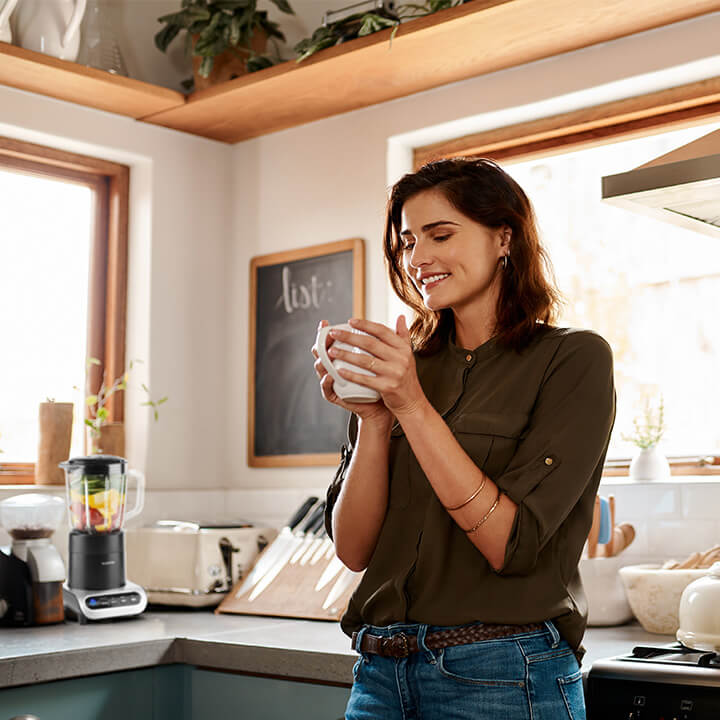 No review available for this item.
Customer reviews from other countries
Das Gerät ist für den Preis sehr gut
The device is very good for the price
Hatte für den Preis wirklich weniger erwartet.
Was really expecting less for the price.
Ich bin zufrieden mit der Kompaktanlage, sie tut wie erwartet ihren Dienst. Die kleine, aber feine Kompaktanlage hat einen klaren und sauberen Klang, für den Preis kann man nicht mehr verlangen. Die Wurfantenne ist auf jeden Fall einzusetzen, um eine klaren Empfang zu gewährleisten.
I am satisfied with the compact system, it does its job as expected. The small but fine compact system has a clear and clean sound, you can't ask for more for the price. The wire antenna must be used in any case to ensure clear reception.
Die Boxenkaben sind sehr kurz
The box cabs are very short
Weihnachtsgeschenk
Christmas gift
geen reserve naald
no spare needle
Für den Preis akzeptabel allerdings ist der Klang der Anlage sehr dumpf.
Acceptable for the price, however, the sound of the system is very dull.
Bin zufrieden. Alles wie versprochen nur die Lieferung hat sich verspätet. Nehmt nicht DPD
Am satisfied. Everything as promised, only the delivery was late. Don't take DPD
SCHWER ZU BEDIENEN
DIFFICULT TO USE
Ich bin begeistert! Für den Preis eine absolut gute Anlage mit tollem Klang! Endlich kann ich meine (mehrere Hundert) Platten wieder anhören..nachdem mein Ex-Mann bei der Scheidung die Stereoanlage mitnahm... Ich hatte meine Platten jahrelang im Keller in der Hoffnung, mir eines Tages wieder eine Anlage leisten zu können. Bis ich sah, dass es inzwischen auch ne Kompaktanlage mit Plattenspieler gibt! Bisschen gegoogelt und viele Rezensionen gelesen und diese hier bestellt. Super schnelle Lieferung, kleine kompakte Anlage die super in eine kleine Eckedes Wohnzimmerregals passt und wirklich ein sehr guter Klang. Das man damit seine Platten digitalisieren kann macht das ganze noch runder. Wobei ich das bisher nicht ausprobiert habe.
I'm excited! For the price an absolutely good system with great sound! Finally I can listen to my (hundreds of) records again...after my ex-husband took the stereo with him when they got divorced... I kept my records in the basement for years hoping that one day I would be able to afford a stereo again. Until I saw that there is now also a compact system with a turntable! Did some googling and read a lot of reviews and ordered them here. Super fast delivery, small, compact system that fits perfectly in a small corner of the living room shelf and really has a very good sound. The fact that you can digitize your records with it makes the whole thing even better. Though I haven't tried that yet.
Ich habe das Ding für einen Bekannten vor allem wegen des Plattenspielers gekauft. Alle anderen Funktionen sind sekundär. Der Sound ist für den Preis o.K. Die Bedienknöpfe sind im ersten Moment als solche nicht erkennbar, aber man gewöhnt sich daran. Meine Kritikpunkte: Der Lautstärkergler ist kein echter Drehregler, die Lautstärke läßt sich nur durch kleine Links-/Rechtsdrehungen regeln Der Plattenspielermotor ist deutlich zu hören. Der Plattenspielerarm ist ausschließlich manuell zu bedienen, d.h. er läßt sich nur mit der Hand auflegen bzw. abnehmen.
I bought this thing for a friend mainly because of the record player. All other functions are secondary. The sound is ok for the price. The control buttons are not immediately recognizable as such, but you get used to them. My points of criticism: The volume control is not a real rotary control, the volume can only be adjusted by turning small left/right turns. The turntable motor can be clearly heard. The turntable arm can only be operated manually, ie it can only be attached or removed by hand.
Ich habe mich länger mit der Anschaffung einer Kompaktanlage beschäftigt und muss sagen, diese Anlage erfüllt meine Ansprüche voll und ganz und ist im Preis- /Leistungsverhältnis absolut in Ordnung. Der fünfte Stern fehlt wegen den einzigen zwei Mankos, die ich festgestellt habe: wenn die Stromzufuhr unterbrochen wird, sind die gespeicherten Radio Sender weg (also Anlage im Stand by Modus lassen) und das Geräusch des Plattenspielers ist lauter, als ich ich das von früher kenne. Platten können nicht ganz leise abgespielt werden...die Frage ist, ob man das will. Aber die vielen anderen Dinge, die diese Anlage zu bieten hat, lassen darüber hinweg sehen. Und endlich kann ich mir meine Platten nicht nur anhören, sondern auch umwandeln. Bin sehr zufrieden.
I've been thinking about purchasing a compact system for a long time and I have to say that this system fully meets my requirements and is absolutely fine in terms of price/performance ratio. The fifth star is missing because of the only two shortcomings that I noticed: when the power supply is interrupted, the stored radio stations are gone (so leave the system in stand-by mode) and the sound of the turntable is louder than I used to know. Records can't be played very quietly...the question is whether you want to. But the many other things this property has to offer make you overlook that. And finally I can not only listen to my records, but also convert them. I am very pleased.
Endlich konnte ich meine neue "Anlage" in Empfang nehmen, ich suchte ein Gerät in unter Preisklasse die trotzdem all meinen Wünschen nachkommt. Hauptsächlich sollte diese Anlage für mich die folgenden Dinge erfüllen: -Radiowecker -CD's in guter Qualität abspielen -MP3's von einem MP3 Stick abspielen -optional Platten abspielt All dies tut diese Anlage und das für diesen Preis in einer erstaunlichen guten Soundqualität. Lieferung war auch Super schnell und ich muss sagen das dieses Gerät wirklich jeden € Wert ist. Menschen die eine hübsche und multifunktionale Anlage zu einem erschwinglichen Preis suchen kommen an diesem Gerät nicht vorbei. Und es lohnt sich. Natürlich muss man sagen, dass diese Anlage nicht mit den großen Brüdern wie Teufel und Co. konkurieren kann, dafür muss man aber bei diesen High End Geräten auch um einiges tiefer in die Tasche greifen. Die Auna DS2 hält auf jeden Fall was Sie verspricht und ist ein TOP Gerät mit einem hervorragenden Preis-Leistungs-Verhältnis.
I was finally able to receive my new "system", I was looking for a device in the lower price range that still met all my wishes. Mainly this system should fulfill the following things for me: - clock radio - play CD's in good quality - play MP3's from an MP3 stick - optionally plays records This system does all this and for this price in an amazingly good sound quality. Delivery was also super fast and I have to say that this device is really worth every €. People who are looking for a nice and multifunctional system at an affordable price cannot avoid this device. And it's worth it. Of course it has to be said that this system cannot compete with its big brothers like Teufel and Co., but with these high-end devices you have to dig a lot deeper into your pockets. The Auna DS2 definitely keeps what it promises and is a TOP device with an excellent price-performance ratio.
Wenn es möglich wäre würde ich mehr als 5 Sterne vergeben. Die Anlage ist tatsächlich eine "eierlegende Wollmilchsau". Alles funktioniert für ein Gerät dieser Preisklasse hervorragend. Die Lieferung war innerhalb von 2 Tagen da! Was aber besondere Erwähnung finden muss, ist das Service der Firma Elektronik-Star; ein Vorbild für jeden Internet-Händler! Ich hatte ein winziges Problem mit der Fernbedienung und habe Elektronik-Star kontaktiert. Innerhalb kürzerster Zeit war die Antwort da, mit der Mitteilung, dass mir Elektronik-Star, ohne viel Federlesen, eine neue Fernbedienung schicken wird. In Kürze war die Fernbedienung da und funktioniert so wie sie soll! Danke Elektronik-Star!
If it were possible I would give more than 5 stars. The plant is actually a "jack of all trades". Everything works perfectly for a device in this price range. The delivery was within 2 days! But what must be given special mention is the service provided by the company Elektronik-Star; a role model for every internet retailer! I had a tiny problem with the remote control and contacted Elektronik-Star. The answer was there within a very short time, with the message that Elektronik-Star would send me a new remote control without much ado. The remote control arrived shortly and works as it should! Thank you electronics star!