Vermont Serving Trolley Kitchen Cart
Vermont Serving Trolley Kitchen Cart
Ready for shipping
Delivery time: 3 - 5 workdays
60 day cooling off period
Free delivery, no minimum order
Top features
More space: Luxurious kitchen trolley for additional work surface with numerous storage options
Work surface: 2,400 cm² of stainless steel
Fine wines: Wine rack for up to four bottles
Product description
Luxury for the kitchen, dining room and living room: the Klarstein Vermont kitchen trolley is always there when you need extra space and is a feast for the eyes among the kitchen butlers. Made entirely of wood, the Vermont kitchen trolley naturally also focuses on sustainability.
A place for everything: The Klarstein Vermont serving trolley has five shelves to store crockery, supplies, bottles, cutlery and kitchen utensils in good order. This is ensured by the worktop, a slatted shelf, the tray rack, the bottle rack and the drawer. The removable serving tray proves to be particularly practical. For serving, you have 2400 cm² of stainless steel worktop at your disposal to move ready-to-serve dishes to the table or to prepare them directly there. Thanks to hard rubber rollers, the serving trolley glides smoothly, even over carpeted floors. Thus, the kitchen butler happily performs its services as a sideboard or side table.
Elegant and high-quality: The Klarstein Vermont kitchen trolley is your luxurious and serving kitchen helper made of glazed wood with a top made of brushed stainless steel.
Features
Download user manual
Material: wood & stainless steel
Max. load capacity (per level): 75 kg
Easy to move due to smooth-running rubber castors
Slatted shelf with generous height of 28 cm
Removable drawers
Bottle rack for up to 4 bottles
Tray shelf with removable tray
Parking brake for safe stance
Easy installation
Dimensions and Technical Details
Dimensions: approx. 60 x 86 x 40 cm (WxHxD)
Shelf (interior dimensions): approx. 46.5 x 28 x 32 cm (WxHxD)
Drawer (interior dimensions): approx. 44.5 x 5.5 x 28 cm
Worktop: 60 x 40 cm (WxL)
Tray: approx. 49 x 31 cm (WxL)
Rollers: 5 x 2 cm (ØxW)
Weight: approx. 11 kg
What will be delivered
1 x serving trolley (including assembly material)
Multilingual assembly instructions
Delivery & shipment
Ready for shipping Delivery time: 3 - 5 workdays
Your order will be delivered to the selected address per order. This address does not have to match the billing address. You can send the orders to your family, friends or office if you are not at home during the day. Your order is delivered by our specialist courier spedition to your chosen address. This address does not have to correspond with your billing address. Leave a telephone number with your order to guarantee the best possible delivery of the product. Delivery takes place free to kerbside. This item may be pre-ordered. Please note that, in this case, the delivery time may be up to 5 days.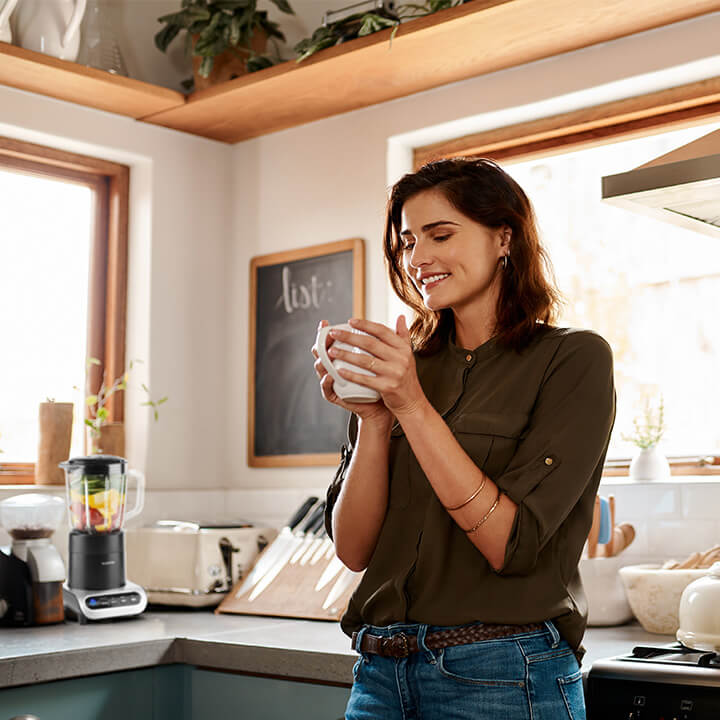 No review available for this item.
Customer reviews from other countries
Der Küchenwagen ist bereits vormontiert. Schnell und einfach zusammen zu bauen.
The kitchen trolley is already pre-assembled. Quick and easy to assemble.
Ist ständig erfolgreich im Einsatz. Die Schublade könnte höher sein.
Always successfully in use. The drawer could be higher.
Wir haben lange nach einem richtigen Küchenrollwagen gesucht, wollten unbedingt einen dunklen aus Holz. Da sind wir auf diesen hier gestoßen und haben Ihn gleich bestellt und 2 Tage später war er auch schon da! Der Zusammenbau ging einfach und schnell, sieht auch schön aus aber nicht so hochwertig wie beschrieben.
We've been looking for a real kitchen trolley for a long time, and we really wanted a dark wooden one. We came across this one and ordered it right away and 2 days later it was already there! The assembly was quick and easy, looks nice but not as high quality as described.
This is a very attractive rolling cart, and we have used it several times for extra preparation surface. Looks very nice and good quality.
This is a very attractive rolling cart, and we have used it several times for extra preparation surface. Looks very nice and good quality.
Schöner stabiler Küchenwagen mit Edelstahlplatte. Preis Leistung ist okay.
Beautiful stable kitchen trolley with stainless steel plate. Price performance is okay.
Der Küchenwagen ist wunderbar verarbeitet und lässt sich super leicht aufbauen. Das Paket wiegt grob zehn Kilo, also wiegt der Wagen wenig und lässt sich gut verschieben. Die materialen sehen sehr hochwertig aus.
The kitchen trolley is beautifully finished and super easy to set up. The package weighs roughly ten kilos, so the car weighs little and is easy to move. The materials look very high quality.
Der Küchenwagen kam gut verpackt und unbeschädigt an. Der Zusammenbau gestaltet sich Dank der Anleitung recht einfach. Man sollte sich aber schon 45 – 60 Minuten Zeit nehmen. Wenn man alles nach Anleitung zusammengebaut hat, ist der Wagen stabil und lässt sich dank der Rollen gut verschieben. Für mich macht der Küchenwagen einen sehr guten Eindruck, er hat eine wundervolle Optik und rundet das ganze mit der Metalloberfläche ab. Ich benutze alle Fächer, die Arbeitsplatte steht voll und der Schub ist auch gefüllt. Der Wagen hat damit keine Probleme. Ich bin voll auf zufrieden.
The kitchen trolley arrived well packaged and undamaged. The assembly is quite easy thanks to the instructions. But you should set aside 45-60 minutes. If you have assembled everything according to the instructions, the trolley is stable and can be easily moved thanks to the castors. For me, the kitchen trolley makes a very good impression, it has a wonderful look and rounds off the whole thing with the metal surface. I use all compartments, the worktop is full and the drawer is also full. The car has no problems with it. I am fully satisfied.
Der Wagen war sehr schnell und ganz unkompliziert aufzubauen. Auf den ersten Blick war die Farbe genauso wie beschrieben und wie erwartet. Das besondere Extra ist für mich die stabile Arbeitsfläche aus Edelstahl auf dem wir unser Brot und Ähnliches schneiden. So ist es tatsächlich ein "Gebrauchsgegenstand" und nicht nur eine Ablage. Dazu kommt noch das herausnehmbare Serviertablett, absolut praktisch. Zusätzlich gibt es noch ein Ablagerost und eine Flaschenablage die man nicht nur für Wein benutzen kann. Wir richten da Abends unsere Getränkeflaschen an, wo wir wissen, dass wir sie ganz sicher auch brauchen werden. Für einen sicheren Stand hat der Wagen Gummirollen mit Bremsen. Der Wagen steht bei uns im Esszimmer und dient als zusätzliche Fläche wenn wir Gäste haben. Wir sind sehr zufrieden!
The car was very quick and easy to set up. At first glance the color was exactly as described and as expected. The special extra for me is the stable stainless steel work surface on which we cut our bread and the like. So it is actually a "commodity" and not just a shelf. In addition, there is the removable serving tray, absolutely practical. In addition, there is a storage rack and a bottle rack that can not only be used for wine. In the evening we arrange our drinks bottles where we know that we will definitely need them. The trolley has rubber wheels with brakes for a secure stand. The trolley is in our dining room and serves as an additional area when we have guests. We are very satisfied!
Einfach schön,in Gebrauch und nutzen
Simply beautiful, in use and use
Der Artikel war wie beschrieben, ist jedoch nicht luxuriös. Die Lasur ist nicht hochwertig ausgeführt (definitiv nicht so wie auf den Fotos). Verpackung kann als gut bewertet werden. Das Holz ist extrem leicht, keine Ahnung was das für ein Typ ist. Die Aufbauanleitung ist mit den Fotos viel zu klein, sodass man Raten muss, wie es Zusammenbauen muss. Gut, das die Edelstahlplatte mit Folie abgedeckt ist. Schlecht, sie lässt sich nur mit Mühe vollständig entfernen. Hier besteht auch, das man das Holz beschädigt. Es ist nicht ersichtlich wo das Möbel produziert wurde, meine Vermutung "China". Definitiv keine 79,99 € hier oder bei OTTO sogar 134,99 € wert. Wenn ich das Möbel im Laden sehen würde, hätte ich es nicht erworben. Zurückschicken werde ich ihn jedoch nicht, er steht nun in der Küche....
The item was as described but is not luxurious. The glaze is not of high quality (definitely not like the photos). Packaging can be rated as good. The wood is extremely light, no idea what kind it is. The assembly instructions are much too small with the photos, so you have to guess how to assemble it. Good that the stainless steel plate is covered with foil. Bad, it can only be removed completely with difficulty. There is also damage to the wood here. It is not clear where the furniture was produced, my guess is "China". Definitely not worth €79.99 here or even €134.99 at OTTO. If I saw the furniture in the store, I would not have bought it. But I won't send it back, it's in the kitchen now....
Soweit passt alles. Montage wie bei Ikea Möbeln, aber leider auch die Wertigkeit. Sehr einfacher Aufbau. Material wirkt billig. Holz (keine Presspappe wie aus Schweden) ist sehr leicht und die Oberfläche ist lasiert. Die Metalloberfläche/Arbeitsfläche ist sehr dünn auf die Holzkonstruktion (vermutlich) geklebt. Das Metall macht einen minderwertigen Eindruck, da die Fläche nicht voll aufliegt und Wellen erzeugt. Die Matetialstärke ist so dünn, dass Beulen im Blech wahrscheinlich nicht lange auf sich warten lassen werden :-( Hatte das Teil für meine Kaffeemaschine gekauft ( siehe Bilder). Jedoch nur als reine Ablage zu verwenden, da vermutlich bei Belastung durch Betätigung des Handhebels der Maschine, das Gestell auseinander brechen würde. OK, bei dem Preis darf man nicht viel erwarten. Ich würde den Servierwaagen nicht nochmal kaufen. Abwicklung war einwandfrei.
So far everything fits. Assembly as with Ikea furniture, but unfortunately also the value. Very simple construction. Material looks cheap. Wood (not pressed cardboard like from Sweden) is very light and the surface is glazed. The metal surface/work surface is very thinly glued to the wooden construction (probably). The metal makes an inferior impression because the surface does not lie fully and creates waves. The thickness of the material is so thin that dents in the sheet metal will probably not be long in coming :-( Bought the part for my coffee machine (see pictures). However, only to be used as a shelf, since the Machine that would break the frame. OK, for the price you can't expect much. I would not buy the serving scale again. Processing was flawless.
Die Lieferung erfolgte promt und war hervorragend verpackt. Der Zusammenbau ist leicht und es gab nichts zu beanstanden. Das Ergebnis entspricht den Abbildungen. Schön anzusehen und er passt in jede 60er Lücke.
The delivery was prompt and was excellently packaged. The assembly is easy and there was nothing to complain about. The result corresponds to the illustrations. Beautiful to look at and it fits in every 60's gap.