Rockstar Plus Karaoke System
Rockstar Plus Karaoke System
1 x Handheld-Microphone
2
Dynamic microphone
Rockstar Plus Karaoke System
Ready for shipping
Delivery time: 3 - 5 workdays
60 day cooling off period
Free delivery, no minimum order
Top features
Pure joy of singing: exclusive karaoke system with Bluetooth function
Fun in a duet: two microphone inputs with echo, automatic voice and balance control
Bluetooth connection: to stream your favourite music
Product description
Not just for young talents: with the auna Rockstar Plus karaoke system, adults can also discover their inner rock star. It is the perfect addition to any party, children's birthday party or family celebration. It also invites you to secretly practice alone, and is a must-have for all karaoke fans.
The format-friendly CD drive plays standard CDs as well as rewritable blanks and CD + G media - karaoke CDs with subtitles. You can read the lyrics directly on the large display of the karaoke system as they run along. Let the karaoke party begin: The lighting has also been thought of, because the music is accompanied by bright light effects in many colours. The LEDs can either synchronize with your singing in colour or flash randomly through the room.
The front speakers ensure the right sound, which can be amplified by connecting external devices. The Bluetooth function also allows you to connect to other devices. So you can easily play the music from your smartphone or tablet. Or play your MP3 or MP3 + G music collection on a stick thanks to the USP port.
So that your singing sounds like the pros, you can mix it down separately. Simply plug the microphone into the 6.3mm jack input and control the volume and echo yourself. For perfect sound, the Rockstar Plus automatically controls the balances and the voices. Since there are two microphone inputs on the device, the Rockstar Plus is perfect for performing a beautiful duet. A special highlight: the A.V.C. function fades out the singing of the music as soon as you sing into the microphone!
Discover the rock star in you: with the auna Rockstar Plus karaoke system! The system offers you everything you need to be able to sing your favourite songs perfectly.
Features
Download user manual
Inputs: 1 x USB, 2 x 6.3 mm jack microphone input, 1 x 3.5 mm AUX-in
Outputs: 1 x RCA audio and video output
USB playback: MP3 and MP3 + G
Bluetooth function
LC display
Supported disc types: CD, CD-R, CD-RW, CD-G
Master volume control
Volume control of the singing
2 side microphone holders
Echo function
A.V.C. function
LED switch
Recording function
Repeat function
Random play
Programmable playback
Power supply input: 100-240 V ~ / 50/60 Hz
Power supply output: 9 V, 1 A
With battery compartment (batteries not included)
Dimensions and Technical Details
Dimensions: approx. 30 x 38 x 22 cm (WxHxD)
Length of power cord: 150 cm
Length of microphone cable: 240 cm
Weight: approx. 3 kg
What will be delivered
1 x karaoke system
1 x microphone with cable
1 x RCA cable
1 x power adapter
Multilingual instruction manual
Delivery & shipment
Ready for shipping Delivery time: 3 - 5 workdays
Your order will be delivered to the selected address per order. This address does not have to match the billing address. You can send the orders to your family, friends or office if you are not at home during the day. Your order is delivered by our specialist courier spedition to your chosen address. This address does not have to correspond with your billing address. Leave a telephone number with your order to guarantee the best possible delivery of the product. Delivery takes place free to kerbside. This item may be pre-ordered. Please note that, in this case, the delivery time may be up to 5 days.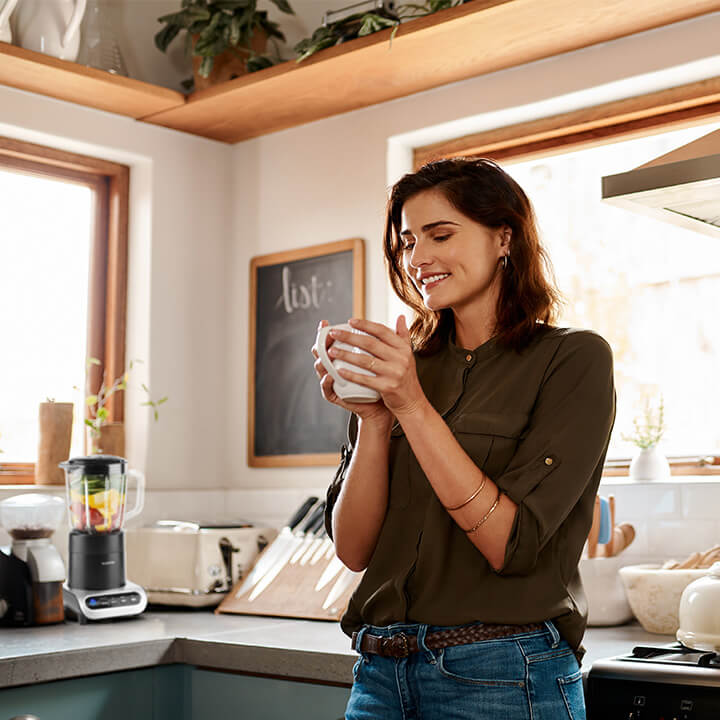 No review available for this item.
Customer reviews from other countries
Eigentlich ganz gut und viele Funktionen, aber der Sound ist ziemlich schlecht. Bei dem Preis könnte man sich mehr erwarten, da jede Bluetooth Box ab 20€ wahrscheinlich besser ist. Schade das hier bei einem grundsätzlich guten Produkt an der komplett falschen Stelle gespart wird.
Actually quite good and many features, but the sound is pretty bad. At the price one could expect more, since every Bluetooth box from 20€ is probably better. It's a shame that savings are being made in the completely wrong place for a basically good product.
Unser Sohn ist begeistert! Tolle Anlage!
Our son is delighted! Great facility!
Die Medien konnten nicht geladen werden. dieses Gerät hat auf jeden Fall Laune gemacht. auf die Geburtstagsparty meiner kleine Nichte haben wir den ganzen Abend gesungen. coole Lichtfunktion und die Tracks konnten wir übers USB wiedergeben. Nun sollte man nicht so Laut singen, sonst verzerrt sich der sound. es eignet sich besonders gut für kleine Kinder, die spaß haben beim Singen.
The media could not be loaded. this device was definitely fun. We sang all night at my little niece's birthday party. cool light function and we were able to play the tracks via USB. Now you shouldn't sing so loud, otherwise the sound will be distorted. It is particularly suitable for small children who enjoy singing.
Ich habe für meinen sohnen gekauft,weil beide große Interesse an Musik haben damit sie Spaß haben und beschäftigt sind.schnelle Lieferung und funktioniert einwandfrei.toller klang für Kids optimal ,lange Kabel an Mikrofon,Aufnahme auf USB klappt auch prima ...5 Sterne !
I bought it for my sons because they are both very interested in music so they can have fun and be busy. Fast delivery and works perfectly. Great sound for kids, long cable to microphone, recording to USB works great too...5 stars !
Zunächst einmal positive Kritik: Es funktioniert alles so wie man es sich vorstellt, MP3-G-Dateien können aus dem Internet geladen und auf einen USB-Stick gezogen werden und anschließend über den USB-Anschluss des Rockstar abgespielt werden. Die Songtexte werden auf dem Display angezeigt und man kann dazu singen, wenn man das Mikro anschließt. Die Navigation funktioniert über die Vor-, Zurück- und Stop-Taste der Maschine, mit Play/Pause können die Songs gestartet werden. Die Lautstärke der Musik ist vollkommen in Ordnung und funktioniert auch wenn mehrere Personen im Raum sind. Es gibt allerdings einige Dinge, die noch verbessert werden können: Die Lautstärke des Mikrofons ist zu niedrig. Auch wenn die Vorverstärkung auf Anschlag hochgedreht wird, versteht man den Gesang trotzdem nicht sehr gut. Man muss also sehr laut singen damit die anderen einen hören, man selbst hört sich aber dennoch eher schlecht. Die Qualität des Mikros ist abgesehen von der zu geringen Vorverstärkung für den Preis vollkommen ok. Die Lichteffekte sind ganz nett und machen auf jeden Fall etwas her. Der Echo-Effekt ist eine ganz nette Idee, ist aber an dieser Stelle nicht ganz passend gewählt, da man die Stimme dadurch noch schlechter versteht, als ohne Echo. Ein Hall wäre hier viel passender, da dieser den Gesang wesentlich angenehmer klingen lässt und die Verständlichkeit nicht darunter leidet. Also alles in allem ein ganz cooles Karaoke-Gerät, das auf jeden Fall Spaß macht, die Stimme sollte aber auf jeden Fall noch besser hörbar sein.
First of all positive criticism: Everything works as you would expect, MP3-G files can be downloaded from the Internet and dragged onto a USB stick and then played via the Rockstar's USB port. The lyrics are shown on the display and you can sing along by plugging in the mic. Navigation works via the forward, backward and stop button on the machine, and the songs can be started with play/pause. The volume of the music is perfectly fine and works even when there are several people in the room. However, there are a few things that could be improved: The microphone volume is too low. Even if the preamp is turned up to the maximum, the vocals are still not very easy to understand. So you have to sing very loudly so that the others can hear you, but you still don't hear yourself very well. Apart from the low pre-amplification, the quality of the microphone is completely ok for the price. The light effects are quite nice and definitely look good. The echo effect is a very nice idea, but it was not chosen quite appropriately at this point, since it makes the voice even harder to understand than without the echo. A reverb would be much more appropriate here, as it makes the vocals sound much more pleasant and the intelligibility does not suffer. So all in all a very cool karaoke device that is definitely fun, but the voice should definitely be more audible.
Habe schon immer gerne Singstar an der PS3 gespielt. Deswegen habe ich gedacht warum nicht mal eine Karaoke Maschine austesten. Muss sagen ich bin echt begeistert.... Es macht einen Wahnsinns Spaß mit mehreren Leuten. Der Klang ist auch soweit top und sie sieht cool aus. Bereue diese Neuanschaffung definitv nicht... Da werden noch einige witzige Party Abende folgen :)
I've always loved playing Singstar on the PS3. That's why I thought why not try out a karaoke machine. I have to say I'm really excited.... It's great fun with several people. The sound is great too and it looks cool. Definitely don't regret this new acquisition... There will be a few more fun party evenings :)