GrandPrix food processor
Multifunctional food processor
2,5 Ltr
White
500 watt
Ready for shipping
Delivery time: 3 - 5 workdays
60 day cooling off period
Free delivery, no minimum order
Selected reviews from the German press
Top features
One for all: Kitchen machine for cooking, frying, grinding, blending, chopping, chopping, stirring, kneading, beating and cooking milk
Powerful: 500 W motor and 1000 W heating power
Full control: speed, temperature and operating time are manually adjustable
Product description
Ladies and gentlemen, please start your engines! With the Klarstein GrandPrix food processor, the kitchen moves into the fast lane: Powerful 500 W motor output and 1000 W heating power really get the combination appliance going for all tasks. Whether it's soups, doughs, salads, sauces or stews, every dish lands on the winner's podium in the 2.5 litre stainless steel mixing bowl. You are always in full control, because the Grand Prix is switched directly by hand: 12 speed levels, temperatures up to 120 °C and working times up to 90 minutes. Chrome-plated fittings and a cockpit-look control panel complete the flair of an ultra-modern kitchen behemoth.
Features
Download user manual
large display: 15 x 6 cm
Speed adjustable in 12 steps
temperature adjustable by degrees from 30 to 120 °C
Working time from 1 second to 90 minutes
Dough mode for preparing dough
including steam cooking attachment for gentle cooking
embossed scale in 0.5 litre steps
Plastic parts BPA free
100 ml fine measuring cup in lid
Pulse function for hard ingredients (max. speed)
easy cleaning owing to partial dismantling
including spatula to remove food adhesions and to lift out the cooking insert
Automatic shut-off: appliance stops when lid is opened or mixing bowl is removed
Circuit breaker: device only starts when attachments are correctly engaged
Safe, stable stand owing to suction cup feet
Accessory pack: steamer attachment, butterfly stirrer, knife attachment, inner basket, spatula
Power supply: 220-240 V~ | 50/60 Hz
Dimensions and Technical Details
Dimensions: approx. 22 x 38 x 34 cm (WxHxD)
Weight: approx. 6.1 kg
Motor power: 500 Watt
Heating power: 1000 Watt
Volume of the bowl: 2.5 liters (for up to 2 liters of filling)
Material bowl: stainless steel
Material stirring elements: stainless steel and plastic (BPA-free)
What will be delivered
1 x device base
1 x bowl + lid
1 x steam cooker attachment
1 x cooker insert
1 x cross blade attachment
1 x butterfly stirrer
1 x spatula
Operating instructions in English (other languages: German)
Delivery & shipment
Ready for shipping Delivery time: 3 - 5 workdays
Your order will be delivered to the selected address per order. This address does not have to match the billing address. You can send the orders to your family, friends or office if you are not at home during the day. Your order is delivered by our specialist courier spedition to your chosen address. This address does not have to correspond with your billing address. Leave a telephone number with your order to guarantee the best possible delivery of the product. Delivery takes place free to kerbside. This item may be pre-ordered. Please note that, in this case, the delivery time may be up to 5 days.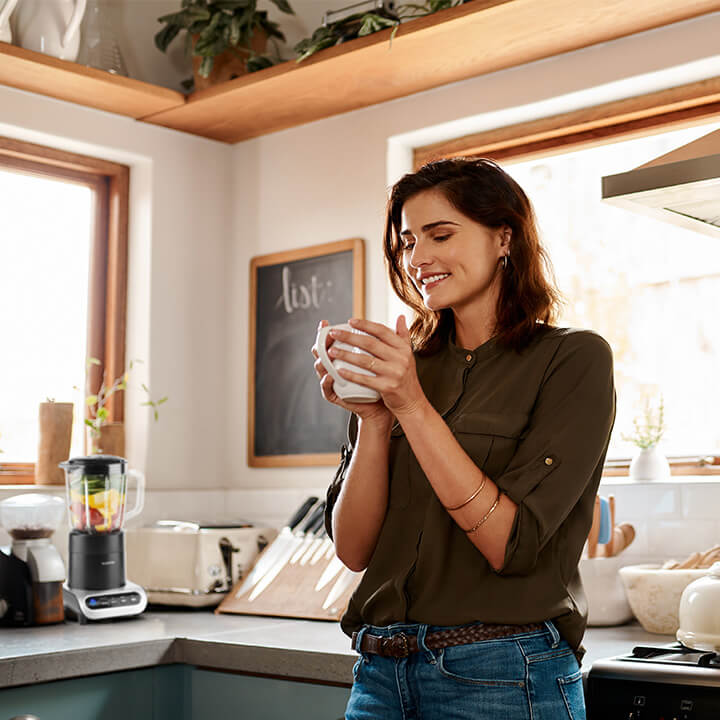 No review available for this item.
Customer reviews from other countries
Ich bin voll Zufrieden und es macht Spaß mit diesem Thermomix zu arbeiten, danke dafür.
I am fully satisfied and it is fun to work with this Thermomix, thank you for that.
Es ist sehr gut verarbeitet und wer das schulenglisch hatte versteht auch die Knöpfe. Und man kann die app vom teueren originalen thermomixer von Vorwerk 1 zu 1 benutzen also die Rezepte.
It is very well made and those who had English at school also understand the buttons. And you can use the app from the expensive original thermomixer from Vorwerk 1 to 1, i.e. the recipes.
macht soliden bisher nicht voll ausgetesteten Eindruck aber das was es soll kann es ist mein erstes Gerät somit habe ich keinen vergleich und der preis war unglaublich günstig
makes a solid impression that has not yet been fully tested, but it can do what it should, it is my first device, so I have no comparison and the price was incredibly cheap
Preis Leistung ist super und die Qualität ist auch sehr gut.
The price is great and the quality is also very good.
Eigendlich eine gute Maschine . Leider nur bedingt für schwere Brotteige geeignet. Schaltet teilweise wegen Überlastung vorzeitig ab. Man muss dann eine gewisse Zeit warten bis sie abgekühlt ist. Die Intervalle beim kneten erscheinen mir zu kurz. .
Actually a good machine. Unfortunately only conditionally suitable for heavy bread dough. Switches off prematurely in some cases due to overload. You then have to wait a certain amount of time for it to cool down. The kneading intervals seem too short to me. .
An sich ist das Gerät wirklich spitze. Allerdings muss man das Kochbuch vom Thermomix benutzen und da stimmen die Zeiten wiederum nicht ganz. Das Klarstein-Modell braucht immer länger, kann, wenn der Inhalt heiß ist, nur bis Stufe vier mixen. Garen klappt bei mir gar nicht, deshalb nutze ich stattdessen den Backofen. Außerdem ist das Gerät, wenn es auf Stufe 10-12 arbeitet, extrem laut. Trotzdem nutze ich das Gerät wirklich täglich. Besonders die Teigfunktion ist spitzenmäßig! Einfach Rezeptinhalt rein und fertig- perfekt! Im Großen und Ganzen bereue ich den Kauf nicht!
The device itself is really great. However, you have to use the Thermomix cookbook and the times are not quite right. The Klarstein model takes longer and longer and can only mix up to level four when the content is hot. Cooking doesn't work for me at all, so I use the oven instead. Also, when the device is operating at level 10-12, it is extremely noisy. Nevertheless, I use the device every day. Especially the dough function is great! Simply put in the recipe content and you're done - perfect! Overall I don't regret the purchase!
Das Gerät macht optisch einen guten Eindruck und scheint sehr robust zu sein. Auch die integrierte Waage ist ein deutliches Plus. Leider ist es für meine Zwecke nicht geeignet: das Schneidemesser, welches ich zum Pürieren von Speisen (wie z.B. Suppen) benötige, lässt sich bei einer Temperatur von über 60 Grad leider nur bis Stufe 4 nutzen. Wenn ich Gemüse gar gekocht habe und es zur Suppe pürieren möchte, muss ich tatsächlich ca. eine halbe Stunde warten, bis es auf unter 60 Grad abgekühlt ist. Erst dann kann ich es zur Cremesuppe verarbeiten. Auch der telefonische Support konnte mir den Grund hierfür nicht erklären. Das Gerät geht deshalb leider wieder zurück.
The device looks good and appears to be very robust. The integrated scale is also a clear plus. Unfortunately, it is not suitable for my purposes: the cutting blade, which I need to puree food (such as soups), can unfortunately only be used up to level 4 at a temperature of over 60 degrees. If I have cooked vegetables and want to puree them for soup, I actually have to wait about half an hour until they have cooled down to below 60 degrees. Only then can I process it into a creamy soup. Even the telephone support could not explain the reason for this to me. The device is therefore unfortunately being returned.
Ich habe diese Küchenmaschine im November 2019 gekauft und war erst einmal etwas überfordert mit der Bedienung, denn ich habe noch nie eine Thxxxxxix Party besucht und wusste nicht wirklich, wie man mit dem Gerät umgeht, denn: die Bedienungsanleitung ist absolut spärlich. Kein Tipp, keine Rezepte, keine Erklärung wofür und wie man welches Zubehör verwendet, bzw welche Geschwindigkeitsstufen oder Programme (z.B. Dugh) verwendet werden und wann. Nach vielem Rezepte suchen, die für den Thxxxxix zum Glück sehr genau beschrieben sind, habe ich mich dann heran getastet. Nach einigem herum probieren, machte das Arbeiten mit dem Grand Prix dann Spaß. Leider nicht lange, denn nachdem ich einen Brotteig nach einem Thxxxxix Rezept in der Maschine knetete, funktionierte auf einmal nichts mehr. Das Antriebszahnrad war abgebrochen. Ich habe das Gerät nun reklamiert, was alles sehr unkompliziert funktioniert hat und warte nun auf eine Rückmeldung von Klarstein. Da ich dieses Problem noch in keiner Rezession gelesen habe, denke ich, dass ich einfach Pech hatte und es sich um einen Materialfehler handelt, was immer mal passieren kann. Ich freue mich aber trotzdem darauf, die Küchenmaschine wieder in Betrieb nehmen zu können und werde bestimmt ein Update dazu schreiben, wenn ich sie etwas länger in Betrieb habe.
I bought this food processor in November 2019 and was initially a bit overwhelmed with the operation, because I've never attended a Thxxxxxix party and didn't really know how to use the device, because: the operating instructions are absolutely sparse. No tip, no recipes, no explanation for what and how to use which accessories, or which speed levels or programs (e.g. Dugh) are used and when. After looking for many recipes, which fortunately are described very precisely for the Thxxxxx, I then groped my way. After some trial and error, working with the Grand Prix was fun. Unfortunately not for long, because after I kneaded a bread dough in the machine according to a Thxxxxix recipe, suddenly nothing worked anymore. The drive gear had broken off. I have now complained about the device, which all worked very easily and am now waiting for a response from Klarstein. Since I haven't read about this problem in any recession, I think I was just unlucky and it's a material defect, which can happen from time to time. I'm still looking forward to being able to use the food processor again and will definitely write an update when I've been using it a little longer.
Im Großen und Ganzen ist es eine gute Küchenmaschine. Das Preis-Leistungsverhältnis ist top. Einfache und übersichtliche Bedienung. Kompaktes Gehäuse, gute Saugfüße sorgen für gute Standfestigkeit. Im Vergleich zum TM: Kein ewig langes, nerviges Gepiepse, wenn der Garvorgang abgeschlossen ist. Die Mixleistung ist schlechter als beim TM. Das größte Ärgernis am Klarstein GrandPrix ist, dass bei Speisen über 60°C die Mixleistung maximal auf Stufe 4 gedrosselt ist. Somit ist das Pürieren von heißen Suppen und Soßen nicht möglich.
Overall it's a good food processor. The price-performance ratio is great. Simple and clear operation. Compact housing, good suction feet ensure good stability. Compared to the TM: No long, annoying beeps when the cooking process is complete. The mixing performance is worse than the TM. The biggest annoyance with the Klarstein GrandPrix is that the mixing power is throttled to a maximum of level 4 for dishes over 60°C. This means that hot soups and sauces cannot be pureed.
Der Verpackungskarton war beschädigt, das Gerät aber voll in Ordnung. Das Gerät arbeitet sehr leise. Pudding und Rührteig probiert - hat bestens funktioniert. Nur - die Zeit die man vorher spart, braucht man hinterher fürs putzen. Messer lässt sich leicht entfernen, es braucht aber trotzdem seine Zeit und ist auch umständlich, da die Unterseite des Topfes nicht nass werden darf. Ein "Nur"-Dampfgarer ist klar überlegen. 2 Minuten zu 6 Minuten bis es dampft. Die Wartezeit bis man pürieren kann, dauert eine gefühlte Ewigkeit. Geht leider zurück. (Ich habe das Gerät gekauft, weil mir oben alles Zähne gezogen wurden, und ich vorerst nur Brei und püriertes essen durfte.)
The packaging box was damaged, but the device was completely fine. The device works very quietly. Tried pudding and batter - worked perfectly. Only - the time you save beforehand is needed for cleaning afterwards. Knife is easy to remove, but it still takes time and is also awkward as you don't want to get the bottom of the pot wet. A "only" steam cooker is clearly superior. 2 minutes to 6 minutes until steaming. The waiting time until you can puree feels like an eternity. Unfortunately going back. (I bought the device because all my teeth were pulled upstairs and I was only allowed to eat porridge and pureed food for the time being.)
Ich hatte davor ein Thermomix, natürlich ist diese Qualität nicht mit dem teuren Original zu vergleichen aber ich bin sehr zufrieden und bis jetzt habe ich damit alles machen können was ich mit dem Thermi auch gemacht habe. Lediglich das Tempo und die Grad Zahl stelle ich um eins höher. Beim "Varoma" muss man hier noch etwas höher gehen aber es klappt trotzdem alles wunderbar. Im Betrieb ist er von der Lautstärke angenehm aber wenn man die Einstellungen vornimmt, nervt der Pips Ton gewaltig und der Ablauf Ton der Uhr empfinde ich zu leise. Sonst kann ich ihn empfehlen.
I had a Thermomix before, of course this quality cannot be compared to the expensive original, but I am very satisfied and so far I have been able to do everything with it that I have done with the Thermi. I only increase the tempo and the number of degrees by one. With the "Varoma" you have to go a little higher here, but everything still works wonderfully. In operation, the volume is pleasant, but when you make the settings, the pips sound is extremely annoying and I find the sound of the clock to be too quiet. Otherwise I can recommend him.
So, versuche mich kurz zu halten, wird aber nicht gelingen. Montag nachmittag bestellt und bereits Dienstag angekommen. Super verpackt. Spielte seit Jahren mit dem Gedanken, das teure Luxusprodukt aus Wuppertal zu kaufen, aber aus finanziellen Gründen hat die Vernunft gesiegt. Was soll ein 2-Personen - Haushalt auch mit sowas??? Viele positive Rezensionen hier gelesen und da Möglichkeit der Rückgabe nach kurzem Gespräch mit der besten Frau von allen, das Teil aus der Familie Klarstein bestellt. Haben von dieser Firma schon längere Zeit die Heissluftfritteuse und das sous-vide Gerät. Nachdem ich nun die ersten Schritte mit der Grand-Prix hinter mir habe, folgendes : Schliesse mich ALLEN positiven Rezensionen uneingeschränkt an. Wichtig : Das Gerät (ein vorheriger Schreiber hat sich dazu ähnlich geäußert) ist nichts für diejenigen, die bis auf das Zehntelgramm auf eine exakte Kochanleitung angewiesen sind. Ein minimales Grundverständnis für Speisen und deren Zubereitung sollte schon vorhanden sein. Wer die Funktionen dieses Geräts verstanden hat, kann sich damit die Arbeit in der Küche sehr erleichtern. Wer gerne experimentiert wird seine helle Freude haben. Für uns, 2 Personen, sind sowohl die im Vergleich geringen Aufstellmaße, als auch die maximale Kapazität von 2,5 Litern optimal. Um mich mit dem Gerät vertraut zu machen habe ich in der Kürze der Zeit : - Eine bereits fertige Suppe erwärmt (Klasse, da eine von mir voreingestellte Temperatur exakt gehalten wird und ich nix mehr selber umrühren muss). Das Aufpassen entfällt komplett! - 2 Brote gebacken; Nr. 1 ging schief, war aber meine Schuld, falsche Mengenberechnung; das zweite ist genial geworden - 1 Portion Möhren für 2 Personen gedämpft... Der Hammer, fast so gut wie sous-vide, aber schneller und unkomplizierter. Wenn man die Rezepte des sogenannten, extrem teuren Marktführers nimmt und diese leicht anpasst, kann man im Netz auf eine unendlich lange Liste von Kochrezepte zurück greifen. Fazit : Das Gerät verlässt unseren Haushalt nicht mehr. Und auch mein Frauchen ist sehr begeistert!
So, try to keep it short, but it won't work. Ordered on Monday afternoon and arrived on Tuesday. Super packed. For years I toyed with the idea of buying the expensive luxury product from Wuppertal, but for financial reasons reason prevailed. What should a 2-person household do with something like that??? Read a lot of positive reviews here and there is the possibility of returning the part from the Klarstein family after a short conversation with the best woman of all. Have had the hot air fryer and the sous-vide device from this company for a long time. Now that I have the first steps with the Grand Prix behind me, the following: I fully agree with ALL the positive reviews. Important : The device (a previous writer has said something similar) is not for those who depend on exact cooking instructions down to the tenth of a gram. A minimal basic understanding of food and its preparation should already exist. Anyone who understands the functions of this device can make work in the kitchen much easier. Anyone who likes to experiment will be delighted. For us, 2 people, both the comparatively small installation dimensions and the maximum capacity of 2.5 liters are optimal. In order to familiarize myself with the device, I quickly did the following: - Heated a soup that was already ready (great, because a temperature I preset is maintained exactly and I don't have to stir anything myself). No more paying attention! - 2 loaves baked; #1 went wrong but was my fault, wrong calculation of quantity; the second turned out brilliant - 1 portion of carrots for 2 people, steamed... The hammer, almost as good as sous-vide, but faster and less complicated. If you take the recipes of the so-called, extremely expensive market leader and adapt them slightly, you can access an endlessly long list of recipes on the Internet. Conclusion: The device no longer leaves our household. And my wife is also very enthusiastic!
Dies ist meine erste Küchenmaschine in dieser Art und ich bin absolut zufrieden. Besonders das dampfgegarte Gemüse kann ich sehr empfehlen. Das Design gefällt mir persönlich sehr gut. Die Bedienung ist ziemlich einfach und selbsterklärend. Man kann damit tolle Gerichte zaubern und es macht Spaß damit zu arbeiten. Der Deckel schließt komplett ab und lässt sich auch sehr gut öffnen. Als Zubehör liegt dem Paket alles dabei was man sich zu solch einem Gerät wünscht (Garkorb, Aufsatz zum Dämpfen, Schmetterligs-Rührer usw.) Mit diesem Multitalent kann man eigentlich alles erledigen, egal ob kochen, Mixen, Schlagen oder sogar Eis machen. Und mit dem Ergebnis sind wir bis jetzt immer sehr zufrieden gewesen. Ein Rezeptbuch liegt keins dabei, aber man kann ohne Bedenken auf die Rezepte zugreifen die man im Internet für ein Multifunktions-Gerät findet. Die Küchenmaschine ist ein gutes Beispiel dafür, dass es nicht immer das teuerste Modell sein muss.
This is my first food processor of this type and I am absolutely satisfied. I especially recommend the steamed vegetables. I personally like the design very much. The operation is pretty simple and self-explanatory. You can conjure up great dishes with it and it's fun to work with. The lid closes completely and can also be opened very easily. As an accessory, the package includes everything you could wish for with such a device (cooking basket, attachment for steaming, Schmetterligs stirrer, etc.) You can actually do everything with this all-rounder, whether cooking, mixing, beating or even making ice. And we have always been very satisfied with the result. A recipe book is not included, but you can access the recipes that you can find on the Internet for a multifunction device without hesitation. The food processor is a good example that it doesn't always have to be the most expensive model.
Habe mich für die günstige Variante zum bekannten Thermomix entschieden. Der Klarstein macht was er soll und steht dem ™ in wenigen Dingen nach. Fehlend ist lediglich der Linkslauf, was sich in stark zerkleinerten Gerichten bemerkbar macht. Für mich sehr störend stellt sich die herausname des Kochaufsatzes dar. Dieser verkeilt sich immer wieder und lässt sich nur mit viel Kraftaufwand vom eigentlichen Gerät lösen. Ansonsten ist er für unseren Bedarf mehr als ausreichend.
I opted for the cheap version of the well-known Thermomix. The Klarstein does what it should and is inferior to the ™ in a few respects. The only thing missing is the anti-clockwise rotation, which is noticeable in heavily chopped dishes. For me, the removal of the cooking attachment is very annoying. It gets wedged again and again and can only be detached from the actual device with a lot of effort. Otherwise it is more than sufficient for our needs.
Wir hatten den GrandPrix und den FoodCircus bestellt. Theoretisch war ich vom GrandPrix begeistert, 1. wegen der Waage, 2. wegen dem Messerschutz und 3. wegen der einfachen Einstellung per Rad, was der FoodCircus alles nicht hat. Aber wir haben uns trotzdem für die andere Maschine entschieden, da bei ihr 1. die Verarbeitung besser war (die Plastikteile erschienen viel robuster und das Bedienfeld sah nicht so billig aus) und vor allem war sie viel leiser. Der GrandPrix ist aber ganz bestimmt auch eine tolle Maschine und ich frage mich manchmal, ob es doch besser gewesen wäre, diese Maschine zu behalten.
We had ordered the GrandPrix and the FoodCircus. In theory, I was enthusiastic about the GrandPrix, 1. because of the scales, 2. because of the knife protection and 3. because of the simple adjustment by wheel, all of which the FoodCircus does not have. But we still chose the other machine because 1. it had better workmanship (the plastic parts seemed much more robust and the control panel didn't look cheap) and most importantly it was much quieter. But the Grand Prix is definitely a great machine and I sometimes wonder if it would have been better to keep this machine.