Bella Mini Stirring Machine
Mixing machine
Red
1200 watt
This item is not in stock and must be reordered.
60 day cooling off period
Free delivery, no minimum order
Top features
Small and powerful: Compact food processor with powerful motor
1200 Watt in 6 speed levels: plus additional pulse function
Plenty of space: owing to 4-litre stainless steel bowl
Product description
Compact in size, stylish in design and convincing in performance: The Klarstein Bella Mini mixer is in no way inferior to its larger relatives. With a powerful 1200 watt output, 3 mixing attachments, a 4 litre stainless steel mixing bowl, 6 speed settings and a practical pulse function, the Bella Mini is a veritable all-rounder in your kitchen. With its planetary stirring system, it meets all the challenges of modern kitchen operation.
Proven quality with the best mixing results in a space-saving design: the Bella Mini food processor from Klarstein.
Features
compact design
Power: 1200 watts
6 speed settings
Pulse function for short stirring pulses
3 stirring elements
Kneading and stirring hooks with aluminium alloy
Stainless steel whisk
4 litre mixing bowl
Release mechanism for multifunction arm - folds up for easy attachment and bowl handling
Splash guard
4 anti-slip feet
Overheating protection
Dimensions and Technical Details
Dimensions: approx. 21 x 29 x 35 cm (WxHxD)
Cable length: approx. 100 cm
Weight: approx. 3 kg
Material bowl: stainless steel
Material housing: ABS plastic
Power supply: 220-240 V~ | 50/60 Hz
What will be delivered
1 x Stirrer
1 x mixing bowl
1 x dough hook
1 x stirring hook
1 x whisk
1 x splash guard
Multilingual user manual
Delivery & shipment
This item is not in stock and must be reordered.
Your order will be delivered to the selected address per order. This address does not have to match the billing address. You can send the orders to your family, friends or office if you are not at home during the day. Your order is delivered by our specialist courier spedition to your chosen address. This address does not have to correspond with your billing address. Leave a telephone number with your order to guarantee the best possible delivery of the product. Delivery takes place free to kerbside. This item may be pre-ordered. Please note that, in this case, the delivery time may be up to 5 days.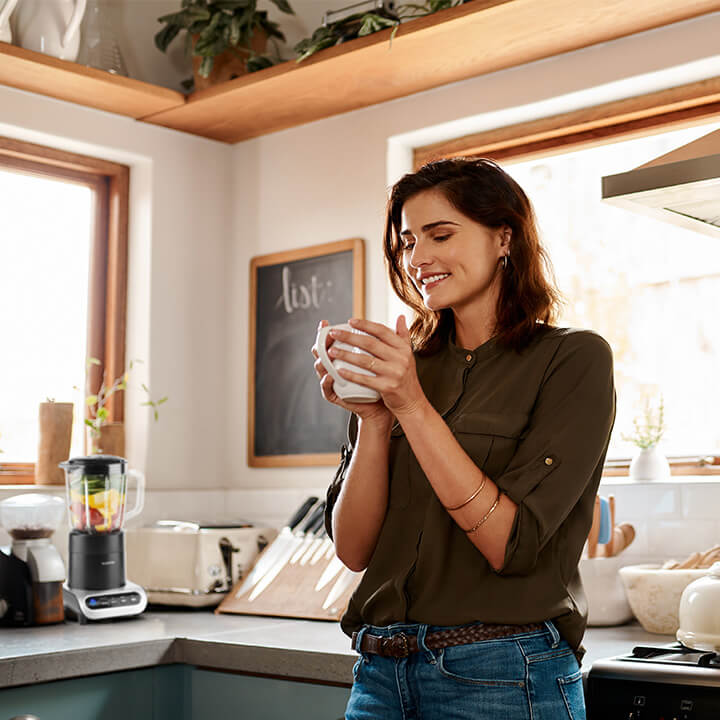 No review available for this item.
Customer reviews from other countries
Die Maschine tut, was sie soll, aber auch keinen Deut mehr: Sie ist primitiv zusammengeschraubt, laut, hakelig in der Handhabung. Schneebesen und Rührbesen arbeiten einwandfrei, beim Knethaken muss man immer wieder nachhelfen, weil er offenbar den Schüsselboden nicht erreicht und nur den oberen Teil des Teiges knetet. Für einen schweren Brotteig ist die Maschine nicht geeignet. Und ein großes Manko: Rührbesen und Knethaken sind nicht spülmaschinengeeignet. Hier wurde offenbar an allem gespart, woran man sparen konnte. Immerhin ist die Maschine im Vergleich zu anderen ziemlich billig. Mal sehen, wie lange sie durchhält.
The machine does what it's supposed to, but not a jot: It's primitively screwed together, loud, and awkward to handle. Whisk and beater work perfectly, you have to help again and again with the dough hook because it doesn't seem to reach the bottom of the bowl and only kneads the upper part of the dough. The machine is not suitable for heavy bread dough. And a big drawback: beaters and kneading hooks are not dishwasher-safe. Apparently everything that could be saved was saved here. After all, the machine is pretty cheap compared to others. Let's see how long she lasts.
Wir sind sehr zu Frieden mit dem Produkt ! Es erfüllt sein Zweck und preisleistungsverhältniss ist sehr gut
We are very satisfied with the product! It serves its purpose and is very good value for money
tolle Hilfe in der Küche und spart Platz. Verschiedene Aufsätze sind mit dabei und auch die Bedingung ist einfach. Lässt sich auch gut reinigen. Das war mir sehr wichtig. Ich bin zufrieden - hier stimmt der Preis und die Leistung. Schaut zudem auch noch sehr gut aus,
great help in the kitchen and saves space. Various attachments are included and the condition is also simple. Also easy to clean. That was very important to me. I am satisfied - the price and the performance are right here. Also looks very good
Die kleine Maschine hat bei meiner Mutter das Handrührgerät abgelöst und bisher alle Aufgaben gut gemeistert. Gerade für schwereren Brot- oder Hefeteig ist die Maschine super. Wir haben eine Mum4 und konnten, bis auf den Preis, keinen Unterschied feststellen. Bei der Klarstein Maschine gibt es natürlich keine Erweiterungsmöglichkeiten, aber diese funktionieren meistens eher schlecht als recht.
The small machine has replaced my mother's hand mixer and has so far mastered all tasks well. The machine is great for heavy bread or yeast dough in particular. We have a Mum4 and couldn't tell any difference apart from the price. There are of course no expansion options with the Klarstein machine, but these usually work rather badly than well.
Ich habe einen Backkurs gemacht und backe gerne verschiedene und neue Dinge zu Hause. Um Teig zu machen und zu kneten, habe diese Küchenmaschine gekauft. Es verfügt über 3 verschiedene Mischaufsätze und 6 verschiedene Geschwindigkeitseinstellungen. Es wird nicht nur zum Kneten, sondern auch zum Mischen verwendet. Es ist eine richtige Küchenmaschine. Es ist einfach zu bedienen und leicht zu reinigen. Sein schönes Design und seine kompakten Abmessungen benötigen sehr wenig Platz in der Küche.
I took a baking course and I like to bake different and new things at home. Bought this food processor to make and knead dough. It has 3 different mixing attachments and 6 different speed settings. It is used not only for kneading, but also for mixing. It's a real food processor. It is easy to use and easy to clean. Its beautiful design and compact dimensions take up very little space in the kitchen.
Mein Sohn hat mich gebeten, ihm eine kleine Küchenmaschine für Teige zu besorgen und da ich mit meiner Bella Robusta von Klarstein so zufrieden bin, habe ich mich für diese hier entschieden. Ich war ein wenig skeptisch, weil ich mehr von Metall für das Gehäuse halte und die Bella aus Kunststoff ist. Sie konnte mich aber positiv überraschen und das in fast jeglicher Hinsicht. Zunächst steht sie wirklich stabil auf der Arbeitsplatte, nicht zuletzt dank der tollen Saugnäpfe. Dann hat sie noch den Härtetest mit Brotteig aus 500 g Mehl bestanden, der Knethaken leistet ganze Arbeit und die Maschine wackelt dabei nicht zu sehr und steht weiterhin wie eine Eins. Den einzigen Makel, den ich erwähnen muss, der mich aber nicht so stört, dass ich dafür einen Stern abziehen würde: sie ist im Betrieb sehr laut. Vom Fassungsvermögen reicht sie für Singles oder auch Paare absolut. Wer eine kleine und schicke Küchenmaschine ohne viel Schnickschnack rein für Teige und Cremes jeglicher Art sucht, ist mit der Klarstein Bella meiner Ansicht nach gut bedient.
My son asked me to get him a small food processor for dough and since I am so happy with my Bella Robusta from Klarstein, I decided on this one. I was a bit skeptical as I prefer metal for the case and the Bella is made of plastic. But she was able to surprise me positively and in almost every respect. First of all, it is really stable on the worktop, not least thanks to the great suction cups. Then it passed the endurance test with bread dough made from 500 g flour, the kneading hook does a great job and the machine doesn't wobble too much and continues to stand like one. The only flaw I have to mention that doesn't bother me enough to deduct a star is that it's very noisy when in use. In terms of capacity, it is absolutely sufficient for singles or couples. If you are looking for a small and chic kitchen machine without a lot of frills for dough and creams of all kinds, I think the Klarstein Bella is the right choice.
Meine Frau wünscht sich so eine Küchenmaschine schon das ganze Jahr. Nun habe ich ihr den Wunsch zu Weihnachten erfüllt und sie damit glücklich gemacht. Die Maschine hat ein super Design, ist leistungsstark und meine Frau gklücklich am backen.
My wife has been wanting a food processor like this all year. Now I have fulfilled her wish for Christmas and made her happy. The machine has a great design, is powerful and my wife is happy baking.