Ready for shipping
Delivery time: 3 - 5 workdays
60 day cooling off period
Free delivery, no minimum order
Top features
Stylish: available with a chrome-plated case or completely in black
Simple: clear control panel with open / close buttons and indicator lights
Open: either fully automatic opening by sensor or manually by pressing a button
Product description
The kick-start for cleanliness: the Klarstein Cleansmann dustbin swallows all waste without complaint and keeps it odour-sealed inside.
In its voluminous interior of 50 litres, the Klarstein Cleansmann rubbish bin offers a handy clamp for bin bags. If the bag is full, it is simply taken out and disposed of without any problem in the appropriate rubbish bin. The waste bin is filled completely contact-free: thanks to the lid sensor, it opens fully automatically as soon as you get into the sensor area about 20 cm away. Put in trash and after 5 seconds the lid closes automatically. If required, the lid can also be opened and closed by pressing a button, for example if the bucket is to remain open for a longer period of time. Indicator lights on the control panel inform you about sensor status and the level of the inserted batteries. The Cleansmann knows how to impress visually as well: the stainless steel bucket and ABS plastic lid are completely chrome-plated.
Simply cleaner: the Klarstein Cleansmann dustbin with sensor opening captivates with its elegant form.
Features
Download user manual
Bucket made of sturdy stainless steel
Lid made of robust ABS plastic
Power consumption: 3 W
Flap with sensor mechanism
Tightly closed interior for the retention of odours
Suitable for kitchen, apartment, office or garden
Easy to clean
Battery life: approx. 3 months with 20 openings per day
Power supply: 4 x AA battery (not included)
Dimensions and Technical Details
Dimensions: approx. 32.5 x 86 x 23 cm (WxHxD)
Weight (total): approx. 2.5 kg
What will be delivered
1 x rubbish bin
User manual in English (other languages: German)
Delivery & shipment
Ready for shipping Delivery time: 3 - 5 workdays
Your order will be delivered to the selected address per order. This address does not have to match the billing address. You can send the orders to your family, friends or office if you are not at home during the day. Your order is delivered by our specialist courier spedition to your chosen address. This address does not have to correspond with your billing address. Leave a telephone number with your order to guarantee the best possible delivery of the product. Delivery takes place free to kerbside. This item may be pre-ordered. Please note that, in this case, the delivery time may be up to 5 days.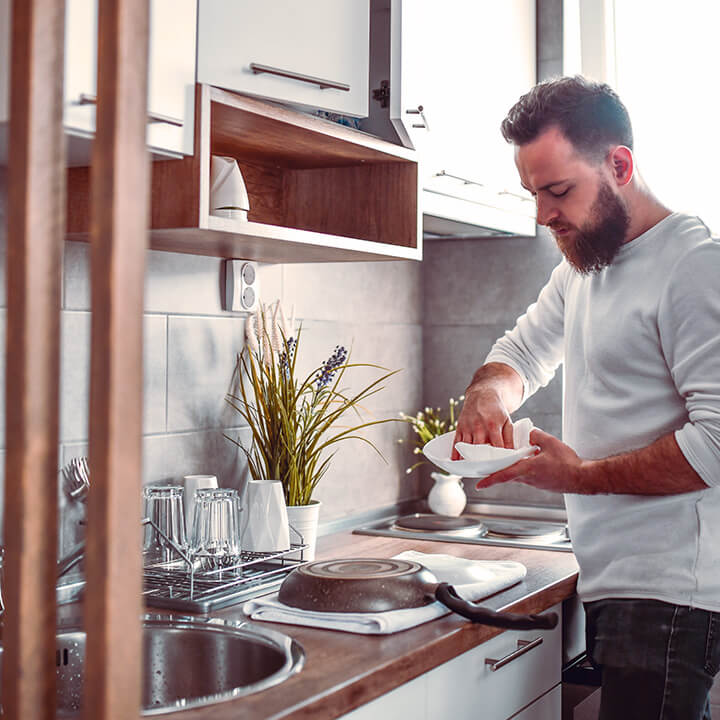 No review available for this item.
Customer reviews from other countries
Très pratique mais la qualité de la boîte a beaucoup diminué
Very practical but the quality of the box has declined significantly
Der Mülleimer hat eine super Größe und funktioniert problemlos. Sieht optisch super aus und verschließt gut. Einzige Kritikpunkte: der Sensor ist so fein eingestellt, dass der Mülleimer sich auch öffnet, wenn man nur dran vorbeigeht. Das ist aber nicht weiter dramatisch. Den Punktabzug gibt es eher dafür, dass das Metal am Rand innen so scharf ist, dass man sich den Müllbeutel an der Seite aufreißt, wenn er mal etwas voller ist. Wir haben das ganze mit Klebeband gelöst, sollte aber eigentlich bei dem Preis nicht passieren.
The trash can is a great size and works flawlessly. Looks great and closes well. The only points of criticism: the sensor is adjusted so finely that the trash can also opens if you just walk past it. But that's not too dramatic. The point deduction is more for the fact that the metal on the inside edge is so sharp that you rip open the garbage bag on the side when it's a bit full. We solved the whole thing with tape, but actually shouldn't happen at the price.
Ist eben nur ein Mülleimer-aber durch die Automatik des Deckels leicht einzuwerfen, wenn beide Hände voll sind. Kein lästiges Deckel abnehmen , Schranktür öffnen...ich bin sehr zufrieden und kann den Mülleimer guten Gewissens weiterempfehlen.
It's just a rubbish bin, but thanks to the lid's automatic mechanism, it's easy to throw in when both hands are full. No annoying removal of the lid, opening the cupboard door...I am very satisfied and can recommend the trash can with a clear conscience.
Lieferung erfolgt zügig, man muss aber unten auf dem Boden was hinlegen, da er nicht dicht ist
Delivery is quick, but you have to put something down on the floor because it is not tight
Leider hat der Mülleimer beim Transport ein paar kleine Dellen abbekommen. Das Material ist auch sehr dünn und daher für Dellen sehr anfällig. Sonst sehr schön und funktioniert einwandfrei.
Unfortunately, the trash can got a few small dents during transport. The material is also very thin and therefore very prone to dents. Otherwise very nice and works perfectly.
Dieser Sensor Mülleimer steht im Bad einer Behinderteneinrichtung und die Mitarbeiter können so sehr hygienisch arbeiten. Tolle Sache
This sensor waste bin is in the bathroom of a facility for the disabled and the employees can work very hygienically. Great thing
Würde ich jederzeit wieder kaufen
I would buy again anytime
Update 21.8.2022: leider öffnet der Mülleimer nicht mehr automatisch wie am Anfang. Trotz Batteriewechsel öffnet sich die Klappe nur noch minimal und fällt gleich wieder herunter/schließt sich. Warum konnte ich nicht herausfinden. Deshalb aktuell nur noch 3 statt der vorherigen 5 Sterne von mir. Schade. Eigentlich nur noch Öffnung per Hand möglich und dafür dann einfach zu teuer. 2021: Sehr schöner Sensor Mülleimer. Da wir jetzt auch die gelbe Tonne bei uns haben und keine gelben Säcke mehr, habe ich nach einem Sensor Mülleimer gesucht. Hier bin ich den Mülleimer von Klarstein gestoßen. Er ist relativ schmal und passt somit in die Ecke neben der Tür bei mir. Das war mir wichtig. Die Lieferung kam schnell und war gut verpackt. Nach dem Auspacken viel mir die schöne Optik auf. Der Müllbeutel ist einfach zu befestigen und der Sensor reagiert gut. Man kann diesen auch per Kippschalter ausschalten und per Hand öffnen und schließen. (Wenn man dies möchte, aber dafür müsste man keinen Sensor Mülleimer kaufen.) Nun habe ich den Mülleimer seit mehreren Wochen/Monaten in Benutzung und alles ist immer noch top. Klare Kaufempfehlung
Update 8/21/2022: unfortunately the trash can no longer opens automatically like it did at the beginning. Despite changing the battery, the flap only opens slightly and falls down/closes again immediately. I couldn't figure out why. Therefore currently only 3 instead of the previous 5 stars from me. A pity. Actually, only opening by hand is possible and then simply too expensive. 2021: Very nice sensor trash can. Since we now also have the yellow bin with us and no more yellow sacks, I looked for a sensor bin. This is where I came across the Klarstein trash can. It is relatively narrow and fits in the corner next to the door with me. That was important to me. The delivery came quickly and was well packaged. After unpacking, the beautiful look struck me. The bin liner is easy to attach and the sensor responds well. You can also switch it off with a toggle switch and open and close it by hand. (If you want this, but you don't have to buy a sensor bin for that.) I've been using the bin for several weeks/months and everything is still great. Clear purchase recommendation
Hatten vorher schon einen ähnlichen Mülleimer in runder Form. Funktioniert tadellos. Ein Punkt Abzug für den Preis und das Batteriefach. Preis ist wie bei allen anderen recht hoch. Bei unserem alten Mülleimer hat mir schon nicht gefallen, dass das Batteriefach nicht wasserdicht ist. Wenn man Hausmüll etwas länger drin lässt und dieser anfängt zu schwitzen, bildet sich am Deckel recht viel Schwitzwasser. Dadurch ist bei unserem alten das Batteriefach innen total oxidiert und hat deshalb jetzt den Geist aufgeben. Bei diesem ist es leider nicht anders. Eine Gummidichtung würde da schon helfen.
Had a similar trash can in a round shape before. Works perfectly. One point deduction for the price and the battery compartment. Price is quite high like all others. What I didn't like about our old trash can was that the battery compartment wasn't waterproof. If you leave household waste in for a little longer and it starts to sweat, a lot of condensation will form on the lid. As a result, the battery compartment of our old one is totally oxidized on the inside and has therefore now given up the ghost. Unfortunately, this one is no different. A rubber seal would help.
Die Müllsäcke gehen schwer herrausziehen aber sonst past alles
The garbage bags are difficult to pull out, but everything else is fine
Sehr gut hab sogar noch eine gekauft
Very good even bought another one
I like this box. It is fun to use it but the sensors is too sensitive when you pass it 30-40 cm it is opening and you can't put under the desk because it will permanently open and close.
I like this box. It is fun to use it but the sensors is too sensitive when you pass it 30-40 cm it is opening and you can't put under the desk because it will permanently open and close.
2 Informationen für Interessenten: Der Deckel ist nur mit Kraft auf den Eimer zu bringen, ich als Frau habe es nicht geschafft. Der Sensor funktioniert nicht 2 x direkt nacheinander... also unpraktisch - Mülleimer geht zurück!
2 pieces of information for interested parties: The lid can only be put on the bucket with force, as a woman I couldn't do it. The sensor doesn't work 2x in a row... so impractical - trash can goes back!
erfüllt gut seinen Zweck und das für einen angemessener Preis. Die Verarbeitung ist sehr gut und ansprechend gemacht. Funktioniert wie beschrieben. So muss es ja auch sein. Ich würde es auch wieder kaufen toll
serves its purpose well and for a reasonable price. The processing is very good and attractive. Works as described. That's the way it has to be. I would buy it again great