Oceana Mini Table Dishwasher
Oceana Mini Table Dishwasher
Low stock - order quickly!
Delivery time: 3 - 5 workdays
60 day cooling off period
Free delivery, no minimum order
Top features
Compact class: free-standing mini dishwasher
Flexible: can be used with manual or fixed water connection
Intuitive operation: touch operating section and 24-h start timer
Product description
The Klarstein Oceana dishwasher is the new assistant for uncomplicated dishwashing, even in the smallest flat or mobile home! With 6 different programmes and only 6 litres of water per wash cycle, the Oceana can handle all kinds of dirt. The option of water connection-free operation is particularly attractive if, for example, no corresponding connections are available. A special feature is the automatic opening of the front flap after the dishwashing process, so that water vapour can escape and the dishes dry particularly quickly and are directly ready for the cupboard.
Installation-free, powerful and yet economical in consumption: the Oceana dishwasher from Klarsteinbrings shine to every home!
Features
Download user manual
Type of construction: free-standing
Usable with fixed water connection (incl. inlet and outlet hose)
Water connection-free operation via funnel and drain hose
Water consumption: 6 litres per wash cycle
Space for two place settings incl. cutlery
Front flap opens automatically after rinsing for faster drying
Energy efficiency class: F
6 programmes: ECO, intensive cleaning, glass cleaning, 58-min programme, quick cleaning and self-cleaning mode
Standard programme: ECO (rinses at low temperatures)
Cycle time standard programme: 160 minutes
Sound emission: 58 dB
Height-adjustable feet
Dimensions and Technical Details
Dimensions: approx. 42 x 46.5 x 44 cm (WxHxD)
Supply hose length: approx. 150 cm
Drain hose length: approx. 150 cm
Length power cable: approx. 140 cm
Weight: approx. 14.5 kg
Power consumption: 730 to 860 watts
Annual electricity consumption: 125 kWh
Annual water consumption: 1680 litres
Power supply: 220-240 V~ | 50 Hz
What will be delivered
1 x dishwasher
1 x cutlery holder
1 x inlet hose
1 x drain hose
1 x water funnel for manual filling
1 x salt funnel
Multilingual user manual
Delivery & shipment
Low stock - order quickly! Delivery time: 3 - 5 workdays
Your order will be delivered to the selected address per order. This address does not have to match the billing address. You can send the orders to your family, friends or office if you are not at home during the day. Your order is delivered by our specialist courier spedition to your chosen address. This address does not have to correspond with your billing address. Leave a telephone number with your order to guarantee the best possible delivery of the product. Delivery takes place free to kerbside. This item may be pre-ordered. Please note that, in this case, the delivery time may be up to 5 days.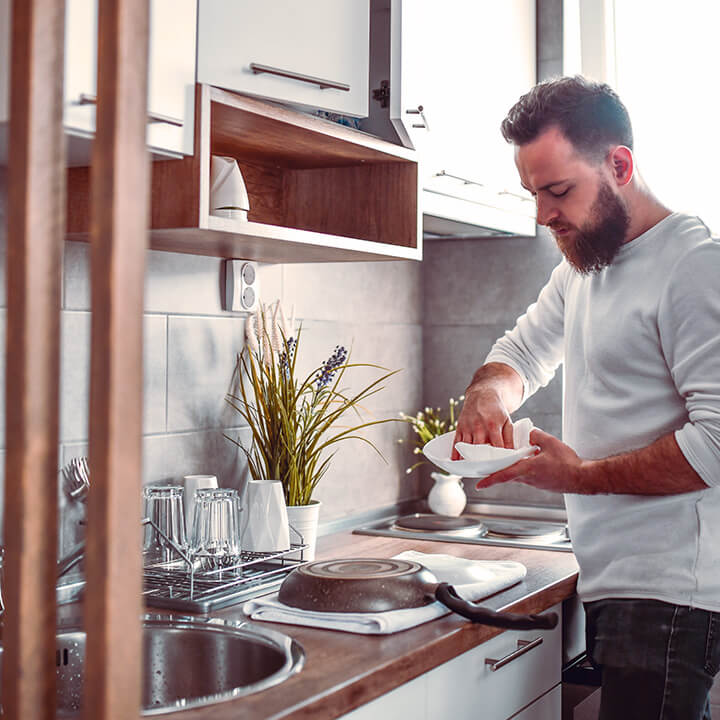 No review available for this item.
Customer reviews from other countries
Bin sehr sehr zurfrieden mit dem kleinen Geschirrspüler, reicht vollkommen für einen 1 Personenhaushalt! :)
I'm very happy with the small dishwasher, it's enough for a 1-person household! :)
Just as described. No complaints here. Well and nicely packaged and good instructions.
Just as described. No complaints here. Well and nicely packaged and good instructions.
Alles super
Everything great
Meine Küche ist klein und ich hasse Abwaschen. Soviel also zu meinen Voraussetzungen. Schon lange habe ich mit dem Gedanken gespielt, mir einem kleinen Geschirrspüler zuzulegen. Problem war dabei stets, der zusätzliche Anschluss. Denn dieser war im meinem Fall durch die Waschmaschine belegt. Doch dieser Spüler bietet die Möglichkeit der seperaten Befüllung, was auch wunderbar funktioniert. Die Spülmaschine macht genau so sauber, wie ein größeres Modell und im Rahmen eines Zwei Personen Haushalts, bekommt man auch mehr als genug Geschirr eingeladen. Im Zweifel selbst einen großen Topf oder die Auflaufform. Die Bedienung ist einfach und bedarf keiner großen Erklärung. Aus persönlicher Erfahrung kann ich sagen, in den meisten Fällen ist das 60-Minuten Programm sogar mehr als ausreichend. Mein einziger Kritikpunkt ist, das sich die Wasserhärte nicht wie in der Anleitung einstellen lässt. Mehrere Personen haben es wir beschrieben ohne Erfolg inzwischen probiert. Das tut meiner grundsätzlichen Zufriedenheit aber kaum einen Abbruch. Da es aber tendenziell in der Zukunft zu Problemen führen könnte, bei Menschen mit sehr hartem Wasser muss ich hier leider einen Stern abziehen. Denn diese Funktion sollte schon funktionieren. Wenn man also eine kleine Küche hat und doch in den Genuss eines Geschirrspülers komme mag, dann ist es eine lohnenswerte Investition!
My kitchen is small and I hate washing up. So much for my assumptions. I've been toying with the idea of buying a small dishwasher for a long time. The problem was always the additional connection. In my case, this was occupied by the washing machine. But this dishwasher offers the possibility of separate filling, which also works wonderfully. The dishwasher cleans just as cleanly as a larger model and in the context of a two-person household, you get more than enough dishes invited. If in doubt, use a large pot or the casserole dish. Operation is simple and does not require much explanation. From personal experience I can say that in most cases the 60-minute program is more than sufficient. My only criticism is that the water hardness cannot be adjusted as in the instructions. Several people have tried it as described without success. But that hardly detracts from my overall satisfaction. But since it could tend to lead to problems in the future, I unfortunately have to deduct a star for people with very hard water. Because this function should already work. So if you have a small kitchen and still want to enjoy a dishwasher, then it's a worthwhile investment!
Leider hat mein kleiner Electrolux den Geist aufgegeben. Ich habe mich für dieses Gerät entschieden. Ich bin super zufrieden bis jetzt. Alles kommt sauber und trocken raus. Wer die Einstellung für den Salz Härtegrad sucht .....lange den Modus Rapid drücken. Dann kann man es einstellen. In der Bedienungsanleitung steht's falsch geschrieben.
Unfortunately, my little Electrolux gave up the ghost. I chose this device. I'm super happy so far. Everything comes out clean and dry. If you are looking for the salt hardness setting.....long press the Rapid mode. Then you can adjust it. It's spelled wrong in the manual.
War alles genau wie beschrieben
Everything was exactly as described
Ich bin super happy über die Lösung, das Gerät (auch) manuell befüllen zu können. Das Volumen ist natürlich kleiner; aber für eine Person ist es ausreichend: so passt bspw. auch eine 6,7 Liter Schüssel locker rein. Die "Installation" ist super einfach; einfach den mitgelieferten Abwasserschlauch entsprechend mit der Schelle am Gerät befestigen und diesen ins Waschbecken legen. Die Reinigung des Geschirrs funktioniert super und die Lautstärke ist absolut in Ordnung. Im Lieferumfang ist alles dabei was man zur Inbetriebnahme benötigt: auch ein Messbecher zum manuellen Befüllen. Leider fehlte bei mir der Trichter zum Befüllen des Salzes (aber der Händler hat eine Lösung hierfür anbieten können). Der Kundenservice war super nett, auch wenn es etwas länger, als bei Prime üblich, gedauert hat. Die Bedienung läuft über Touch: so findet man bspw. zwei Kurzprogramme (Rapid, 58min). In diesen Programmen trocknet die Spülmaschine nicht richtig. Insgesamt macht sie einen soliden Eindruck und ist in der Bedienung intuitiv leicht. Würde die Spülmaschine für Studenten, Berufstätige mit ggf Appartement am 2. Wohnort oder Luxus-Camper definitiv empfehlen =)
I am super happy about the solution of being able to (also) fill the device manually. The volume is of course smaller; but for one person it is sufficient: for example, a 6.7 liter bowl easily fits in. The "installation" is super easy; simply attach the supplied waste water hose to the device with the clamp and place it in the sink. The cleaning of the dishes works great and the volume is absolutely fine. The scope of delivery includes everything you need for commissioning: including a measuring cup for manual filling. Unfortunately, the funnel for filling the salt was missing for me (but the dealer was able to offer a solution for this). The customer service was super nice, even if it took a little longer than usual with Prime. It is operated via touch: for example, there are two short programs (Rapid, 58 minutes). The dishwasher does not dry properly in these programs. Overall, it makes a solid impression and is intuitively easy to use. Would definitely recommend the dishwasher for students, professionals with possibly an apartment at the 2nd place of residence or luxury campers =)
+ leise, leiser wie eine normale spülmaschiene, vorallem beim Wasser absaugen + ausreichend Stell Möglichkeiten + Spülmittelfach gut positioniert + spült in allen Stufen sehr gut (im Kurzprogramm braucht man auch nicht erwarten, das es hartnäckiges entfernt bekommt) + Kabel + Zu/Ablaufschläuche haben eine sehr gute Länge - Ablage für Besteck könnte größer sein
+ Quiet, quieter than a normal dishwasher, especially when vacuuming the water + Adequate positioning options + Detergent compartment well positioned + Rinses very well at all levels (in the short program you don't have to expect that stubborn things are removed) + Cables + Inlet/outlet hoses a very good length - shelf for cutlery could be bigger
Bin Super zufrieden mit der Spühlmaschine. Tut was Sie soll. Ein kleines Manco ist aber die Besteckablage. Kleine Löffel oder Gabeln fallen durch und lassen Sich nicht so einhängen wie in der Anleitung beschrieben. Spühltabs und Pulver beides funktioniert bestens.
I am super happy with the dishwasher. Does what it's supposed to. A small drawback is the cutlery tray. Small spoons or forks fall through and cannot be attached as described in the instructions. Rinse tabs and powder both work well.