Madonna Extractor Hood
Black
90 cm
Island cooker hood
500 m³/h
This item is not in stock and must be reordered.
60 day cooling off period
Free delivery, no minimum order
Top features
Extractor hood/island hood with a front panel in black safety glass - bottom and shaft made of brushed stainless steel
Three power levels - exhaust air operation - possibility of retrofitting to recirculation mode
Exhaust performance at the highest output stage: 500 m³/h
Product description
Enrich your kitchen to become a faithful helper in the elimination of steam and food odors. The Klarstein Madonna can handle up to 500 m³ of exhaust air per hour and is still quiet at 68 dB even at the highest operation level.
Depending on the amount of steam, three power levels of the fam- low, medium and high - are available. The Klarstein Madonna is completely and easily operated via the touchpad fitting and display. Here, the lighting can be switched on, which illuminates the pots and pans from above and gives glowing insights to the passionate cooking enthusiasts.
With its elegant design, it radiates with a fresh glow, especially in modern kitchens, but it is also a luxurious counterpoint in classic surroundings. The bottom side of the device and the shaft is supported by the old elegance of brushed stainless steel.
The extractor hood can be refitted to air circulation mode. The therefore needed activated carbon filters can be found under article number 10031626.
Features
Download user manual
Energy efficiency class B
Three replaceable aluminum grease filters (dishwasher safe)
Stainless steel telescopic shaft cover
Extraction: 1 motor, 2 fan units - partially teflon-coated
250 watts of power
Power supply: AC 230 V, 50 Hz
Dimensions and Technical Details
Depth max .: 53.5 cm
Width max .: 90 cm
Extraction area: 71 x 35.5 cm
Ceiling distance: 75 to 105 cm
Visible shaft width: 30.5 cm
Visible shaft depth: 27 cm
Diameter of exhaust hose: 15 cm
Flexible connection hose: 55 - 170 cm
Length of power cable: 1.5 m
Weight: approx. 28 kg
What will be delivered
1 x device
3 x grease filters
1 x ceiling mount
2 x stainless steel cover
1 x exhaust hose
1 x set of mounting materials
User manual in English (further languages: German)
Delivery & shipment
This item is not in stock and must be reordered.
Your order will be delivered to the selected address per order. This address does not have to match the billing address. You can send the orders to your family, friends or office if you are not at home during the day. Your order is delivered by our specialist courier spedition to your chosen address. This address does not have to correspond with your billing address. Leave a telephone number with your order to guarantee the best possible delivery of the product. Delivery takes place free to kerbside. This item may be pre-ordered. Please note that, in this case, the delivery time may be up to 5 days.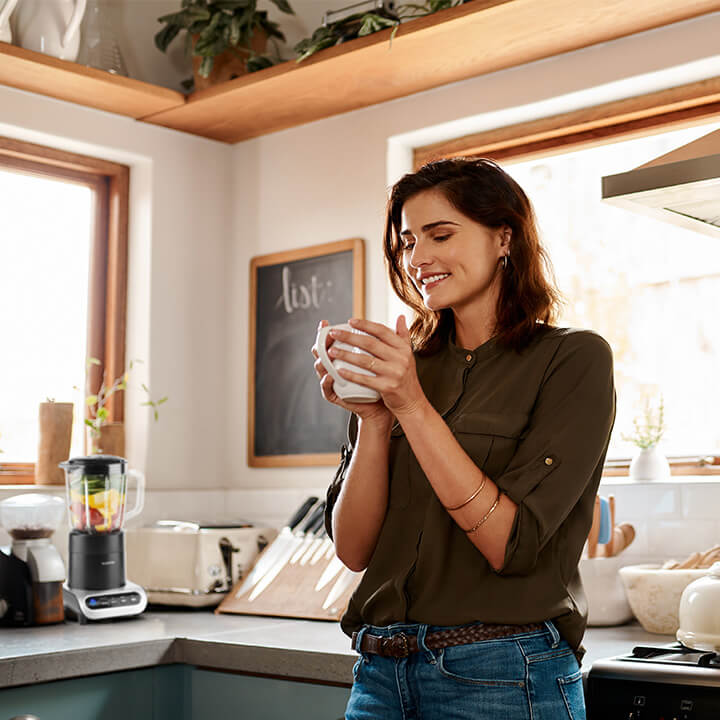 No review available for this item.
Customer reviews from other countries
Gute Ablufthaube zum vernünftigen Preis
Good exhaust hood at a reasonable price
Die Abzuzgshaube ist sehr laut, mit Kohlefilter pfeift sie ,wenn man keinen Abzug für draußen hat sollten die Kohlefilter im Lieferumfang mit inbegriffen sein . Denn ich bin von einem Rechteckigen Kohlefilter ausgegangen aber leider braucht man hierfür 2 Runde Kohlefilter ,dann musste ich alles wieder abbauen für die Filter.
The extractor hood is very loud, with a carbon filter it whistles, if you don't have a vent for outside, the carbon filters should be included in the scope of delivery. Because I assumed a rectangular carbon filter, but unfortunately you need 2 round carbon filters for this, then I had to dismantle everything again for the filters.
Da wir uns entschlossen haben uns doch noch einmal zu verändern wird sich in den nächsten Wochen und Monaten einiges bei uns tun. Da es ein Wunsch ist eine große Küche im Haus zu haben fangen wir an schon einmal ein paar Dinge zu kaufen. So sind wir auf die Klarstein Madonna Dunstabzugshaube gestoßen. Sie ist geeignet für ein Mittelkochfeld und sollte doch mit einem Fachmann installiert werden. Sie kann bis 500 m³ Abluft in einer Stunde bewältigen und ist mit unter 68 dB auf höchster Stufe relativ geräuscharm. Die Bedienung erfolgt über eine Touchpad-Armatur, es gibt 3 Leistungsstufen, zudem kann das Licht über das Display geschaltet werden. Gebürsteter Edelstahl macht die Haube schon sehr chic, ich mag es so. Vielleicht noch ganz interessant, die Haube läuft mit Energieeffizienzklasse B, die Maße sind 60 cm x 90 cm. Allein schon wegen dem Gewicht von 28 kg sollte niemand versuchen die Dunstabzugshaube allein zu installieren! Es wurden alle Kleinteile sowie eine Bedienungsanleitung mitgeliefert. Da wir erst zu einem späteren Zeitpunkt unsere geplanten Veränderungen vornehmen bleibt die Haube noch im Karton. Der Funktionstest wird dann später beschrieben wenn sie läuft.
Since we have decided to change again, we will have a lot going on in the coming weeks and months. Since there is a desire to have a big kitchen in the house, let's start buying a few things. This is how we came across the Klarstein Madonna extractor hood. It is suitable for a center hob and should still be installed by a professional. It can handle up to 500 m³ of exhaust air in one hour and is relatively quiet at less than 68 dB at the highest level. It is operated via a touchpad fitting, there are 3 power levels, and the light can also be switched on via the display. Brushed stainless steel makes the hood very chic, I like it that way. Perhaps still very interesting, the hood runs with energy efficiency class B, the dimensions are 60 cm x 90 cm. If only because of the weight of 28 kg, nobody should try to install the extractor hood alone! All small parts and an instruction manual were included. Since we will only make our planned changes at a later date, the hood will remain in the box. The function test will then be described later when it is running.
Super schnelle Lieferung. Jederzeit wieder.
Super fast delivery. Any time.
Montage ist (anders als viele hier schreiben) eigentlich sehr einfach und vor allem sehr stabil durch die 4 massiven Winkel wackelt nix! Die Beschreibung stimmt leider immer noch nicht, habe vor bestimmt 2 Monaten mit dem Hersteller telefoniert, da die Beleuchtung nicht wie in der Beschreibung steht, aus 4 Halogenlampen besteht, sondern aus 4 "fest" verbauten nicht Wechselbaren LED's, sehr ärgerlich wenn man mit dimmbaren Halogenlampen gerechnet hat...naja sonst alles okay ;).
Assembly is (unlike many write here) actually very simple and above all very stable thanks to the 4 massive angles nothing wobbles! Unfortunately, the description is still not correct, I phoned the manufacturer about 2 months ago, because the lighting does not consist of 4 halogen lamps as in the description, but of 4 "permanently" installed, non-replaceable LEDs, very annoying if you are using dimmable ones Has expected halogen lamps... well otherwise everything is okay ;).
Das Gerät macht einen guten und soliden Eindruck. Leider war der Abluftkamin größer als in der Werbung. Das hat unsere Planung sehr durcheinandergebracht, da der Kamin durch ein abhängtes Holzbrett durchgeführt werden sollte. Der geplante Ausschnitt hat natürlich nicht gepasst und das abgehängte Brett muuste komplett durchgeschnitten werden. Dadurch sind zusätzliche Probleme bei der Montage entstanden. Ansonsten ist die Kaminabhängung durch 4 Winkeleisen doch sehr wacklig und erfordert zusätzliche Verstrebungen. Die Montageanleitung kann man komplett vergessen. Es wird ein Plastikbeutel mit einem Schraubensortiment mitgeliefert. Da kann man sich die passenden Schrauben aussuchen.
The device makes a good and solid impression. Unfortunately, the exhaust chimney was larger than advertised. This messed up our planning a lot as the chimney was to be carried out through a suspended wooden plank. Of course, the planned cut didn't fit and the suspended board had to be cut through completely. This resulted in additional problems during assembly. Otherwise, the chimney suspension is very wobbly with 4 angle irons and requires additional bracing. You can forget the assembly instructions completely. A plastic bag is supplied with an assortment of screws. You can choose the right screws.