Drybest 2000 2G Dehumidifier
This item is not in stock and must be reordered.
60 day cooling off period
Free delivery, no minimum order
Top features
Compact dehumidifier and ionizer for freeing the air from excess moisture and dust particles
Efficient: only 70 W power consumption
Improves the indoor climate in walk-in closets, small bathrooms or pantries
Product description
Breathe deeply. The Klarstein Drybest 2000 2G dehumidifier frees you from damp, musty air and makes breathing enjoyable again.
Say goodbye to moist air and condensation precipitation. With its second generation, the proven Klarstein Drybest 2000 dehumidifier is even better at removing moisture from the air. Up to 300 ml of water per day is filtered out of the air and collected in its 2 liter collector. By using a Peltier element, the Drybest 2000 2G becomes extremely energy efficient. Only 70 Watts of electricity is needed to power the device and it is extremely quiet in operation. The device remains on until a sensor detects that its water tank is full, after which it automatically turns off. Once the receptacle has been emptied, for example by watering some plants, it will resume its operation. Two LEDs indicate clearly whether the device is in operation and whether the water tank must be emptied.
With the Klarstein Drybest 2000 2G dehumidifier, effectively improve the air quality in small, poorly ventilated rooms, such as walk-in closets, bathroms and pantries. It removes unwated water vapor and helps prevent mildew and condensation precipitation. For even fresher air, there is a built-in ionizer, which binds dust particles and reduces unwanted odors. The proven simple and elegant design of the Klarstein Drybest 2000 dehumidifier fits into any living or working environment with its compact dimensions.
Get the best atmospheric conditions. The Klarstein Drybest 2000 2G dehumidifier frees the air from excess moisture and helps to provide a pleasant, feel-good climate indoors.
Available colors: black, grey (item 10029871)
Features
Download user manual
On/off switch on the back side of the device
Suitable for use with a humidifier for a consistent indoor climate
Built-in ionizer: binds dust particles and eleminates odors
Operation LEDs for when the device is in operation, the status of air freshner and when the water tank is full
Automatic shutdown when the water tank is full
Attractive, compact design
Collects 700 ml per day
Water tank capacity: 2 liters
Anti-slip rubber feet
Power supply: 220-240 V~ / 50-60 Hz
Dimensions and Technical Details
Dimensions: approx. 24 x 36 x 12.5 cm (WxHxD)
Weight: approx. 1860 g
What will be delivered
1 x device
1 x collection tank
1 x power adapter
Instruction manual in English (other languages: German, Italian, French, Spanish)
Delivery & shipment
This item is not in stock and must be reordered.
Your order will be delivered to the selected address per order. This address does not have to match the billing address. You can send the orders to your family, friends or office if you are not at home during the day. Your order is delivered by our specialist courier spedition to your chosen address. This address does not have to correspond with your billing address. Leave a telephone number with your order to guarantee the best possible delivery of the product. Delivery takes place free to kerbside. This item may be pre-ordered. Please note that, in this case, the delivery time may be up to 5 days.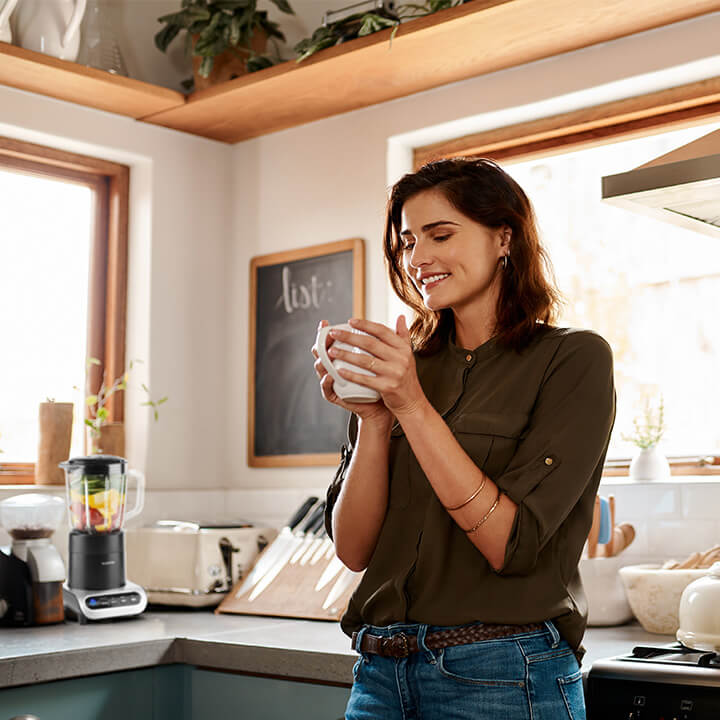 No review available for this item.
Customer reviews from other countries
In Bezug auf Design und Grösse ein tolles Gerät!
Jedoch für meinen Zweck nicht das richtige,
da der Verbrauch bei 100 Watt/Std. liegt.
Der Leistung steht für mich nicht im Verhältnis zu der Menge an Feuchtigkeit die in 24h aus der Luft gezogen wird.

Ich bin auf den DryFy 10 Kompressions-Luftentfeuchter umgestiegen. Dieser hat zwar einen höheren Verbrauch, zieht aber ein vielfaches an Feuchtigkeit aus der Luft.
A great device in terms of design and size! However, not the right one for my purpose, as the consumption is 100 watts/hour. lies. For me, the performance is not proportional to the amount of moisture that is drawn out of the air in 24 hours. I switched to the DryFy 10 compression dehumidifier. Although this has a higher consumption, it draws a lot more moisture out of the air.
ist genau das , wofür es gedacht ist. habe es im schlafzimmer 18qm , dass ist aber auch die grenze. Leiser geht es glaube ich nicht mehr, einfach Top.
is exactly what it is intended for. I have it in the 18sqm bedroom, but that's also the limit. I don't think it gets any quieter, just great.
Für uns war es leider nicht das richtig Produkt.
Unfortunately, it wasn't the right product for us.
Das Gerät funktioniert einwandfrei und macht das was es soll.
The device works perfectly and does what it is supposed to.
Sieht gut aus, bissen laut aber und für der Leistung bissen teuer.
Looks good, but bit loud and bit expensive for the performance.
Ich benutze den Entfeuchter in meinem Wohnzimmer (ca. 20m2), in dem ich zwangsläufig auch meine Wäsche trockne. Bisher ist die Luftfeuchtigkeit tatsächlich runter gegangen. Zuvor hatte ich ein Schimmel Problem und das Gerät hilft dabei tatsächlich aus. Man sollte kein Wunder erwarten, aber für den Preis ist das echt eine tolle Leistung.
I use the dehumidifier in my living room (about 20m2) where I inevitably also dry my laundry. So far the humidity has actually gone down. I had a mold problem before and the device actually helps out with that. Don't expect miracles, but for the price it's a really great performance.
Top Qualität für das Geld weiter empfehlenswert für kleine Räume top
Top quality for the money further recommended for small rooms top
Funktioniert wunderbar.
Works great.
Das Gerät läuft leise und entzieht der Luft die Feuchtigkeit. Sehr zu empfehlen!
The device runs quietly and removes moisture from the air. We recommend!
Davor hatte ich immer Beutel gekauft, um die Feuchtigkeit aus dem Zimmer zu ziehen. Trotzdessen hatten wir weiterhin Schimmel. Ich bin auf die elektrische Variante umgestiegen und bin zufrieden. Ich merke keinen Schimmel an den Wänden. Zudem muss ich sagen, dass meine gekauften Beutel das Budget dieses Gerätes schon überstiegen haben. Ich sehe den elektrischen Luftentfeuchter als wesentlich günstiger an. Er sieht auch schöner im Raum aus als die Plastikklötze auf dem Boden.
Before that I always bought bags to pull the moisture out of the room. Despite this, we still had mold. I switched to the electric version and am satisfied. I don't notice any mold on the walls. I also have to say that the bags I bought have already exceeded the budget of this device. I see the electric dehumidifier as much cheaper. It also looks nicer in the room than the plastic blocks on the floor.
Für kleinere Räume gut geeignet. Vom Geräuschpegel her auch nicht lauter als ein kleines Gerät mit 20 W. Schönes Produkt!
Well suited for smaller rooms. The noise level is no louder than a small 20 W device either. Nice product!
Die Lieferung erfolgte zügig und die Ware kam unbeschädigt bei mir an. Im Lieferumfang enthalten waren ein Luftentfeuchter in dunkelgrau und das Netzkabel. Um das Gerät mit Strom zu versorgen muss man das Netzkabel an den Luftentfeuchter anschließen. Der Luftentfeuchter sieht optisch erstaunlich gut aus und hat eine schicke Beleuchtung. Vorne sieht man an der Anzeige, was gerade in Betrieb ist. Wenn er zu voll ist, dann wird das auch angezeigt. Zusätzlich kann man auf der Vorderseite unten eine Skala sehen, wie voll der Behälter ist. Entleeren kann man den Wasserbehälter auf der Rückseite. Dazu nimmt man das Gerät vorher vom Strom und zieht dann den Behälter auf der Rückseite unten raus. Dann nimmt man den Deckel ab und entleert den Behälter. Danach den Deckel wieder rauf machen und den Behälter wieder reinschieben und den An/Aus-Schalter auf der Rückseite oben betätigen. Man kann das Gerät leicht transportieren da es nicht viel wiegt und auf der Rückseite auch eine praktische Griffmulde eingearbeitet ist. Luftentfeuchter sind sehr gut, wenn man wie ich, feuchte Wäsche in der Wohnung aufhängt. Feuchte Luft kann zu Schimmel in der Wohnung führen und somit zu Erkrankungen der Atemwege. Auch in der kalten Jahreszeit, habe ich ein tropisches Klima in der Wohnung, durch die Heizung und die feuchte Wäsche. Da hilft so ein Entfeuchter wirklich sehr gut, um wieder gute Luft in der Wohnung zu haben. Lüften reicht oft nicht aus, gerade wenn es draußen auch feucht ist. Ich empfehle den Luftentfeuchter sehr gerne weiter. Das Preisleistungsverhältnis ist in Ordnung bei einem Gerät mit 70 Watt und 700 ml Flüssigkeitsaufnahme. Gerne gebe ich volle Punktzahl da ich sehr zufrieden mit dem Gerät bin.
The delivery was quick and the goods arrived undamaged. The scope of delivery included a dehumidifier in dark gray and the power cable. To power the device, you must connect the power cord to the dehumidifier. The dehumidifier looks amazing visually and has a chic lighting. The display at the front shows what is currently in operation. If it is too full, then that is also displayed. In addition, you can see a scale on the front below how full the container is. You can empty the water tank on the back. To do this, first disconnect the device from the power supply and then pull out the container on the back below. Then remove the lid and empty the container. Then put the lid back on and slide the container back in and press the on/off switch on the back at the top. The device is easy to transport because it doesn't weigh much and there is also a practical recessed grip on the back. Dehumidifiers are very good if, like me, you hang out damp laundry in the apartment. Humid air can lead to mold in the home and thus to respiratory diseases. Even in the cold season, I have a tropical climate in the apartment because of the heating and the damp laundry. A dehumidifier really helps to have good air in the apartment again. Airing is often not enough, especially when it is damp outside. I would highly recommend the dehumidifier. The price-performance ratio is okay for a device with 70 watts and 700 ml liquid capacity. I am happy to give full marks because I am very satisfied with the device.
BUON GIORNO, VORREI CHIEDERE SE POTREBBE ANDAR BENE PER UNA STANZA DA LETTO DI CIRCA 20 MQ E SE POTRà ESSERE UTILIZZATO ANCHE DI NOTTE? QUANTO RUMOROSO è? E' DOTATO DI MOTORE A COMPRESSORE?
GOOD DAY, I WOULD LIKE TO ASK IF IT COULD BE SUITABLE FOR A BEDROOM OF ABOUT 20 SQM AND IF IT COULD ALSO BE USED AT NIGHT? HOW LOUD is it? IS IT EQUIPPED WITH A COMPRESSOR ENGINE?