Amelia Extractor Hood
586 m³/h
Head-free cooker hood
60 cm
White
Ready for shipping
Delivery time: 3 - 5 workdays
60 day cooling off period
Free delivery, no minimum order
Top features
Elegant and powerful: luxurious, flat extractor hood with a 123-watt power consumption
Comfortable and powerful: with headroom and 3 power levels - low, medium and high
Light in the dark: with an illuminated touch-sensitive rotary knob for convenient control of the power level and lighting
Product description
Elegant and practical: this is the Amelia Klarstein extractor hood. Enrich your kitchen not only with a reliable helper in removing steam and food odours, but also with a luxurious eye-catcher. Unlike ordinary extractor hoods, the Amelia's flat design has a depth of only 23.5 cm, which makes it easy to cook thanks to all the headroom. With the Amelia, you always have a good view of the rear pots without having to bend down or bump your head. The powerful 120-watt motor can handle up to 586 m³ of exhaust air per hour. At only 66 dB, it is extremely quiet even when set at the highest power level.
Depending on the amount of steam, the fan has three power levels - low, medium and high. The Amelia is easily controlled using the illuminated touch-sensitive rotary knob on the front panel. Here you can also switch on the bright 3-watt LED lamp, which provides helpful top-side lighting of the pots and pans below and gives passionate chefs a brighter view.
With its elegant front made of special hardened glass, the Klarstein Amelia extractor hood radiates a fresh glow, especially in modernly furnished kitchens, but also serves as a luxurious counterpoint in classic environments. Its glossy front conceals the grease filters.
The grease filters supplied can be cleaned in the dishwasher. Conversion to operation in air recirculation mode is also no problem thanks to two activated carbon filters.
The Amelia extractor hood is mounted on the wall above the hob. The necessary brackets and a flexible exhaust air hose are included in the scope of delivery.
The extractor hood can be converted so that it operates in recirculation mode. You can find the matching activated carbon filters under the following article number: 10035284
Features
Download user manual
Three performance levels: low, medium, high
Power consumption: 123 Watt max. (120 Watt ventilation + 1 x 3 Watt LED)
Switchable lighting
Energy efficiency class: C
Fluid dynamic efficiency class: D
Lighting efficiency: B
Grease separation class: E
Light source: LED DC 12 V, max. 3 W
66 dB max. at the highest power level
Suitable for wall mounting, includes brackets
Integrated aluminium grease filter - easy to clean, dishwasher safe
Extendable flue cover
Flexible, extendable exhaust air hose; maximum length 160 cm
Minimum height of the hood above the cooking surface: 40 cm for electric cookers and 45 cm for gas cookers
Power supply: 220-240 V ~ 50/60 Hz
Dimensions and Technical Details
Extractor hood dimensions: approx. 60 x 47 x 23.5 cm (WxHxD)
Cover dimensions (one part): approx. 27.5 x 39.5 x 18 cm (WxHxD)
Height of the flue: ca. 39,5 - 78 cm
Exhaust air hose dimensions : approx. 160 x 15 cm (LxØ)
Cable length: approx. 75 cm
Weight (total): approx. 14.8 kg
What will be delivered
1 x extractor hood
2 x flue cover
2 x grease filter
1 x exhaust air hose
1 x wall mounting material
Multilingual operating instructions
Delivery & shipment
Ready for shipping Delivery time: 3 - 5 workdays
Your order will be delivered to the selected address per order. This address does not have to match the billing address. You can send the orders to your family, friends or office if you are not at home during the day. Your order is delivered by our specialist courier spedition to your chosen address. This address does not have to correspond with your billing address. Leave a telephone number with your order to guarantee the best possible delivery of the product. Delivery takes place free to kerbside. This item may be pre-ordered. Please note that, in this case, the delivery time may be up to 5 days.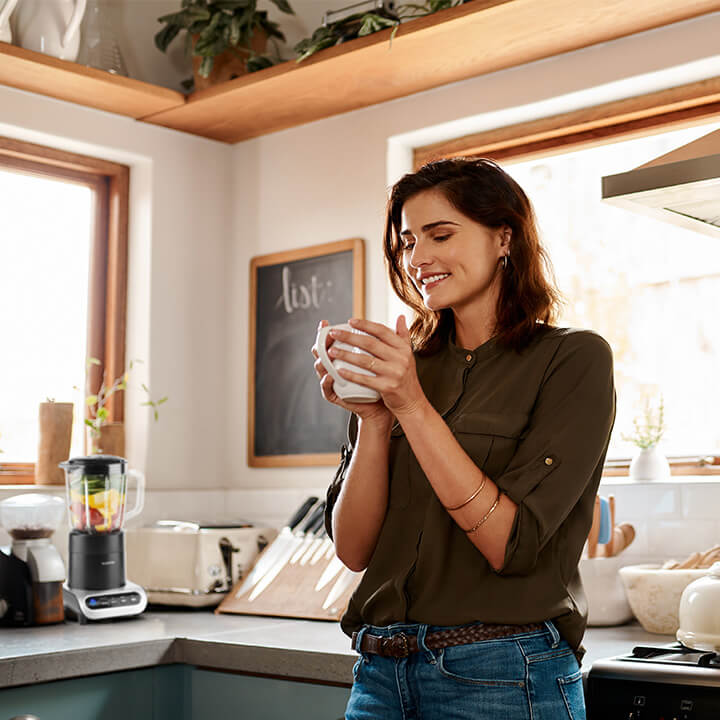 No review available for this item.
Customer reviews from other countries
Ich bin sehr zufrieden mit meiner Abzugshaube. Der Anbau war etwas aufwendiger wegen des Gewichts von rund 20 kg, aber wenn sie erst Mal hängt macht sie auch was her. Wir haben die 90 cm Breite gewählt. Unsere alte Haube hatte nur 60 cm und jetzt wird aber wirklich alles abgesaugt. Der Geräuschpegel ist normal für eine Absaughaube und das Licht ist schön hell. Also von mir eine Kaufempfehlung.
I am very happy with my extractor hood. The attachment was a bit more complex because of the weight of around 20 kg, but once it's hanging it looks good. We chose the 90 cm width. Our old hood was only 60 cm and now everything is really sucked off. The noise level is normal for an extraction hood and the light is nice and bright. So I recommend buying it.
Nachdem unsere alte (nicht grad günstige) Dunstabzugshaube nach knapp 5 Jahren spontan den Geist aufgegeben hat musste zeitnah eine neue her. Da in den nächsten Jahren aber nochmal eine komplett neue Küche ansteht sollte es eine Dunstabzugshaube sein die nicht zu teuer und trotzdem hübsch ist. Die Dunstabzugshaube wurde schnell geliefert und war ordentlich verpackt. Alles was man zum befestigen braucht war mit dabei und die Montage ging schnell und ohne Probleme. Die erste Hörprobe machte mich erstmal skeptisch. Die Dunstabzugshaube ist deutlich leiser als unsere vorherige. Die Beleuchtung ist ausreichend hell und die Bedienung der Dunstabzugshaube per Drehregler funktioniert einwandfrei. Die beiden Filter sind gut durchdacht angebracht und die vordere Abdeckung der Dunstabzugshaube ist (im Gegensatz zu der vorherigen deutlich teureren) mit einer Gasdruckfeder ( heißt das so?) ausgestattet so dass man beim Ausbau des Filters beide Hände nutzen kann und die Abdeckung nicht festhalten muss. Der erste Test beim kochen zeigte dann trotz der geringeren Lautstärke eine deutlich bessere Absaugleistung. Sie macht also genau das was sie soll und das für uns zur vollsten Zufriedenheit. Und auch unsere Nachbarn freuen sich. Früher hat man draußen vorm Haus sehr deutlich und störend gehört wenn drinnen die alte Haube lief. Jetzt hören es unsere Nachbarn nicht mehr, dass wir kochen… sie riechen es nur noch Wir sind bisher also vollstes zufrieden
After our old (not exactly cheap) extractor hood spontaneously gave up the ghost after almost 5 years, a new one had to be produced promptly. But since a completely new kitchen is due in the next few years, it should be an extractor hood that is not too expensive and still pretty. The extractor hood was delivered quickly and was neatly packaged. Everything you need to attach it was included and assembly was quick and easy. The first listening test made me skeptical. The extractor hood is significantly quieter than our previous one. The lighting is sufficiently bright and the extractor hood can be operated using the control knob. The two filters are thoughtfully placed and the hood's front cover (unlike the previous one, which was much more expensive) is fitted with a gas strut (is that what it's called?) so you can use both hands when removing the filter and don't have to hold the cover . The first test while cooking then showed a significantly better extraction performance despite the lower volume. So it does exactly what it is supposed to and to our complete satisfaction. And our neighbors are happy too. It used to be very clear and annoying to hear outside the house when the old hood was running inside. Now our neighbors don't hear that we're cooking anymore... they only smell it So far we're completely satisfied
Die Dunstabzugshaube gefällt mir optisch gut. Die Saugleitung ist für unsere Anforderungen ausreichend. Die Beleuchtung ist eine Katastophe. Ein funsliges LED Licht in einem unangenehmen kalt Weissen Licht. Habe das direkt umgebaut um zumindest etwas mehr Licht zu erhalten, aber wegen der Bauform und der Abdeckungung der Lichtleiste ist es schwer hier viel mehr rauszuholen. Hier muss man für zusätzliche beleutung sorgen. Wir werden dahinter noch ein LED Band hängen damit man beim Kochen auch etwas sehen kann. Die Verarbeitung wirkt mir auf den ersten Blick gut Front ist aus Glas. Von den Bildern dachte ich erst das die Bedienung ein Touchpad wäre, aber zum Glück ist sie es nicht, sondern ein Drehschalter mit Knopf für das Licht in der Mitte. Touch hat immer das Problem das es bei Wasserdampf teilweise selbstständig schaltet. Bis auf das Licht, sind wir ganz zufrieden mit dem Ding, gerade im Bezug auf den Preis.
I like the look of the extractor hood. The suction line is sufficient for our requirements. The lighting is a catastrophe. A funky LED light in an unpleasant cold white light. I rebuilt it directly to get at least a little more light, but because of the design and the cover of the light bar, it's difficult to get much more out of here. Here you have to provide additional lighting. We will hang an LED strip behind it so that you can see something while cooking. The workmanship looks good to me at first glance. The front is made of glass. From the pictures I thought at first that the operation would be a touchpad, but fortunately it is not, but a rotary switch with a button for the light in the middle. Touch always has the problem that it sometimes switches automatically when there is water vapor. Except for the light, we're quite happy with the thing, especially in relation to the price.
Wir sind zufrieden mit allem auch Verpackung sehr ordentlich und pünktlich
We are satisfied with everything including packaging very neat and timely
Lieferung und Verpackung gut, schnelle Montage, sehr gute Luftabsaugung und sieht super aus in unserer Küche.
Good delivery and packaging, quick assembly, very good air extraction and looks great in our kitchen.
Tolles Design, 3 Stufen sind völlig ausreichend
Great design, 3 levels are quite sufficient