Skyscraper Ice 4-in-1 Air Cooler
210 m³/h
fan
Grey
30 watt
Ready for shipping
Delivery time: 5 - 7 workdays
60 day cooling off period
Free delivery, no minimum order
Top features
4-in-1 device: fan, air cooler, air purifier and humidifier
Targeted refreshment: pleasant cooling directed at the body
6-litre water tank: with two exchangeable cooling packs
Product description
Fourfold refreshment thanks to the stylish ventilation tower: The Klarstein Skyscraper Ice 4-in-1 air cooler provides you with a cool breeze with pinpoint accuracy. As a fan, air cooler, air purifier and humidifier.
With a powerful air flow rate of 210 m³/h, the Klarstein Skyscraper Ice sets dull summer air in motion as a fan with three speeds. In combination with the air cooler function, the air flow is refreshed by the evaporation of water, additionally chilled by cooling packs. In this way, the Klarstein Skyscraper Ice is also a helpful air humidifier in winter. In addition, the vertical and horizontal oscillation allows the air flow to move. For improved breathing, the built-in ioniser effectively removes dust particles and odours from the air. The built-in floor rollers make the Klarstein Skyscraper Ice 4-in-1 air cooler extremely mobile and the removable water tank makes filling, cleaning and emptying very easy.
Powerful and versatile: the Klarstein Skyscraper Ice air cooler is the refreshing solution for all hot days of the year.
Features
Download user manual
Air flow rate: 210 m³/h
Max. operating noise: 45 dB
Large water tank: 6 litres
Power consumption: 30 watts
Separately adjustable 180° oscillation, vertical and horizontal
3 speed levels: low, medium, high
3 operating modes: Normal, Night and Nature
Nature mode: increasing and decreasing ventilation speed to simulate natural wind
Night mode: like natural mode with an additional reduction of the max. speed until shut-off
Timer: auto switch-off in 0.5 h intervals adjustable up to 7.5 h
Air ionisation to eliminate dust, bacteria and odours
Water level indicator
Including two cool packs for increased efficiency
Easy-to-understand control panel and display on the top of the unit
Modern, space-saving tower design
Off switch on the top of the unit
Power supply: 220-240 V~ | 50/60 Hz
Dimensions and Technical Details
Dimensions device: 28 x 95 cm (ØxH)
Cable length: 1.75 m
Dimensions cool pack: 9 x 15 x 2 cm (WxHxD)
Weight cooling pack: approx. 275 g
Weight appliance: approx. 6 kg
What will be delivered
1 x tower fan
2 x cooling pack
1 x remote control (incl. button cell)
Multilingual user manual
Delivery & shipment
Ready for shipping Delivery time: 5 - 7 workdays
Your order will be delivered to the selected address per order. This address does not have to match the billing address. You can send the orders to your family, friends or office if you are not at home during the day. Your order is delivered by our specialist courier spedition to your chosen address. This address does not have to correspond with your billing address. Leave a telephone number with your order to guarantee the best possible delivery of the product. Delivery takes place free to kerbside. This item may be pre-ordered. Please note that, in this case, the delivery time may be up to 5 days.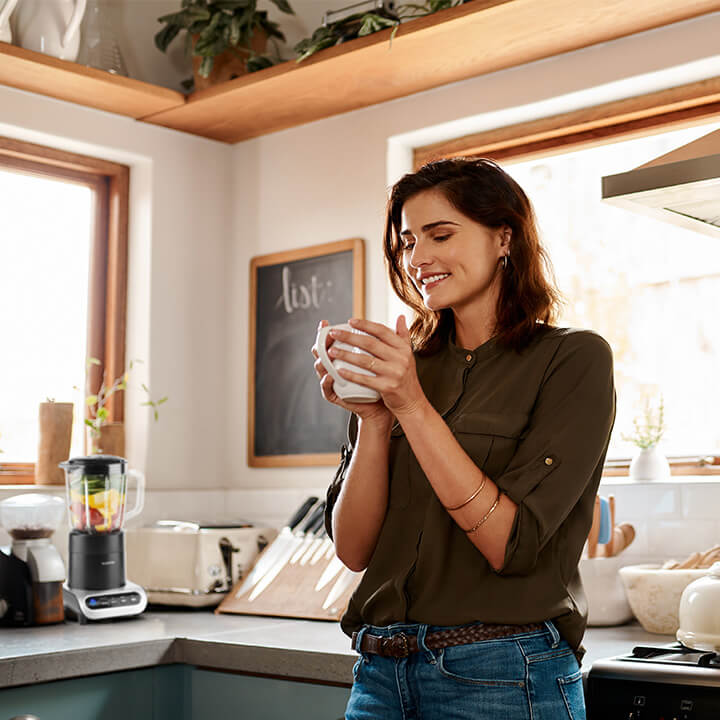 The fan stopped working after 13-months of use. The product is still within warranty but it is extremely disappointing that faulty goods have been supplied. When it did work, it performed to a. good standard but the water tank but very stiff and not that easy to fill up.
We already have a few Klarstein appliances and have always been delighted with them.
We are also enthusiastic about this fan. It is nice and quiet and distributes the air evenly in the room. We mainly use it in the living room and thanks to its wheels it can be rolled into another room. This fan made our living room the most comfortable room in the house. It is very easy to use and can be easily filled with water and/or cold packs. We personally like the design very much!
We bought the tower for our attic room.
It is not an air conditioner so the room is not cooled down by finally degrees but the tower catches and cools us down a bit on hot days and helps to fall asleep. The remote control is easy to use and works perfectly.
It is totally easy and uncomplicated to use. You can use it with or without water filling.
In the office, we have had a humidifier and above all a cleaner (also from Klarstein) for two years now, and we are very satisfied with it.
Now a neighbour has also recommended one for private use in the bedroom and we are sleeping better than ever! No freezing with the window open, no thick skull when waking up but relaxed getting up and breathing deeply :)
The Klarstein Skyscraper does exactly what I expected.
It is not an air conditioner, but it cools down the air in the room really well if you regularly replace the cooling batteries from the freezer compartment in the water tank. Above all, the device is very quiet, and thanks to the various settings (speed and the swing function) and the tower design, it is a very effective and pleasant fan. I have the black model with silver accents. Would buy it again anytime.
We bought the article in advance because we don't know what will happen this summer.
Therefore, we have only tried it briefly and it works without any problems. The operation is quick and easy.
The design is very appealing and it looks really good. Cool and therefore all points.
That's why I was looking for an air conditioner that can also be used at night and, above all, is energy-saving. So after a bit of searching, I came across the Klarstein Skyscraper Ice 4-in-1.
It is not only a fan but also an air cooler, humidifier and ioniser.
The design is very modern and yet simple. The column shape also makes it very space-saving. The workmanship is very good and has no faults or defects. The material is very high quality. The performance of the Skyscraper convinced me straight away. It's not too loud at night and it doesn't get too chilly.
I can only recommend it.
i have to say that I can only recommend this device. it was delivered incredibly quickly, it was very well packaged and I am really satisfied with the device itself
the only thing I don't like is that you can't turn it off completely - you always have to unplug it.
The unit arrived within a few days. The quality is better than expected, it looks high quality. I really like the fact that you can do many different things with it.
The water tank is also very large at 6 litres. I am very satisfied, summer can come.
We are very satisfied with this appliance. Above all, it is relatively quiet, which is what we were looking for (bedroom in the attic already gets very hot).
It also cools very well and runs all night in our house. In addition, it looks shock and is a little more space-saving due to its slim shape. The colour is also great.
Tested before the summer comes, and yes, found to be very suitable. First commissioning very easy, the part really cools very well, pleasant air, wait and see how it proves itself when it's really hot outside.always better than normal fan.Einzigst the water container to empty is a bit cumbersome because you can not remove the container completely, but what the heck, the part should cool and it does.
Since we live on the main road, I can't sleep with the window open at night. This is particularly bad for me in the warm season.
That's why I was looking for an air conditioner that can also be used at night and, above all, is energy-saving. So after a bit of searching, I came across the Klarstein Skyscraper Ice 4-in-1. It is not only a fan but also an air cooler, humidifier and ioniser. The design is very modern and yet simple. The column shape also makes it very space-saving. The workmanship is very good and has no faults or defects. The material is very high quality. The performance of the Skyscraper convinced me straight away. It's not too loud at night and it doesn't get too chilly. I can only recommend it.
After being stuck in the middle of a 39-degree heat wave last summer without a fan,
i decided to get a cooling unit in the spring when they are still widely available.
I am very impressed with this air cooler. The design is very chic and looks good in my living room. It is very, very easy to use and does not require any technical skills or additional setup, nor does it have a hose or anything similar. It even has a remote control. The cooling is very powerful and can be stepped, but is very quiet - perfect for the bedroom as well. I find the price-performance ratio top. I'm already looking forward to the warm days!
The whole unit looks high-quality and the tower does not take up much space.
The control panel is very simple. The cooler was delivered quickly and looks really nice. My room is about 20 square metres and cooling takes place immediately after starting. It was very well packaged and the operation is self-explanatory. The four jointed castors at the bottom of the Skyscraper ensure that you can push the unit effortlessly anywhere. Overall, I am satisfied!
I really like the product. The products of klarstein are always on the quality standard.
Very nice design and functionality. The main thing is that it doesn't make noise while it works compared to other coolers. Comes with remote control, so makes it easy to use as well. Due to its design, it does not require tons of space.
An enrichment for an attic flat in summer. Timer is adjustable and there are different modes. Rolls easily around the home and only needs to be filled with water. The use of the batteries cools the air even more.
Only in very high rooms does complete cooling of the room not take place
Last summer was really hot, so to keep our house cool effectively we bought an air cooler. A simple fan just waves the air around the room. The Skyscraper contains 4 important functions but is not a classic air conditioner. It comes ready assembled, you just have to put the cold packs in the freezer. Afterwards, these are inserted and water is poured on. This is then cooled and released into the air. This not only cools the air, but also keeps it humid. Likewise, it purifies the air again. I think it's absolutely top-notch. Thanks to the remote control, I can also operate the cooler from the couch. It has castors at the foot end and can thus be easily and comfortably rolled back and forth in the house. Somehow its appearance reminds me of a robot, but I personally find it prettier than an oversized fan. The air is really getting cooler and the humidity is very pleasant. The positions and intensity can be set and pre-programmed. I am very satisfied.
The mobile air conditioner "Klarstein Skyscraper Ice " impresses with its simple yet chic design.
In antique white, it blends perfectly into any flat, so my visitor sometimes didn't even notice that there was an air conditioner in my bedroom.
Fast delivery, exactly the product I imagined. For the price, really bombastic. I would recommend it immediately!
I was looking for a new fan for the coming summer, as our old one had given up the ghost. And the new trend now is cooling units (not air conditioners) - so this unit was chosen. The size is okay, so is the volume and it doesn't consume as much power as other fans.
You can fill the tank with water (preferably low-calcium or filtered) and thanks to the cooling pads supplied (or your own) you cool the water nicely and thus create a pleasantly cool air flow. And at the same time you also increase the humidity, especially in dry summers.
It is important to empty and clean the water tank regularly. Otherwise, of course, the appliance will become a germ-haven - so pay attention. And at the same time, the air is filtered or purified. Will there still be spare parts available in two years as described above? We will see.
Cool style with great features, fans all around. The 3in1 Aircooler has the special feature that it not only cools in summer, but also cleans and humidifies the air. Due to the increasingly hot summers, sleeping became torture for us. That's why we decided to buy a refrigerator. The professional units were too expensive for us and also require a breakthrough to the outside so that the warm air can escape. That was out of the question for us. This device here is an ideal compromise. It has 3 speed levels. The noise level is tolerable. If someone finds it too loud, they can turn it down a notch. But that never bothered me. The AirCooler is supplied with 2 cooling batteries and a remote control. That's very practical, you can regulate everything from the bed. The low energy consumption should be emphasised. The cooling packs further enhance the cooling effect and are a useful addition. All in all, a very good air cooler for the price.
It does its job really well, is not too loud, the size is okay and the possibility to transport the unit to other rooms is a great advantage.
It would be absolutely super if you could attach the remote control to the unit when it goes into hibernation in autumn.
The Klarstein Skyscraper arrived quickly and without any problems. So, as always, I am very satisfied with the delivery from Klarstein.
While it is a little bigger than I expected, it is still very practical. The combination of a fan with the function of air cooler and humidifier in a mini air conditioner definitely enhances it! The system works quietly and is also not heavy, so it is easy to carry or move. The operating instructions take a little time, but after that it is quite easy to use! I'm already looking forward to summer. This time I am very well prepared with it.