Hot Spring Plus Hot Water Dispenser
Hot water dispenser
White
Hot Spring Plus Hot Water Dispenser
Ready for shipping
Delivery time: 3 - 5 workdays
60 day cooling off period
Free delivery, no minimum order
Top features
Practical and safe: thanks to easy heating and child safety
Everything in view: with a large, clear LCD display
Temperature setting: select between 45, 55, 65, 75, 85 or 95 ° C
Product description
Some like it hot: the Klarstein Hot Spring Plus hot water dispenser reliably supplies households and offices with hot water whenever it is needed.
There are many opportunities to operate the Klarstein Hot Spring Plus hot water dispenser: quickly brewing tea at the desired temperature or preparing instant soups with the exact amount of water you need are just two of many options. The large stainless steel water tank of the Hot Spring Plus hot water dispenser holds up to 5 litres of water and is ideal for the home as well as for the office. The hot water dispenser also features dry-running and overheating protection, and operation is extremely simple: the touch surface operating section is located at the top with a button for heating, temperature (45-95 ° C), water output, releasing the child safety lock and filtered water. You only need to set the desired filling quantity and temperature and press the dispense button - you will quickly get perfectly tempered hot water. This makes handling easy, and it quickly becomes a pleasant routine. The drip pan can be removed with a handle and rinsed if necessary, while the various functions such as rapid cooling and the water level alarm also facilitate the ease of use of the device. The large clear display not only keeps track of all important information at all times - it also makes the hot water dispenser a special visual highlight so that it fits seamlessly into any kitchen ambience.
Features
Download user manual
Easy handling
Touch interface
Temperature of 45-95 ° C
5-litre stainless steel water tank
Removable drip tray
Drying and overheating protection
Fast cooling
Water level alarm
Power: 1200 watts
Power supply: 220-240 V ~ 50-60 Hz
Dimensions and Technical Details
Dimensions: 21 x 38 x 29.5 cm (WxHxD)
Cable length: approx. 120 cm
Weight: approx. 3 kg
What will be delivered
1 x hot water dispenser
1 x drip tray
English user manual (other languages: German)
Delivery & shipment
Ready for shipping Delivery time: 3 - 5 workdays
Your order will be delivered to the selected address per order. This address does not have to match the billing address. You can send the orders to your family, friends or office if you are not at home during the day. Your order is delivered by our specialist courier spedition to your chosen address. This address does not have to correspond with your billing address. Leave a telephone number with your order to guarantee the best possible delivery of the product. Delivery takes place free to kerbside. This item may be pre-ordered. Please note that, in this case, the delivery time may be up to 5 days.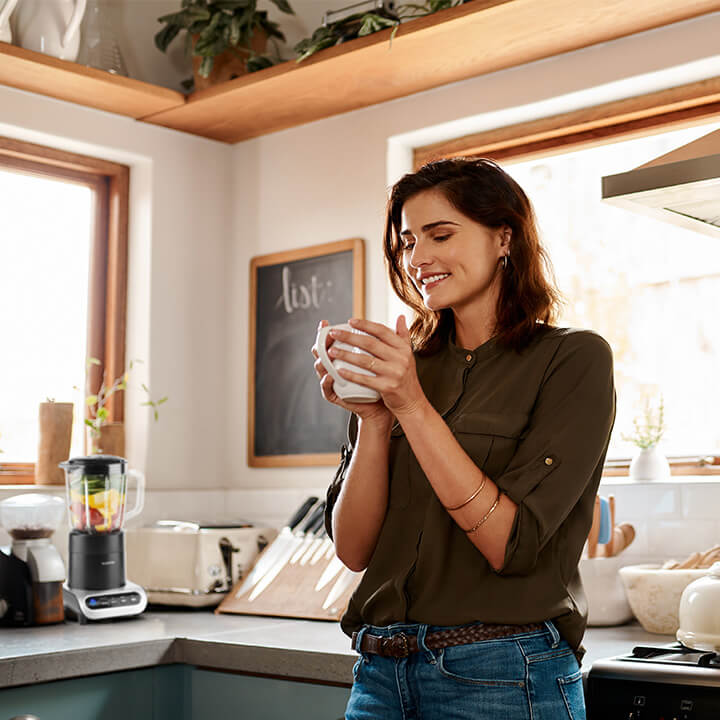 No review available for this item.
Customer reviews from other countries
Funktioniert einwandfrei, ideal für Tee und Babynahrung Zubereitung. Immer die perfekte Temperatur. Lediglich die Anleitung hätte etwas genauer beschrieben sein können. Musste mich da selbst zurechtfinden. Wenn man es verstanden hat ist er super easy zu bedienen.
Works perfectly, ideal for tea and baby food preparation. Always the perfect temperature. Only the instructions could have been a little more detailed. Had to find my way there myself. Once you get the hang of it, it's super easy to use.
Ich habe sehr lange nach vernünftiges Gerät gesucht und gefunden. Fürs Wasser für Babynahrung ist top. War so nervig das Wasser abkühlen und mit Thermometer immer messen. Seit dem ich Gerät habe, habe ich meine Ruhe. Wasser kocht ab und dann Taste drücken und kühlt bis richtiger Temperatur ab. Dann Taste drücken und kommt schon das Wasser. Immer habe ich das Wasser auf gleicher Temperatur, den ich für Babynahrung brauche. Innen ist das Gerät aus Edelstahl. Wasser schmeckt gut. Das war für mich sehr wichtig, dass das Gerät nicht nach Plastik schmeckt oder riecht. Also, ich bin sehr zufrieden. Ich kann das Gerät weiter empfehlen.
I've been looking for a decent device for a long time and found it. For water for baby food is great. It was so annoying to cool the water and always measure it with a thermometer. Since I've had the device, I've had peace of mind. Water boils off and then press button and cools down to right temperature. Then press the button and the water comes. I always have the water at the same temperature that I need for baby food. Inside the device is made of stainless steel. Water tastes good. It was very important to me that the device didn't taste or smell like plastic. So I am very satisfied. I can recommend the device.
Design ist modern, Lieferung schnell, verpackt ordentlich!!! Danke!
Design is modern, delivery fast, packed neatly!!! Thanks!
Wasser warm, hab mir fast ne Verbrennung 3ten Grades gemacht. Also erfüllt den Zweck (/s)
Water warm, almost got a 3rd degree burn. So serves the purpose (/s)
Ist leider kein Weiss, sondern ein "angegilbter" Beigeton, der in meiner Küche völlig inakzeptabel ist. Die Heizleistung ist allerdings prima. Die Tassenunterstellplattform ist für meine Becher viel zu klein.
Unfortunately, it's not white, but a "yellowed" beige tone, which is completely unacceptable in my kitchen. However, the heat output is good. The cup storage platform is much too small for my cups.
Tolles Gerät. Erfüllt meine Erwartungen absolut!
Great device. Absolutely meets my expectations!
Bin sehr zufrieden mit dem Gerät
I am very satisfied with the device
Heute gekommen, ausgepackt, wieder eingepackt und geht sogleich retour. Grund ist das subjektiv billiges Aussehen und viel zu kleiner Wasserauffangbehälter der auch als Tassenaufstellfläche gilt. Letzterer ist gar gefährlich den die Tassen nicht immer sicher aufgestellt werden und kippen können. Was bei heißem Inhalt nicht unbedingt Sicherheit vermittelt. Das auf den Fotos zu wehendes Weißes Gehäuse ist in Wirklichkeit eher gelblich zu bezeichnen uns sieht wie vergilbtes Computergehäuse. Über die Qualität des Wasser und der Funktion kann nichts gesagt werden da nicht mal ausprobiert. Daher 3 Sterne.
Arrived today, unpacked, packed again and will be returned immediately. The reason is the subjectively cheap appearance and much too small water collection container, which is also used as a cup storage area. The latter is even dangerous because the cups cannot always be set up safely and can tip over. Which does not necessarily convey security with hot content. The white case shown in the photos is actually more yellowish and looks like a yellowed computer case. Nothing can be said about the quality of the water and the function because it has not even been tried. Therefore 3 stars.
Nur zum weiter empfehlen. Bin sehr zufriden
Only to recommend. I'm very satisfied
ich bin sehr zufrieden. das Produkt sieht gut aus und passt gut in meine Küche. es ist leise und um mehr Tee zu trinken einladend. das einzige was ich verbessern würde wäre das Wasser Behälter der eigentlich für meine lieblingstassen etwa zu klein ist und die Tasse steht dann nicht komplett drauf. .... ich empfehle das produkt weiter. ich wurde es selber wiederkaufen.
I'm very satisfied. the product looks good and fits well in my kitchen. it is quiet and inviting to drink more tea. The only thing I would improve would be the water container which is actually a bit too small for my favorite cups and the cup doesn't stand completely on it. .... I recommend the product. I would buy it again myself.
Das lästige abkochen und Temperatur messen für die Babynahrung hat durch dieses Produkt endlich ein Ende
This product finally puts an end to the hassle of boiling and measuring the temperature of the baby food
Ist echt tolle Sache bin so zufrieden
It's really great thing I'm so satisfied
Ich bin sehr zufrieden mit diesem Heißwasserspender, nach ein paar Sekunden gibt es heißes Wasser. Es ist perfekt für jemanden wie mich, der frisch zubereiteten Tee liebt und ihn Tasse für Tasse ausgießt. Ich bin mit diesem Produkt absolut zufrieden und kann es nur empfehlen.
I am very satisfied with this hot water dispenser, after a few seconds there is hot water. It's perfect for someone like me who loves freshly made tea and pours it cup after cup. I am absolutely satisfied with this product and can only recommend it.