InnoChef Induction Hob
Induction hotplate
Dark Grey
Ready for shipping
Delivery time: 3 - 5 workdays
60 day cooling off period
Free delivery, no minimum order
Top features
3400 watts: double induction hob with 2000 and 1400 watts output
60 to 240 °C: adjustable temperature per hob
10 levels: adjustable power and temperature
Product description
The free-standing Klarstein InnoChef induction hob brings new glamour and mobility to any kitchen with its luxurious design. Both the power and the temperature can be set separately for each hotplate from 60 to 240 °C, and a switch-off timer can also be programmed for up to four hours. The induction hob is easy to operate via its integrated sensor touch control panel and the digital display gives you a good overview. The child safety lock ensures safety.
Features
Download user manual
Control: touch control panel
1 x hob with 2000 watts power
1 x hob with 1400 watts power
Timer up to 4 hours
Automatic switch-off
Automatic pot detection
Temperature: 60 to 240 °C
Child safety lock
Dimensions and Technical Details
Dimensions: approx. 59 x 6.5 x 38 cm (WxHxD)
Cable length: approx. 140 cm
Weight: approx. 4,8 kg
Total power: 3400 Watts
Power supply: 220-240 V~ | 50/60 Hz
What will be delivered
1 x hotplate
Multilingual user manual
Delivery & shipment
Ready for shipping Delivery time: 3 - 5 workdays
Your order will be delivered to the selected address per order. This address does not have to match the billing address. You can send the orders to your family, friends or office if you are not at home during the day. Your order is delivered by our specialist courier spedition to your chosen address. This address does not have to correspond with your billing address. Leave a telephone number with your order to guarantee the best possible delivery of the product. Delivery takes place free to kerbside. This item may be pre-ordered. Please note that, in this case, the delivery time may be up to 5 days.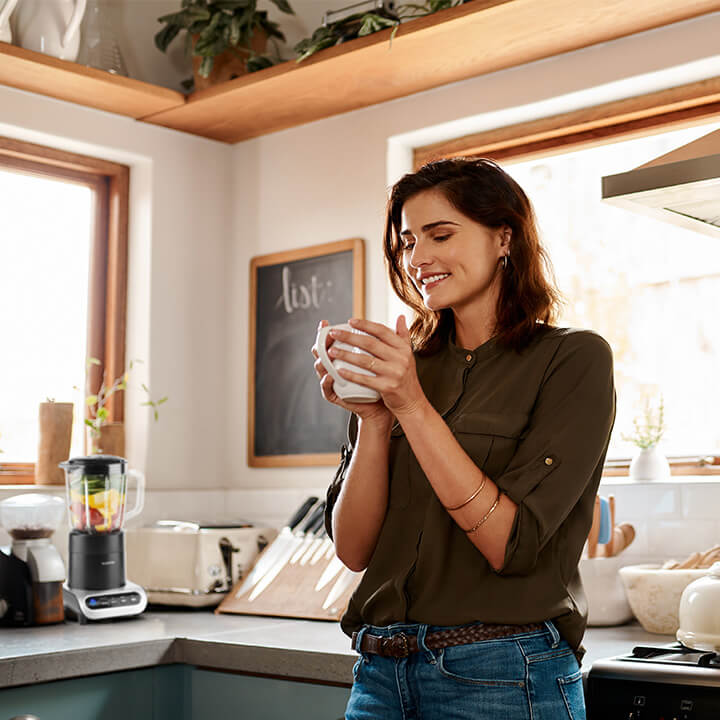 No review available for this item.
Customer reviews from other countries
Ich habe dieses Gerät etwa 1,5 Monate täglich benutzt. Mit Induktion koche ich seit ca 8 Jahren. Grundsätzlich funktioniert das Teil. Wenn man genauer hinsieht, entdeckt man leider mehrere große Probleme: - der Lüfter ist unangenehm laut(könnte ich mit leben) - die Induktionsspule ist zu klein, deswegen werden Pfannen zum Rand nicht warm (auch bei längerer Vorwärmzeit) siehe Bild eines Eierkuchen, Schnitzel aus der Oberschale waren nicht im ganzen zu garen und mussten geteilt werden -die Temperatursteuerung ist sehr ungenügend. Bei allen Induktionsplatten (prinzipbedingt) wird durch pulsierendes Ansteuern die Leistung angepasst. Leider ist diese Anpassung hier so, daß Flüssigkeiten immer zwischen kochen und nicht mal sieden schwanken. Der Hersteller sollte die Taktung deutlich verkürzen, damit das Gerät nutzbar wird. So spritzt beim leichten Kochen immer in fünf Sekunden Intervallen Flüssiges unterm Deckel hervor und versaut die Kochstelle. Außerdem kann man dadurch alle Prozesse bei denen wenig Temperatur nötig ist abhaken ( zB Zwiebeln glasig schwitzen) - sobald man eine Pfanne oder einen Topf nur leicht anhebt bemerkt die Kochplatte das und gibt ein Geräusch aus. Wer schon mal das Piepen eines Radladers auf einer Baustelle beim rückwärts fahren gehört hat,... Fazit: Wenn man diese optisch und verarbeitungstechnisch tolle Gerät also wirklich zum umfänglichen Kochen verwenden möchten, rate ich von einem Kauf ab. Zum Nudeln Kochen und Fertigsoße Aufwärmen reicht's natürlich. PS. Ich hatte vor Jahren eine 20€ Induktionsplatte die besser funktioniert hat. Gruß an alle,die noch täglich frisch kochen, guten Appetit!
I used this device daily for about 1.5 months. I've been cooking with induction for about 8 years. Basically the part works. If you take a closer look, you will unfortunately discover several major problems: - the fan is uncomfortably loud (I could live with it) - the induction coil is too small, which is why pans do not get warm to the edge (even with a longer preheating time) see picture of a pancake, schnitzel from the upper shell could not be cooked whole and had to be divided - the temperature control is very insufficient. With all induction plates (due to the principle), the power is adjusted by pulsating control. Unfortunately, this adaptation here is such that liquids always fluctuate between boiling and not even simmering. The manufacturer should reduce the clock rate significantly so that the device can be used. During light cooking, for example, liquid always squirts out from under the lid at five-second intervals and messes up the hob. You can also tick off all processes that require little temperature (e.g. sweating onions until translucent) - as soon as you lift a pan or pot only slightly, the hotplate notices this and emits a noise. Anyone who has ever heard the beeping of a wheel loader on a construction site when reversing... Conclusion: If you really want to use this visually and technically great device for extensive cooking, I advise against buying it. Of course, that's enough for cooking pasta and heating up the ready-made sauce. hp I had a €20 induction plate years ago that worked better. Greetings to everyone who still cooks fresh every day, bon appetit!
Haben den 2 Platten kocher aufgrund einer behelfsküche täglich im gebrauch und sind äußert zufrieden. Hatten vorher ein cerankochfeld und der direkte vergleich zu induktion ist der hammer. Essen wird mega schnell und gleichmäßig warm. Die herdplatte wird während des kochens etwas lauter( lüfter geht an ) ist aber nach dem Kochvorgang innerhalb kürzester Zeit wieder aus und somit leise.
We use the 2-plate cooker every day because of a makeshift kitchen and are extremely satisfied. Had a ceramic hob before and the direct comparison to induction is awesome. Food heats up quickly and evenly. The stovetop gets a little louder while cooking (fan turns on) but is off again within a very short time after the cooking process and is therefore quiet.
Sehr gut wenn es schnell gehen soll leider sehr laut aber Preis Leistung top
Very good if you want to go fast, unfortunately very loud, but great value for money
Wir haben die Kochplatte als Zwischenlösung gekauft, während wir eine neue Küche bekommen (drei Wochen Bauzeit). Die Kocheigenschaften sind hervorragend. Man hat die Wahl zwischen Leistungs- (Watt) und Temperaturwerten zu regulieren. Obwohl unser bisheriger Herd nur die üblichen Kochstufen (1-9) hat, empfanden wir die Regulierung nach Temperaturwerten sehr angenehm. Die Platten regaieren sehr schnell auf eine Erhöhung bzw. Verringerung der Temperatur. Lediglich die Lüftung ist sehr laut und trübt den Kochspaß merklich ein. Dafür gibt es einen Stern Abzug.
We bought the hob as an interim solution while we are getting a new kitchen (construction time 3 weeks). The cooking properties are excellent. You have the choice between power (Watt) and temperature values to regulate. Although our previous stove only had the usual cooking levels (1-9), we found the regulation based on temperature values very pleasant. The plates react very quickly to an increase or decrease in temperature. Only the ventilation is very loud and spoils the cooking fun noticeably. There is a star deduction for that.
Schaltet sich leider immer ab. Kann kaum mit 2 Platten gleichzeitig kochen. Immer E6 Fehler
Unfortunately, it always turns off. Can hardly cook with 2 plates at the same time. Always E6 error
Tut was er soll auf beiden Feldern. Musste konkurrenz Produkt zurückschicken. Ging nur 1Feld.
Does what it should on both fields. Had to return competitor's product. Only went 1 field.
Sehr schönes Design
Very nice design
Das Kochen macht wirklich Spaß mit dem Kochfeld. Es ist schnell und effizient und man kann sich nicht am Kochfeld verbrennen. Die Lüftung finde ich zu laut.
Cooking is really fun with the hob. It's fast and efficient and you can't burn yourself on the hob. I find the ventilation too loud.
Einwandfrei! Schaut super aus, lässt sich einfach bedienen hat ordentlich power und macht Laune beim kochen! Kann es nur weiterempfehlen!!!!
Flawless! Looks great, is easy to use, has a lot of power and makes cooking fun! I can only recommend it!!!!
Super Platte! Heizt super schnell auf und kühlt auch schnell wieder ab. Nutze es wenn ich mal unterwegs bin. Einfach anschließen und schon kann ich kochen. Bin zufrieden ! :)
Great record! Heats up super fast and cools down quickly. Use it when I'm on the go. Just plug it in and I'm ready to cook. Am satisfied ! :)