Albaron ice cube machine
Ice cube machine
12 Kg
Blue
Ready for shipping
Delivery time: 3 - 5 workdays
60 day cooling off period
Free delivery, no minimum order
Top features
Lots of ice: Up to 12 kg of bullet ice in 24 h with 9 min production cycle
Large & small: Two selectable bullet sizes
Speed mode: Fast cycle with only 7.5 min production time
Product description
Cold ice cream for hot parties! With the Klarstein Albaron ice cube maker your drinks are always refreshing and well chilled. In 24 hours, the ice cube machine produces up to 12 kg of small or large bullet ice. Simply fill 1.5 litres of water into the tank, switch on and after just 9 minutes - or 7.5 for small bullets - the first ice cubes will fall into the 600 g removable collection container. Indicator lights on the display facilitate operation and inform you when you need to refill water or empty the collection container. When the party is over, the Klarstein Albaron Ice Cube Maker will be clean again without any effort thanks to the self-cleaning programme. Of course, the inside is completely BPA-free.
Features
Download user manual
Power: 120 watts
for the production of bullet ice cream
Water tank: 1.5 litres
Production volume: 12 kg / 24 h
Production cycle: 9 minutes
Quick mode: 7.5 minutes
Ice cube size: small & large
Ice cube compartment capacity: 600 g
Touch control panel
Self-cleaning function
Refrigerant: R600a
Compression cooling
Power supply: 220-240 V~ | 50 Hz
Dimensions and Technical Details
Dimensions: approx. 22.4 x 28.3 x 30.8 cm (WxHxD)
Weight: approx. 7.8 kg
What will be delivered
1 x Ice cube maker
1 x ice cube tray
1 x Ice scoop
Multilingual user manual
Delivery & shipment
Ready for shipping Delivery time: 3 - 5 workdays
Your order will be delivered to the selected address per order. This address does not have to match the billing address. You can send the orders to your family, friends or office if you are not at home during the day. Your order is delivered by our specialist courier spedition to your chosen address. This address does not have to correspond with your billing address. Leave a telephone number with your order to guarantee the best possible delivery of the product. Delivery takes place free to kerbside. This item may be pre-ordered. Please note that, in this case, the delivery time may be up to 5 days.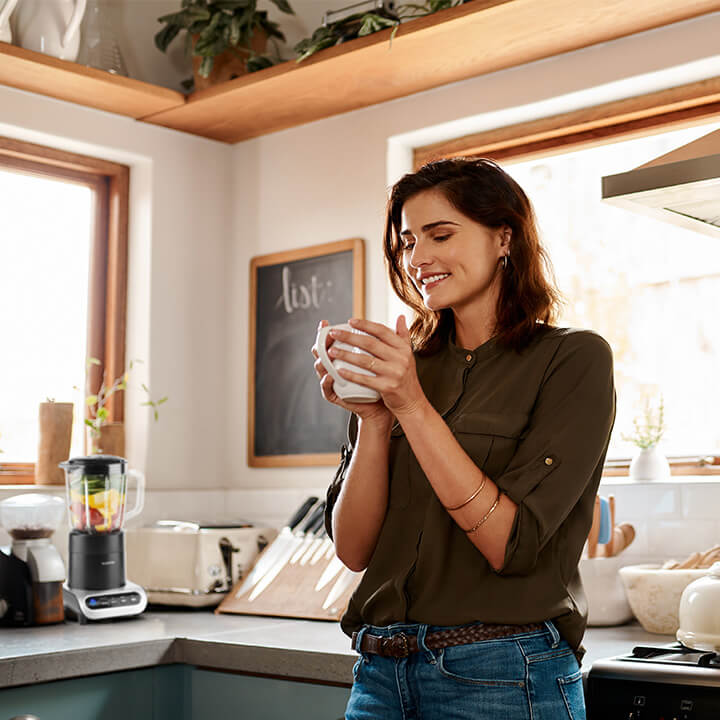 No review available for this item.
Customer reviews from other countries
Die Eiswürfelmaschine arbeitet zuverlässig, sie mach gleichmäßige Eiswürfel in 2 Größen. Die 1. Eiswürfel brauchen nicht ganz ca 9 min. Ich mache immer ca 1 liter Wasser und warte bis die Würfel fertig sind. Der Raum sollte nur nicht zu warm sein,.denn dann schmelzen die fertigen Eiswürfel wieder. Bei warmen Räumen die Würfel schneller ins Gefrierfach bringen. Die Lautstärke ist nicht störend. Sie brummt leise und man hört das klackern von den Eiswürfel. Würde ich wieder kaufen
The ice cube machine works reliably, it makes even ice cubes in 2 sizes. The first ice cubes don't need quite about 9 minutes. I always make about 1 liter of water and wait until the cubes are ready. The room shouldn't be too warm, because then the finished ice cubes will melt again. In warm rooms, put the cubes in the freezer faster. The volume is not disturbing. It hums softly and you can hear the clacking of the ice cubes. Would I buy again
Wer kennt es nicht, es ist Sommer man sitzt mit Freunden im Garten und man möchte kühle Getränke. Häufig ist dann eine Lage Eiswürfel da und danach ist Ende. Diese kleine Maschine hilft da weiter. Einmal aufgebaut und mit Wasser befüllt zaubert sie schnell Eiswürfel. Man kann 1,5l Wasser einfüllen und die Maschine macht 12kg Eis am Tag. Also kommen alle 9 Minuten ein Paar Eiswürfel raus. Man sollte die Maschine dementsprechend schon etwas im Vorfeld anwerfen, denn sie ist auch etwas Isoliert und die Würfel schmelzen nicht so schnell. Zur Maschine: Sie ist wertig verarbeitet und hat keine scharfen Kanten. Auch hat sie ein gutes Gewicht. Geräusche sind in etwa mit einem Kühlschrank zu vergleichen und dementsprechend nicht störend. Es gibt einen Korb zum rausnehmen, mit dem man die Eiswürfel rauskippen kann. Die Eiswürfel: Um einen Metallzapfen wird das Wasser geleitet und so bilden sich nach und nach die Eiswürfel quasi in U Form. Sie sind also hohl und lassen sich dadurch gut zerstampfen. Fazit: Super Maschine zu einem guten Kurs bei gewohnt guter Klarstein Qualität. Unerlässlich für die nächste Sommerparty
Who doesn't know it, it's summer you're sitting in the garden with friends and you want cool drinks. Often there is a layer of ice cubes and then it's over. This little machine can help. Once set up and filled with water, it quickly conjures up ice cubes. You can fill in 1.5l of water and the machine makes 12kg of ice a day. So a pair of ice cubes come out every 9 minutes. You should therefore start the machine a little in advance, because it is also somewhat isolated and the cubes do not melt as quickly. About the machine: It is of high quality and has no sharp edges. She's also a good weight. Noise can be roughly compared to a refrigerator and is accordingly not disturbing. There is a basket to take out, with which you can tip out the ice cubes. The ice cubes: The water is guided around a metal spigot, gradually forming the ice cubes in a U-shape. They are hollow, which makes them easy to crush. Conclusion: Super machine at a good price with the usual good Klarstein quality. Essential for the next summer party