Vulsini Hideaway Electric Fireplace
Electrical fireplace
Grey
1900 watt
Variant design:
Main colour:
Vulsini Hideaway Electric Fireplace
Ready for shipping
Delivery time: 7 - 10 workdays
60 day cooling off period
Free delivery, no minimum order
Top features
No fire & smoke: realistic fireplace atmosphere thanks to LED technology
Automatic: adjustable timer - from 30 minutes up to 9 hours
Storage space included: thanks to side shelves
Product description
Comfortable atmosphere at any time of year: enjoy dancing flames with no smoke or heat with the Klarstein Vulsini Hideaway Electric Fireplace. Enjoy the enchantingly realistic fire effect and relax in your new favourite spot with your partner, friends or family.
You can set the LED flames in a choice of 4 brightness levels, completely independently of the heating function. The switchable heating function will keep your home warm on cooler days with a choice of 1700 or 1900 watts. You can control the Vulsini Hideaway conveniently by remote control or via the control panel on the unit. In addition, the timer function offers you maximum comfort.
This product is only suitable for well-insulated rooms!
With the Klarstein Vulsini Hideaway Electric Fireplace you can enjoy the hypnotic effect of the flames and a cosy fireside atmosphere whenever you want.
Features
Download user manual
Temperature setting between 17 °C and 27 °C
Display in °C or °F
Modern fireplace housing
MDF boards
Digital temperature display
Compartment for decorative logs
For rooms up to 38 m²
Child safety lock
Easy to set up and connect
Power supply: 220-240 V ~ 50 Hz
Dimensions and Technical Details
Dimensions: approx. 100 x 72 x 26 cm (WxHxD)
Cable length: approx. 180 cm
Weight: approx. 32.7 kg
What will be delivered
1 x electric fireplace
1 x fireplace housing (assembly kit)
1 x remote control
1 x assembly material
Multilingual user manual
Delivery & shipment
Ready for shipping Delivery time: 7 - 10 workdays
Your order will be delivered to the selected address per order. This address does not have to match the billing address. You can send the orders to your family, friends or office if you are not at home during the day. Your order is delivered by our specialist courier spedition to your chosen address. This address does not have to correspond with your billing address. Leave a telephone number with your order to guarantee the best possible delivery of the product. Delivery takes place free to kerbside. This item may be pre-ordered. Please note that, in this case, the delivery time may be up to 5 days.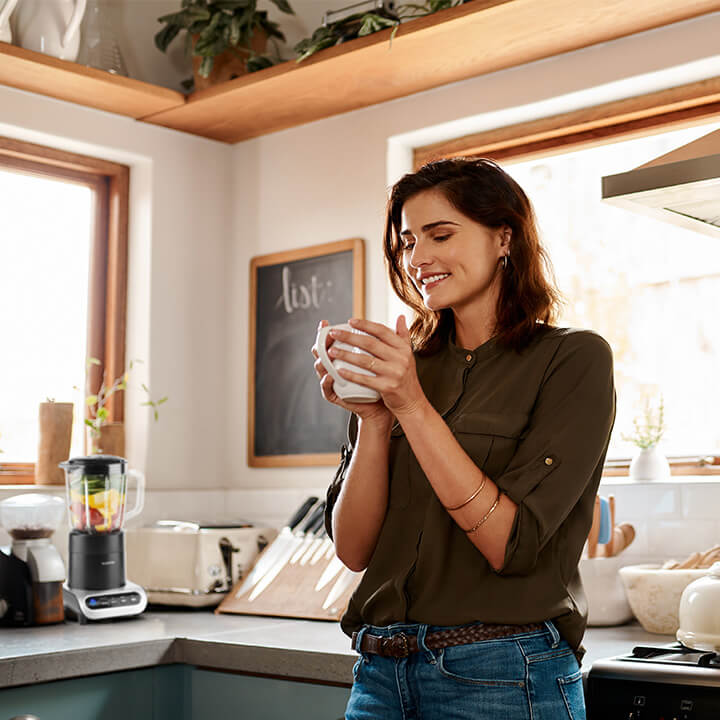 No review available for this item.
Customer reviews from other countries
Also ich bin, Super Optik, super reale Holzfeueroptik, schaut richtig schön wertig aus! Großes Lob! Preis Leistung passt!
Ja, die Dübel haben etwas Luft beim Montieren. Ich habe einfach ein wenig Holzleim mit dazu gemacht.
Ja, das Gebläse in der Heizfunktion ist Hörbar, was aus meiner Sicht völlig normal ist. Ohne Heizen habe ich keine Geräusche.
Nochmal, ich bin wirklich wirklich sehr zufrieden mit dem Teil, alles hat auf Anhieb gepasst, ging sehr schnell zu montieren und überzeugt durch seine Optik! ... toller Elektrokamin!!!
So I'm, great look, super real wood fire look, looks really nice and valuable! Great praise! Price performance fits! Yes, the dowels have some air when installing. I just added a little wood glue. Yes, the fan in the heating function can be heard, which is completely normal in my opinion. Without heating I have no noise. Once again, I'm really very happy with the part, everything fit straight away, was very quick to assemble and impresses with its appearance! ... great electric fireplace!!!
Die Medien konnten nicht geladen werden. Ich war angenehm überrascht über diesen schönen kamin die lieferung war super schnell, sehr gut verpackt mit der fernbediehnung kann man ihn sehr gut vom sofa bediehnen und das Gebläse ist sehr leise. Man kann das feuer (led) auch ohne heizung anmachen
The media could not be loaded. I was pleasantly surprised by this beautiful fireplace, the delivery was super fast, very well packaged, the remote control is very easy to operate from the sofa and the fan is very quiet. You can turn on the fire (led) without heating
Das Kaminfeuer sieht sehr realistisch aus. Die Wärmeleistung genügt vollauf und unseren 25 m2 Raum zu erwärmen
The chimney fire looks very realistic. The heat output is more than enough to heat our 25 m2 room
Ansich ein sehr großes schönes teil War gut eingepackt trotzen hat die oberplatten hinten enorme beschädigungen zum glück habe ich über Amazon bestellt. Der Verkäufer hat sich mit seiner Antwort aber Zeit gelassen. Ich hatte den Kamin zurück senden können aber alles wieder in drei Kartons und zur Post schleppen wäre mir zu umständlich gewesen Ich habe 20 %also ca 69 dann erstattet bekommen zum Glück sieht man es von vorne nicht. Nach lesen der anderen Erfahrungsberichte würde ich den Verkäufer aber nicht weiter empfehlen.
In itself a very large, beautiful part. It was well packed. The upper plates in the back had enormous damage. Luckily, I ordered it from Amazon. The seller took his time with his answer. I was able to send the fireplace back, but it would have been too cumbersome to lug everything back in three boxes and to the post office. I was then refunded 20%, so about 69 luckily you can't see it from the front. After reading the other testimonials I would not recommend the seller.
Wir sind von unserem Kamin begeistert. Er kam sehr gut verpackt an. Leider kamen die Pakete getrennt an. Wäre als Hinweis beim Kauf sehr nützlich für den Käufer darauf hinzuweisen. Bei uns kam das zweite Paket nämlich 3 Tage später und wir hatten schon Angst, dass da was schief gelaufen war. Aber jetzt steht er. Alles toll. Flammenoptik sehr real und kein Schmutz. Wir empfehlen das Produkt weiter. Sind sehr zufrieden.
We are delighted with our fireplace. It arrived very well packaged. Unfortunately, the packages arrived separately. Would be very useful for the buyer to point this out as a hint at the time of purchase. The second package came 3 days later and we were afraid that something had gone wrong. But now he is standing. All right. Flame appearance very real and no dirt. We recommend the product. Are very satisfied.
Leider nur 4 Sterne Ich bin mit dem Produkt bestens zufrieden. Leider habe ich Vermutlich ein Montags Paket erwischt. Die kleine fordere Blende Ist auf beiden Seiten ausgerissen. Jeweils die Exzenterbolzen haben hier nicht gehalten. Auch nach Reparatur mit Leim und Holz, konnte ich diesen Fehler nicht beheben. Da ich selber was Möbel betrifft vom Fach bin,habe ich die Blende einfach von hinten mit 2 Flacheisen befestigt. ( Foto 2 ist die obere schmale Blende) Hatte einfach keine Lust auf eine Reklamation mit Pakete hin und her. Mein Kamin ist jetzt so zufriedenstellend.
Unfortunately only 4 stars I am very satisfied with the product. Unfortunately, I probably got a Monday package. The small front panel is torn out on both sides. The eccentric bolts did not hold here. Even after repairing with glue and wood, I could not fix this error. Since I'm a specialist myself when it comes to furniture, I simply attached the panel from behind with 2 flat irons. (Photo 2 is the upper narrow aperture) Just didn't feel like a complaint with packages back and forth. My fireplace is so satisfying now.
Mein Kamin hat einen erheblichen schaden auf der linken Seite sieht Foto .komisch nur das die Verpackungen total in Ordnung war muss also kaputt eingepackt worden sein .bei klarstein erreiche ich keinen Rücksendung von so einen großen Gerät ist auch nicht so einfach bzw eine lange Wartezeit . Klarstein könnte zumindest ein wenig mit dem Preis runtergehen wegen den schaden aber mit solchen Tricks Verdienen manche ihr Geld leider . Eigentlich sehr schade ist ein sehr schöner Kamin bis auf den schaden den man leider sehr stark sieht .
My fireplace has significant damage on the left side, see the photo. It's just strange that the packaging was totally fine, so it must have been packed broken. At Klarstein I can't get such a large device to be returned. It's not that easy or a long wait. Klarstein could at least drop the price a little because of the damage, but unfortunately some people earn their money with tricks like this. A very nice fireplace is actually a pity, except for the damage that you can unfortunately see very clearly.
Sieht gut und vor allem echt aus. Leises Hintergrundgeräusch,aber ist halt elektro :)
Looks good and more importantly real. Quiet background noise, but it's electro :)
Das Aufbauen war nicht so leicht da alles falsch nummeriert war aber das spielt keine Rolle...man kann trotzdem mit bisschen Kopf hinkriegen. Ich muss auch sagen ich liebe es. Es ist wirklich ein wunderschönes Kamin, hab es nicht erwartet das so ein elektrisches kamin der Raum sehr warm hält. Es passt einfach perfekt zu ein Wohnzimmer. Empfehlenswert
It wasn't easy to set up as everything was wrongly numbered but that doesn't matter...you can still do it with a bit of head. I also have to say I love it. It really is a beautiful fireplace, didn't expect such an electric fireplace to keep the room very warm. It just fits perfectly in a living room. Recommended
Super schön. Schnelle unkomplizierte Lieferung. Gern wieder.
Very nice. Fast uncomplicated delivery. Gladly again.
Der Elektrokamin hat nach dem Aufbau ein angenehmes Ambiente . Die Lüftung bei der Erwärmung macht zwar Geräusche , die aber zum Beispiel beim Fernsehen nicht unbedingt stören . Bei einem gemütlichen Leseabend könnte das den Einen oder Anderen aber zu Laut sein . Das Flammenspiel (Bild) ist gut und ausdrucksstark . Kritikpunkt ( ein Stern Abzug ) ist aber die Verarbeitung . Die Bohrungen für die Holzdübel waren stellenweise bis zu 2 mm zu groß , sodaß sie kaum Funktion hatten . Desweiteren waren die Bohrungen für die Klemmverbindungen der Stehbolzen stellenweise zu tief , sodaß wenn man sie wie beschrieben vor dem Zusammenbau einsetzt , die Einzelteile nicht zusammenfügen kann . Daher mein Tip , erst die Teile zusammenfügen und dann die Klemmteile einsetzen und dann durch verdrehen sichern . Die Einzelteile sind auch von der Verarbeitung nicht unbedingt vom höchsten Standart ( zB. Umleimer ) , aber für den Preis akzeptabel . Ohne zusätzliche Verleimung denke ich wäre das aber eine "wacklige" Angelegenheit geworden . Leider hat das manulle Bedienfeld bei uns keine Hintergrundbeleuchtung , sodaß man die einzelen Funktionen nur beim genaueren Hinsehen erkennt . Trotzdem würden wir uns den Kamin für den Preis nochmals kaufen .
The electric fireplace has a pleasant ambience after assembly. The ventilation makes noises when it is heated, but these are not necessarily disturbing when watching TV, for example. On a cozy reading evening, however, this could be too loud for some. The play of flames (picture) is good and expressive. Criticism (one star deduction) is the processing. The holes for the wooden dowels were up to 2 mm too big in places, so they hardly worked. Furthermore, the holes for the clamping connections of the stud bolts were too deep in places, so that if you insert them before assembly as described, the individual parts cannot be put together. Hence my tip, first put the parts together and then insert the clamping parts and then secure them by twisting them. The processing of the individual parts is not necessarily of the highest standard (e.g. edge bands), but is acceptable for the price. Without additional gluing, I think it would have become a "shaky" affair. Unfortunately, the manual control panel has no backlight with us, so that you can only see the individual functions if you take a closer look. Nevertheless, we would buy the fireplace again for the price.
Mega schönes Bild und warm herrlich ;-)))
Super nice picture and warm wonderful ;-)))
Meine Erwartungen sind übertroffen worden. Tolles Geraet!
My expectations have been exceeded. Great device!
Die Medien konnten nicht geladen werden. Ich habe nach einen großen, ansehnlichen und schönen Kamin geschaut. Dabei habe ich viel gesucht und Produkte mit anderen Herstellern verglichen. Fazit: dieser ist in Preis - Leistung der Beste. Zusammenbau Alleine in 1 Stunde. ( 3 große Pakete ) Funktion über Fernbedienung oder am Gerät perfekt. Das Flammenbild hat mich echt überrascht ..... sehr beeindruckend. Geräuschpegel des Heizlüfter nicht lauter wie ein Küchenradio. Genial ist das Thermostat was den Lüfter nach Temperatur des Raumes schaltet. Ich habe noch Alexa dot hinten mit rein gestellt und das "Kaminknistern" rundet eine perfekte Atmosphäre ab. Ich hatte Glück und rechtzeitig zu geschlagen und ihn noch für 407,99€ gekauft. :-))) die Nachfrage bestimmt den Preis.
The media could not be loaded. I was looking for a large, handsome and beautiful fireplace. I did a lot of searching and compared products with other manufacturers. Conclusion: this is the best in price - performance. Assemble alone in 1 hour. (3 large packages) Perfect function via remote control or on the device. The flame picture really surprised me ..... very impressive. Noise level of the fan heater not louder than a kitchen radio. The thermostat is ingenious, which switches the fan on according to the temperature of the room. I also put Alexa dot in the back and the "crackle of the fireplace" rounds off a perfect atmosphere. I was lucky and struck it in good time and bought it for €407.99. :-))) the demand determines the price.
Dieser Kamin samt Umbau ist exakt das was wir uns vorgestellt haben. Der Zusammenbau des Umbaus ist sehr gut beschrieben sollte aber zu zweit erfolgen, was aber einzig der Größe geschuldet ist. Die Flammensimulation ist optimal und optisch sehr schön, die Heizfunktion erwärmt die Umgebung umgehend. Ein zusätzliches Highlight ist das Ablagefach für Echtholz. Leider kam der Kamin in 2 Teillieferungen, hier könnte man beim Versand noch darauf achten.
This fireplace and conversion is exactly what we imagined. The assembly of the conversion is very well described but should be done in pairs, which is only due to the size. The flame simulation is optimal and optically very nice, the heating function heats the area immediately. An additional highlight is the storage compartment for real wood. Unfortunately, the fireplace came in 2 partial deliveries, you could still pay attention to this when shipping.