Audrey fridge & freezer combination
Audrey fridge & freezer combination
Ready for shipping
Delivery time: 3 - 5 workdays
60 day cooling off period
Free delivery, no minimum order
Top features
Rock 'n' Roll: fridge-freezer combination in a '50s look
Stylish: chrome-plated handles & bottle opener
Environmentally friendly: economical in consumption
Product description
Let's rock the kitchen! The Klarstein Audrey fridge & freezer brings a nostalgic retro look to any kitchen. With 97 litres of storage space in the refrigerator compartment and 39 litres in the freezer compartment, it offers plenty of room for fresh food, drinks and frozen food. Two levels of shatterproof glass, a removable vegetable compartment and three door compartments for bottles, jars and cans keep things tidy in the fridge.
Rock 'n' roll: With the Klarstein Audrey fridge & freezer, the kitchen becomes a real retro 1950s diner.
Features
Download user manual
Control: interior rotary control
Energy efficiency class: F
Operating noise: 41 dB max.
Built-in appliance: no
Compression cooling
Total capacity (litres): 136
Capacity refrigerator compartment (litres): 97
Freezer compartment capacity (litres): 39
Temperature: 0 to 10°C
Temperature freezer compartment: -18 °C
Ideal ambient temperature: 16 to 38 °
Number of shelves refrigerator compartment: 3
Material shelves: unbreakable wood
1 removable grid level in the freezer compartment
Door hinge: right, not exchangeable
Removable fruit and vegetable compartment
Chrome-plated handles and bottle opener in the door
Metal applications inside
3 door compartments for bottles, cans & eggs
Interior lighting
Height-adjustable feet
Refrigerant: R600a
Includes ice scraper, ice cube maker for 12 cubes
Includes egg tray for 7 eggs
Available in a variety of colours
Dimensions and Technical Details
Dimensions (including door handle): approx. 45.5 x 129.5 x 52.5 cm (WxHxD)
Interior dimensions refrigerator (without vegetable compartment): approx. 38 x 54 x 33 cm (WxHxD)
Interior dimensions vegetable compartment: approx. 36.5 x 17 x 10.5 cm (WxHxD)
Large door compartment: approx. 32 x 33 x 9.5 cm (WxHxD)
Medium door compartment: approx. 32 x 23 x 9.5 cm (WxHxD)
Small door compartment: approx. 32 x 13 x 9.5 cm (WxHxD)
Interior dimensions freezer compartment: approx. 33 x 35 x 33 cm (WxHxD)
Door compartment freezer: approx. 28 x 29.5 x 5 cm (WxHxD)
Weight: approx. 31 kg
Annual energy consumption: 225 kWh / a
Power supply: 220-240 V~ | 50 Hz
What will be delivered
1 x fridge & freezer combination
1 x egg tray (7-pc)
1 x ice scraper
1 x ice cube mould
Multilingual user manual
Delivery & shipment
Ready for shipping Delivery time: 3 - 5 workdays
Your order will be delivered to the selected address per order. This address does not have to match the billing address. You can send the orders to your family, friends or office if you are not at home during the day. Your order is delivered by our specialist courier spedition to your chosen address. This address does not have to correspond with your billing address. Leave a telephone number with your order to guarantee the best possible delivery of the product. Delivery takes place free to kerbside. This item may be pre-ordered. Please note that, in this case, the delivery time may be up to 5 days.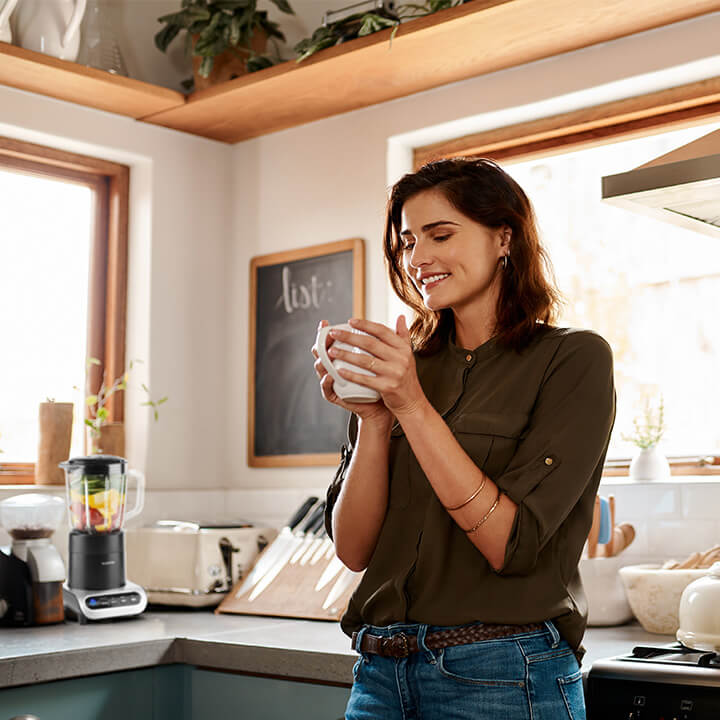 No review available for this item.
Customer reviews from other countries
I've been using the fridge for about two months. It arrived with no damage and works well. It does make some noise now and then but nothing to complain about. Not sure if it's a bit overpriced for what it is.
I've been using the fridge for about two months. It arrived with no damage and works well. It does make some noise now and then but nothing to complain about. Not sure if it's a bit overpriced for what it is.
Sehr schöner Kühlschrank, war ein Geburtstags Geschenk, er hat sich riesig gefreut. Einziges manko, die Schutzfolie sollte man nicht entfernen, da sie sich wahnsinnig schwer abziehen lässt.
Very nice fridge, was a birthday present, he was very happy. The only drawback is that the protective film should not be removed, as it is incredibly difficult to remove.
Ich kann natürlich nur für mein Gerät sprechen, vielleicht kühlen andere dieses Modells besser. Um die empfohlenen 7° C. im Mittelfach zu erreichen, muss ich den Kühlschrank auf 4,5 (von 5) stellen. Dies bei einer Zimmertemperatur von 22°, wie es im Hochsommer wird bleibt abzuwarten. Das Eisfach, dessen Temeratur von der Kälteeinstellung leider auch abhängt, erreicht bei Kälteeinstellung 4,5 etwa -17° C.. Schade, bei einem Grad weniger käme man in den echten Gefrierbereich, so wird das Speiseeis leider noch nicht hart (die Eiswürfel natürlich schon). Wenn man die empfohlenen 10 cm Wandabstand nicht einhält, nimmt die Kühlleistung weiter ab, das betrifft auch Heizkörper in der Nähe. Die Türfächer kann man leider nicht verändern. Die heutigen 1,5 L PET Flaschen bekommt man nicht in die Tür. Bei Verzicht aufs mittlere Türfach würde es gehen, doch traue ich den Türfächern keine all zu große Traglast zu. Da das Gemüsefach unten winzig ist und als solches kaum zu gebrauchen, habe ich es nebst unterstem Boden entfernt und stelle dort meine größeren Flaschen hin. Den Flaschenöffner an der Eisfachtür habe ich nicht angebaut, weil ich ihn nicht benutzen würde und Sorge hätte, an diesem hängenzubleiben; im ungünstigsten Fall sogar mit Verletzung. So bleiben 2 unschöne Schrauben sichtbar, die ich wenigstens mit einem Edding geschwärzt habe. Beim Putzen mit einem Lappen muss man beim Klarstein Schriftzug aufpassen. Mir ist dabei bereits das 'K' umgeknickt, ich musste es nachkleben, der Knick ist aber nun drin. Was bleibt auf der Haben-Seite: Farbe u. Design ist ordentlich, Türgriffe gefallen mir gut und die Geräuschentwicklung ist akzeptabel, alles im Verhältnis zum günstigen Preis. Angenehm fand ich die Plastikbänder um die Verpackung, an denen ich das Gerät alleine eine Treppe hochziehen konnte. Fazit. Wenn der Kühlschrankversand nicht so umständlich wäre, hätte ich es doch lieber mit einem anderen Modell probiert. So werde ich mit den Mankos leben und wenn er im Sommer die Kühlung nicht schafft, war es ein Fehlkauf und er muss dann ersetzt werden.
Of course I can only speak for my device, maybe others of this model cool better. In order to reach the recommended 7° C. in the middle compartment, I have to set the fridge to 4.5 (out of 5). This at a room temperature of 22°, as it will be in midsummer, remains to be seen. The ice compartment, whose temperature unfortunately also depends on the cold setting, reaches around -17° C at a cold setting of 4.5. Too bad, one degree less would be in the real freezer area, so the ice cream is unfortunately not yet hard (the ice cubes, of course already). If you do not keep the recommended 10 cm distance from the wall, the cooling capacity will continue to decrease, this also applies to radiators nearby. Unfortunately, the door compartments cannot be changed. You can't get today's 1.5 L PET bottles in the door. It would work if you did without the middle door compartment, but I don't think the door compartments can carry too much weight. Since the vegetable compartment below is tiny and can hardly be used as such, I removed it and the bottom shelf and put my larger bottles there. I didn't install the bottle opener on the freezer door because I wouldn't use it and I'd be worried about getting caught on it; in the worst case even with injury. This leaves 2 unsightly screws visible, which I at least blacked out with an Edding. When cleaning with a rag you have to be careful with the Klarstein lettering. The 'K' was already bent over, I had to re-glue it, but the crease is in there now. What remains on the plus side: the color and design are decent, I like the door handles and the noise level is acceptable, all in relation to the low price. I liked the plastic straps around the packaging, which I could use to pull the device up a flight of stairs by myself. Conclusion. If shipping to the fridge wasn't so cumbersome, I would have preferred to try a different model. So I'll live with the shortcomings and if it doesn't manage to cool in summer, it was a bad buy and it will have to be replaced.