Laika 60L Freezer
Fridge / freezer
Blue
41 dB
60 Ltr
Ready for shipping
Delivery time: 3 - 5 workdays
60 day cooling off period
Free delivery, no minimum order
Top features
4-star freezer compartment: with a cheerful retro look
Compact on the outside, big on the inside: perfect for medium-sized households
60-litre capacity: lots of storage space
Product description
Convenience meets nostalgia: the extravagant Klarstein Laika freezer offers the most innovative technology with its 4-star freezer compartment, packaged in a modern retro design. Compact in size, its 60-litre volume offers enough space for the frozen food of a medium-sized household. The three practical drawers keep things tidy and allow you to freeze food for a long time.
Freezing of a special kind: The Laika freezer from Klarstein exudes cheerful 1950s charm in the kitchen with its retro design!
Features
Download user manual
Capacity: 60 litres
Energy efficiency class: F
Temperature: -18 to -0 °C
Optimum ambient temperature: 16 - 38 °C
3 shelves: 2 large and 1 small mesh basket with plastic front
Operating noise: 41 dB max.
Door hinge: right
5-stage thermostat
4-star freezer compartment
Built-in appliance: no
Refrigerant: R600a
Available in the colours red, beige or blue
Dimensions and Technical Details
Dimensions (without / with door handle): approx. 47 x 91 x 48 / 52.5 cm (WxHxD)
Interior dimensions: approx. 31.5 x 64 x 33 cm (WxHxD)
Large drawer dimensions: approx. 28 x 17 x 27 cm (WxHxD)
Small drawer dimensions: approx. 28 x 17 x 12 cm (WxHxD)
Cable length: approx. 120 cm
Power supply: 220-240 V~ | 50/60 Hz
What will be delivered
1 x freezer
3 x shelf inserts
Multilingual user manual
Delivery & shipment
Ready for shipping Delivery time: 3 - 5 workdays
Your order will be delivered to the selected address per order. This address does not have to match the billing address. You can send the orders to your family, friends or office if you are not at home during the day. Your order is delivered by our specialist courier spedition to your chosen address. This address does not have to correspond with your billing address. Leave a telephone number with your order to guarantee the best possible delivery of the product. Delivery takes place free to kerbside. This item may be pre-ordered. Please note that, in this case, the delivery time may be up to 5 days.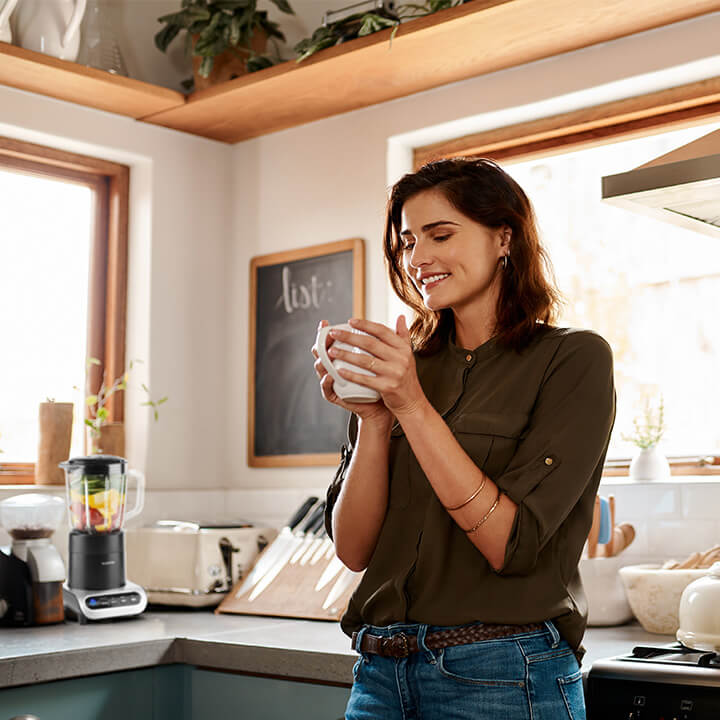 No review available for this item.
Customer reviews from other countries
Tolles Design,jedoch sehr laut!Gefrierlade gebrochen bei Anlieferung!Firma mehrmals kontaktiert wegen Ersatzlade!Leider bis jetzt keine Reaktion....Schade
Great design, but very loud! Freezer drawer broken on delivery! Company contacted several times for replacement drawer! Unfortunately, no reaction so far.... Too bad
Günstig ist es im Vergleich zu anderen Geräten nicht, vor allem Aufgrund des geringeren Volumens. Aber es ist das einzige Gerät mit Stil. Kein schnöder weisser Block, sondern eine Gefriertruhe im Stil eines alten Kühlschrankes. Und was passt besser zu einer originalen 50er Jahre Küche mit originalem Kühlschrank.... Ja, genau diese Gefriertruhe in einer gefälligen Farbe. Für zwei Personen ist das Gerät völlig ausreichend.
It is not cheap compared to other devices, mainly due to the smaller volume. But it's the only device with style. Not a plain white block, but a chest freezer in the style of an old refrigerator. And what goes better with an original 1950s kitchen with an original refrigerator... Yes, exactly this chest freezer in a pleasing color. The device is perfectly adequate for two people.
Alles gut und schnell
All good and fast
Tolle True!! Zu empfehlen!
Great true!! To recommend!
Wären locker 5 Sterne (so gerne 4 1/2), wäre ich nicht etwas enttäuscht worden davon, dass das untere Fach nur halb so groß ist wie die oberen beiden, da der Motor etc. ja Platz braucht und so nur eine halbe Lade nach hinten raus verbaut wurde. Das sah man vorher so nirgends auf den Abbildungen... Auch die "Laden" sind übrigens nicht rund um Vollplastik, sondern eher Gitterkörbe und das stört mich schon ein wenig, ist aber vermutlich besser für's schnelle Durchfrosten. Jetzt muss ich ehrlicherweise sagen, ist mein erster Gefrierschrank und vllt. ist das ja einfach bei allen so und ich hätte es wissen oder mich drauf einstellen können/müssen? Falls ja, sorry, dann gerne volle 5 Sterne!!! Insgesamt ein wirklich recht hübsches, leichtes (!) und gut zu handelndes Retrostyle-Teil, in welches einigermaßen viel reingeht (Singlehaushalt). So klappt die Bevorratung gleich besser, zumal ich selbst einkaufen vermeide und nur noch online ordere und liefern lasse (2021/2022). Der Eisschrank ist super leicht zu bewegen alleine und man kann ihn wirklich auch als Frau gut an Ort und Stelle hieven/schieben/tragen. Hab noch hübsche American Sticker-Magnete dran gepappt mit Retroschildchen-Charme - süss! Happy damit.
If it were easily 5 stars (I would love to have 4 1/2), I would not have been a bit disappointed by the fact that the lower compartment is only half the size of the top two, since the engine etc. needs space and so only half a drawer was installed at the back. You didn't see that anywhere in the pictures before... The "shutters" aren't all about plastic either, by the way, but rather mesh baskets and that bothers me a little, but is probably better for quick freezing. Now I have to honestly say, is my first freezer and probably. is that just the way it is with everyone and I should have known about it or could/should have prepared for it? If so, sorry, then like full 5 stars! All in all, a really pretty, light (!) and easy-to-handle retro-style part, into which a lot goes (single household). This makes stocking up better, especially since I avoid shopping myself and only order online and have it delivered (2021/2022). The refrigerator is super easy to move alone and you can really heave/push/carry it in place as a woman. I've also got some pretty American sticker magnets stuck on with retro label charm - sweet! Happy with that.
Tolles Gerät
Great device
Pro: + sieht schick aus + Tut was er soll, nämlich Lebensmittel einfrieren Contra: - also leise ist er nicht gerade. Hört man in der ganzen Wohnung und man sollte ihn nur kaufen, wenn man eine küchentür hat, die man zu machen kann. Für offene Küchen nicht geeignet. - ich finde ihn leicht überteuert.
Pros: + looks chic + does what it's supposed to do, namely freeze food Cons: - so it's not exactly quiet. You can hear it all over the apartment and you should only buy it if you have a kitchen door that you can close. Not suitable for open kitchens. - I find it slightly overpriced.
Die Medien konnten nicht geladen werden. Meine Top 3: + wunderschönes Fünfzigerjahre Design + hochwertige Verarbeitung (Griff aus Edelstahl hat tolle Haptik) - Temperatureinstellung auf der Geräterückseite (macht hervorziehen des Frosters notwendig Als Ergänzung zu unserem normalen Kühlschrank benötigen wir einen kleinen Forster mit genug Platz für einen Vierpersonenhaushalt. Da es sich um eine offene Wohnküche handelt, ist für uns das Design und die Betriebslautstärke absolut entscheidend. Als das Gerät geliefert wurde, war ich sehr positiv überrascht. Der Froster sieht tatsächlich noch besser aus, als auf den Fotos. Auch die Verarbeitung des Gehäuses ist sehr gut. Bei der Inbetriebnahme fielen uns die simplen Schubfächer auf. Denn hier gibt es kein Schienensystem, stattdessen werden die Kästen über die jeweiligen Trennböden gezogen. Das sieht nicht so schick aus. Dafür lassen sich die Körbe hervorragend herausnehmen. Wodurch wir unser Essen im Froster wesentlich schneller finden und nicht ewig alles durchwühlen müssen. Leider besitzt das Gerät keine No-Frost-Funktion. Dadurch bildet sich während der Nutzung eine Eisschicht im Gerät und ein regelmäßiges Abtauen ist nötig. Hierzu entnehmen wir die Körbe samt Inhalt, und decken sie ordentlich zu. Durch die Entnahme der gesamten Körbe ist das sonst mühsame auftauen, deutlich leichter als üblich. Sehr gut gefällt mir auch die Haptik des aus Metall gefertigten Griffes. Das Gerät ist sehr gut verarbeitet und die Oberfläche recht unempfindlich für Kratzer. Dafür zieht es Fingerabdrücke an. Egal, denn dieses wundervolle Fünfzigerjahre Design ist es uns wert. Zum Stapeln ist das Gerät allerdings nicht geeignet. Hierfür ist die obere Deckfläche zu rund, und der Stand des Fosters zu schwach. Denn hinten sind keine Gummifüße sondern Rollen. Dadurch lässt sich das Gerät sehr gut transportieren, ein Stapeln wäre mir damit allerdings zu gefährlich. Fazit das Gerät ist angenehm leise und sieht traumhaft aus. Auch die Verarbeitung ist sehr gut. Ich würde es jederzeit wieder kaufen. P.S.: entschuldigt die Überbelichtung des Videos
The media could not be loaded. My top 3: + Beautiful 1950s design + High-quality workmanship (stainless steel handle has a great feel) - Temperature setting on the back of the device (makes it necessary to pull out the freezer As a supplement to our normal refrigerator, we need a small Forster with enough space for a four-person household. Since it "It is an open kitchen, the design and the operating volume are absolutely crucial for us. When the device was delivered, I was very pleasantly surprised. The freezer actually looks even better than on the photos. The workmanship of the housing is also very good good. When we put it into operation, we noticed the simple drawers. Because there is no rail system here, instead the boxes are pulled over the respective dividers. That doesn't look so chic. The baskets are easy to remove, which means we can keep our food in the freezer find it much faster and don't have to rummage through everything forever.Unfortunately, the device does not have a no-frost function. As a result, a layer of ice forms in the device during use and regular defrosting is necessary. To do this, we remove the baskets and their contents and cover them properly. By removing the entire basket, the otherwise tedious defrosting is much easier than usual. I also really like the feel of the metal handle. The device is very well made and the surface is quite insensitive to scratches. As a result, it attracts fingerprints. It doesn't matter, because this wonderful fifties design is worth it to us. However, the device is not suitable for stacking. The upper deck surface is too round for this and the stand of the Foster is too weak. Because there are no rubber feet at the back, but wheels. This makes the device very easy to transport, but stacking it would be too dangerous for me. Conclusion the device is pleasantly quiet and looks fantastic. The processing is also very good. I would purchase it again. PS: sorry for the overexposure of the video