Solidflor Planting Bucket
0
79.5 cm
Planting bucket
This item is not in stock and must be reordered.
60 day cooling off period
Free delivery, no minimum order
Top features
Decorative flower pot for indoors and outdoors
Timeless design with a concrete look
Sturdy and frost-proof: a new type of material that is mix of fiberglass, Fiberton and magnesium which does not absorb water
Product description
The green home: a place for happy plants. In the Blumfeldt Solidflor planter, perennials, flowers, and bushes can find a new, decorative home where they will fill indoor and outdoor areas with their green splendor.
The Blumfeldt Solidflor planter complements the beauty of your plants, whether they are indoors or outdoors. Leave the perennials outdoors and give your back a break. The novel material mixture of fiberglass, fiberton, and magnesium made in an elegant concrete look is not only extremely sturdy, but also is completely frost-proof due to it not absorbing water. Even for the plants that need to spend the winter in the warmth, the Solidflor is the back-friendly choice because it is much light compared to a planter made of terracotta or real concrete. Nevertheless, it is sturdy and stable, so much so that strong gusts of wind will not knock your plants over.
With the Blumfeldt Solidflor planter you can prepare each plant for a green home. Only then will the magnificence of the plants truly be revealed.
Available colors and sizes: 79.5x38x38 cm anthracite, 50x50x50 anthracite (article 10029837), 50x50x50 cm gray (article 10029838), 40x80x40 anthracite (article 10029839), 40x80x40 cm gray (article 10029840), 79x37.5x37.5 cm gray (article 10029842), 99x46x46 cm anthracite (article 10029843), 99x46x46 cm gray (article 10029844)
Features
Download user manual
Suitable for direct planting or as a planter
Reinforced rim for high stability
Secure footing even in strong winds
Splinter- and crack-free boring for outdoor installation
Volume: approx. 0.24 m³
Color: anthracite
Dimensions and Technical Details
Dimensions: approx. 79.5 x 38 x 38 cm (WxHxD)
Weight: approx. 15.2 kg
What will be delivered
1 x planter
Delivery without user manual
Delivery & shipment
This item is not in stock and must be reordered.
Your order will be delivered to the selected address per order. This address does not have to match the billing address. You can send the orders to your family, friends or office if you are not at home during the day. Your order is delivered by our specialist courier spedition to your chosen address. This address does not have to correspond with your billing address. Leave a telephone number with your order to guarantee the best possible delivery of the product. Delivery takes place free to kerbside. This item may be pre-ordered. Please note that, in this case, the delivery time may be up to 5 days.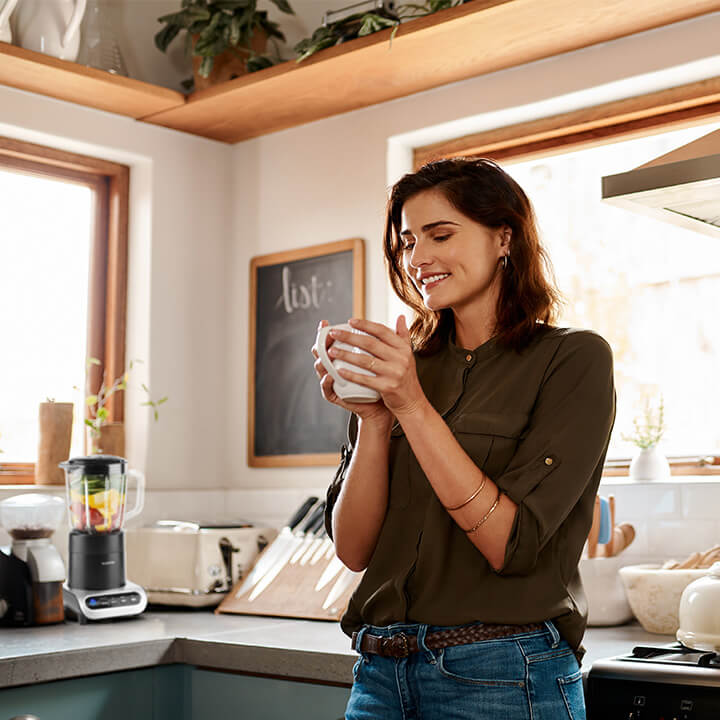 No review available for this item.
Customer reviews from other countries
Haben bereits den 2. gekauft
Have already bought the 2nd
Absolut top !
Absolut top !
Nach einer Saison brechen die Ecken aus. Kontakt zum Verkäufer klappt nicht wirklich, sehr enttäuschend
After one season, the corners break out. Contact with the seller does not really work, very disappointing
Sieht richtig schön aus mit Bepflanzung.
Looks really nice with plants.
Tolle Ware. Habe Loch für Entwässerung gebohrt.Festgestellt, daß super Ware. Optisch hervorragend. Ist bereits bepflanzt. Werde einen Zweiten Pflanzkübel kommen lassen.
Great goods. I drilled a hole for drainage. I found that the goods were great. Visually excellent. Is already planted. Will have a second planter come.
Positiv: schönes schlichtes Design, geringes Gewicht Negativ: Rissbildung durch Hitzeeinstrahlung Die Pflanztöpfe stehen auf der Terasse und wurden mit Bambus bepflanzt. Die Pflanztöpfe habe ich von innen mit Styrodur Dämmplatten ausgekleidet, um das Wurzelwerk vor Frost zu schützen. Insgesamt sehen die Töpfe sehr schön aus. Zwischen 10 und 16 Uhr sind die Kästen im Sommer der Sonne ausgesetzt. Da die Dämmplatten die Hitze nicht abführen, erhitzt sich die Außenseite der Kästen extrem stark. Auf der Sonnenseite haben sich zwei große Risse gebildet, welche senkrecht im Kasten verlaufen. Für mich deutet dies auf Spannungsrisse hervorgerufen durch starke Hitze bzw. Wärmegradienten hin, da die Schattenseite unversehrt ist. Aus diesem Grunde sollte ein Auskleiden mit Dämmplatten überdacht werden. Ich werden die Risse mit einem Epoxid-Außenspachtel reparieren und die Kästen überstreichen. Ob die Risse dadurch dauerhaft geschlossen werden können, wird sich erst noch zeigen.
Positive: beautiful, simple design, low weight Negative: cracking due to heat exposure The plant pots are on the terrace and were planted with bamboo. I lined the inside of the plant pots with Styrodur insulating boards to protect the root system from frost. Overall, the pots look very nice. Between 10 a.m. and 4 p.m. the boxes are exposed to the sun in summer. Since the insulation boards do not dissipate the heat, the outside of the boxes heats up extremely. Two large cracks have formed on the sunny side, which run vertically in the box. To me, this indicates stress cracks caused by intense heat or thermal gradients, since the shadow side is intact. For this reason, lining with insulation boards should be considered. I will repair the cracks with an epoxy exterior putty and paint over the boxes. It remains to be seen whether the cracks can be permanently closed as a result.
Der Kübel kam sehr gut verpackt an. War nicht beschädigt. Obwohl der Karton eingedrückt war. Zu den anderen Kriterien kann ich noch nichts sagen. Er steht noch noch bepflanzt da.
The bucket arrived very well packaged. Wasn't damaged. Even though the box was dented. I can't say anything about the other criteria yet. It's still planted there.
... die Maße entsprechen den Angaben, die Farbe ist wie auf den Fotos. Die Kästen sind sehr stabile und solide. Sie wurden flott geliefert. Vergleichbares war im Baumarkt deutlich teurer. TOP Produkt!
... the dimensions correspond to the information, the color is as in the photos. The boxes are very stable and solid. They were delivered quickly. Something similar was significantly more expensive at the hardware store. TOP product!
Die grossen Pflanzkübel sehen ähnlich wie Beton aus, sind jedoch deutlich leichter. Ich habe sie für meine Bambuspflanzen auf dem Dachgarten sogar mehrmals am Boden angebohrt, damit überschüsiges Regenwasser ablaufen kann. Mit etwas Fingerspitzengefühl beim bohren ging das problemlos. Nun stehen sie seit einem guten Jahr bei Wind und Wetter draussen, genauso schön und stabil wie am ersten Tag. Sehr empfehlenswert. Sehr gutes Preis-Leistungs-Verhältnis.
The large plant pots look similar to concrete, but are significantly lighter. I even drilled them into the ground several times for my bamboo plants on the roof garden so that excess rainwater can run off. With a bit of dexterity when drilling, it went smoothly. They've been outside in wind and weather for a good year now, just as nice and stable as on the first day. Highly recommended. Very good value for money.
Ich habe zwei Kübel bestellt, und interessant fand ich, daß die Unterseite bei beiden anders gestaltet war. Bei einem Modell gefiel mir sehr gut, daß die Ecken Auslaufnuten für das Wasser hatten - da ich allerdings unsichtbare Blumentopffüße von Pot-Up verwende, ist das zu vernachlässigen. Was mir nicht so gefallen hat: bei der Verwendung im Außenbereich sollte ein Topf dieser Größenordnung mit drei Bohrungen im Boden versehen werden. Er wäre schön gewesen, wenn der Hersteller bereits die Bohrmarkierungen angegeben hätte (z.B. als Druck oder als markierte Kennzeichnung) oder als Bohrschablone. Die zwei beiliegenden Blätter (nur einseitig bedruckt - welche Verschwendung) gaben keine Auskunft über den Aufbau, auch vermißte ich die Angabe, daß die Bohrlöcher mit einem Bohrer/Durchmesser 10 mm (Vorgebohrt mit einem kleineren Bohrer) gebohrt werden sollen. Und ein Hinweis, daß mehr Löcher die Stabilität des Kübels beeinträchtigen können. Letzter Punkt, die Kübel sind lackiert, und nicht immer ist diese einwandfrei (Schlieren bzw. nicht voller Aufstrich, somit ist der Untergrund des Materials teilweise/minimal sichtbar), von daher mußte ich beim Aufstellen auf die Schokoladenseite achten!
I ordered two buckets and found it interesting that the bottom of each was different. On one model I really liked that the corners had drainage grooves for the water - but since I use invisible flower pot feet from Pot-Up this is negligible. What I didn't like so much: when used outdoors, a pot of this size should have three holes in the bottom. It would have been nice if the manufacturer had already indicated the drilling markings (e.g. as a print or as a marked marking) or as a drilling template. The two enclosed sheets (only printed on one side - what a waste) gave no information about the structure, I also missed the information that the drill holes should be drilled with a drill/diameter 10 mm (pre-drilled with a smaller drill). And a hint that more holes can affect the stability of the bucket. The last point, the tubs are varnished, and this is not always perfect (streaks or not fully coated, so the background of the material is partially/minimally visible), so I had to pay attention to the chocolate side when setting it up!
Die Töpfe halten bis jetzt was sie versprechen. Mal schauen, wenn der erste Winter vorbei ist. Aber Alles in Allem finde ich sie völlig überteuert.
So far the pots have kept what they promise. Let's see when the first winter is over. But all in all I think they are way overpriced.
Die bestellten Tröge sehen genauso aus wie aus den Fotos! Faserbeton mit einem etwas rauchen groben Eindruck. Sieht toll aus. Achtung: die quadratischen Tröge sind etwas höher (so 3-4cm) als die Länglichen!!! Das fällt aber erst beim Aufstellen nebeneinander auf und sollte etwas besser aus der Beschreibung hervorgehen. ...ist eigentlich schade das die nicht zusammenpassen.... Wir bestellen aber noch welche nach weil sie uns so gut gefallen...
The ordered troughs look exactly like the photos! Fiber concrete with a slightly smoke rough impression. Looks great. Attention: the square troughs are a bit higher (about 3-4cm) than the oblong ones!!! However, this is only noticeable when they are placed next to each other and should be clearer from the description. ...it's actually a pity that they don't go together.... But we're ordering more because we like them so much...
Wir wollten Pflanzkübel in Beton-Optik für unsere Terrasse. Und diese Kübel sind die besten, die wir gefunden haben. Sie sehen in echt genau so aus wie auf den Bildern. Wie heller Beton, schön rough, einfach klasse. Oft findet man einfach nur graue Kübel, wer aber einen echten, groben Betonlook haben möchte, sollte hier zugreifen. Wir müssen unten noch Löcher reinbohren, damit wir die Kübel auch draußen stehen lassen können. Ich denke aber, das wird kein Problem sein. Also von mir eine glatte Kaufempfehlung!
We wanted concrete-look planters for our patio. And these buckets are the best we've found. They really look exactly like the pictures. Like light concrete, pretty rough, just great. Often you only find gray tubs, but if you want a real, rough concrete look, you should grab it here. We still have to drill holes in the bottom so that we can leave the buckets outside. But I think that won't be a problem. So a smooth buy recommendation from me!