Stockton Micro Stereo System
0
41.5 cm
Digital radio, Radio CD player
Stockton Micro Stereo System
Ready for shipping
Delivery time: 3 - 5 workdays
60 day cooling off period
Free delivery, no minimum order
Top features
Powerful: stereo sound with 20W max. (2 x 5W RMS)
Everything in view: OLED Display ensures brilliant contrast and colour matching
Huge station selection: digital DAB + and FM radio tuner with RDS function
Product description
The auna Stockton micro stereo system is a powerful and multifunctional all-round device that, despite its compact dimensions, enriches every household with the finest sound quality.
The slot-in CD player also reads MP3 CDs in addition to popular formats. For wireless connectivity, the compact Stockton stereo offers a built-in Bluetooth interface that connects quickly and easily with a smartphone, tablet or computer to play back media content.
In addition to the analogue FM tuner, the Stockton stereo system features a DAB + tuner with which all radio stations can be digitally received to deliver the highest sound quality with a stable, noise-free sound. The DAB + information and RDS function are fully emphasised by the OLED display: programme overviews, information, news or music titles can be conveniently read on the large colour display. The powerful stereo sound with 20W max. (2 x 5W RMS) provides a dynamic sound at all times, while the switchable X-Bass and the extensive EQ functions ensure individual sound.
If you would like to use additional music sources in addition to CD, Bluetooth and DAB + / FM radio, you can use the AUX-IN to connect external audio devices or connect a USB stick to the USB port. Another special feature of the stereo system is the wake-up and snooze function: this also makes it suitable for the bedside table.
The micro stereo system is controlled via the front panel or conveniently from afar via remote control.
Outstanding sound in a compact design: the Stockton micro stereo system by auna.
Features
Download user manual
Slot-in CD player
DAB + / FM RDS radio
OLED display
Bluetooth
2x5W RMS
X-Bass & EQ (Rock, Pop, Classic, Jazz)
Alarm clock, sleep timer
AUX-IN
20 preset radio stations
Includes remote control
Power supply: 220-240V ~ | 50/60 Hz
Dimensions and Technical Details
Dimensions: approx. 41.5 x 17.5 x 16 cm (WxHxD)
Weight: approx. 3.1 kg
What will be delivered
1 x micro stereo system
1 x remote control
User manual in English (other languages: German)
Delivery & shipment
Ready for shipping Delivery time: 3 - 5 workdays
Your order will be delivered to the selected address per order. This address does not have to match the billing address. You can send the orders to your family, friends or office if you are not at home during the day. Your order is delivered by our specialist courier spedition to your chosen address. This address does not have to correspond with your billing address. Leave a telephone number with your order to guarantee the best possible delivery of the product. Delivery takes place free to kerbside. This item may be pre-ordered. Please note that, in this case, the delivery time may be up to 5 days.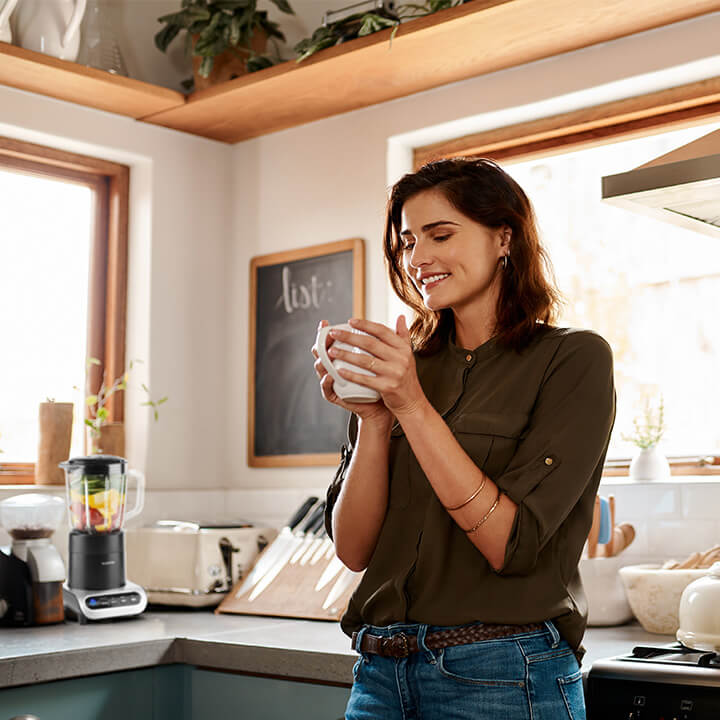 No review available for this item.
Customer reviews from other countries
Tolles Radio bin mit dem Klang ect. voll zufrieden
Great radio am with the sound ect. completely content
Nur 4 Sterne von mir da die USB/MP3 Funktion meiner Meinung nach nicht mehr auf dem Stand der heutigen Technik ist. Hier sollte es doch möglich sein einzelne Ordner mit Namen und nicht mit einer Nummer anzuzeigen, ID Tags usw., das geht schon deutlich besser.
Only 4 stars from me because, in my opinion, the USB/MP3 function is no longer state-of-the-art. Here it should be possible to display individual folders with names and not with a number, ID tags, etc., that's much better.
Tolles Preis-Leistungsverhältnis, einfache Bedienung, und gute Ausstattung, ich kann dieses Produkt nur weiterempfehlen.
Great value for money, easy to use and good features, I can only recommend this product.
Super Klang Einfache Bedienung Modernes Design Kann die negativ Kommentare nicht verstehen!!!!
Great sound Easy to use Modern design Can't understand the negative comments!!!!
Wir wollten ein kleines kompaktes Gerät und dies erfüllt seinen Zweck super !
We wanted a small, compact device and this serves its purpose perfectly!
Is a good product but it has some details that are not good. The sound at low volume and it takes surprisingly long time to start the CD music.
Is a good product but it has some details that are not good. The sound at low volume and it takes surprisingly long time to start the CD music.
Das Radio ist super .Tut was es soll .Bin sehr zufrieden . Habe es in meiner Küche. Keine Störungen und guten Klang .Sehr viele Sender. Für den Preis Perfekt . Macht auch ein schönes Bild . Ich würde es auch wiederkaufen. M.W
The radio is great. Does what it should. I'm very satisfied. have it in my kitchen No interference and good sound. Very many channels. Perfect for the price. Makes a nice picture too. I would buy it again too. MW
Sehr schönes Gerät. Leider hat die Wurfantenne nicht die Leistung um bei uns Sender zu empfangen. Nach mehrmaligem Umstellen kein Erfolg, daher kann ich zur Tonqualität nichts sagen. Schade. Wenn ein Anschluss für eine andere Antenne wäre ,hätte es vielleicht geklappt.
Very nice device. Unfortunately, the wire antenna does not have the power to receive stations here. After repeated switching no success, so I can't say anything about the sound quality. A pity. If there was a connection for another antenna, it might have worked.
Ich wollte eine kleine, unkomplizierte Musikanlage.Die habe ich jetz! Die Sendersuche und Speicherung ging dank der Bedienungsanleitung schnell und einfach. Die Wiedergabe von CD's ist sehr gut. Keine Hintergrundgeräusche, Alles sehr gut. Der Kundendienstservice ist sehr gut und bemüht sich um Hilfe bei der Problemlösung! Preis und Leistung sind wirklich gut, klare Kaufempfehlung. Nachtrag Leider hat das Display nach 4 Wochen nichts mehr angezeigt. Nach Kontaktaufnahme mit dem Kundendienst habe ich das Gerät zurückgeschickt, es sollte repariert werden. Ich habe aber nach einer Woche ein neues Gerät bekommen. Diese funktionierte eine Woche super und nun ist das Display wieder dunkel. Werde den Kundendienst wieder informieren, der reagiert erfreulich schnell und kundenfreundlich! Aber ansonsten werde ich mir wohl ein anderes Gerät kaufen , schade!
I wanted a small, uncomplicated music system. I have it now! The station search and storage was quick and easy thanks to the operating instructions. CD playback is very good. No background noise, all very good. The after-sales service is very good and eager to help solve the problem! Price and performance are really good, clear purchase recommendation. Addendum Unfortunately the display hasn't shown anything after 4 weeks. After contacting customer service, I sent the device back to be repaired. But after a week I got a new device. This worked great for a week and now the display is dark again. Will inform the customer service again, which responds pleasantly quickly and customer-friendly! But otherwise I'll probably buy another device, too bad!
Ansich ein Supergerät,solange man keine CD damit abspielen möchte. Die hängen leider ,auch neu gekaufte....schade.
In itself a super device, as long as you don't want to play a CD with it. The hang unfortunately, also newly purchased .... a pity.
Ich musste das Radio zurück geben da der CD Player defekt war. Zurück geben und Erstattung des Kaufpreises war kein Problem, das einzige was mich maßlos ärgert ist das ich meine CD die noch im Player steckte da der Player diese nicht mehr zurück gab mir nicht zurück geschickt wurde. Nachtrag: Die CD meiner Tochter kam heute bei uns an. Vielen Dank dafür.
I had to return the radio because the CD player was broken. Giving it back and refunding the purchase price was not a problem, the only thing that annoys me immensely is that I still had my CD in the player because the player didn't give it back to me and it wasn't sent back to me. Addendum: Our daughter's CD arrived today. Thanks a lot for this.
Das Micro Stereosystem sieht edel aus und ist äußerst kompakt. Es liefert einen tollen Klang, den man anhand des Equalizers beliebig variieren kann. Insbesondere für den günstigen Preis bietet das Stereosystem mit DAB+, UKW, Bluetooth, CD Player und USB Anschluss (diesen finde ich vorne besonders gut platziert) sehr viel. Aufgefallen ist mir allerdings, dass es beim Betrieb des Gerätes bei DAB+, UKW, Bluetooth und CD im Hintergrund ein Störgeräusch gibt. Das fällt aber nur bei niedriger Lautstärke, Pausen oder Sprachausgabe auf. Wer viel Hörbücher hört, der könnte damit ein Problem bekommen. Bei Verwendung eines Kopfhörers habe ich das Störgeräusch nicht wahrgenommen. Schade finde ich, dass der Kontrast des Displays nicht einstellbar ist. Der DAB+ Empfang ist leider sehr eingeschränkt. Stört mich aber nicht, da ich meine Lieblingssender empfange. Insgesamt aber trotzdem eine klare Kaufempfehlung, besonders bei dem Preis und Leistungsverhältnis.
The micro stereo system looks classy and is extremely compact. It delivers a great sound that can be varied as desired using the equalizer. Especially for the low price, the stereo system with DAB+, FM, Bluetooth, CD player and USB connection (I find this particularly well placed at the front) offers a lot. However, I noticed that there is a background noise when operating the device with DAB+, VHF, Bluetooth and CD. However, this is only noticeable at low volume, pauses or voice output. If you listen to a lot of audio books, you could have a problem with that. I didn't hear the noise when using headphones. I find it a pity that the contrast of the display cannot be adjusted. Unfortunately, DAB+ reception is very limited. But it doesn't bother me because I'm receiving my favorite stations. Overall, however, a clear purchase recommendation, especially in view of the price-performance ratio.
Es sollte ein unauffälliges Gerät sein, ohne viel ChiChi. Es sollte Bluetooth haben, CD und DAB Radio. Das hat es - das kann es und es hat einen erstaunlich guten und satten Sound! Diesen kann man mit dem Equalizer sehr gut seinen eigenen Ansprüchen anpassen. Eine einfache und intuitive Bedienung. Hat ein wenig gedauert bis ich den Schlitz an der Oberseite als CD Einschub erkannt habe. Es lohnt sich also auch mal die Bedienungsanleitung zu lesen. Dann erfährt man auch was das Radio noch so alles kann. Insgesamt: Schlicht, schön, einfach, praktisch und somit genau das was ich erwartet und bekommen habe. Unkomplizierte Bestellung und superschnelle Lieferung. Von mir dafür die volle Punktzahl
It should be an unobtrusive device, without much frills. It should have Bluetooth, CD and DAB radio. It has it - it can and it has an amazingly good and rich sound! You can adapt this very well to your own requirements with the equalizer. A simple and intuitive operation. It took me a while to recognize the slot on the top as a CD slot. So it's worth reading the manual. Then you also learn what else the radio can do. Overall: Plain, beautiful, simple, practical and therefore exactly what I expected and got. Easy ordering and super fast delivery. Full marks from me for that