Ready for shipping
Delivery time: 3 - 5 workdays
60 day cooling off period
Free delivery, no minimum order
Top features
Powerful: deep fryer with 3000 watts for fast frying
Enormous capacity: extra large cooking basket with eight litres volume in the XXL Concept
Simple control: digital temperature control with infinitely variable thermostat
Product description
The Klarstein Family Fry deep fryer meets all the requirements of cooking in hot oil: food gets crispy and tastes great!
With a substantial 3000 watts of power, the fryer transforms potato sticks into crispy-fresh chips or cold pieces of fish into crispy-hot fish fingers. The large cooking basket in the XXL Concept offers enough space with its enormous eight litres to cook even larger quantities of food and make it crunchy.
A dial with a stepless thermostat is easy to operate with digital temperature control, so all food gets just the right amount of heat. The cold-frying process of the Family Fry fryer is also very professional: the oil cools down in the lower separated area of ​​the bath, while the upper part of the fryer keeps the selected temperature precise thanks to the free heating element. Heated oil rises, cools and sinks on the outside walls into the area below the heating element, where it cools down. Drowning frying residues can thus not burn on the bottom of the pot and affect the taste of fried foods: everything tastes wonderfully fresh.
An attachable lid with window prevents hot oil from splashing out during frying and allows you to keep an eye on the food inside the fryer. Of course, safety has also been taken into consideration: thanks to Cool Touch Housing, the handles always remain pleasantly cool during operation. After deep frying, Oil Drain Technology makes it quick and easy to drain the oil with the convenient and easy-to-use spout.
From the outside, the stainless steel housing of the Family Fry deep fryer is not only nice to look at: after preparation, the inside and outside of the device can be quickly cleaned. A cable compartment in the back of the heating element facilitates storage.
For fast and easily prepared meals: the Family Fry deep fryer by Klarstein.
Dimensions and Technical Details
Overall dimensions: approx. 34 x 34 x 48 cm (WxHxD)
Inside dimensions: approx. 27 x 18 x 30 cm (WxHxD)
Dimensions basket: approx. 23 x 12 x 23.5 cm (WxHxD)
Power cable length: approx. 100 cm
Weight: approx. 4.6 kg
What will be delivered
1 x fryer
English user manual (other languages: German, French, Spanish, Italian)
Delivery & shipment
Ready for shipping Delivery time: 3 - 5 workdays
Your order will be delivered to the selected address per order. This address does not have to match the billing address. You can send the orders to your family, friends or office if you are not at home during the day. Your order is delivered by our specialist courier spedition to your chosen address. This address does not have to correspond with your billing address. Leave a telephone number with your order to guarantee the best possible delivery of the product. Delivery takes place free to kerbside. This item may be pre-ordered. Please note that, in this case, the delivery time may be up to 5 days.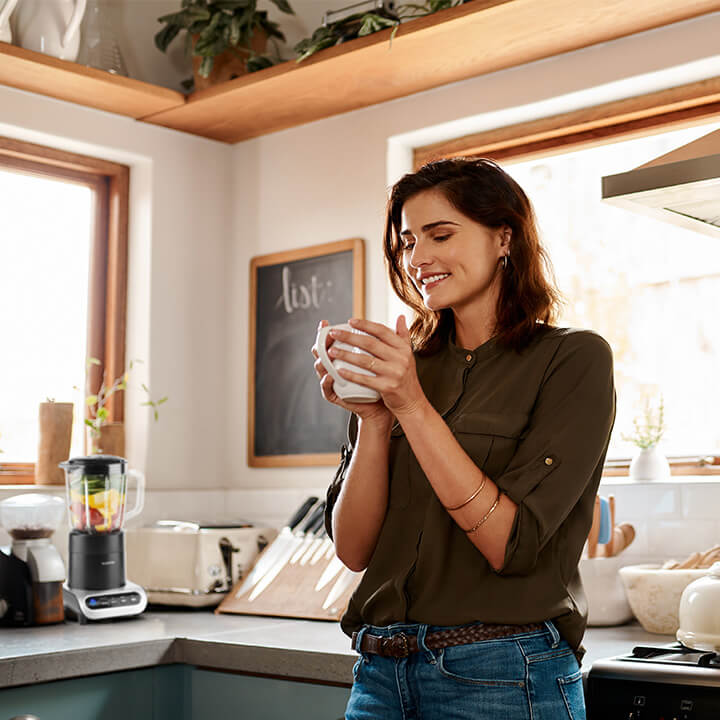 No review available for this item.
Customer reviews from other countries
Es passe 5 l Öl in die Friteuse Sie ist riesig, leicht zu reinigen (Ölablaufhahn) und der Preis ist super
You can fit 5 liters of oil in the fryer. It's huge, easy to clean (oil drain tap) and the price is great
Top Produkt bin absolut begeistert alles wird darin soo gut würde sie nicht mehr hergeben
Top product I'm absolutely thrilled everything in it is so good I wouldn't give it up
Wir hatten die Friteuse das erste mal benutzt und sofort lief Fett unten an der Verschraubung aus. Dieses Element war undicht. Somit lief heißes Fritierfett aus. Das ist nicht ungefährlich. Die 3 Sterne vergebe ich für die schnelle Bearbeitung meiner Reklamation. Innerhalb 3 Tage alles erledigt. Das nenne ich einen gutem Service
We had used the fryer for the first time and fat immediately ran out at the bottom of the screw connection. This item was leaking. Thus, hot frying fat ran out. It's not safe. I award the 3 stars for the quick processing of my complaint. Everything done within 3 days. That's what I call good service
Wir sind mit dem Gerät zufrieden. Die Family-Fritteuse wurde für eine Großfamilie (250 Portionen in 5 Std.) benutzt. Bei der Nutzung stellte sich nur ein Nachteil heraus. Bei der Nutzung von gefrorenen Pommes trat der Wasserdampf durch den Deckel an einer ungünstigen Stelle heraus. Er behinderte nicht bei der Handhabung, aber durch die Dauernutzung erhitzte sich das Plastik am Heizaggregat so, das es sich um das Lämpchen verzog. Bei der Nutzung von nicht gefrorenen Pommes (getrocknet) passiert bei intensiver Nutzung nichts.
We are happy with the device. The family fryer was used for a large family (250 portions in 5 hours). There was only one downside to using it. When using frozen fries, the water vapor escaped through the lid in an unfavorable place. It didn't interfere with handling, but due to constant use, the plastic on the heating unit heated up so much that it warped around the lamp. When using non-frozen fries (dried), nothing happens with intensive use.
Endlich eine Friteuse, wo viel Pommes für eine Familie rein passen. Dementsprechend braucht man viel Fritieröl und es braucht etwas bis das Öl heiß ist. Habe den Kauf nicht bereut
Finally a fryer that can fit a lot of fries for a family. Accordingly, you need a lot of frying oil and it takes a little until the oil is hot. Haven't regretted the purchase
Wir sind super zufrieden es geht auch zum brandteig ausbacken für suppenbeilage
We are super satisfied, it can also be used to bake choux pastry for side dishes with soup
Bis jetzt sehr gut. Leider verliert sie andauernd Öl und wir mussten ein Handtuch drunter legen. Wir nutzen sie sehr oft. In einem Jahr werde ich hier berichten ob wir noch zufrieden sind
So far very good. Unfortunately, she keeps losing oil and we had to put a towel underneath. We use them very often. In a year I will report here whether we are still satisfied
Leichte Bedienung, einfach zu reinigen.
Easy to use, easy to clean.
Würde sehr schnell geliefert und funktioniert einwandfrei. Sehr gut sind die Griffe an der Fritteuse, so kann man sie auch anfassen, wenn Sie voll erhitzt ist.
Was delivered very quickly and works perfectly. The handles on the fryer are very good, so you can hold them when they are fully heated.
Schnelle Lieferung früher als angekündigt super Produkt
Fast delivery earlier than announced great product
Wir sind von dem Produkt begeistert. Wir haben uns für die Friteuse entschieden, da wir schon mehrere Produkte aus der Klarstein Familie haben. Unter anderem einen Brotbackautomat, eine Mikrowelle und eine Kaffeemaschine. Alle Geräte funktionieren bestens und überzeugen. Auch der support von Klarstein ist hervorragend und perfekt. In unserem Fall haben wir das Gerät zu Weihnachten gekauft. Leider war das Heizteil schon bei der ersten Benutzung wohl defekt, da es nicht richtig aufheizte. Eine kurze höfliche Mail und Schilderung des Problems und uns wurde schnell Hilfe angeboten und wir bekamen das Gerät innerhalb von wenigen Tagen zurückgesendet und funktioniert seither perfekt. Daher auch hier 5 Sterne. Ein Riesengroßes Dankeee an den Klarstein-Support - TOP. Zur Friteuse selbst: Auch hier überzeugt das Gerät in Haptik und Design. Die Speisen werden innerhalb kürzester Zeit fertig und sind super knusprig. Das aufheizen des Öls geht innerhalb weniger Minuten. Der Behälter hat bis zum Minimum Strich ein Fassungsvermögen von etwa 6 Litern Öl. Maximum Strich vermutlich etwa 8Liter, haben wir aber noch nicht getetstet, da wir als Familie zwischendurch eher kleinere Mengen machen. Wir haben gleich beim ersten mal mehrere Speisen getestet. Pommes, Kroketten, chicken stripes und chicken dinos Alles wurden in der auf der Packung angegebenen Zeit und Temperatur von etwa 3-3,5min super knusprig und lecker Wir sind sehr glücklich mit der Friteuse und können sie nur empfehlen. Nochmals herzlichen Dank auch an den Support. Die Marke Klarstein ist einfach sensationell. VG Fam. Lauer
We are delighted with the product. We opted for the fryer because we already have several products from the Klarstein family. Among other things, a bread maker, a microwave and a coffee maker. All devices work perfectly and convince. The support from Klarstein is also excellent and perfect. In our case, we bought the device for Christmas. Unfortunately, the heating part was probably defective the first time it was used because it didn't heat up properly. A short polite email and description of the problem and we were quickly offered help and we got the device back within a few days and it has been working perfectly ever since. Therefore also here 5 stars. A huge thank you to the Klarstein support - TOP. Regarding the fryer itself: Here, too, the device convinces in terms of feel and design. The dishes are ready in no time and are super crispy. The oil can be heated up in just a few minutes. The container has a capacity of about 6 liters of oil up to the minimum line. Maximum line probably about 8 liters, but we haven't tested it yet, because as a family we tend to make smaller amounts in between. We tried several dishes the first time. French fries, croquettes, chicken stripes and chicken dinos Everything became super crispy and delicious in the time and temperature of about 3-3.5 minutes stated on the package. We are very happy with the deep fryer and can only recommend it. Thanks again to the support. The Klarstein brand is simply sensational. VG Family Lauer
Wir frittieren uns gerne mal Chips, Pommes aber auch andere Speisen und hatten bisher nur eine kleine Fritteuse mit einem Liter Fassungsvermögen. Das war für 2 Portionen Pommes schon zu wenig, für Freunde erst recht. Diese Fritteuse nutzen wir vor Allem, wenn wir Gäste haben. Das Füllen ist einfach, auch wenn man sehr viel Öl, Fett oder was auch immer man verwenden will benötigt. Der Ablaufhahn am unteren Ende unterstützt super beim Ablassen und reinigen. Ich zum Beispiel fülle mein Frittieröl zurück in die Flaschen und nutze es mehrere Male. Das kann ich dank des Hahnes sehr bequem erledigen. Die Reinigung ist dann wie immer fickelig und nervig. Das Öl überall wegzubekommen ist halt nie angenehm. Das Frittieren selbst ist prima. Die eingestellte Temperatur wird sehr gut gehalten. Dank der Menge an Öl bleibt viel Hitze auch wenn der Korb ordentlich voll mit den Pommes ist. Wir sind sehr zufrieden.
We like to deep-fry chips, fries, but also other dishes and so far only had a small deep-fryer with a capacity of one liter. That was already too little for 2 portions of fries, and even more so for friends. We mainly use this deep fryer when we have guests. Filling is easy, even if you need a lot of oil, fat or whatever you want to use. The drain tap at the bottom is great for draining and cleaning. For example, I put my frying oil back in the bottles and use it several times. I can do that very easily thanks to the tap. The cleaning is then, as always, fiddly and annoying. Getting rid of the oil everywhere is never pleasant. The frying itself is fine. The set temperature is maintained very well. Thanks to the amount of oil, a lot of heat remains even when the basket is full of fries. We are very satisfied.
Das Produkt ist wirklich fit für eine Familiengröße, sehr einfach zu bedienen. Das Reinigen ist einfach, dauert etwas, der Wasserhahn am Boden ist super hilfreich und das Gitter kann in der Waschmaschine gereinigt werden. Insgesamt ist ein Produkt, das alle Erwartungen in hervorragender Weise erfüllt.
The product is really fit for a family size, very easy to use. Cleaning is easy, takes a while, the faucet at the bottom is super helpful and the grille is machine washable. Overall is a product that does an excellent job of meeting all expectations.