£149,99
£174,99
(incl. VAT)
Ready for shipping
Delivery time: 7 - 10 workdays
60 day cooling off period
Free delivery, no minimum order
Top features
2585W strong heating element
Double-walled stainless steel boiler for even temperature distribution
Simple operation with only two controls
Product description
Brew your own beer! Too complicated? Far from it, with the Beerfest Mash Kettle from Klarstein easily turns anyone into a master home brewer, The most complicated part of beer production is mashing. The grist must be precisely heated and maintained at a uniform temperature over long periods of time in order to convert the starch of the grain into fermentable sugar. The process is made easy in the mash kettle.
Up to 30 litres of brewing contents can be brought to a boil in a large stainless steel bowl. Using a variable control, the required temperature can be accurately set in two-degree increments between 30 and 100 degrees Celsius. The powerful 2585W heating element brings the mash to a boil to reach the desired temperature in the blink of an eye. Two operating lights show whether the Beerfest brewing unit is heating (red light) or maintaining the temperature at the desired level (green light). Via an additional knob, you can set a timer between 10 and 120 minutes. An acoustic signal announces when the time is up and the heating element switches off. This ensures that you miss none of the important points of temperature change in making your brew. The mash boiler can also be adjusted on continuous operation.
The double-walled stainless steel bowl of the Klarstein Beerfest mash kettle helps the process in several ways: first, it provides a uniform temperature distribution so that the brew in the bottom and the upper part of the tank reach the same temperature. It also increases safety, preventing the exterior of the brewing unit from excessively heating and therefore reducing the risk of injury from accidental touches. Also, the stainless steel surface facilitates the cleaning of the inside and outside of the device after mashing. Finally, the polished exterior makes for an eye-catching device in your home brewery.
When the brew is ready, a coarse sieve and mesh hose filter help remove the grist from the mash. Via a 1/2" tap on the bottom, the brew can be drained. A lock prevents the accidental opening of the tap.
Features
Download user manual
Temperature control: continuously adjustable between 30-110 ° C
Timer: continuously adjustable between 10 - 120 minutes / continuous operation
Warning lamps for heating (red) and maintaining temperature (green)
Tap with fine mesh bag filter
Double-walled lid with seal for secure closure
Heat-resistant plastic handle on the lid for easy opening during mashing
Includes strainer to filter the mash
Off switch on front panel
Power supply: 220-240V ~ / 50-60Hz
Dimensions and Technical Details
Dimensions: 40 x 67 x 37cm (WxHxD)
Weight: about 5.6kg
What will be delivered
1 x device
1 x strainer
1 x English user manual (other languages: German)
Delivery & shipment
Ready for shipping Delivery time: 7 - 10 workdays
Your order will be delivered to the selected address per order. This address does not have to match the billing address. You can send the orders to your family, friends or office if you are not at home during the day. Your order is delivered by our specialist courier spedition to your chosen address. This address does not have to correspond with your billing address. Leave a telephone number with your order to guarantee the best possible delivery of the product. Delivery takes place free to kerbside. This item may be pre-ordered. Please note that, in this case, the delivery time may be up to 5 days.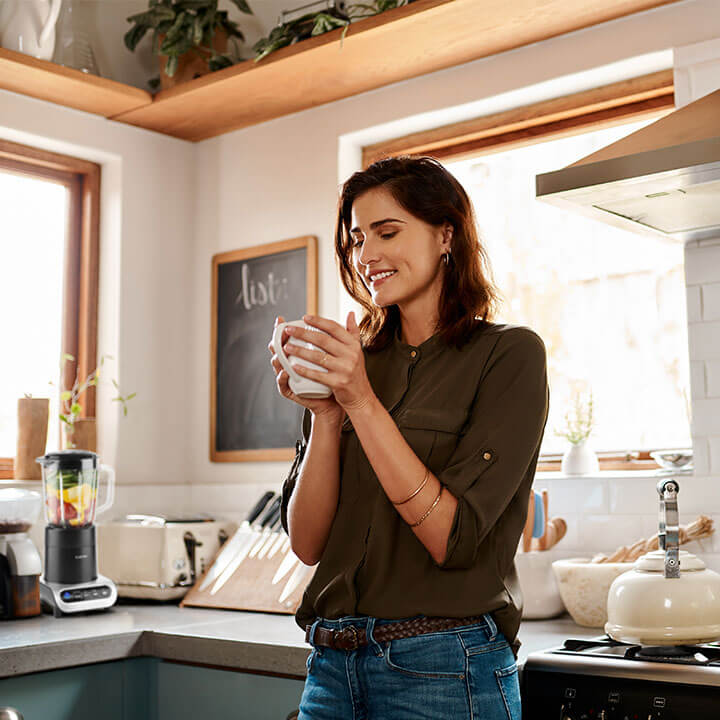 Product arrived damaged with large dent in body of vessel. Packaging showed no sign of damage so can only assume it was packed like that. Able to gently press most of the dent out. Checked temperature accuracy of heating element. Set temperature dial at 63/64C and when red heating light went out actual temperature was 78C. This level of inaccuracy is at odds with other reviews and unacceptable for me. Finally instrument manual totally useless - even the Chinese use the English language better. Awaiting Klarstein's response to complaint but likely I shall be returning the mash tun.
Two brews done now I'm the Beerfest and while it's a little basic it does what it does very well indeed. Yes, the temperature control is a bit of a bang-bang control (but pretty accurate and has a sensible hysteresis) but it's very well insulated, pretty quick to heat up (2.5 kW into 5gal is going to take a bit of time because, well, physics) and super easy to drain and clean. Ideal for the novice/intermediate brewer on a budget. I'm thinking of getting a second one to double my throughput!
A great cheaper alternative to far more expensive products out there. The lid can be finicky to use, but in honesty i leave it off during the wort boil as i just love to smell and see the hops going crazy, lol. Use the liner for the wort grain as its far easier to handle the spent bed. As mentioned in the other review a digital cook thermometer is recommended as this basic entry mash tun uses a mechanical temperature setting, but it is accurate, to be fair. The double strainer can block with the hop detritus, so either put them in a bag, or have a length of hose ready to syphon off the chilled down wort.
This is a fantastic product for the home brew enthusiast - and excellent value for money. The insulation provided by the double stainless steel skin makes it ideal as a mash tun as well as for the boil (so you just need the one vessel - saving space too). It's design is both robust and simple, making it easy to clean, and it's slim profile makes it easy to store when not in use. It's worth using with an electronic oven cooking thermometer (I find that the heat proof wire of the one I use is easy to pass through the lid seal) for maximum control of mash temperature. Since starting to use this kettle I have realised that it's insulated design also makes it ideal for post boil hopping. I've already made some great beers by allowing the brew to steep overnight - just fit the lid as the boil finishes, so you ensure a sterile environment, and it can gently steep the wort for hours before you bring it down to pitching temperature. In summary, it's a great, simple, good looking piece of kit that's excellent value.