New Breeze 7 mobile air conditioner
Mobile air conditioner
Black
Ready for shipping
Delivery time: 3 - 5 workdays
60 day cooling off period
Free delivery, no minimum order
Top features
4-in-1: mobile air conditioner with cooling, dehumidification, ventilation and night mode
Powerful: with a cooling capacity of 7,000 BTU / 2.1 kW and 320 m³/h air flow rate
Restful sleep: thanks to low-noise night mode with only 50 dB(A) and switch-off timer
Product description
With a cool head through the summer! The Klarstein New Breeze 7 air conditioner ensures refreshing temperatures, whether in the office or at home: cooling is guaranteed.
More power for your perfect climate: with 7,000 BTU / 2.1 kW cooling capacity under the bonnet, the Klarstein New Breeze 7 air conditioner generates pleasant desired temperatures between 16 and 30 °C in living and working rooms from 21 to 34 m². The 3-speed adjustable fan distributes the cooled air as a gentle breeze or strong breeze in the room and provides additional relief by supplying fresh air. Thanks to the night mode, quiet operating noise of only 50 dB(A) and timer function, you can also get your refreshment in a relaxed way at night. All functions of the Klarstein New Breeze 7 air conditioner can be set either on the touch panel or conveniently by remote control.
With its clear lines and elegant housing, the Klarstein New Breeze 7 air conditioner cleverly blends into any living or working ambience, confidently and unobtrusively asserting its place at the window. For easy connection, we offer optionally available window kits for bottom-hung or sliding windows. Thanks to smooth-running floor castors, the air conditioner is fully mobile and can be moved from one location to another in no time.
Bring on the summer! Either way, with the Klarstein New Breeze 7 air conditioner, it stays hot outside and comfortable inside.
Features
Download user manual
On/off switch on the top side of the housing
Cooling capacity: 7,000 BTU / 2.1 kW
Suitable room size: 21 to 34 m²
Min. operating noise: 50 dB
Max. operating noise: 63 dB
Air conditioner in exhaust air mode including exhaust air hose
Operating light in the on/off switch
Coolant: R290
4 operating modes: cooling, drying, fan, night mode
Cooling mode: Standard operation for cooling rooms with temperature selection to 16 to 30 °C
Drying mode: removes condensation water from the air conditioner
Fan: separate operation of the fan without cooling capacity
3 ventilation levels: low, medium, high (and automatic)
2 timer modes: switch-off timer & switch-on timer
Timer adjustable up to a maximum of 24 h
Night mode: reduces cooling capacity by a total of 3 °C over three hours; then maintains the temperature at this value
Operation via control panel on top of unit with LC display and operating LEDs
All functions can be operated via remote control
Temperature display selectable in °C or °F
Built-in floor rollers for easy relocation
Cable winder at the back
Power supply device: 220-240 V~ | 50 Hz
Power supply remote control: 2 x AA battery (included in delivery)
Dimensions and Technical Details
Dimensions device: approx. 29 x 77 x 35 cm (WxHxD)
Dimensions remote control: approx. 5.5 x 12.5 x 2 cm (WxHxD)
Exhaust air hose dimensions: approx. 150 x 15 cm (LxØ)
Dimensions exhaust air opening: approx. 20.8 x 10.5 cm (LxW)
Weight: approx. 22.3 kg
What will be delivered
1 x air conditioner
1 x remote control
1 x flexible, extendable exhaust air hose (1.5 m)
1 x hose connection unit
1 x hose connection exhaust air opening (rectangular)
1 x drain hose
1 x hose holder
2 x cable holders
2 x AA batteries
Multilingual user manual
Delivery & shipment
Ready for shipping Delivery time: 3 - 5 workdays
Your order will be delivered to the selected address per order. This address does not have to match the billing address. You can send the orders to your family, friends or office if you are not at home during the day. Your order is delivered by our specialist courier spedition to your chosen address. This address does not have to correspond with your billing address. Leave a telephone number with your order to guarantee the best possible delivery of the product. Delivery takes place free to kerbside. This item may be pre-ordered. Please note that, in this case, the delivery time may be up to 5 days.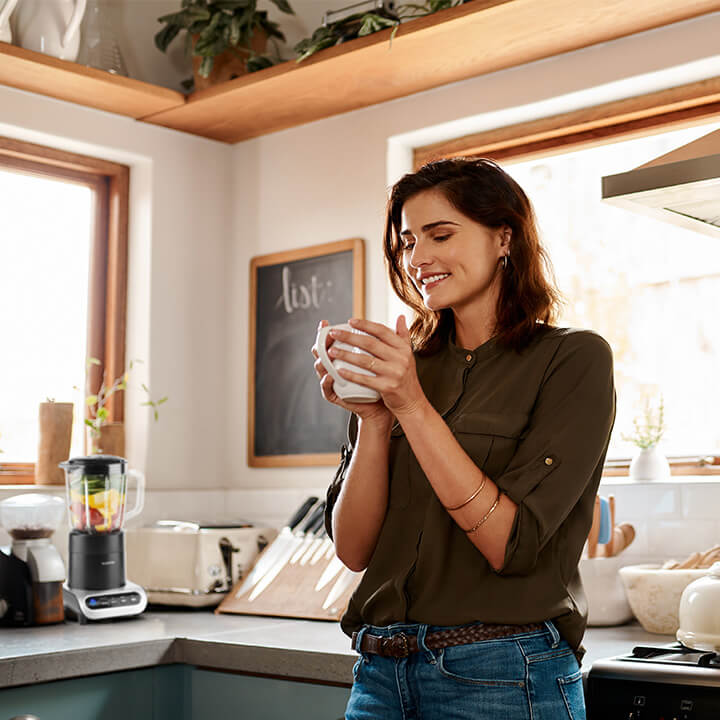 I ordered this unit for my attic flat. This is very poorly insulated, and that's why I had up to 35 degrees in my flat last summer! This year I made this purchase and I love this air conditioner.
The workmanship is impeccable, it looks good and the installation was very easy even without a man in the house. (If you can read, of course, you have a clear advantage).
Of course, it also makes smells, but you hardly notice them after a few days. It cools my 65cm2 flat well, of course massively more in the room where it is placed, but the next room also becomes very bearable. I am very satisfied and would buy it again. So far (it has been standing for about 2 months now), I have never noticed any defects or anything bad about the unit.
Very handy, attractive design.
The air conditioner fully meets my expectations, it cools the spacious living room quickly.
Brand already known from previous purchases, very reputable company, they respond quickly when problems arise, which is why I chose this product.
I love this Unit,k As soon as we rfeceived it , it has become an integral part of our home , Very good performance indeed. Good Price.
Not regretting at all. have recommended to friends. Enjoying it to beat the summer heat .
Top air conditioner that also appeals visually. Cools very well and also quickly. It is only important to drain the hose to the outside.
I can recommend this thing with a clear conscience. Another plus: Service: 5 stars
Space-saving. Easy to transport, the drying function dries the room quickly and eliminates humidity even when the temperature in the area of use is still high, not disturbing.
In short, it does the job for which it was designed.
Thank you!
I bought this item to freshen up the small studio in my flat where I spend most of my time.
In the summer it got very hot in the room and the fans were not sufficient. Given the heat waves of the last few days, I had to take cover.
This is the first time I have bought a Klarstein product and I got to know the portable air conditioners during a trip to Malta (my hotel room had one).
The item arrived intact and 4 days earlier than expected. You only need to follow a few instructions for assembly and operation.
It cools immediately, has the classic functions that are essential for an air conditioner and works very well. There are also various details in the air conditioner housing, such as the hole for the remote control, the holder for the condensation water hose and the hooks that prevent the socket from turning and flying around.
The remote control is also convenient and fully functional.
At first I was worried that it would be too bulky for my studio, but it doesn't take up much space and is also aesthetically pleasing (I bought the white model): it looks better in real life than in the photos.
Fortunately, it's not in the same room as my bedroom, so it might be noisy for someone buying it for a bedroom, but I know this is a problem with all portable air conditioners, regardless of brand.
All in all, I am satisfied with my purchase and will never have to suffer from the heat again!
Great design and functionality, quiet at night with sleep function.
A bit heavy to transport to the beach house, but easy to unpack and repack after the holiday. It kept a 90-square-metre flat cool in the kitchen with the fabric seal on the window with 7 people.
I live in an attic flat and have suffered from the hot temperatures every summer.
So a climatic situation had to be found. After a lot of research, I decided on this model from Klarstein.
The volume is really OK. Before going to bed, I turn the unit on for about an hour at the lowest temperature and you can sleep well even in summer.
I am thrilled. I have been thinking about buying such a small device for a long time because it gets so unbearably warm under the roof in summer.
After comparing for a long time, I decided on this device. Sure it's not cheap but it was worth every penny.
We have to say that it is almost always at 16 degrees because otherwise it is useless. It's just too warm here. But it brings so much. It is so pleasant in the room when the unit is running. It takes about 10 minutes before you notice anything and then it quickly gets cooler.
So really recommended
It works very well and is not very loud. The only drawback is that I could not find a reducer to insert the exhaust pipe into the hole in the wall
Easy to use, cools the room efficiently.
Excellent wearability
positive points: 1) the item arrived 5 days earlier than expected: 2) it is easy to assemble (if you don't have a wall or a window for an exhaust pipe, i recommend buying a removable structure)
(if you don't have a wall or window for the exhaust pipe, I recommend buying a removable structure), 3) it does its job in the sense that it is very effective in both cooling and dehumidifying a room of about 20 square metres. Negative points: 1) if you have to carry it from one floor to another, it's a bit heavy, but if you don't have problems with your muscles and back, it's ok (on the same floor no problem, it has wheels); 2) when it's on, it's quite noisy (now it depends on the person, I can even sleep with it, others maybe...). All in all, the purchase has more advantages than disadvantages and I recommend it.
This is a great ac unit very nice design and cools the room very well also it as sleep mode settings temperature setting from 30 To 16
also remote control very highly recommended to buy this unit very good value for money with out a doubt I rate this seller 5 stars thank you
We use it in a hot and very humid bedroom with more than 60 cubic metres. It lowers the temperature considerably, less the humidity.
This summer the temperature in our house reached up to 43° during the day and at night it was always above 30°, but in the bedroom it was very comfortable, although the heating was only turned on after dinner. We do not find the noise disturbing, but that is of course subjective. However, it is one of the quietest. Consumption seems to be modest. Finally, the seller is very good: as we could not find a suitable connector to connect the exhaust pipe to the wall socket, he refunded part of the purchase price as soon as we reported the problem.
In the description, the unit is described as three-in-one, and this is indeed the case.
The performance is great - there is nothing to complain about and the power consumption is low. What I also find positive is the fact that the unit is so quiet. I also run it at night and even then it doesn't bother me once. I can't say anything negative and therefore full points. I am satisfied with it and would buy it again.
Of course, there is fan noise, but it is bearable.
Immediately cold. Excellent buy.
I can only agree with the other reviews, although it has only been in operation for 2 days and it was not yet extremely hot, but you notice a reduction in the room temperature relatively quickly.
The unit is in the living room (approx. 25m²) and blows in the direction of the hall and kitchen - perfect. In my opinion, the only drawback is the short air hose, because 1.5 metres is simply too short for a tilted window. It's no drama, a hose like that doesn't cost the earth, but it's annoying. Otherwise, I would definitely recommend it.
The unit provides pleasant and cool air and even does so very quickly. Switched on briefly, you already notice a significant difference.
Instructions are included and are also very easy to understand. The different modes and settings that can be selected are positive. The quality is also good and for this reason we can only give 5 stars. It is worth it and the device delivers what it promises. Especially in the summer, I definitely don't want to miss it, also because it is so quiet.
The air conditioning is heavy, but the wheels make it light. Easy to install and use.
This works very well. The only downside is that the WiFi doesn't work. It exists, but it is not usable because the proprietary software application is missing. I solved the problem by using the from the artica eco MK2 EWPE smart android. I recommend it, but as it only arrived yesterday, I will wait a while to confirm it.
Due to a price reduction, I returned the New Breeze 7 and bought the New Breeze ECO instead, which has a higher output (10,000 btu) and a better energy class (A+)

The dimensions are rather bulky, but the noise is acceptable. It is well known that portable air conditioners are noisier than splitters (but this is a common problem).

As I live in a rented flat, I needed a portable climate.
Personally, I connected the drain to a hole in the wall, which I think increases thermal efficiency compared to an open window. It therefore has excellent cooling and dehumidification performance. It can lower the temperature by several degrees in a relatively short time! RECOMMENDATION: On these hot, humid days, it changes your life.
The air conditioner has a nice design, not very loud and very good, has three speeds, choose the temperature you want and cools the environment quickly.
...finally you don't have to bear the heat and hateful sultriness anymore!!!
A really great unit and cools down a flat of 50 sqm super well. I would buy the device again and again.
Product received very quickly. Processing of the device very good and also super cooling capacity 60 sqm no problem.
Everything as described incl. accessories. A clear recommendation to buy.