Silver Star Chef Kitchen Radio
0
27 cm
Digital radio, Internet radio
Silver Star Chef Kitchen Radio
Ready for shipping
Delivery time: 3 - 5 workdays
60 day cooling off period
Free delivery, no minimum order
Top features
Variety: Internet, DAB+ and FM radio tuners for endless music enjoyment
Play it all: CD player for all popular formats
Wireless flexibility: Bluetooth function for wireless audio streaming from a smartphone, tablet or PC
Product description
The Silver Star Chef kitchen radio from auna combines state-of-the-art technology with a space-saving and stylish design.
Internet, DAB+ and FM radio tuners provide access to countless radio stations - from local stations to the most distant stations from around the world. Thanks to the high-resolution 2.4" TFT color display with HCC display technology, you can always keep track of the time, the selected radio station, the track number and the weather information while listening to music streamed from your smartphone, tablet or PC via the Bluetooth interface. The built-in CD player plays the most common formats and impresses with its simple operation.The Silver Star Chef kitchen radio can be controlled directly on the device or wirelessly with the Air Music Control app. It has a power of 10 watts RMS and 20 watts max. A side-mounted USB port and an AUX input expand the musical landscape by simply offering the possibility to connect external devices. The radio also has a sleeptimer and an alarm function and can, as the name already suggests, easily be installed below kitchen cabinets and shelves. A brushed stainless steel front panel and discreet wooden housing give the unit a stylish and appealing look.
A huge selection of radio stations, a smart and space-saving design as well as many playback options make the auna Silver Star Chef the ideal kitchen companion.
Features
Download user manual
Connections: 1 x USB port, 1 x AUX port, 1 x 3.5 mm headphone jack
Power max .: 20 watts
Power RMS: 10 watts
Radio: Internet/DAB+/FM
2.4" TFT color display
Control via App (Air Music Control)
Sleep timer
Alarm
Wire antenna
Streaming: UPnP, DLNA
Supported file formats: WMA, MP3
Power supply: 100-240 V ~ | 50/60 Hz
Dimensions and Technical Details
Dimensions: approx. 27 x 9.5 x 26 cm (WxHxD)
Weight: about 2.5 kg
What will be delivered
1 x kitchen radio
1 x power supply
User manual in English (further languages: German, French, Spanish, Italian)
Delivery & shipment
Ready for shipping Delivery time: 3 - 5 workdays
Your order will be delivered to the selected address per order. This address does not have to match the billing address. You can send the orders to your family, friends or office if you are not at home during the day. Your order is delivered by our specialist courier spedition to your chosen address. This address does not have to correspond with your billing address. Leave a telephone number with your order to guarantee the best possible delivery of the product. Delivery takes place free to kerbside. This item may be pre-ordered. Please note that, in this case, the delivery time may be up to 5 days.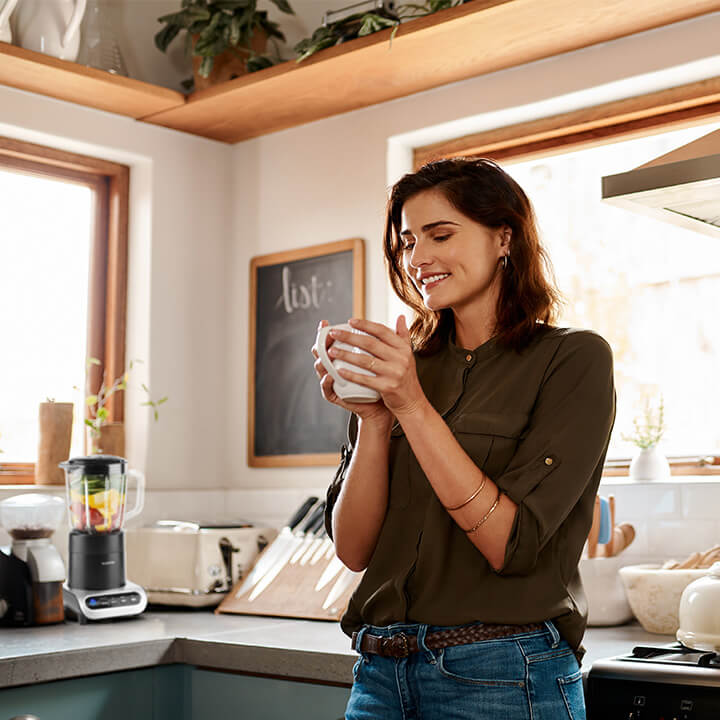 No review available for this item.
Customer reviews from other countries
Mit diesem Küchenradio sind wir sehr zufrieden. Ein ordentlicher Klang, einfache Bedienung und durch die Fernbedienung auch gut bedienbar. Die Einrichtung war leicht, nur die Eingabe über das Auswahlfeld war etwas mühselig. Insgesamt ein Top Produkt und den Preis wert.
We are very satisfied with this kitchen radio. A decent sound, easy to use and easy to use with the remote control. It was easy to set up, only the input via the selection field was a bit tedious. Overall a great product and worth the price.
In der Küche leicht installiert. Erfüllt alle meine Vorstellungen Internetradio, DAB und CD sehr gute Empfangs und Klangqualität mit dem FM bin ich nicht so zufrieden. Mit der Fernbedienung leicht und einfach vom Frühstückstisch aus zu bedienen. Sehr gut auch das abspielen vom USB Stick. Gute Display Darstellung für die Einstellungen. SUPER GERÄT!
Easily installed in the kitchen. Meets all my expectations Internet radio, DAB and CD very good reception and sound quality I'm not so satisfied with the FM. Easy and simple to operate from the breakfast table with the remote control. Playing from a USB stick is also very good. Good display for the settings. GREAT DEVICE!
alles gut
everything's ok
Wollte diesmal es einfach machen. Statt Boxen separat anzuschliessen, dieses Radio gekauft. Für die Küche sehr gut. Toller Klang und selbsterklärend fast zu bedienen. Das Radio hat so viele Funktionen, die ich nicht brauche. Nutze nur Dab und CD. Notfall schließe ich och mal einen separaten Verstärker über den Kopfhöhrerausgsng an und schraube Deckenlautsprecher dazu. Gut verarbeitet.
Wanted to make it easy this time. Instead of connecting boxes separately, bought this radio. Very good for the kitchen. Great sound and almost self-explanatory to use. The radio has so many functions that I don't need. Only use dab and cd. If necessary, I connect a separate amplifier via the headphone output and screw on ceiling loudspeakers. Well made.
Zurück geschickt. Weil bei Musikwiedergabe ein Geräusch kommt als hätte ich schlechten Radioempfang. Und das bei egal welcher Quelle, ob DAB, USB, Internetradio, FM Radio. Sonst gute Verarbeitung.
Sent back. Because when playing music, there is a noise like I have bad radio reception. And that regardless of the source, whether DAB, USB, Internet radio, FM radio. Otherwise good workmanship.
Kann wirklich alles, ist einfach zu bedienen. Vier kleine Schwachpunkte: (a) Kontakt zu WLAN: Funktioniert in meinen beiden Küchen (ich kaufte 2 Geräte) nicht auf Anhieb. Wie man das aber lösen kann: Radio beim 1. Betrieb direkt neben dem WLAN-Router anstecken, dann dort verbinden (geht klaglos), dann abstecken und in der Küche installieren und aufdrehen - et voila, WLAN-Anschluss funktioniert plötzlich! (b) Halterungsschrauben rutschen leicht aus dem Montageblech. Abhilfe: Blechführungen der Schrauben mittels Hammer "flachquetschen", bis sich das Radio nur schwer reinschieben lässt. (c) Halterungsschrauben im Holz-Chassis mit Mini-Schrauben festgeschraubt, gehen daher leicht raus. Abhilfe: rausschrauben, mit Panzerkleber reinkleben, wieder anschrauben. (d) Fernbedienung: da gibt es elegantere (zB hatte mein letztes Küchenradio eine schöne flache, die sogar hinten einen Magneten eingebaut hatte, wodurch die FB einfach zB an den Kühlschrank geklatscht werden konnte). Alle 4 Kritikpunkte sind aber minimal - einmal installiert, macht das Ding wirklich Freude. Außerdem sieht es gut aus, und hat einen guten Klang.
Can really do everything, is easy to use. Four small weak points: (a) Contact with WLAN: Doesn't work straight away in both of my kitchens (I bought 2 devices). But how to solve this: Plug in the radio right next to the WLAN router when you first use it, then connect it there (no complaints), then unplug it and install it in the kitchen and turn it on - et voila, the WLAN connection suddenly works! (b) Bracket screws easily slip out of the mounting plate. Remedy: Use a hammer to "squeeze" the sheet metal guides of the screws until the radio can only be pushed in with difficulty. (c) Mounting screws in the wooden chassis are screwed in with mini-screws, so they come out easily. Remedy: unscrew, stick in with armored adhesive, screw on again. (d) Remote control: there are more elegant ones (e.g. my last kitchen radio had a nice flat one that even had a magnet installed at the back, so the FB could simply be slapped on the fridge, for example). All 4 points of criticism are minimal - once installed, the thing is really fun. It also looks good and has a good sound.
der erste Eindruck ist gut. Der Sound ist passable, DAB+ geht gut. Aber dann fallen Störgeräusche bei der Wiedergabe von Internetradio (WLAN) oder von Inhalten auf Handys über Bluetooth auf. Das Gerät scheint auch recht anfällig für Stör-Einstrahlung von Handys zu sein. Besonders störend ist, dass beim Abspielen von Hörbüchern (mp3 von original CDs) keine Track-Titel, ja nicht einmal Tracknummern angezeigt werden! Die WLAN-Verbindung über WPS ging sofort, aber nach ein paar Tagen funktionierte die Verbindung nicht mehr. Auch eine neue Verbindung über WPS oder auch manuell mit SSID und Passwort schlugen fehl. Erst nach einem Reset des Geräts konnte die Verbindung wieder aufgebaut werden. Ich habe das Gerät zurückgegeben.
The first impression is good. The sound is passable, DAB+ works well. But then noise is noticeable when playing Internet radio (WLAN) or content on cell phones via Bluetooth. The device also appears to be quite susceptible to interference from mobile phones. It is particularly disturbing that when playing audio books (mp3 from original CDs) no track titles, not even track numbers are displayed! The WLAN connection via WPS worked immediately, but after a few days the connection stopped working. A new connection via WPS or manually with SSID and password also failed. The connection could only be established again after the device was reset. I returned the device.
Leider kann ich für das Produkt nur 3 Sterne abgeben. In der Beschreibung hat man leider vergessen zu erwähnen wie man die 4 Schräubchen in den Boden des Gerätes für die Halterung montiert. Achtung: dreht man diese zu weit in den Boden des Gerätes hinein, dann sind sie ganz schnell überdreht und die Gewindebuchse kommt heraus. Ärger !!! Man musste nun improvisieren damit dies alles nun doch irgendwie zum Halten der Schräubchen kommt, man ist ja erfinderisch. Ansonsten ist das Produkt sehr gut, Klang, Verarbeitung usw. wenn da nicht das Problemchen wäre...
Unfortunately I can only give 3 stars for the product. Unfortunately, the description forgot to mention how to mount the 4 screws in the bottom of the device for the holder. Warning: if you turn these too far into the bottom of the device, they will quickly be over-tightened and the threaded bush will come out. Aggravation !!! You had to improvise so that all of this would somehow hold the screws, you are inventive. Otherwise, the product is very good, sound, workmanship, etc. if it weren't for the little problem...
Das Radio tut, was es soll - halt Radio spielen. Habe mich durch alle möglichen Rezensionen gelesen und festgestellt, dass es überall Licht und Schatten gibt und leider kein überragendes Produkt dieser Art ohne Mängel gibt. Als Geschenk für meine Frau - nicht gerade technikafin - ist es richtig gut. Sieht schick und wertig aus, gibt ganz passabel den Ton wieder und ist leicht zu bedienen. Die Fernbedienung brauchen wir nicht, da das Radio in Reichweite ist und eh nur benutzt wird, wenn wir in der Küche arbeiten. Als raumfüllendes Klangmedium a la Stereoanlage ist es nicht zu gebrauchen und auch nicht konzipiert. DAB hatte am Anfang kurz gezickt, funktioniert aber derzeit tadellos. Negative Rezensionen hierzu sind also nachvollziehbar, genauso wie positive. Ob das Gerät 152€ tatsächlich wert sein sollte, wird erst die Zeit zeigen. Für unsere Bedürfnisse ist es an Funktionen vielleicht etwas oversized, funktioniert dafür zuverlässig und störungsfrei, bei gutem Klang. Das ist die Hauptsache. Einen Stern Abzug vergebe ich aber, da sich das Licht am Drehregler nicht dimmen oder ausschalten lässt. Ist schon recht hell und braucht es eigentlich gar nicht.
The radio does what it's supposed to - just play the radio. I read through all sorts of reviews and found that there are ups and downs everywhere and unfortunately there is no great product of this type without flaws. As a gift for my wife - not exactly tech-savvy - it's really good. Looks chic and valuable, reproduces the sound quite adequately and is easy to use. We don't need the remote control because the radio is within reach and is only used when we're working in the kitchen anyway. It is not usable and not designed as a room-filling sound medium a la stereo system. DAB had a bit of trouble at first, but is currently working perfectly. Negative reviews on this are understandable, just like positive ones. Only time will tell whether the device should actually be worth €152. For our needs, it is perhaps a bit oversized in terms of functions, but it works reliably and without interference, with a good sound. That's the main thing. I deduct one star, however, because the light cannot be dimmed or switched off with the rotary control. It's pretty light and doesn't really need it.
Positiv: Edles Äußeres, schöner Bass, einfache Bedienung ! Die Schärfe des Bildschirms ist klasse! Die Fernbedienung ist für mich eher überflüssig, da Küchenradio und in greifbarer Nähe! Negativ: Montage recht einfach aber hält nicht! Rutscht hin und her! Vor allem wird das Radio von hinten nach vorn in die Befestigungsschrauben geschoben, so dass bei etwas festerem Druck auf die Tasten das Radio aus der Befestigung gleitet! Mit etwas handwerklichen Geschick kann man den Mangel einfach beseitigen!
Positive: Noble exterior, nice bass, easy to use! The sharpness of the screen is great! The remote control is rather superfluous for me, since the kitchen radio is within reach! Negative: Assembly quite easy but doesn't last! Slides back and forth! Above all, the radio is pushed from the back to the front in the fastening screws, so that the radio slides out of the fastening when the buttons are pressed a little harder! With a little manual skill you can easily eliminate the defect!
Was mir gefallen hat: + Das Gerät lässt sich mit der Montageplatte einfach montieren und lösen. + Die Helligkeit des Displays lässt sich fein dimmen + lange Wurfantenne mit Befestigungsschlaufe + Der Klang der nach unten gerichteten Lautsprechern ist angemessen, für die Gerätegröße passt das. +Haptik des Lautstärke Reglers passt. Kein gefummle an Mini-Knöpfen. +Bluetooth Verbindung zu IOS 14.3 problemlos Was mich persönlich stört: -Musikwiedergabe stoppt sobald man das Menü aufruft. -CD lässt sich nur einschieben/Auswerfen wenn man vorher im Menü extra auf CD gewechselt hat. -Datum&Uhrzeit lassen sich nicht manuell einstellen und bleiben dauerhaft auf UTC +00h und damit in ewiger Sommerzeit. (zumindest ohne WLAN) Es gibt zwar den Menüpunkt "Manuell", aber alle Änderungen darin werden nach dem Bestätigen ignoriert. -Die WLAN Verbindung unterstützt leider kein "WPA 2 Enterprise". Braucht nicht jeder, gehört aber mittlerweile eigentlich zum Standard. -USB Buchse taugt laut Manual nicht zum Handy aufladen, wirklich sehr schade. -Mediendateien dürfen
What I liked: + The device is easy to mount and detach with the mounting plate. + The brightness of the display can be finely dimmed + Long wire antenna with fastening loop + The sound of the loudspeakers pointing downwards is appropriate, for the device size. +The feel of the volume control is right. No fumbling with mini buttons. +Bluetooth connection to IOS 14.3 without any problems What bothers me personally: -Music playback stops as soon as you call up the menu. -CD can only be inserted/ejected if you have previously switched to CD in the menu. -Date & time cannot be set manually and remain permanently at UTC +00h and thus in eternal summer time. (at least without WLAN) There is a menu item "Manual", but all changes in it are ignored after confirmation. -Unfortunately, the WLAN connection does not support "WPA 2 Enterprise". Not everyone needs it, but it is now actually standard. According to the manual, the USB socket is not suitable for charging the mobile phone, which is really a pity. -Media files are allowed
Die Inbetriebnahme ist nicht schwer. Es wird eine gute Beschreibung mitgeliefert. Die App erleichtert die Sache. Zuerst App herunterladen. Montage ist durch Adapterplatte und mitgelieferter Schrauben leicht. Dann Gerät anschließen. Display Anweisungen folgen. Sprache auf Deutsch einstellen. Verbindung, mit der Fritz!Box über WPS Taste ging problemlos. Ebenso die Programmierung der UKW und DAB Sender. Die Empfindlichkeit des Empfangs kann man über Menü und Einstellungen regeln. Das Einstellen der Internetsender über die App oder Menü ging Anfangs überhaupt nicht. Ich habe den Stecker gezogen 1ne Minute gewartet, wieder rein und danach alles super. Man kann viele Internetsender speichern. Der Klang geht in Ordnung. Zwei Sachen die mir nicht so gefallen; Warum hat man das hässliche Netzteil nicht im Radio verbaut und einen Flachstecker genommen! Auch fehlt ein Hauptschalter da das Radio im Standby immer Strom zieht. Nachts mache ich das Radio über einen Zwischenschalter immer aus. Ich gebe trotzdem eine Kaufempfehlung. Nachtrag März 2021: Es machten sich beim Abspielen knarzender Klang und Vibrationen bemerkbar. Ich beantragte beim Verkäufer eine Rücksendung. Die Bestätigung kam per Mail. Inzwischen habe ich die Sache selber untersucht. An dem 4 Gewindebuchsen am Gehäuse habe ich die Schrauben gewechselt und die Buchsen neu eingeklebt. Das Radio mit den Dichtungen straff in die Halterung geschoben. Der Klang ist wieder OK , die Vibrationen fast weg. Ich werde das Radio behalten.
Commissioning is not difficult. A good description is included. The app makes things easier. Download app first. Installation is easy with the adapter plate and supplied screws. Then connect device. Follow the on-screen instructions. Set language to German. Connection with the Fritz! Box via the WPS button went smoothly. Likewise the programming of FM and DAB stations. The sensitivity of the reception can be regulated via the menu and settings. Setting the internet stations via the app or menu did not work at all at first. I pulled the plug, waited 1 minute, put it back in and then everything was great. You can save many internet stations. The sound is okay. Two things I don't like that much; Why didn't you install the ugly power pack in the radio and take a flat plug! There is also no main switch because the radio always draws power in standby. At night I always turn off the radio using an intermediate switch. I still give a buy recommendation. Addendum March 2021: Cracking sound and vibrations were noticeable when playing. I requested a return from the seller. The confirmation came by email. In the meantime I have investigated the matter myself. I changed the screws on the 4 threaded bushings on the housing and glued the bushings in again. The radio with the seals pushed tightly into the holder. The sound is OK again, the vibrations are almost gone. I will keep the radio.
Keine 5 Sterne, da erstes Gerät wieder zurückgeschickt. Da 2.Gerät ist OK. Leider lässt sich das Gerät nicht vollständig ausschalten (übersehe ich etwas??).Der Standbybetrieb verbraucht auch Strom. Auna antwortet nicht auf eine diesbezügliche Email-kein guter Kundendienst!! Der Geräteklang ist sehr gut, CD's kann man gut abspielen. Das Gerät ist sicher zu empfehlen-übrigens 84€ preiswerter als bei OTTO.
No 5 stars because the first device was sent back. Since the 2nd device is OK. Unfortunately, the device cannot be switched off completely (am I missing something??). The standby mode also consumes electricity. Auna doesn't reply to an email about this - not good customer service!! The device sound is very good, CD's can be played well. The device is certainly to be recommended - by the way, €84 cheaper than at OTTO.
Bis auf die im folgenden genannten Punkte ein gut durchdachtes Gerät. 1. Wir hatten das Radio in einen hölzernen Küchenschrank eingebaut, leider wurde dadurch der sehr ausgeprägte Bass durch den ganzen Schrank verstärkt, so das es selbst bei geringer Lautstärke "wummerte". Da es bei den Equalizern nur Presets gibt lies sich daran auch nichts ändern. 2. Der Lautstärkeregler ist mit einem hellen weißen Licht hinterlegt, das auch leuchtet wenn das Gerät im Standby ist. Da hilft es wenig, das man den Display manuell und zeitgesteuert dimmen kann, es ist immer hell in der Küche. 3. Die Reaktion auf Tastendrücke sowohl am Gerät als auch auf der Fernbedienung dauert manchmal etwas, so das man manchmal denkt es passiert nichts, nochmal drückt und dann werden zwei Aktionen ausgeführt. Die Bedienung per App ist komfortabler und übersichtlicher. Aber die Verbindung mit dem Gerät aufzubauen ist manchmal nicht so einfach. z.B. scheint es nur im Hauptmenü zu gehen, man muss also die Radio-/CD-Wiedergabe erst beenden um sie vom Handy steuern zu können.
Except for the points mentioned below, this is a well thought-out device. 1. We installed the radio in a wooden kitchen cupboard, unfortunately this amplified the very pronounced bass through the whole cupboard, so that it "thumped" even at low volume. Since the equalizers only have presets, nothing could be changed about that. 2. The volume control is backed by a bright white light, which also lights up when the device is in standby. It doesn't help much that you can dim the display manually and time-controlled, it's always bright in the kitchen. 3. The reaction to button presses both on the device and on the remote control sometimes takes a while, so that one sometimes thinks nothing is happening, press again and then two actions are carried out. Operation via the app is more convenient and clearer. But establishing the connection with the device is sometimes not so easy. eg it only seems to work in the main menu, so you have to stop the radio/CD playback first to be able to control it from your cell phone.