Intelligence DAB+ Kitchen Radio
Intelligence DAB+ Kitchen Radio
Ready for shipping
Delivery time: 3 - 5 workdays
60 day cooling off period
Free delivery, no minimum order
Selected reviews from the German press
Top features
Maximum listening pleasure: listen to thousands of radio stations via DAB + / FM radio and TuneIn streaming service
SmartDevice: Alexa Voice Service and voice control via Amazon Alexa
Audio streaming: with Amazon Music, audible, Pandora, TuneIn or Spotify Connect
Product description
The smart kitchen radio in a sophisticated design: the auna Intelligence DAB + convinces as a powerful, multi-functional and space-saving cooking companion.
The versatile DAB + / FM radio with 5 watts RMS can be mounted under kitchen cabinets and shelves to save space thanks to its compact dimensions and a smart, dual installation concept, and can also be placed in desktop mode. The sound box with built-in DAB + & FM antenna receives all digital stations in addition to analogue signals, completely without distortion.
In addition, the auna Intelligence DAB + kitchen radio is your SmartDevice for home: no buttons need to be pressed here, because the Alexa VoiceControl allows operation by voice command: Alexa play music! The device will then play music, for example, from one of the many audio streaming services to which the Intelligence DAB + can connect via WLAN: Amazon Music, audible, Pandora, TuneIn, etc. Of course, assuming you have the appropriate Amazon account, the full features of the Alexa Voice Service are also available: remind yourself of appointments, listen to your favourite music, find out about the weather, ask questions, or entertain yourself with jokes - the functions of Alexa continue to grow and make everyday life easier.
Through the TuneIn Streaming service, the auna Intelligence DAB + becomes an internet radio, digitally receiving and stably reproducing thousands of radio stations from all over the world. If that's not enough, you can use the capabilities of the Smart Radio as a Bluetooth receiver and connect it to music databases on your smartphone, tablet or MP3 player. And last but not least, the smart all-rounder of course has multi-room capabilities via Linkplay and can create a multi-room environment. Up to 6 corresponding devices can be coupled in this way to provide the entire home with music. This feature also allows you to take devices along with you throughout the home. For control in the multi-room network or to connect to your Spotify Connect Premium account, the uncomplicated auna Intelligence App is available for both iOS and Android devices. Of course, the basic functions can also be selected directly on the device with smooth push buttons.
Whether while frying up eggs for breakfast, as you cook dinner or when you are in evening relaxation mode: with the Intelligence DAB + kitchen radio, you are always in good company.
Features
DSS Layout Concept
Smart substructure device (inclusive)
DAB + / FM radio
Bluetooth
Alexa Voice Service requires a corresponding Amazon account
Alexa: event reminders, weather info, favourite songs, questions answers and more
Suitable devices for multi-room sharing can be found on this page
Basic functions can be controlled directly on the device
Over 10 storable stations
LCD display with backlight
Colour: white
Output power: 5 watts RMS
Power supply: 220-240V ~ | 50/60 Hz
Dimensions and Technical Details
Dimensions: approx. 18 x 6.5 x 20 cm (WxHxD)
Power cable: approx. 1.50 m in length
Weight: approx. 0.8 kg
What will be delivered
1 x kitchen radio
1 x power cable
1 x substructure device
English-language operating instructions (other languages: German)
Delivery & shipment
Ready for shipping Delivery time: 3 - 5 workdays
Your order will be delivered to the selected address per order. This address does not have to match the billing address. You can send the orders to your family, friends or office if you are not at home during the day. Your order is delivered by our specialist courier spedition to your chosen address. This address does not have to correspond with your billing address. Leave a telephone number with your order to guarantee the best possible delivery of the product. Delivery takes place free to kerbside. This item may be pre-ordered. Please note that, in this case, the delivery time may be up to 5 days.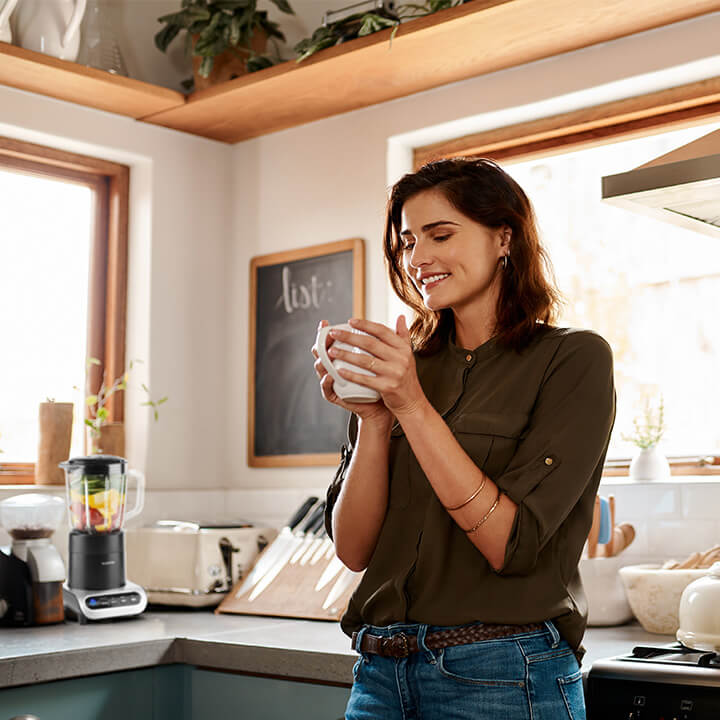 No review available for this item.
Customer reviews from other countries
Ich habe dieses Radio gekauft, weil ich schon ein sehr ähnliches von Medion im Einsatz habe. https://www.amazon.de/MEDION-P66120-Unterbauradio-K%C3%BCchenradio-Mode-Funktion-wei%C3%9F/dp/B07LCJHW7R/ref=sr_1_6?__mk_de_DE=%C3%85M%C3%85%C5%BD%C3%95%C3%91&crid=297FTAIOMLG2E&keywords=medion+unterbauradio&qid=1657910834&sprefix=medion+unterbau+radio%2Caps%2C72&sr=8-6 Dieses hier ist aber im Angebot gewesen. Es liefert das, was ich erwartet habe: Guter Empfang in FM, 84 DAB - Sender, Verwendung als BT Lautsprecher und als Alexa EchoDot. Für unter 100 € fantastisch! Einfache Montage, Einrichtung mit W-Lan und Alexa etwas fummelig, aber machbar.
I bought this radio because I already have a very similar one from Medion in use. https://www.amazon.de/MEDION-P66120-Unterbauradio-K%C3%BCchenradio-Mode- Funktion-wei%C3%9F/dp/B07LCJHW7R/ref=sr_1_6?__mk_de_DE=%C3%85M%C3%85 But this one was on sale. It delivers what I expected: Good FM reception, 84 DAB stations, use as a BT speaker and as an Alexa EchoDot. Fantastic for under €100! Easy assembly, setup with WiFi and Alexa a bit fiddly, but doable.
Kleines, handliches, unauffälliges Radio, welches trotz der "Schnur-Antenne" einen deutlich besseren Empfang als unser Radio im Wohnzimmer hat. Da ich es nicht mit wlan und Sprachsteuerung benutze, muss ich drei Schalter mit jeweils kurzen Wartezeiten in Kauf nehmen, um es auch nur einzuschalten, was doch ziemlich lästig sein kann.
Small, handy, inconspicuous radio, which despite the "cord antenna" has a much better reception than our radio in the living room. Since I don't use it with WiFi and voice control, I have to put up with three switches, each with short waiting times, to even turn it on, which can be quite annoying.
Internet Verbindung bekomme ich keine
I can't get an internet connection
Internetradio cannot connect to the wifi so no internet radio function. Very dissapointing! FM, DAB and Bluetooth are functional but the sound is not great. I asked the seller to replace the device but no reaction. So in conclusion, bad device-not responsive seller. I wouldn't recommend. Update: I received a replacement device, and now it connects to the wifi. The seller has redeemt itself. Thanks for that.
Internetradio cannot connect to the wifi so no internet radio function. Very dissapointing! FM, DAB and Bluetooth are functional but the sound is not great. I asked the seller to replace the device but no reaction. So in conclusion, bad device-not responsive seller. I wouldn't recommend. Update: I received a replacement device, and now it connects to the wifi. The seller has redeemt itself. Thanks for that.
Größe , Klang , Technik einfach , Preis Klasse !!!!!!!!!!!!!!!!!!!!!!!!!!!!
Size, sound, technology simple, price class !!!!!!!!!!!!!!!!!!!!!!!!!!!!
Top, wäre ok
Great, would be ok
Das Radio steht in der Küche.
The radio is in the kitchen.
Das Gerät ins WLAN zu bringen ist sehr friemelig. Ich kann behaupten dass ich sehr technikaffin bin, aber ein paar Minuten mehr hab ich schon gebraucht. Desweiteren finde ich die Anschlüsse schlecht positioniert. Da bei mir das Radio auf der linken Seite hängt, sieht man immer diese unschönen Kabel. Also musste ich es ein wenig drehen. Es ist mein erstes Alexagerät,kenne aber die Funktionen schon vom Smartphone her. Die Stimmenerkennung klappt erstaunlich gut, selbst wenn Musik in ordentlicher Lautstärke läuft. Dab Sender empfange ich überhaupt keine. Allerdings vermisse ich das kaum da per Zuruf Radiosender aktiviert, oder streams via Tunein oder Amazon music abgespielt werden können. Wem dieses ständige Alexa-gerufe zu doof ist kann auch vorher eine gesonderte Taste drücken, welche das Keyword umgeht. Im grossen und ganzen bin ich ganz zufrieden. Erst recht weil sich im Laufe der Zeit eine Menge an smarten Lampen und Steckdosen angesammelt haben. Gekoppelt mit dem Sprachassistenten, ist das schalten eine feine Sache.
Bringing the device to the WLAN is very fiddly. I can say that I'm very tech-savvy, but I needed a few more minutes. Furthermore, I find the connections badly positioned. Since my radio is on the left side, you can always see these unsightly cables. So I had to twist it a bit. It's my first Alexa device, but I already know the functions from my smartphone. Voice recognition works surprisingly well, even when music is playing at a decent volume. I don't get any DAB stations at all. However, I hardly miss that because radio stations can be activated by acclamation, or streams can be played via Tunein or Amazon music. If this constant Alexa call is too stupid for you, you can also press a separate button beforehand, which bypasses the keyword. All in all I am quite satisfied. Especially because a lot of smart lamps and sockets have accumulated over time. Coupled with the language assistant, switching gears is a fine thing.
Praktisch, komfortabel, klein. Mit diesem kleinen Gerät können Sie Musik hören und hören, über Radiosender oder mit Amazon-Musik streamen. Spotify Connect all dies über den Sprachsteuerungsdienst, elegantes Design und Bluetooth-Funktionen zum Streamen von Audio Smartphone und PC / Tablet, 5 W. Ich kann es jedem empfehlen.
Practical, comfortable, small. With this small device you can listen and listen to music, stream it through radio stations or with Amazon music. Spotify Connect all this through the voice control service, elegant design and Bluetooth capabilities to stream audio Smartphone and PC / tablet, 5W. I recommend it to everyone.
Das Radio kam pünktlich. Der große Lautsprecher funktioniert sehr gut. Die Montage war einfach, die Schrauben waren auch dabei. Es ist winzig, damit es nicht in die Quere kommt. Es kann in der Küche aufgehängt, aber auch einfach abgenommen werden. Das Kabel ist lang genug. Anzeige einfach Es ist einfach zu installieren und mit dem Telefon zu verbinden. Hatte keine Schwierigkeiten, es mit Alexa zu verbinden. Die Anleitung ist sehr klar und leicht zu befolgen. Beinhaltet eine USB-Buchse. Bisher keine Probleme. Ich denke der Preis ist fair für dieses Produkt. Es ist ein gutes Radio.
The radio came on time. The large speaker works very well. Assembly was easy and the screws were included. It's tiny so it doesn't get in the way. It can be hung in the kitchen, but it can also be easily removed. The cable is long enough. Display simple It is easy to install and connect to the phone. Had no trouble connecting it to Alexa. The instructions are very clear and easy to follow. Includes a USB socket. So far no problems. I think the price is fair for this product. It's a good radio.
Empfangsleistung bei FM und DAB+könnten besser sein. Habe erst gedacht die Wurfantenne hätte Kabelbruch aber dann doch eine Position mit Empfang gefunden. Alexa macht keine Probleme ist ja WLAN. Für die Bedienung wäre eine FB hilfreich, da Knöpfe recht klein.
FM and DAB+ reception performance could be better. At first I thought the wire antenna had a broken cable, but then found a position with reception. Alexa isn't a problem as it's WiFi. A FB would be helpful for the operation, since the buttons are quite small.
Wir haben unseren Haushalt auf Alexa umgestellt, also wollte ich auch eine Alexa in der Küche. Sie ist ja echt unterhaltsam und hilfreich. Denn schnell hat sich die morgendliche Routine eingestellt, in der sie einen erzählt wie das Wetter wird die Temperature im Ort und wie befahren die Strecke zur Arbeit ist. Wirklich nützliche Infos beim morgendlichen Kaffee. Die bei der Tagesplanung/Kleiderwahl und Arbeitsweg helfen. Jetzt sagte das Geräte fuer Die Küche aber immer es bräuchte ein Update. Darum wollten wir es schon zurückgeben. Aber jetzt seit einiger Zeit sagt sie das diese Routine Funktion nicht auf diesen Gerät funktioniert und faengt dann doch an mit den täglichen Bericht und Infos wenn sie dann mal hängt fragt man einfach nach und es geht. Weil das echter Charme ist und immer lustig verhalten wir sie. Naja hat sie halt ne kleine Macke das macht sie menschlich. Wir mögen diese Alryaversiin sehr und außerdem ist sie ja auch ein Radio kann eine Eieruhrfunktion einstellen oder andere hilfreiche Countdowns. Sie ließt Rezepte vor und nennt einen benötigte Zutaten oder hat wie jede andere Alexa auch Zugriff auf Einkaufsliste, Kalender und Lieblingstitel.
We switched our household to Alexa, so I wanted an Alexa in the kitchen too. It's really entertaining and helpful. Because the morning routine quickly set in, in which she tells you what the weather is like, the temperature in the place and how busy the route to work is. Really useful info over morning coffee. Who help with the daily planning/choice of clothes and commute. Now the devices for the kitchen said it always needed an update. That's why we wanted to give it back. But now for some time she has been saying that this routine function does not work on this device and then she starts with the daily report and information when she hangs up you just ask and it works. Because that's real charm and always funny we behave them. Well she just has a little quirk that makes her human. We like this Alryaversiin very much and it is also a radio and can set an egg timer function or other helpful countdowns. She reads out recipes and names the ingredients you need or, like any other Alexa, has access to the shopping list, calendar and favorite titles.
Das Küchenradio ist bei mir in der Küche montiert. Bedienung ist wirklich super. Die Auna Intlligence App ermöglicht Zugriff auf verschiedene Funktionen und ist gleichzeitig Fernbedienung, was natürlich das bedienen vereinfacht. Tuneln ist in diesen Radio integriert und das finde ich so fortschrittlich. Einfach nur super Technik, wirklich intelligent. Ich bin begeistert. Auf der Seite vom Küchenradio befindet sich ein USB anschluß. Für was der anschluß ist kann ich nicht nachvollziehen, da dieses in der Bedienungsanleitung nicht beschrieben ist. Eine Bitte an Chal-Tec Team, eine bessere Bedienungsanleitung. Aber sonst Top.
The kitchen radio is installed in my kitchen. Service is really great. The Auna Intlligence app provides access to various functions and is also a remote control, which of course simplifies operation. Tuning is built into this radio and I find that so progressive. Just super technology, really intelligent. I'm excited. There is a USB connection on the side of the kitchen radio. I cannot understand what the connection is for, since this is not described in the operating instructions. A request to the Chal-Tec team for a better user manual. But otherwise great.
Sehr schönes kleines und praktisches Radio. Da unser kleine Anlage nun von der Küche ins Kinderzimmer unseres Sohnes umgezogen ist, haben wir uns dieses Küchenradio zugelegt. Es sieht sehr edel aus und passt perfekt zu unserer weißen Hochglanzküche. Wir waren wirklich vom Klang überrascht, da wir der integrierten Box ehrlich gesagt nicht viel zugetraut hatten wurden aber tatsächlich eines besseren belehrt. Die Alexa Funktion ist natürlich ein absolutes Goody und war für unseren Kaufimpuls entscheidend. Es funktioniert alles einwandfrei. Dass das Radio auch bei größeren Lärm reagiert kann ich tatsächlich nicht bestätigen. Bei uns spielt sich der Tagesablauf meistens in der Küche ab und zusätzlich läuft regelmäßig die laute Waschmaschine. Bisher hat das Radio nicht auf solche Geräusche reagiert. Wir sind ohnehin absolute Auna Fans und würden auch das Gerät jederzeit weiterempfehlen.
Very nice small and practical radio. Since our small system has now moved from the kitchen to our son's children's room, we have bought this kitchen radio. It looks very classy and goes perfectly with our white high-gloss kitchen. We were really surprised by the sound, since we honestly didn't think the integrated box was capable of much, but we were actually taught better. The Alexa function is of course an absolute goody and was decisive for our purchase impulse. Everything works perfectly. I can't really confirm that the radio reacts to loud noise. Our daily routine mostly takes place in the kitchen and the loud washing machine runs regularly. So far, the radio has not responded to such noises. We are absolute Auna fans anyway and would recommend the device at any time.
Nach dem auspacken und turboschnellem Versand waren wir absolut sehr angenehm überrascht. Das Auna Unterbau Küchenradio mit DAB+ sieht einfach nur klasse aus. Tolle Verarbeitung und echt schick. Sofort unter dem Küchenschrank verbaut und angeschlossen. Es hat 1 Lautsprecher und 5 Watt Leistung, die hervorragend klingt. Genialst ist die Alexa Voice Control und jetzt geht alles nur noch per Sprach Befehl; super genial. Bluetooth für den perfekten Internet Radio Empfang ist ebenso inkluiert. Damit werden wir demnächst noch 2 weitere Räume bei uns ausstatten ; einfach nur klasse und sehr zu empfehlen.
After unpacking and super-fast shipping, we were absolutely very pleasantly surprised. The Auna substructure kitchen radio with DAB+ just looks great. Great workmanship and really chic. Immediately installed and connected under the kitchen cabinet. It has 1 speaker and 5 watts of power that sounds great. The Alexa Voice Control is the most ingenious and now everything can only be done by voice command; super awesome. Bluetooth for perfect internet radio reception is also included. We will soon be equipping 2 more rooms with this; just great and highly recommended.