Ready for shipping
Delivery time: 3 - 5 workdays
60 day cooling off period
Free delivery, no minimum order
Top features
Well connected: internet / PLL FM radio with over 10,000 channels and WLAN interface
Clever and easy: space-saving installation on kitchen cabinets and shelves
Desktop mode: stylish positioning in stand-up look
Product description
The auna KR-500 CD Kitchen radio in a handy format has become an indispensable part of many households and promises the best entertainment at all times thanks to its many functions and playback options. The powerful Internet/PLL FM radio can be installed under kitchen cabinets and shelves to save space thanks to its compact dimensions and a smart base unit and can be set up in desktop mode. The versatile sound box receives up to 10,000 stations and has integrated WiFi, a classic CD player, a USB port for MP3 playback and an aux input. Of particular note is the Spotify Connect function, which allows the radio to be controlled as a wireless speaker via the Spotify app, while network streaming ensures playback in UPnP and DLNA standards. In addition, the appliance can be operated comfortably in a sitting position via the UNDOK app and a remote control and offers a cooking, snooze and alarm function for reminder purposes with a total time of up to 180 minutes. The 2.5" 128 x 67 dot matrix LCD display with backlighting also keeps you reliably informed by displaying the current music playback at any time of the day or night.
The auna KR-500 CD kitchen radio is breakfast company, cooking accomplice and evening companion all in one and always plays the right music at the right time thanks to its versatile applications.
Features
Download user manual
Smart underframe (included)
Internet/PLL FM Radio
Integrated WiFi
Over 10,000 stations
CD/MP3 player
USB connection for MP3 playback
Spotify Connect
App operation with UNDOK
Network streaming in UpnP and DLNA standard
Cook, snooze and alarm function up to 180 min.
2.5" 128 x 67 dot matrix LCD display with backlighting
Colour: Silver
remote control (included)
Frequency response: 80 Hz - 18,000 Hz
Output power: 2.7 watts RMS x 2 (4 =hm)
Power supply: 220-240 V~ | 50/60 Hz
Dimensions and Technical Details
Dimensions: about 22 x 6 x 26 cm (WxHxD)
Power cable: about 1.80 m in length
Weight: about 1.4 kg
What will be delivered
1 x kitchen radio
1 x power cable
1 x remote control
1 x bracket / stand
English-language operating instructions (other languages: German)
Delivery & shipment
Ready for shipping Delivery time: 3 - 5 workdays
Your order will be delivered to the selected address per order. This address does not have to match the billing address. You can send the orders to your family, friends or office if you are not at home during the day. Your order is delivered by our specialist courier spedition to your chosen address. This address does not have to correspond with your billing address. Leave a telephone number with your order to guarantee the best possible delivery of the product. Delivery takes place free to kerbside. This item may be pre-ordered. Please note that, in this case, the delivery time may be up to 5 days.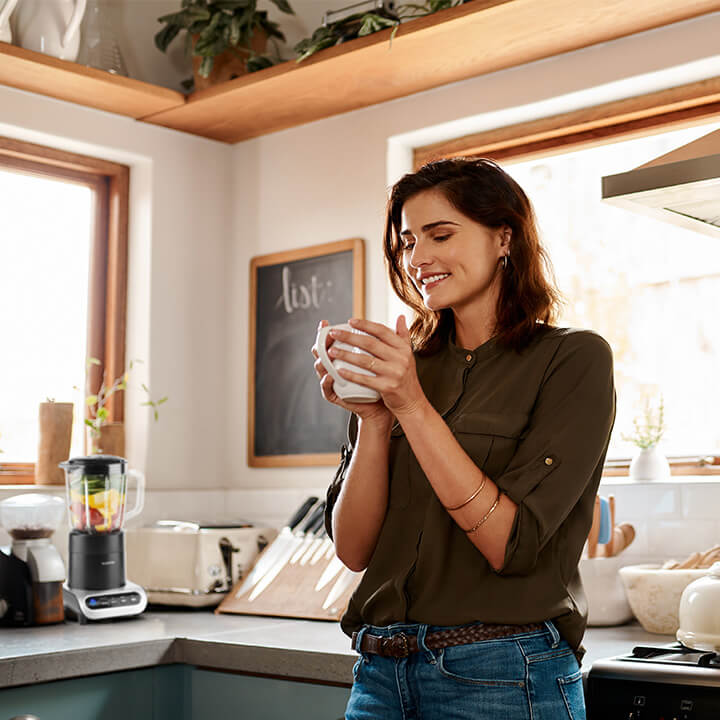 No review available for this item.
Customer reviews from other countries
Bin sehr zufrieden mit dem Radio. Der WLAN Anschluss hat sofort funktioniert, die Tonqualität passt, die Fernbedienung könnte größer und qualitativ besser sein. Die Verbindungsaussetzer haben sich bis jetzt in Grenzen gehalten. Also ich kann das Radio weiterempfehlen
I am very happy with the radio. The WLAN connection worked immediately, the sound quality is good, the remote control could be bigger and of better quality. The connection dropouts have been limited up to now. So I can recommend the radio
Ich bin sehr zufrieden
I'm very satisfied
Der Klang ist nicht so gut wie erwartet in dieser Preisklasse hätte ich deutlich mehr erwartet. Das vorherige Radio war deutlich günstiger, hatte aber auch nicht lange gehalten, der Klang war aber deutlich besser.
The sound is not as good as expected in this price range I would have expected a lot more. The previous radio was much cheaper, but it didn't last long either, but the sound was much better.
In der Fernbedienung leider keine Batterie enthalten. Lautstärkeregelung und Ton ist in Ordnung. LG
Unfortunately there is no battery in the remote control. Volume control and sound is fine. LG
Sind begeistert. Die Tonqualität ist super. Die Fernbedienung schön klein.
Are excited. The sound quality is great. The remote control is pretty small.
immer wieder gern
always happy
Der Klang könnte besser sein, aber als Küchenradio ausreichend.
The sound could be better, but sufficient as a kitchen radio.
Musikabspieler vom USB-Stick funktioniert nicht. Di Titel werden abgelesen, aber es kommt kein Muks daraus. Bei Internet-Radio immer wieder kommen Unterbrechungen, bzw zuerst wird das Gerät nicht ansprechbar, dann startet die Ladevorgang neu. Große Enttäuschung!!!
Music player from the USB stick does not work. The titles are read, but nothing comes out of it. With Internet radio there are always interruptions, or at first the device is not accessible, then the loading process starts again. Big disappointment!!!
Das Gerät ist für die Küche ganz gut! Da ich nicht unbedingt Wert auf Tonqualität lege, hauptsache ich kann während der Küchenarbeit Musik hören, ist das Gerät schon Okay! Etwas kompliziert ist es in der Bedienung! Aber man bekommt es schon hin! Mir hat sehr missfallen, dass bei der Lieferung die Schablone zum markieren der Bohrlöcher und auch die kurzen Schrauben gefehlt haben!
The device is quite good for the kitchen! Since I don't necessarily value sound quality, the main thing is that I can listen to music while working in the kitchen, the device is okay! It's a bit complicated to use! But you can do it! I was very dissatisfied that the template for marking the drill holes and the short screws were missing on delivery!
Das Radio ist recht gut und ich bin sehr zufrieden, aber es wurde keine Fernbedienung mitgeschickt. Außerdem sind nicht alle Radiosender weltweit verfügbar.
The radio is quite good and I'm very happy, but no remote control was sent with it. Also, not all radio stations are available worldwide.
das Radio ist in Ordnung die Lieferung super schnell
The radio is fine, the delivery super fast
Für den Preis hätteich mir eine bessere Verarbeitung erhofft. Das Display ist kaum abzulesen, darum eher mit der Handyapp zu bedienen (UNDOCK). Statt AUX wäre Bluetooth sinnvoller. Eine Equalizer Funktion hätte derSache auch gut getan. Gab es bei anderen Produkten in guter Verarbeitung, leider ohne CD-Player.
For the price I would have hoped for better workmanship. The display can hardly be read, so it is more likely to be operated with the mobile app (UNDOCK). Instead of AUX, Bluetooth would make more sense. An equalizer function would have done the thing good. There were other products with good workmanship, unfortunately without a CD player.